Timing is Everything and Pickle Caprese Salad Kebabs
These Pickle Caprese Salad Kebabs are easy, delicous, and will wow your summer dinner party guests!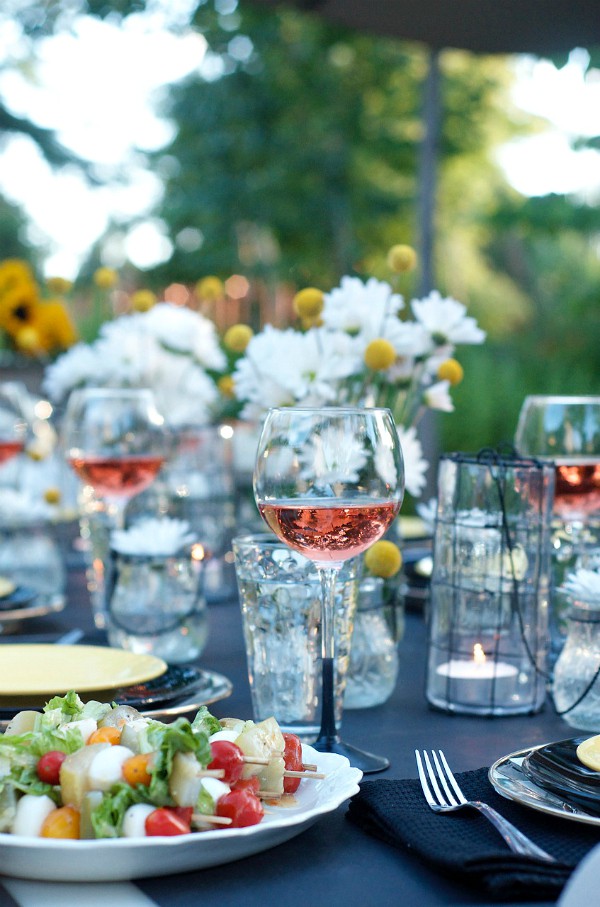 With grilling season upon us, you can fire up the barbecue in no time and create a delicious meal, but I'm always asked by younger hostesses, how do you serve the food on time?
I like to start with an easy appetizer, one that I can prepare ahead of time, so I know that the minute guests walk in the door there is something for them to nosh on!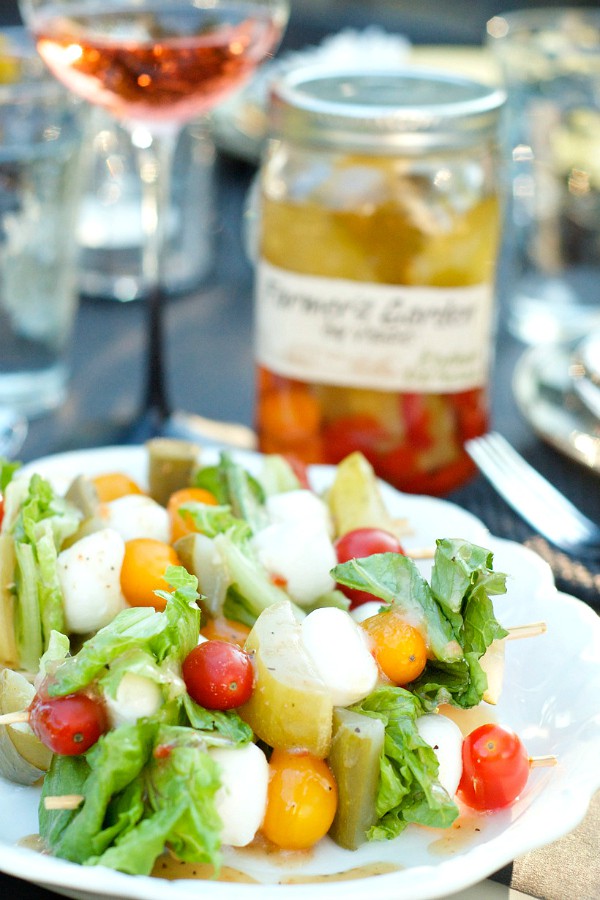 Pickle Caprese Salad Kebabs.
These Pickle Caprese Salad Kebabs are just that.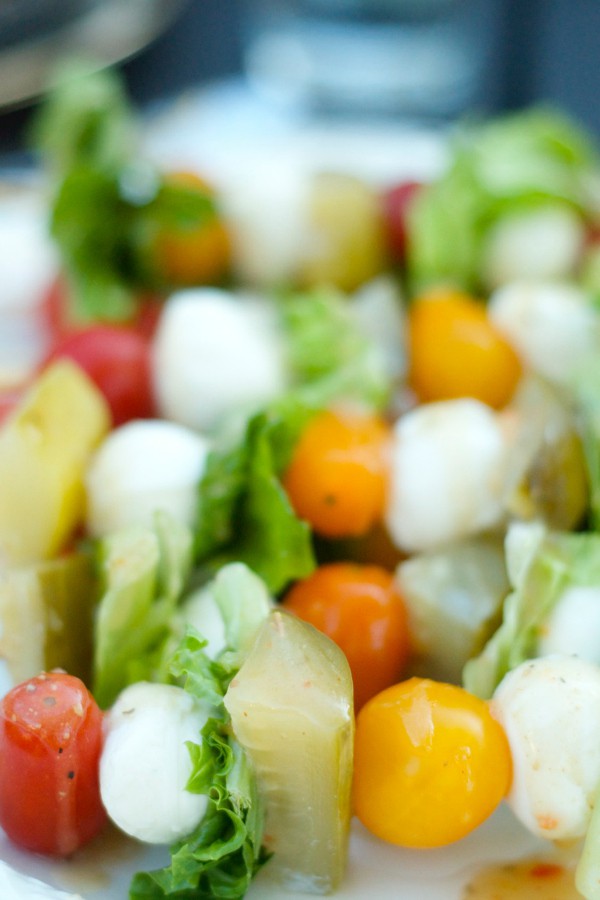 I think they are actually a delightful summer treat, and if you want to change up your menu a bit, they can also be served as a salad. I love "salad-on-a-stick" recipes, and they make a fun side dish for a summer dinner party!
Set the table.
Set a beautiful table in the backyard or garden area. Don't forget the string lights hung from the trees above.
Set a side table.
Take the stress out of knowing where to put utensils, condiments, and dressings and set up a side table near the grilling station. Think of it as a spare countertop for the master griller.
Set a drink table.
Have one place set up with the drinks, such as wine, beer, and herb-infused waters.
Set an appetizer table.
Off to the side where guests will be mingling with drinks and noshing on appetizers, set a small table with a couple small bites.
Main dish ideas.
Nothing means "summer party" more than a good burger, sausages, chicken, basted in herb butter, or–for this party–grilled pork. Don't forget the simplicity of garden-grown vegetables, grilled with a splash of olive oil, kosher salt and black pepper. Their juices come to the surface, ripen, and eventually caramelize into the perfect bite. Top with a snip of fresh herbs – perfection! Oh, and dinner biscuits? Yes!
Dessert is served.
While the grill is hot, slice fresh peaches in half (removing the pit) and place on the grill for 5-10 minutes. Serve with ice cream or buttermilk biscuits. Add a drizzle of honey, and your guests just may not leave the party!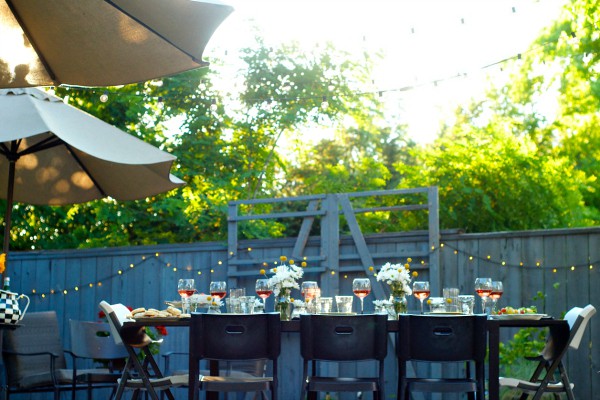 Timing is everything.
Now, back to timing. Timing is everything!
Generally speaking, your guests shouldn't be pushed straight to the dinner table upon their arrival.
Serving a appetizers prior to the main meal is a wonderful way to ease into the dinner party, and creates a relaxed atmosphere.
Have one appetizer prepared and ready.
Plan out the menu (write it out, if that helps you), and schedule the time accordingly, so the dishes are prepared on time.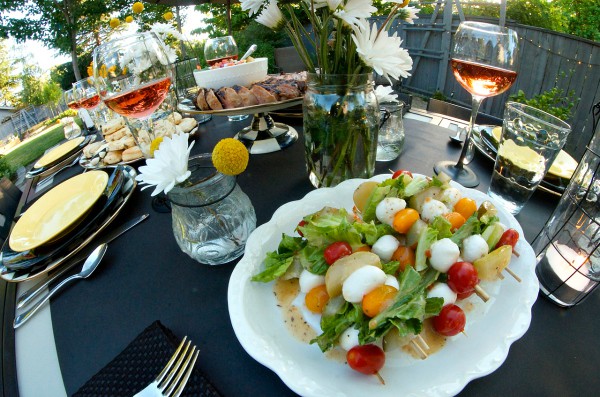 There have been times when I didn't do this, and it was a little awkward, but you know … it all worked out in the end. There is no perfect dinner party. Something always goes a little wonky, and you learn to just go with the flow.
Smile when things don't go perfect.
I actually sit back and smile when things don't go perfectly, or as we had planned.
You learn to adjust, smile, and move on.
What are your tips for making sure the food is served on schedule to your dinner party guests?
Get the Recipe: Pickle Caprese Salad Kebabs
Ingredients
1 jar Farmer's Garden® by Vlasic® Kosher Dill Spears
2 cups torn Romaine lettuce leaves
1 container grape or cherry tomatoes
12 small fresh mozzarella balls, boccocini
12 large basil leaves
Wooden skewers
Instructions
Cut pickle spears into 2-inch pieces.

Alternately slide remaining ingredients and pickles onto skewers.

Serve drizzled with your favorite vinaigrette dressing.
Are you following me on Instagram, Twitter, Facebook and Pinterest? Thanks being here today, and if you'd like to subscribe to Reluctant Entertainer, to have each post delivered straight to your e-mail box, then please add your email, here. It's really easy!
Hello and welcome to my home and table!
I'm Sandy—lover of food, family, cooking, THE BIG BOARD, travel, and bringing people together. Through great recipes and connection around the table, we become better, stronger, and more courageous people. Feasting on Life is real, and every time we do it, we grow a little more. Read more...