Favorite Camping Spot in Oregon with Red, White, and Blue Apricot Appetizer
This gluten-free Red, White, and Blue Apricot Appetizer is perfect for Memorial Day or Fourth of July entertaining!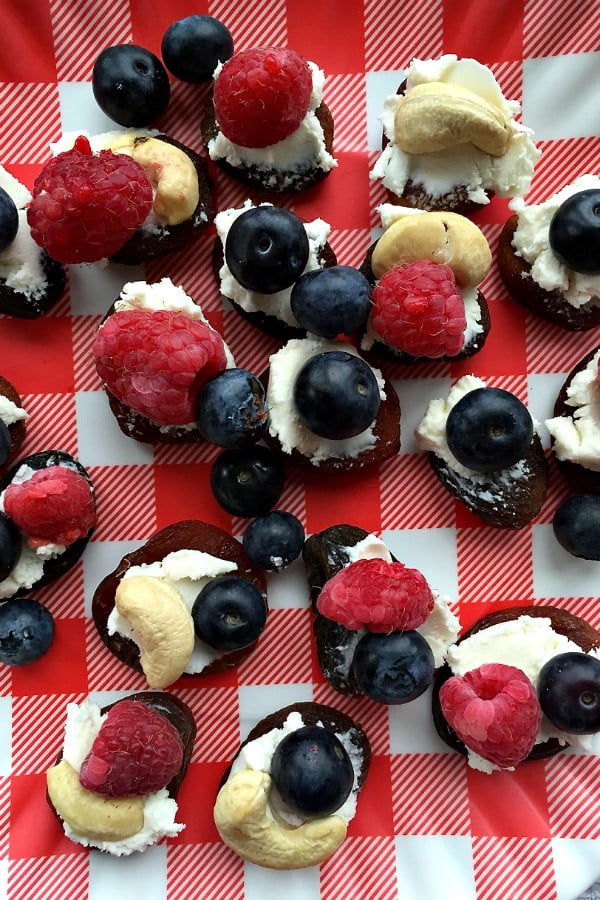 Happy Memorial Day weekend!
This past week my husband and I camped at what we think is one of the best-kept secret camping places in Oregon. It was peacefully heavenly, the perfect fly-fishing waters, clean, quiet, beautiful campground.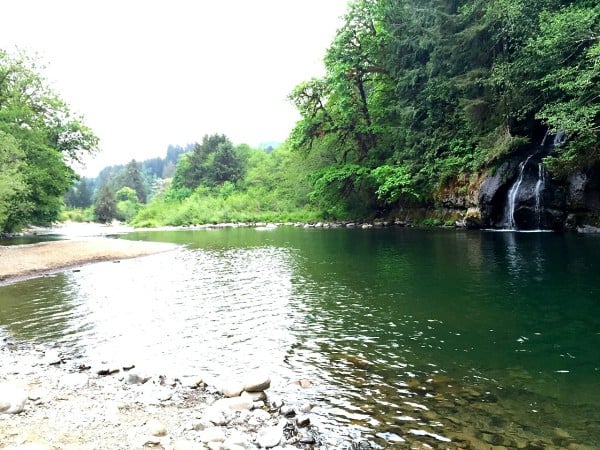 Favorite Camping Spot in Oregon.
We happened upon it when a young barista in Lincoln City told us about this private get-away, on our way from the coast inland.
The perfect place to sit and enjoy the evening, before Paul went out fly fishing.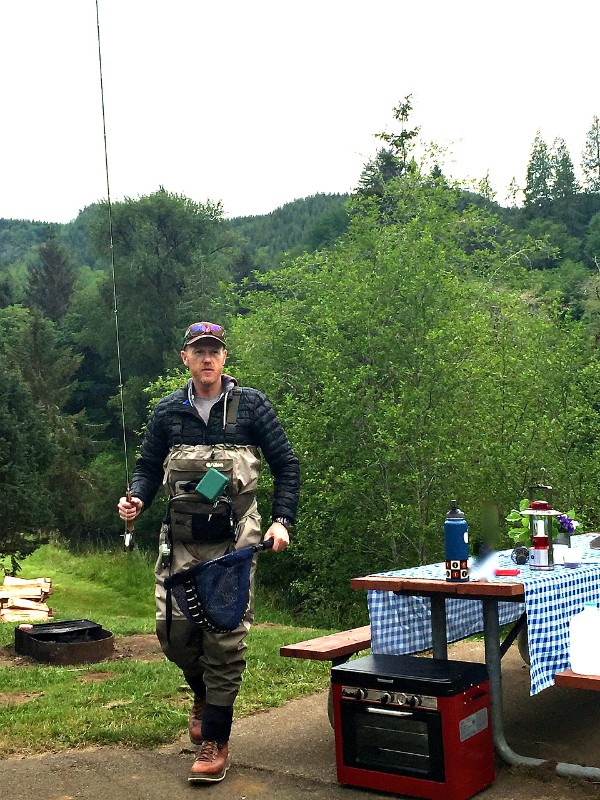 We hadn't planned to fish (I did not have my waders with me, otherwise I would have been right there with Paul), so I stayed behind and got the camper and bed ready, and built a fire.
We love our Westy bed. We bought 2 REI AirRail (back packing) air mattresses that fit perfectly side by side on the lower bed.
Camping sheets.
I adore sleeping in the outdoors, and my main requirement? Sheets on the bed! I always bring along a set of old, comfy sheets and make the bed as if we were at home.
Wildflowers and greenery.
Another "must" when camping? A pretty tablecloth and a few sprigs of greenery and wildflowers.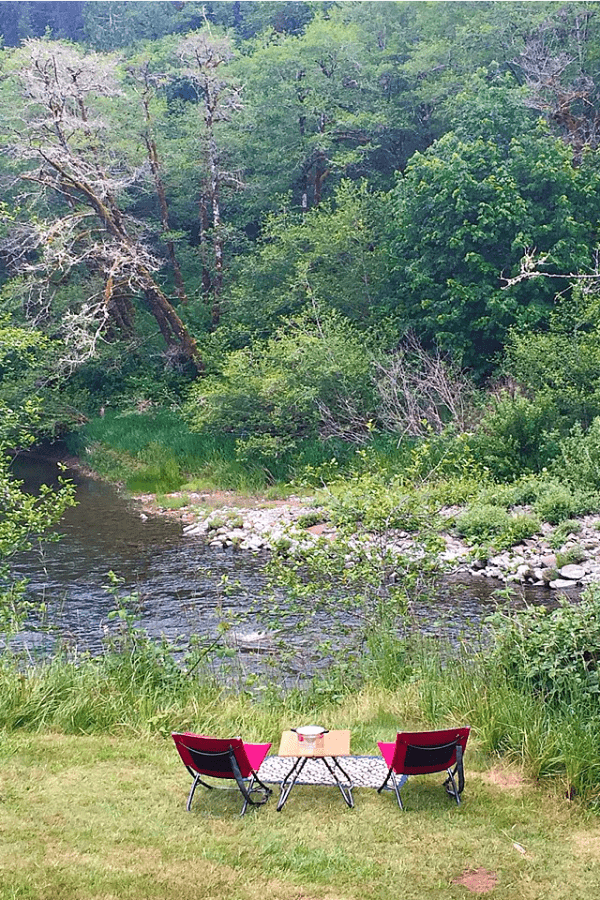 Red, White, and Blue Apricot Appetizer.
Down by the water at dusk, we enjoyed a tasty appetizer, one of our favorites, which is also a crowd-pleaser when you need a gluten-free appetizer for guests. Every bite … savory and sweet.
This time I made it with a few new ingredients: A nut mixture, berries, goat cheese, Turkish apricots, and honey– perfect for the Red, White, and Blue weekend ahead!
Moonshine Park.
Oh, so I guess I should tell you the best camping spot in Oregon. It's Moonshine Park, outside of Nashville (yes, there is a Nashville, Oregon, which we did not know), or Siletz, Oregon, in a tiny town called Logsden.
A windy, beautiful road in the middle of nowhere that leads to a very gorgeous setting.
I'd love to hear if you've been there, or where your favorite camping spot in the world is?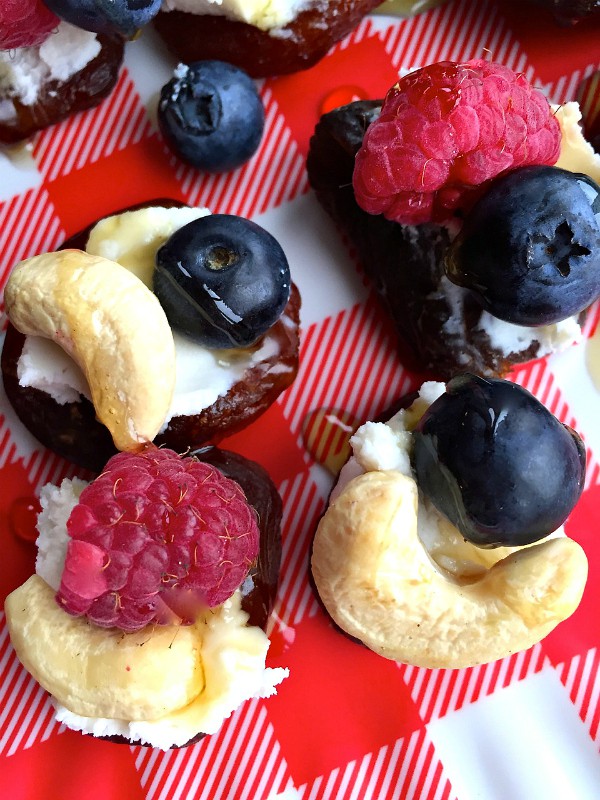 Get the Recipe: Red, White, and Blue Apricot Appetizer
Ingredients
2 oz. goat cheese at room temperature
20 dried Turkish apricots, I bought these in bulk at Fred Meyer
20 cashews
2 Tbsp. honey
Fresh raspberries and blueberries
Instructions
Place the apricots on a platter. Spread each apricot with goat cheese.

Top each apricot with a whole cashews, and either a raspberry, blueberry, or both.

Drizzle the platter with honey.

Sprinkle with fresh thyme or rosemary (optional). Serve!
Are you following me on Instagram, Twitter, Facebook and Pinterest? Thanks being here today, and if you'd like to subscribe to Reluctant Entertainer, to have each post delivered straight to your e-mail box, then please add your email, here. It's really easy!
Hello and welcome to my home and table!
I'm Sandy—lover of food, family, cooking, THE BIG BOARD, travel, and bringing people together. Through great recipes and connection around the table, we become better, stronger, and more courageous people. Feasting on Life is real, and every time we do it, we grow a little more. Read more...