Pork Roast with Cherry Tomatoes
This super easy Pork Roast with Cherry Tomatoes bakes for 2 hours, coming out of the oven so tender, you can cut it with a fork!
Friends, I'm so excited! Our first overnight guest is arriving today! My sister is coming to help me get organized, and of course we'll be doing some outdoor activities, like riding bikes and maybe a hike or two.
I've dreamed about out-of-town guests for a long time, and even though our house is really not ready for "real" company (our kitchen is torn up, we're still unpacking, too), there are just some people that can come for a visit no matter what the circumstances, right?
Here's a little sneak peek at what we are doing with the fireplace. It's funny–so many opinions on keeping the original brick or painting it. We are going for a more modern look in this home, with lots of white and an open feel. My friend Krissy, who happens to live one mile from me now, came to help get the chalk paint on.
Every morning, Storyville coffee (yes, we set up our espresso machine right away), a little blogging, and lots of love from little Haggy (Haggis Barley McStitch).
In between the 90-degree days, and the cool, brisk mornings, yesterday I started back to my routine of a run in the morning, and yoga in the afternoon. Of course Haggis, our Cairn Terrier, couldn't be happier :)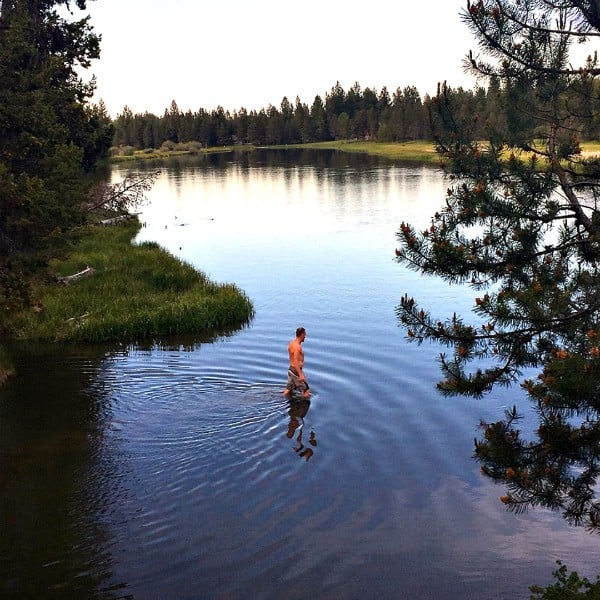 My husband is taking a dip every evening, a short walk from our home.
We are meeting more of our neighbors. The simple kindnesses matter more, as friends pop by or say hello, and we are made to feel welcome in this little town.
Life's small gifts
The time with our kids has become increasingly precious, and life's small gifts, like my sister coming to visit, bring a greater contentment in my heart than anything material, like how I will decorate this house, or what I will buy to make living here sweeter (there are so many outdoor options, but we have a budget!).
The people in our lives really do matter the most.
Since I want to make the most of our time, we'll probably eat out one night, and then maybe I'll cook my favorite salmon the next night. But in the meantime, I want to share a quick meal that I made (in the midst of boxes) for Paul and the boys last week.
Pork Roast with Cherry Tomatoes
So simple, I always keep DeLallo products on hand, like these cherry tomatoes.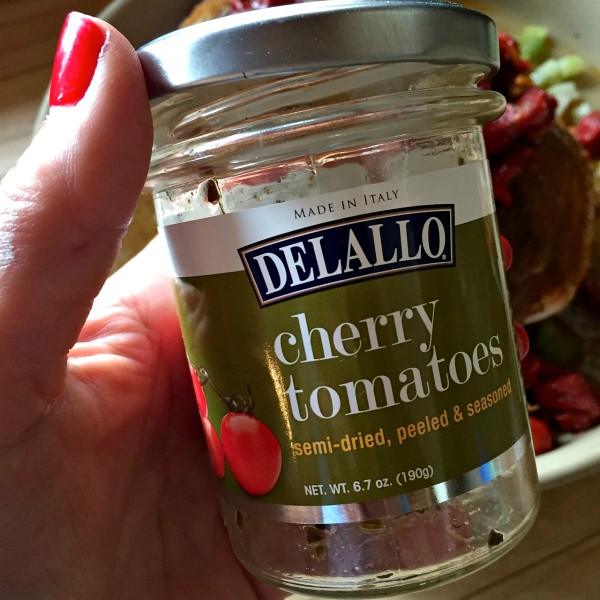 Because I couldn't find my slow cooker, I placed the pork roast in a stone, covered it well with foil, and baked it for a couple of hours.
Place the mirepoix (onions, carrots, and celery), at the bottom of a pan or stone; season the roast well.
Pour the cherry tomatoes on top. Add one cup of water; cover and bake and enjoy!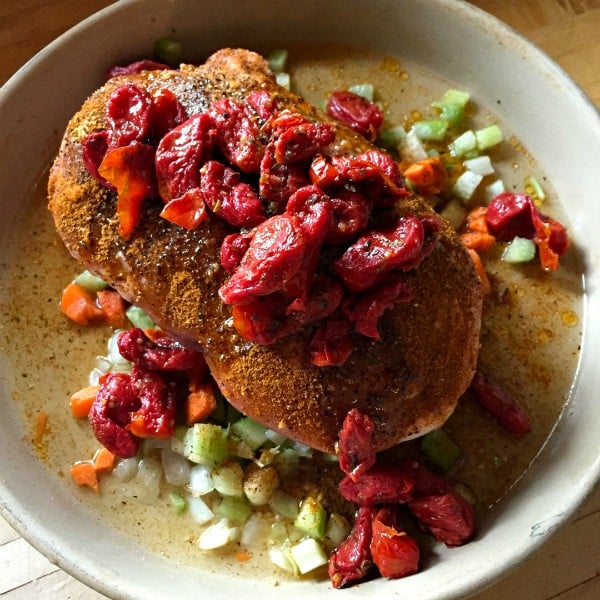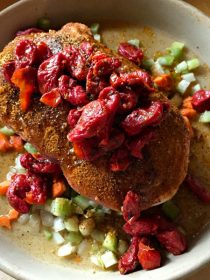 Get the Recipe: Pork Roast with Cherry Tomatoes
Ingredients
2 lb. pork, picnic roast
1 6.7 oz. jar DeLallo cherry tomatoes
1/2 cup carrots, finely chopped
1/2 cup onions, finely chopped
1/2 cup celery, finely chopped
Favorite seasoning
Salt & pepper
Instructions
Preheat oven to 350 degrees. Spray a roasting or baking pan; place the chopped carrots, onion, and celery on the bottom.

Season the roast on all sides, laying it on top of the vegetable mixture.

Pour a jar of DeLallo cherry tomatoes over the top. Add 1 cup of water to the bottom of the pan.

Place a baking lid on top (or wrap tightly with foil) and place in the oven. Bake for about 1 1/2 – 2 hours, until the pork is done.

Hello and welcome to my home and table!
I'm Sandy—lover of food, family, cooking, THE BIG BOARD, travel, and bringing people together. Through great recipes and connection around the table, we become better, stronger, and more courageous people. Feasting on Life is real, and every time we do it, we grow a little more. Read more...