Pumpkin Mashed Potatoes
Today I'm sharing a "not-your-traditional" mashed potatoes recipe, but a more easy, gourmet Pumpkin Mashed Potatoes recipe!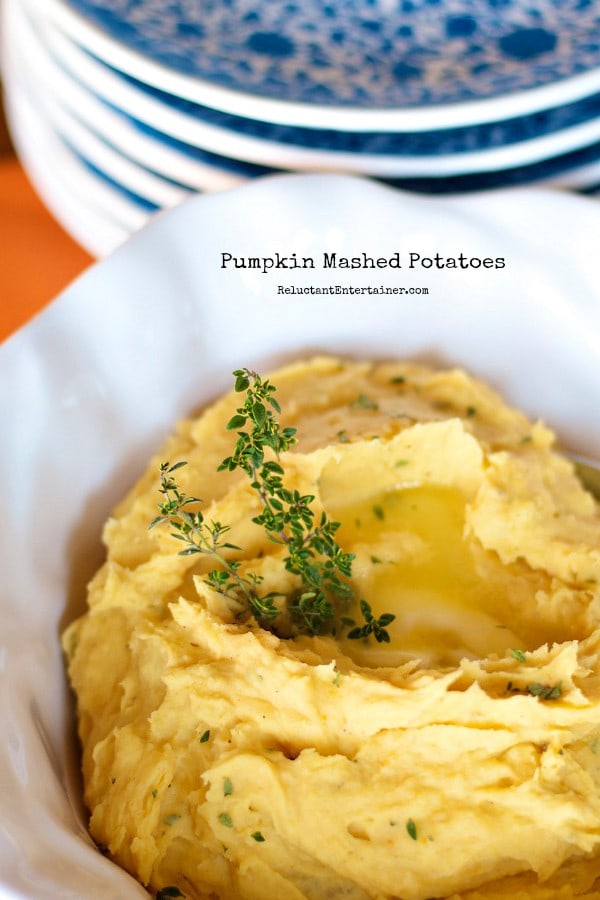 I'm thankful for … are the words we hear every day during the month of November. Our hearts are full of gratitude and love, and for me, I love to reminisce about past Thanksgivings too! I think back to big family gatherings with tons of cousins running around, and a giant feast on the table. I love this picture of my Grandma Friesen, two of my aunts, and a handful of cousins  – and a giant bowl of mashed potatoes in the middle of the table!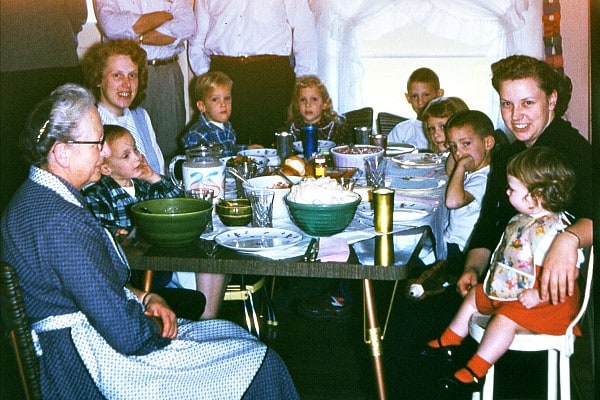 Grandma Friesen.
My memories of Grandma? She always took the job of peeling potatoes. We also never ventured outside of the traditional Thanksgiving meal, which makes me to this day love the comfort foods of turkey, mashed potatoes, sweet potatoes, green beans, jello salad, rolls, and an amazing crudit platter with plenty of olives.
My mom and pop are in the very back with my oldest sister–I don't think I was even thought of,  yet …
But I  do love Grandma's smile (white hair and glasses) in this picture, and again, a giant bowl of mashed potatoes in the middle of the table!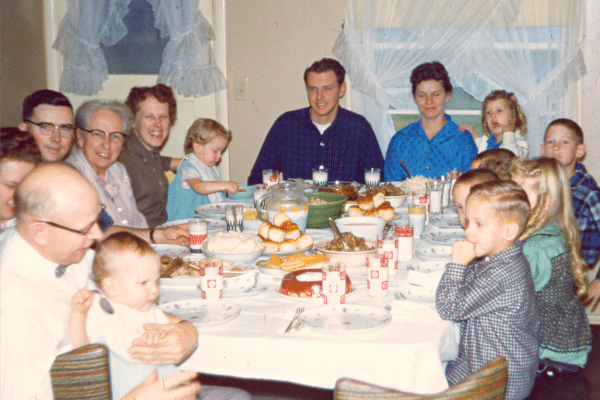 My memories.
I'm sure as a little girl I ate a whole can of olives by myself, before the feast even began. I loved to put them on my fingers and then lick them off, one by one. And then repeat the process a few times … possibly I devoured about 15 olives?
I stuffed myself on Thanksgiving Day as a kid, but now as an adult, I try to pace myself.
Mashed potatoes and gravy are still one of my favorites. Back then they were a staple; today they are also a very important dish to serve on this wonderful day.
Pumpkin Mashed Potatoes.
This time, instead of the traditional recipe, I gourmeted it up a little bit by adding pumpkin and fresh thyme. Wow! Love the freshness with a little sweetness, all whipped together.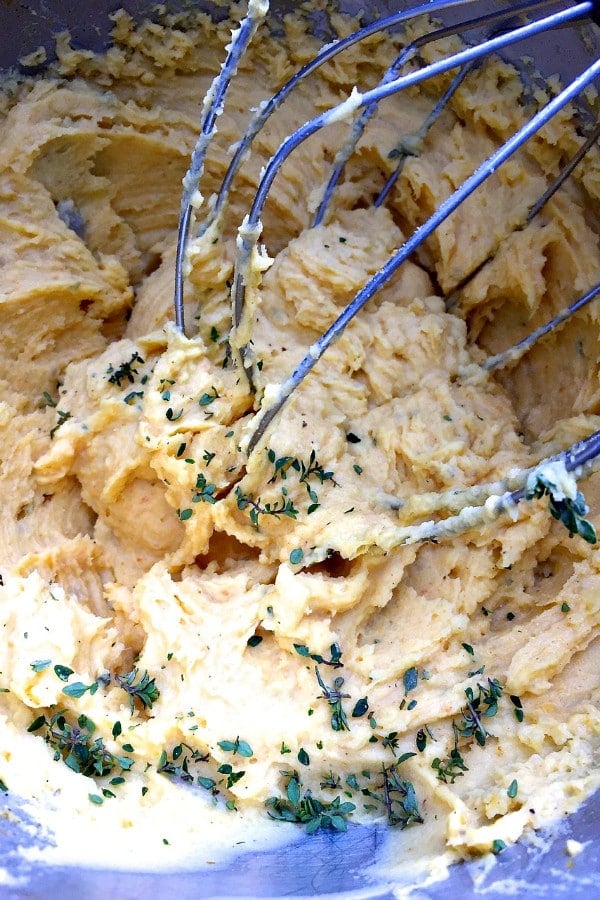 And of course, leftover potatoes are my favorite, served on a Shepherd's Pie!
Do you cook traditional mashed potatoes for Thanksgiving, or do you fancy them up a bit?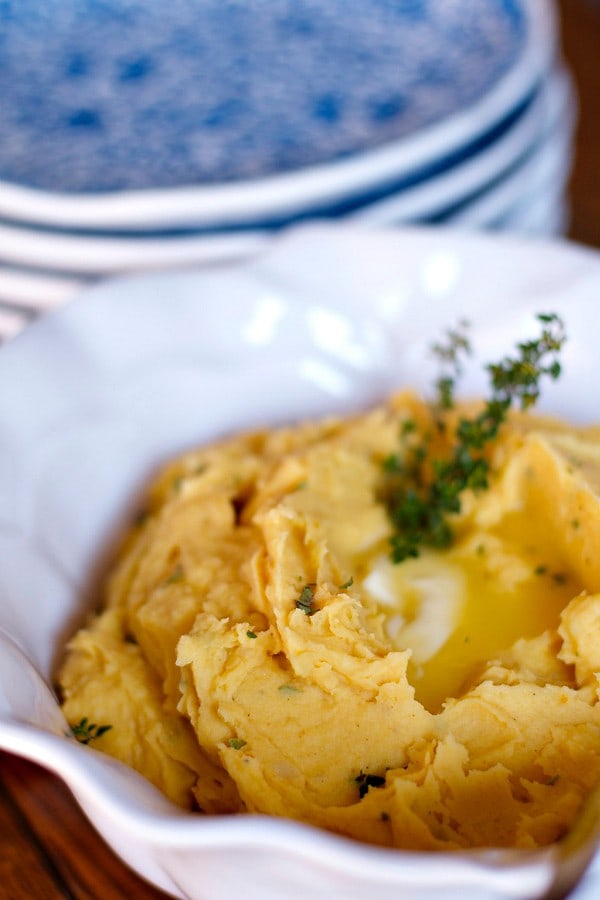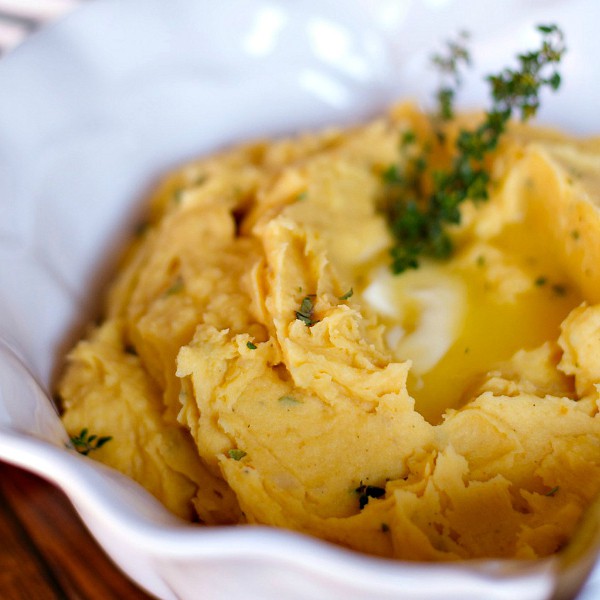 Print Recipe
Pumpkin Mashed Potatoes
Add extra milk if you like creamier potatoes. You can also add a tiny bit of nutmeg and cinnamon if you want to make them spicy.
Ingredients
2

lbs.

russet potatoes

peeled and sliced into 2" pieces

1

cup

canned pumpkin

2

Tbsp.

butter

melted

4

oz.

cream cheese

softened

1/4

cup

milk

Salt and pepper

Fresh thyme
Instructions
In a large, covered saucepan, immerse the potatoes in boiling water. Wait until the water returns to boiling and cook potatoes for 15-20 minutes, or until potatoes are tender; drain.

In the bottom of the mixing bowl, add the melted butter and softened cream cheese. Place the drained, hot potatoes on top of the butter and cream cheese. Add the milk, salt, and pepper. Mix on low, building up the speed to medium, and then high, for 4-5 minutes, until nearly smooth.

Beat in canned pumpkin and fresh thyme. Taste.

Return to saucepan; heat through before serving.

Garnish with butter and fresh thyme!
I am a huge fan of my Le Creuset saucepan and KitchenAid mixer (and hand-mixer) for these types of recipes!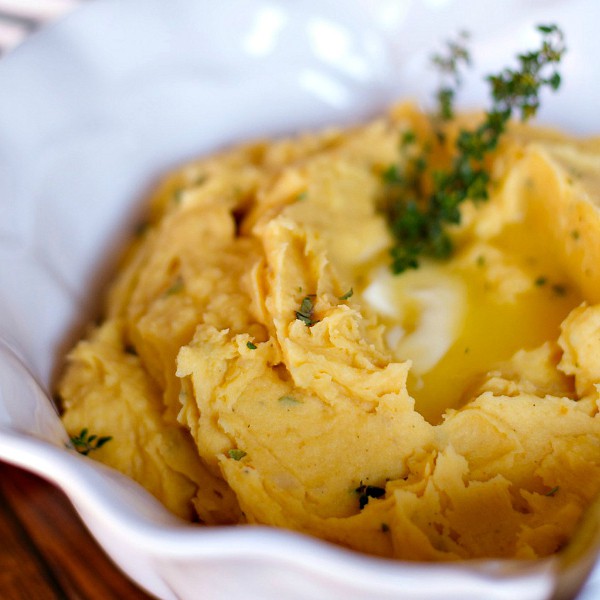 This post has affiliate links. Every purchase from these links supports RE at no extra cost to you. Thank you!