Skinnytaste's Quinoa-Stuffed Peppers
Skinnytaste's Quinoa-Stuffed Peppers are delicous served as a gluten-free main dish for Meatless Monday's, or as a side for any dinner party!
Friends, we LOVE Skinnytaste's Quinoa-Stuffed Peppers for dinner! They are delicous served as a gluten-free main dish for Meatless Monday's, or a weeknight meal for the family!
This recipe is from the Skinnytaste Cookbook! [affiliate link]
Quinoa-Stuffed Peppers
They're also good enough for company! Invite friends over for a potluck, or better yet, bring these stuffed peppers to a party! You may also want to try Skinnytaste's Bacon-Wrapped Air Fryer Cheesy Jalapeño Poppers, or Turmeric-Roasted Cauliflower! I also love Gina's over 400 Healthy Homemade Dinner Recipes!
Ingredients for stuffed peppers
All you need for this easy recipe, are these ingredients:
Quinoa
Vegetable broth
Extra-virgin olive oil + garlic
Crushed tomatoes
Kosher salt + pepper
Pecorino Romano cheese
Chopped baby spinach
Chopped fresh basil
Shredded whole milk mozzarella cheese
Large bell peppers

A dinner invite
Recently, some newer friends invited us over for dinner. Do you know how much I just love that first visit to someone's house? I love looking around, seeing the family pictures, their decorating style, books in the cases, kid stuff lying around, especially the kitchen–what dishes do they have?–and soaking in a bit of who this family is. Now don't get me wrong, I'm not nosy, looking into things I shouldn't, opening drawers, etc, LOL. It's more of a feeling, a privilege and an honor to even be invited. It's exciting, it makes me feel connected, more involved in "their world" (and less of mine), and it's simply a very fun thing to experience.
Stuffed Peppers
Our friends served stuffed peppers, so it made me think of this recipe today!
Since it's Monday, and many people eat "meatless" on Monday's (thus, #meatless Monday), I recently brought these beautiful quinoa stuffed peppers to a dinner party. And they were a hit!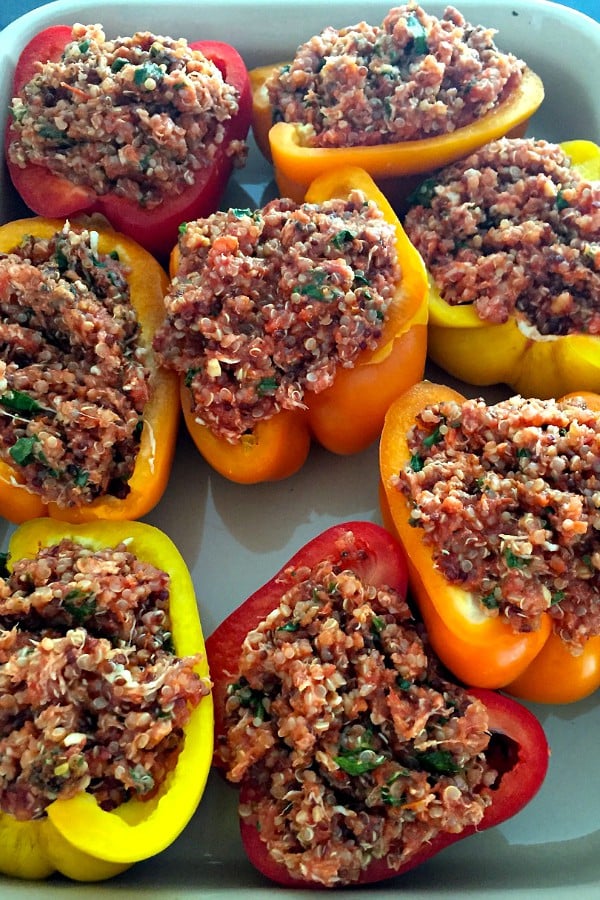 Are stuffed peppers a beautiful thing? I'd say this recipe is, but growing up, I wasn't too crazy about the "bitter" stuffed green peppers my mama made.
But now, with these gorgeous colored peppers (so sweet), and this quinoa mixture, they are delightful!
Gluten-free
This recipe is from my friend Gina's Skinnytaste Cookbook. They are super flavorful, healthy, hearty, and a great dish to bring to a party when you don't really know other dietary needs. These are gluten-free, and so easy to make!
Bring these the next time you're asked to bring a dish to a party!
Oh, and this recipe is also a great "side dish" for any meat recipe, for all you meat lovers!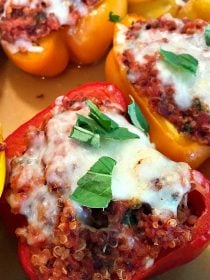 Get the Recipe: Quinoa-Stuffed Peppers
From the Skinnytaste Cookbook.
Ingredients
1/2 cup quinoa, rinsed thoroughly
1 cup vegetable broth
1 teaspoon extra-virgin olive oil
2 garlic cloves, chopped
3/4 cup canned crushed tomatoes
1/4 teaspoon Kosher salt
Freshly ground black pepper
3 tablespoons grated Pecorino Romano cheese
1/2 cup chopped baby spinach
2 tablespoons chopped fresh basil
1/4 cup shredded whole milk mozzarella cheese, 1 ounce
2 large peppers, I used yellow and red
4 tablespoons canned crushed tomatoes
2 teaspoons grated Pecorino Romano cheese
1/4 cup shredded whole-milk mozzarella cheese, 1 ounce
1/3 cup vegetable broth
Instructions
Prepare the filling: Place rinsed quinoa in a medium saucepan. Add the broth and bring to a rolling boil. Reduce heat to low, cover, and cook until the liquid is absorbed, about 15 minutes. Remove the pan from heat and let stand, covered, for 5 minutes. Fluff with a fork.

Preheat the oven to 350 degrees F. Heat a medium saucepan over medium heat. Add the oil and garlic and cook, stirring, until golden, about 1 minute. Add the tomatoes, salt, and pepper to taste, and cook, stirring, for 5 minutes to develop the flavors. Remove the pan from heat, add the cooked quinoa, Romano, spinach, basil and mozzarella.

For the peppers: Halve the peppers lengthwise and remove the core and seeds. Place the peppers cut-side-up in a baking dish. Fill each pepper with 1/2 cup of the filling. Top each with 1 tablespoon crushed tomatoes, 1/2 teaspoon Romano and 1 tablespoon mozzarella. Pour the broth into the bottom of the dish. Cover tightly with foil.

Bake until the peppers are soft, about 50 minutes. Remove them from the oven and let cool for 5 minutes before serving.
Notes
From Skinnytatse cookbook!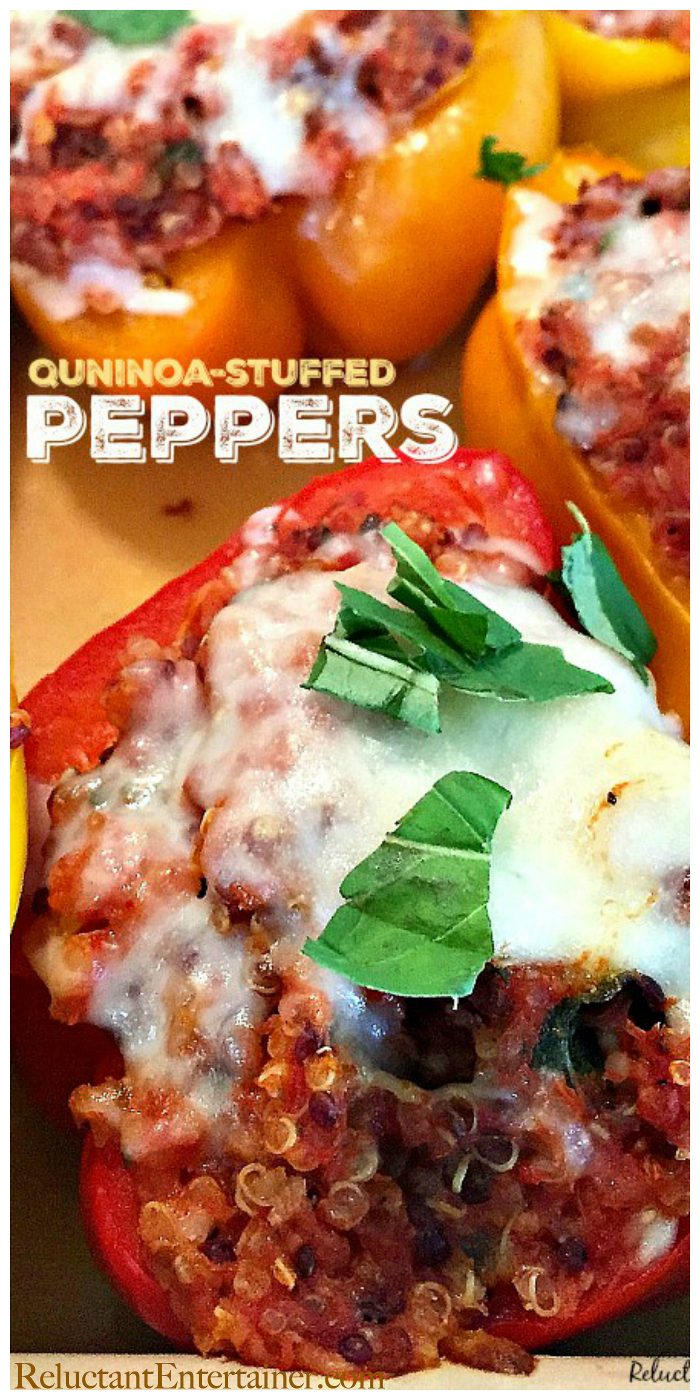 Hello and welcome to my home and table!
I'm Sandy—lover of food, family, cooking, THE BIG BOARD, travel, and bringing people together. Through great recipes and connection around the table, we become better, stronger, and more courageous people. Feasting on Life is real, and every time we do it, we grow a little more. Read more...