Roasted Vegetable Goat Cheese Raisin Side Dish
Perfect for winter hosting, enjoy Roasted Vegetable Goat Cheese Raisin Side Dish sprinkled with toasted almonds, cranberries, and a squeeze of fresh lime!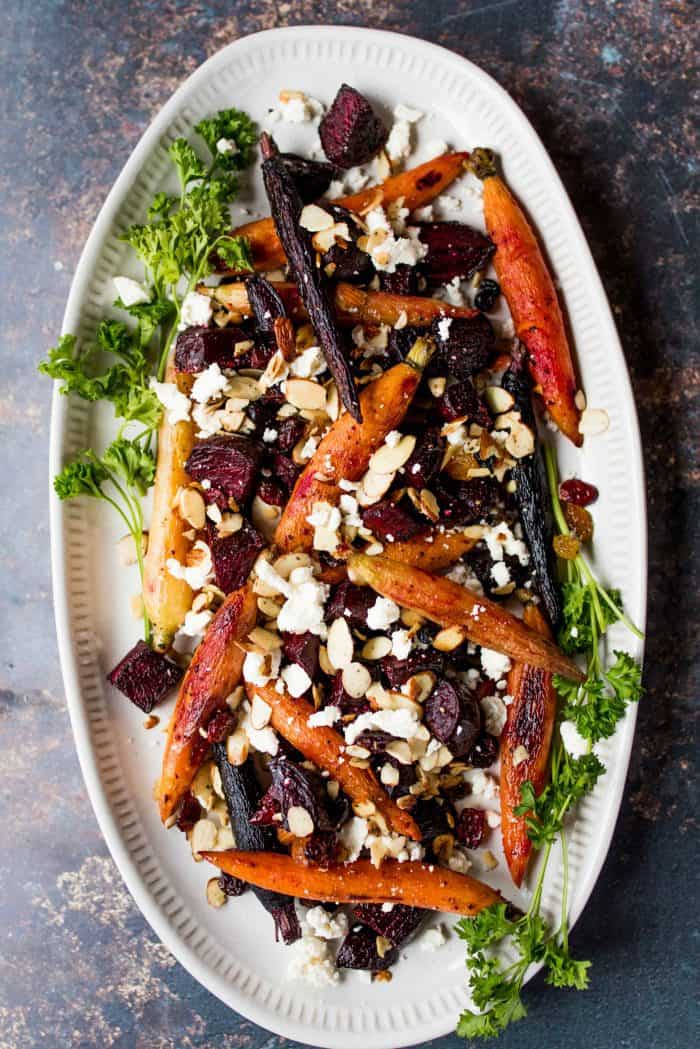 Hey friends, feast on this Roasted Vegetable Goat Cheese Raisin Side Dish that we enjoyed with my Crusted Pepper Prime Rib Recipe a few weeks ago.
It's a great salad or side dish! And I love that you can roast your veggies ahead of time.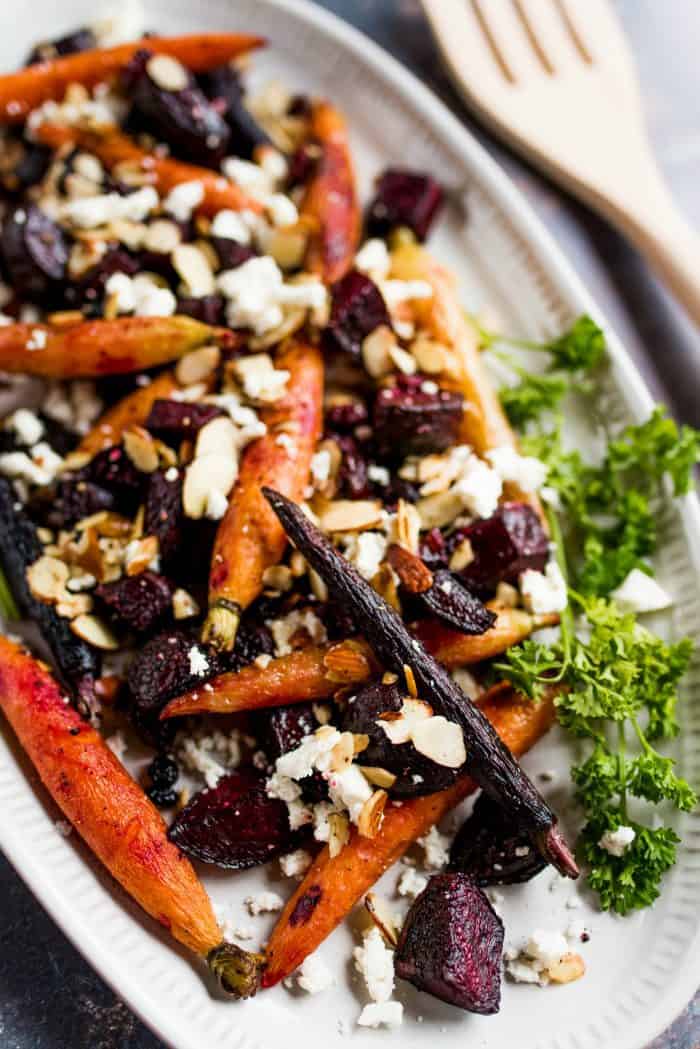 But first … if you walked into my home right now, I can guarantee it would not be photo-worthy for any magazine or high-end blog. But for my blog, it's fine. Because it's real life and yes, we have an ongoing "fix it" list. If you follow me on Instagram @ReluctantEntertainer , I occasionally share little projects we're working on. [Or, you an follow my moutain home posts.]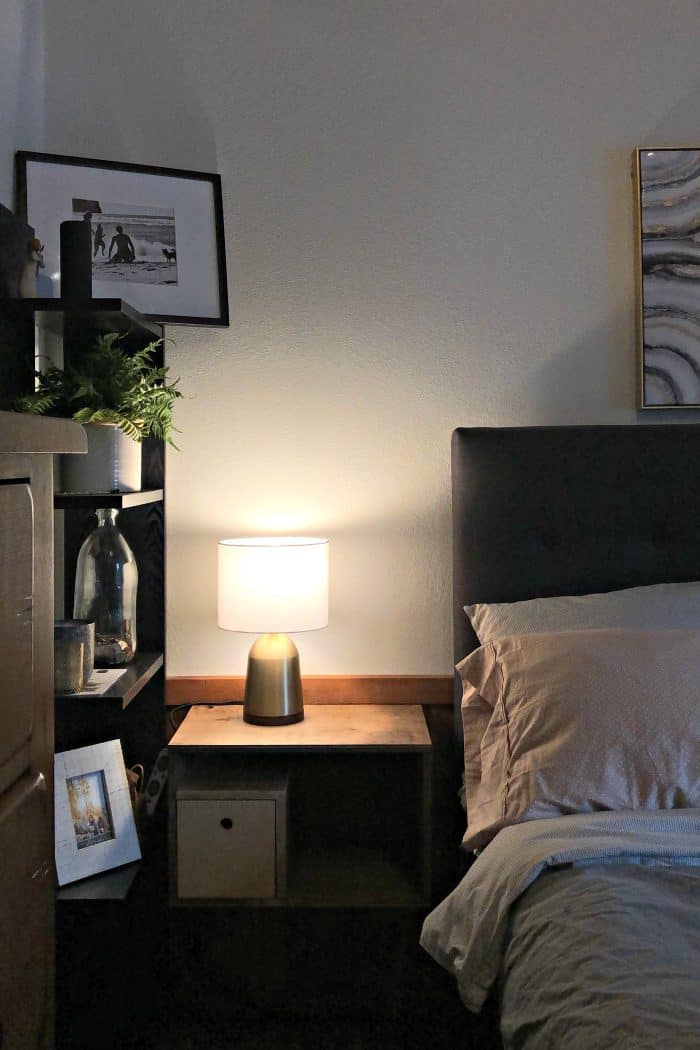 New floating bookshelves
Right now, we're trying to take our small bedroom and make it bigger. My hubby built a new desk, and now we're working on nightstands, and we removed some clunky book shelves.
I'd love to have someone come in and customize my closet. But we all have different ways that we love to splurge!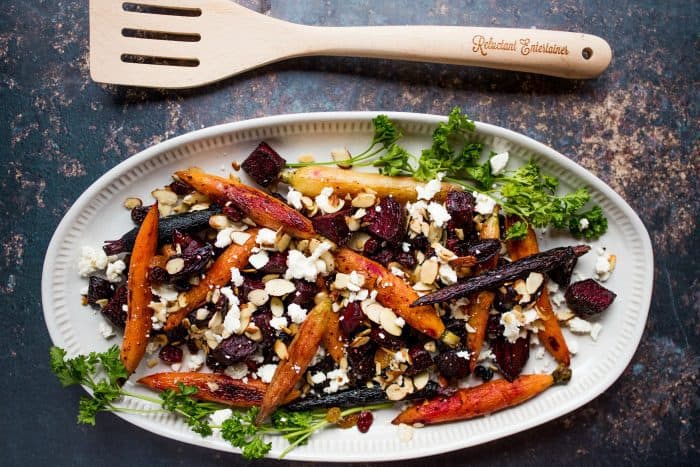 For some, it may be spending on the decor of our home, or for others, a nice sit-down dinner for guests. For still others, a delicious charcuterie board/cheese board for an appetizer (yes, they can be spendy, depending on the size and meats and cheeses), or on a very nice bottle of wine.
Not everyone has the means to splurge though, but with simple ingredients, this is where healthy, delicious recipes come in for serving dinner guests. I waited until after the holidays to make a prime rib (when they go on sale). And honestly, we only make prime rib at the most twice a year. That is a splurge!
Roasted Vegetable Goat Cheese Raisin Side Dish
Carrots and beets are not expensive, and I don't know about you, but I always keep dried cranberries and golden raisins and almonds stocked in my pantry.
Add some goat cheese crumbles and a squeeze of lime juice, and you have the ultimate winter salad.
Which vegetables are best to roast?
Root vegetables (potatoes, carrots, parsnips, sweet potatoes, beets).
Broccoli, brussels sprouts, zucchini, summer squash, onions, cauliflower, bell peppers.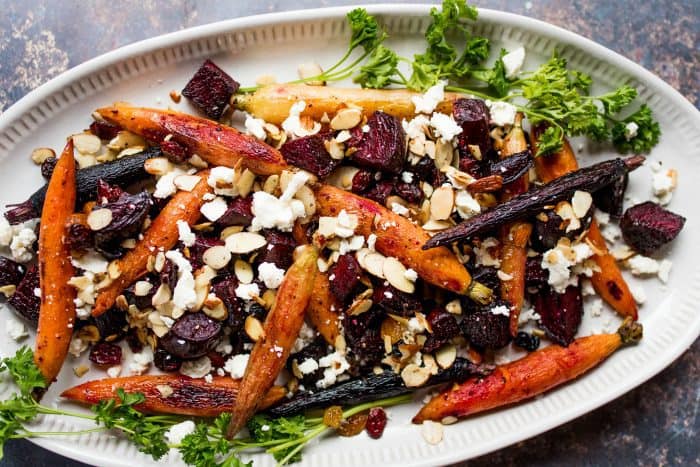 Can you roast vegetables ahead of time?
Roasted vegetables can be made ahead of time! It takes only a few minutes of prep (a little trimming, a drizzle of olive oil) and then baking for around 30 minutes. Dinner prep time is shorter, and roasted vegetables taste great at room temperature.
Here's a great Valentine's Day dinner menu!
Apple Goat Cheese Crostini Appetizer (since your'e already using goat cheese in this side dish)
Crusted Pepper Prime Rib
Potato Gratin Muffin Stacks
Roasted Vegetable Goat Cheese Raisin Side Dish
Black Cherry Almond Crescent Ring Dessert
ENJOY!
More side dish recipes: Low Carb Side Dish Recipes [Kalyn's Kitchen] and Creamy Baked Green Beans [RecipeGirl].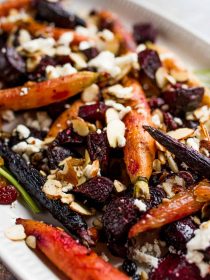 Get the Recipe: Roasted Beets and Carrots with Goat Cheese, Toasted Almonds, and Raisins
Ingredients
1 pound beets, washed and cut into 1 inch cubes
1 pound carrots—I use Les Petite Carrots from Trader Joe's
1/4 c extra-virgin olive oil
Salt and pepper to taste
4 oz goat cheese
1/4 c toasted almonds
1/8 c golden raisins and/or cranberries
1/2 a lime to juice
Instructions
Preheat oven to 450 degrees.

In a large bowl, toss beets and carrots in olive oil until evenly coated.

Spread onto a large baking sheet, and salt and pepper. Mix with hands and place in center of oven. Bake for 30-40 minutes, stirring about halfway through to ensure even baking. I prefer a longer roast time so the veggies begin to caramelize, but the amount of time in the oven is a matter of personal taste!

Remove from oven and allow to cool slightly. When cooled, transfer to a platter, sprinkle with goat cheese crumbles, almonds, cranberries, and a squirt of lime juice.
Hello and welcome to my home and table!
I'm Sandy—lover of food, family, cooking, THE BIG BOARD, travel, and bringing people together. Through great recipes and connection around the table, we become better, stronger, and more courageous people. Feasting on Life is real, and every time we do it, we grow a little more. Read more...