Best Bacon Guacamole Recipe
Best Bacon Guacamole Recipe is the best dip to feed a hungry crowd during a tailgate event or game day party. Serve with your favorite chips!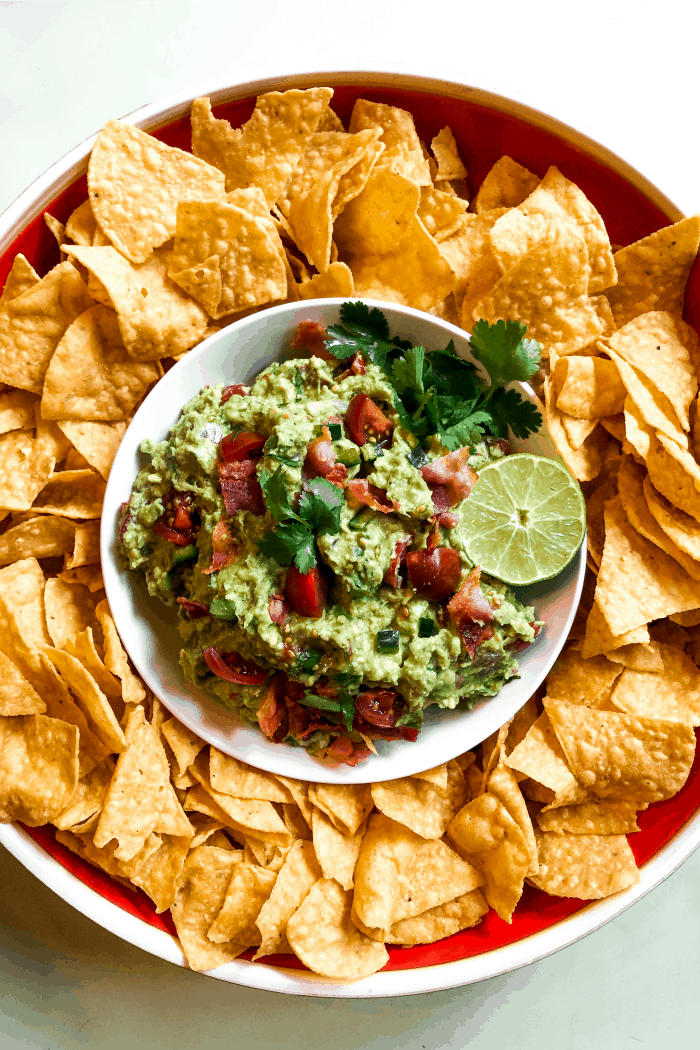 Friends, when I think of "guacamole" I never think of myself sitting and eating it alone.
No, I think guacamole is meant to be shared, because it's tasty and fun to eat. You may have already tried my Strawberry Guacamole, Pineapple Black Bean Guacamole or this Cheesy Enchilada Dip!
Bacon Guacamole Recipe
Which is why guacamole is such a popular appetizer at any party. This Best Bacon Guacamole Recipe is delicious, and easy to make and serve for the Super Bowl, or any occasion, really. It's also delish for Cinco de Mayo (coming up in May!)
Have you checked out my Mexican Charcuterie Board yet?
This Best Bacon Guacamole Recipe should also be included on my Epic Chips and Salsa Board :)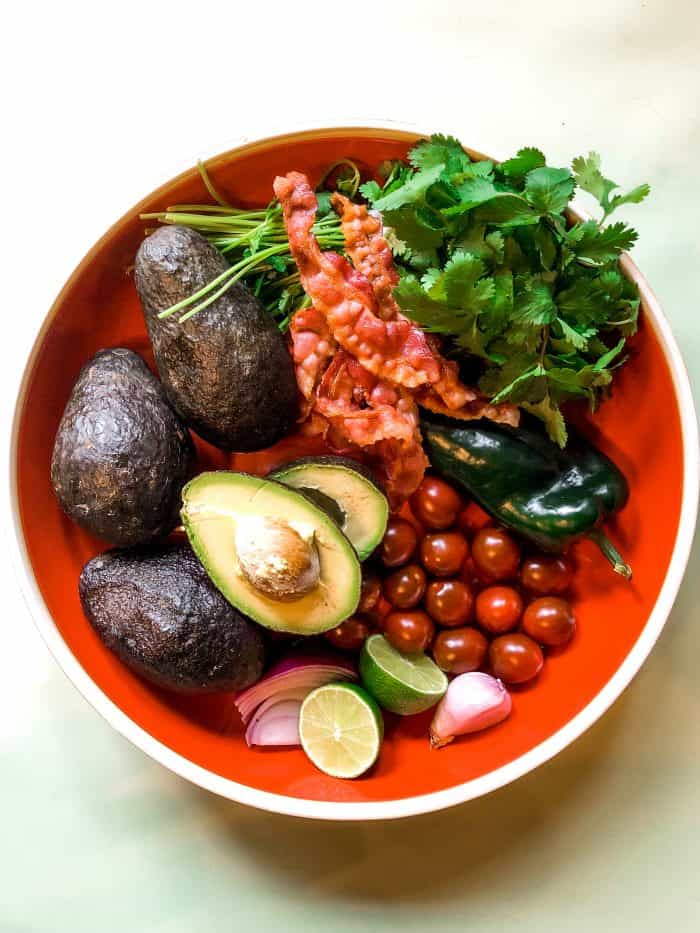 How do you make guacamole?
Start with these fresh ingredients!
Peel and mash avocados in a serving bowl. Stir in red onion, garlic, tomato, lime juice, salt and pepper.
My additions include minced poblano pepper (so good), shallots and cilantro!
Season with remaining lime juice, and salt and pepper to taste. Chill and serve with your favorite chips!
How healthy is guacamole?
Chips and guac are a classic, but the chips aren't quite as healthy as the guac. Use veggies like cucumbers, carrots, celery, or bell peppers for a dipping stick, instead of chips.
Best Bacon Guacamole Recipe
Like I mentioned, I put a spin on traditional guac by adding poblano peppers, shallots, and even bacon!
It's out of this world delicious! My friend Mary makes a killer Green Chili Gucamole recipe, too!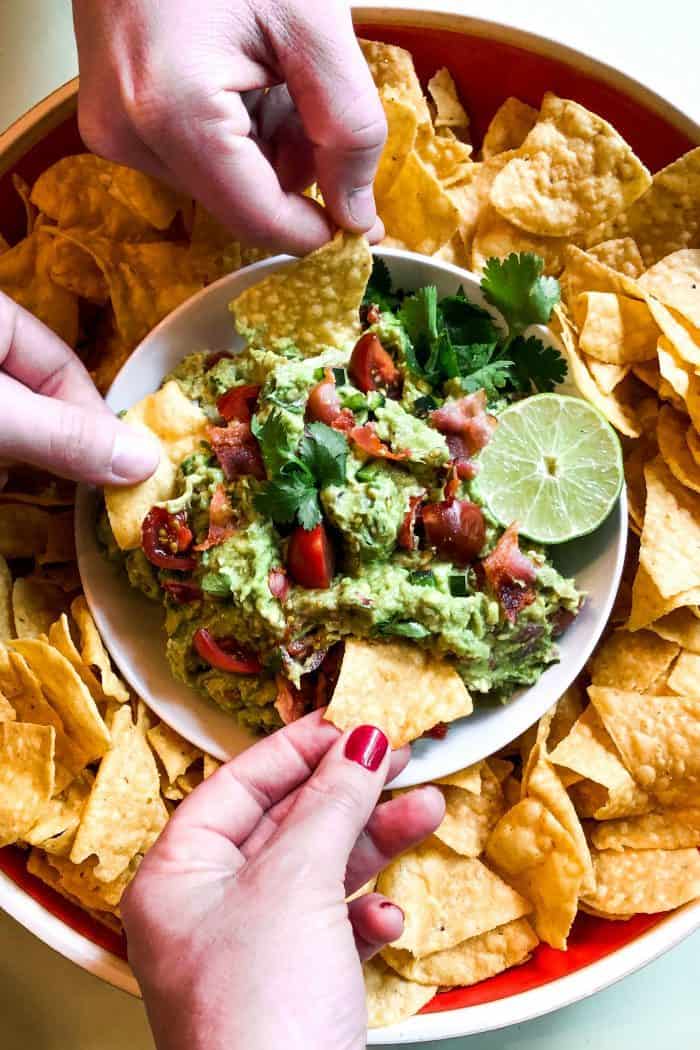 Make sure your avocados are perfectly ripe. Unfortunately, I had to toss two when making this recipe, because they were over-ripe. Bummer, I know. Has this happened to you, too? I always feel bad, but I don't want to affect the flavor of the dip by using any that are yucky inside.
And did I mention, BakerMama has a delicious The Best Blender Guacamole recipe?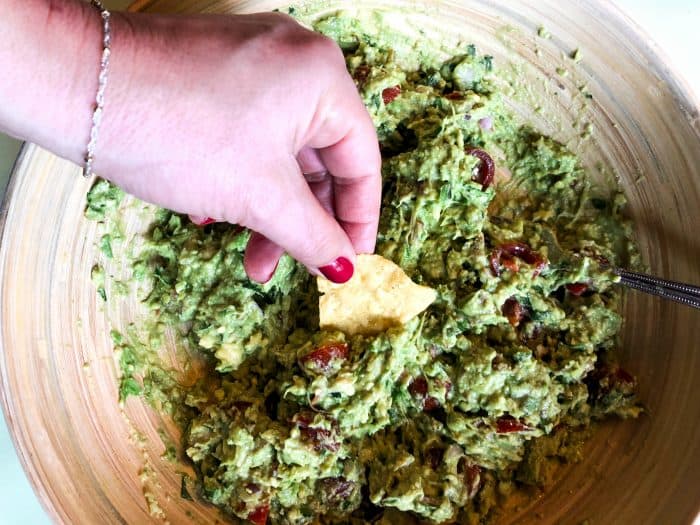 How do you find the best avocados?
To find the perfect avocados for this dip, make sure they are soft and not rock hard. You can test them by gently pressing the outside to see if it feels soft. If it's genuinely soft, the avocado is ripe and perfect. If it feels very soft, it's over-ripe.
The easiest way to cook bacon is to either bake it in the oven or microwave it.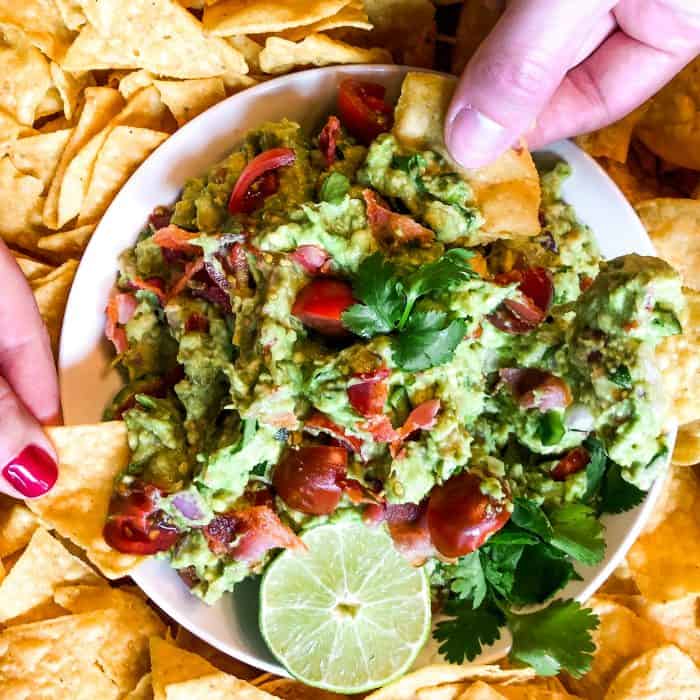 How do I ripen an avocado in the microwave?
Here's a trick for under-ripe avocados. Place the avocado in the microwave and cook for 30 seconds on a 50% setting. Remove the avocado from the microwave; give it a squeeze. If the avocado is still hard, microwave for an additional 30 seconds. Once it's soft, it's ready for guac!
Also, I do not like store-bought guacamole. It has a weird taste, and it never seems as fresh and good as homemade. Do I hear a big amen?
The addition of crispy bacon is perfect, and bound to be a hit at your next party!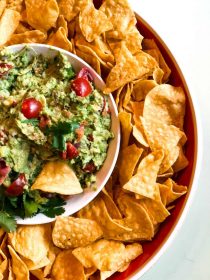 Get the Recipe: Best Bacon Guacamole Recipe
Ingredients
4 large ripe avocados
8 slices of bacon, we used Hardwood Smoked Hormel microwave bacon, cooked and crumbled
1/4 cup chopped red onion
3 Tbsp. poblano pepper, minced
2 tsp. minced garlic, or about 4 cloves
1 large shallot, minced
1 cup small cherry tomatoes, diced
1/4 cup fresh cilantro, chopped
1 tsp. kosher salt
1/2 tsp. ground black pepper
Juice 1 large lime
Instructions
Cook bacon until crispy. Cool and crumble.

In a medium mixing bowl, mash avocados. Add onion, poblano pepper, garlic, shallots, and tomatoes. Gently mix.

Add cilantro, salt, pepper, and lime. Mix and salt and pepper to taste (if more is needed).

Serve with tortilla chips.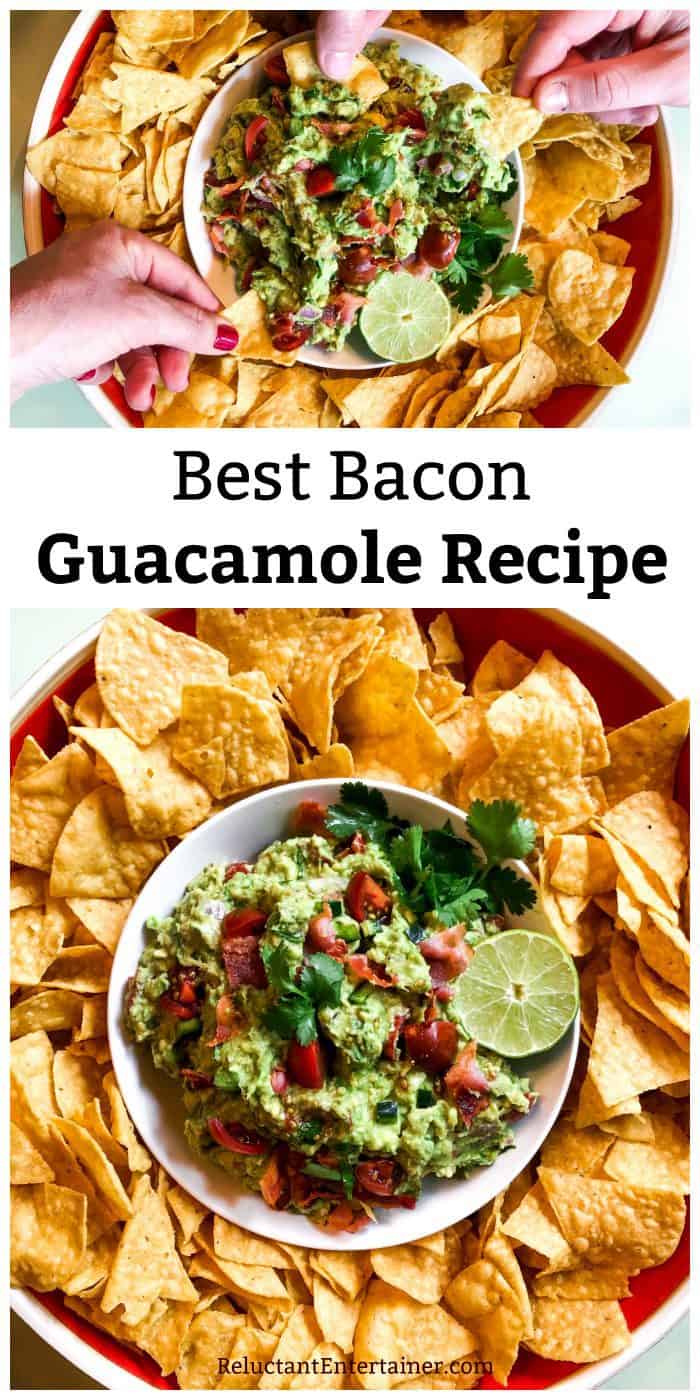 Hello and welcome to my home and table!
I'm Sandy—lover of food, family, cooking, THE BIG BOARD, travel, and bringing people together. Through great recipes and connection around the table, we become better, stronger, and more courageous people. Feasting on Life is real, and every time we do it, we grow a little more. Read more...