Scrambled Egg Brunch Charcuterie Board
Enjoy this Scrambled Egg Brunch Charcuterie Board filled with the ultimate breakfast ingredients–fresh fruit, cheese, scrambled eggs, and English muffins! Perfect for Mother's Day!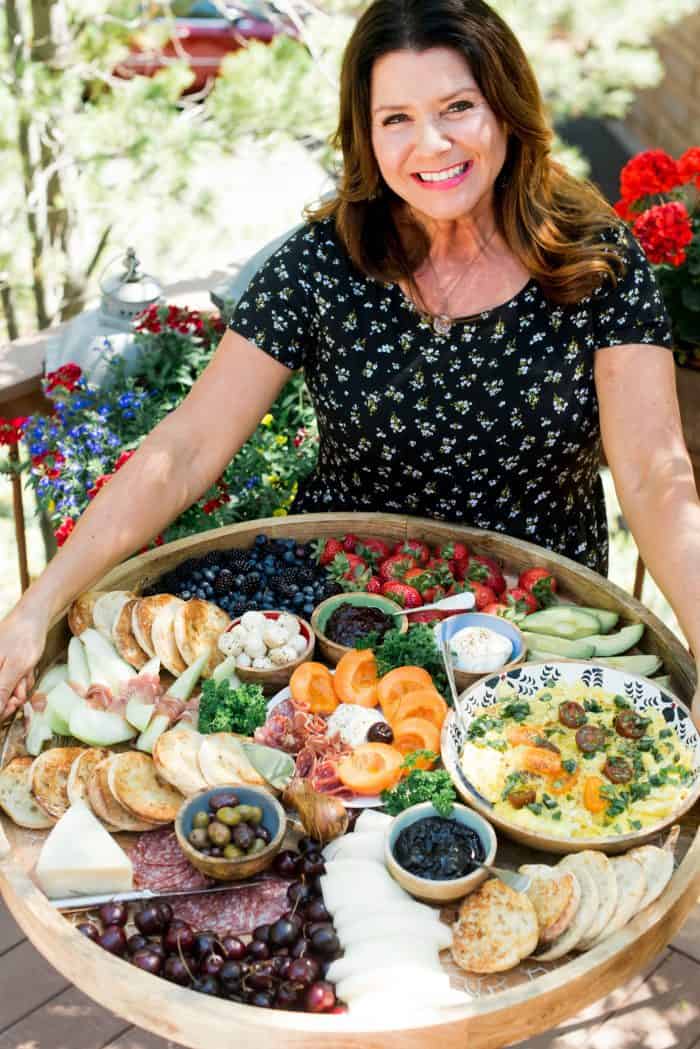 Friends, are you ready for the weekend? We are so excited for another beautiful weekend here in central Oregon. I'm sure we'll be doing some fun things in the great outdoors, but we will also be resting.
Scrambled Egg Brunch Charcuterie Board
You may remember my July 4th Charcuterie Board (so summery!), so today I hope you enjoy this Scrambled Egg Brunch Charcuterie Board! Also check out my Epic Bacon Wedge Salad Board and Mediterranean Pecan Pasta Salad and this Grilled Fruit Vegetable Charcuterie Board.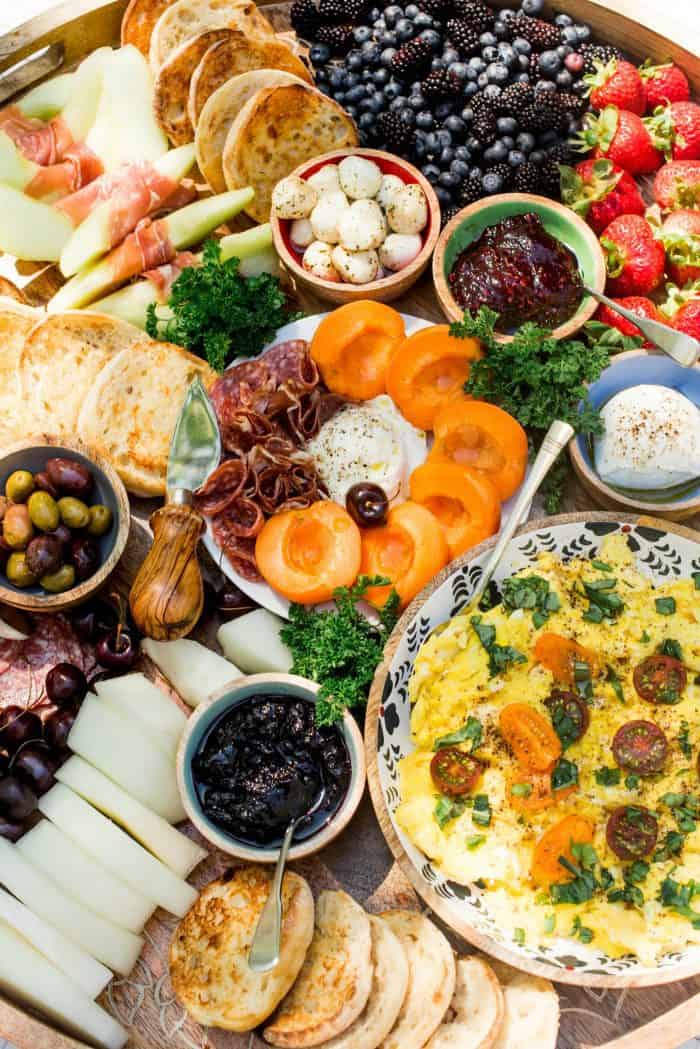 Sundays are …
We usually start Sunday by going to church, and then the rest of the day just calls for hammock naps and resting and eating and family time!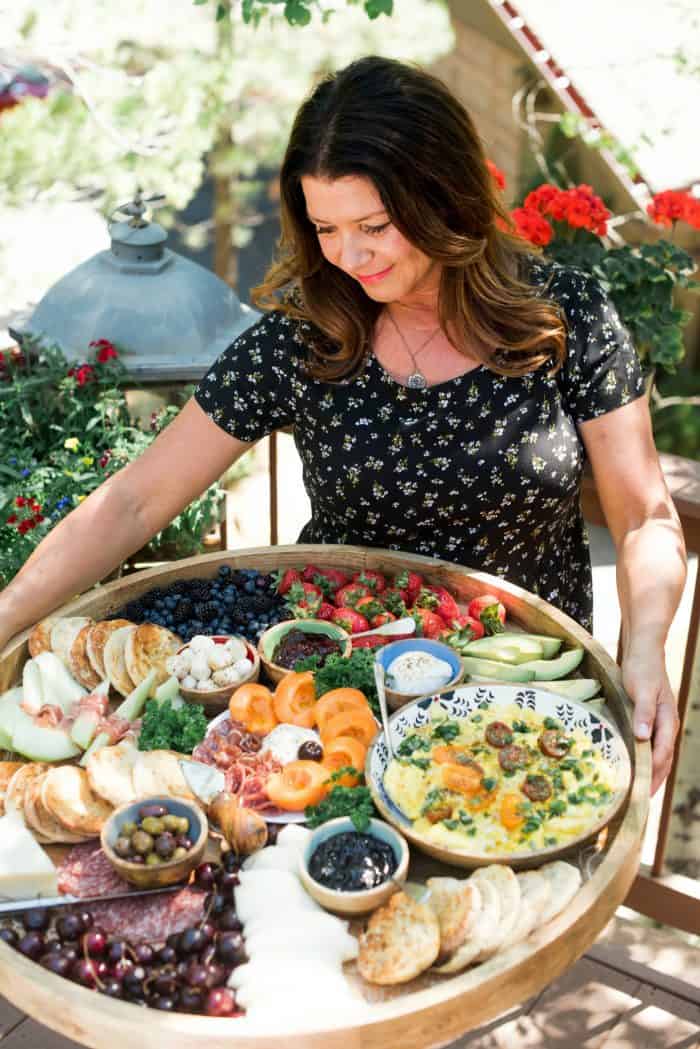 "Rest is not idleness, and to lie sometimes on the grass on a summer day listening to the murmur of water, or watching the clouds float across the sky, is hardly a waste of time." -John Lubbock
Last Sunday we took our canoes and kayaks to a nearby lake and had the best family time. Off the water at 930 PM, home in bed by 10 PM! (Are you following me on Instagram where you can see my "stories?" Stories are live videos, super fun!)
Scrambled Egg Brunch Charcuterie Board
Just in time for Sunday brunch, enjoy this amazing breakfast board that we already enjoyed last weekend, a Scrambled Egg Brunch Charcuterie Board, to help inspire you today! (Here's a smaller version: Summer Pineapple Cheese Board.)
Grab a large serving tray or platter and start arranging the food!
28-inch Charcuterie Board
Friends, here are the boards that I LOVE. A "lip" is the secret to the best charcuterie or dinner board, because the food does not fall off. Here's a list of some boards to buy. Unfortunatley Pier One has gone out of biz, so this large 28-inch is no longer available.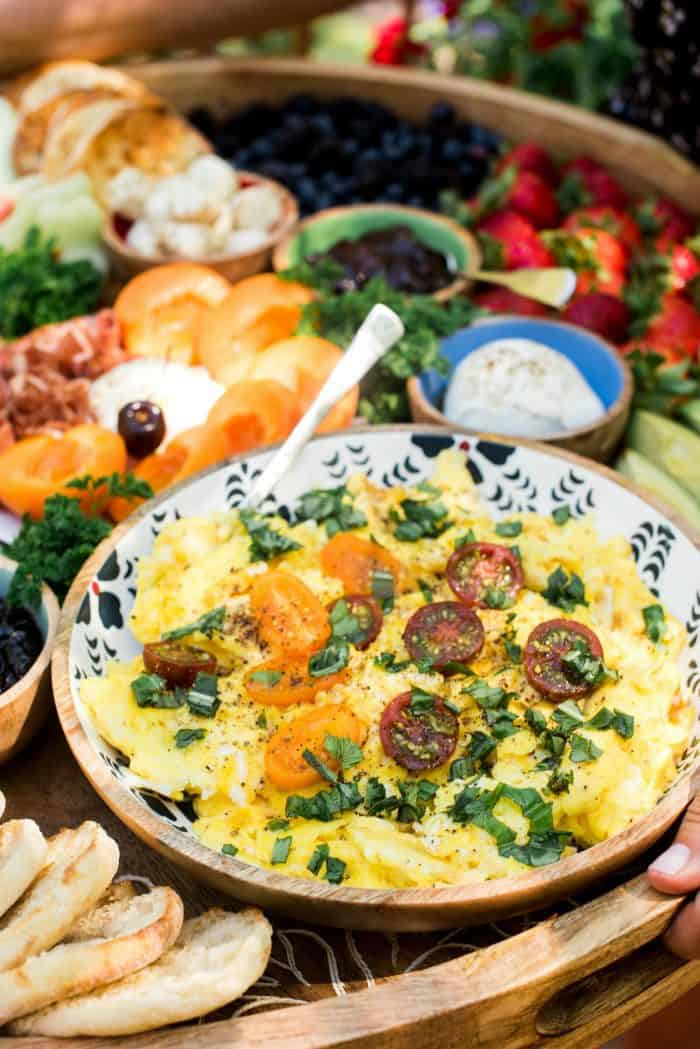 Fluffy Scrambled Eggs
Looking for fluffy scrambled eggs? I place 18 eggs in the blender, and add about 3/4 cup of water. Blend and scramble. Top with fresh herbs and tomatoes! Of course cheese is optional.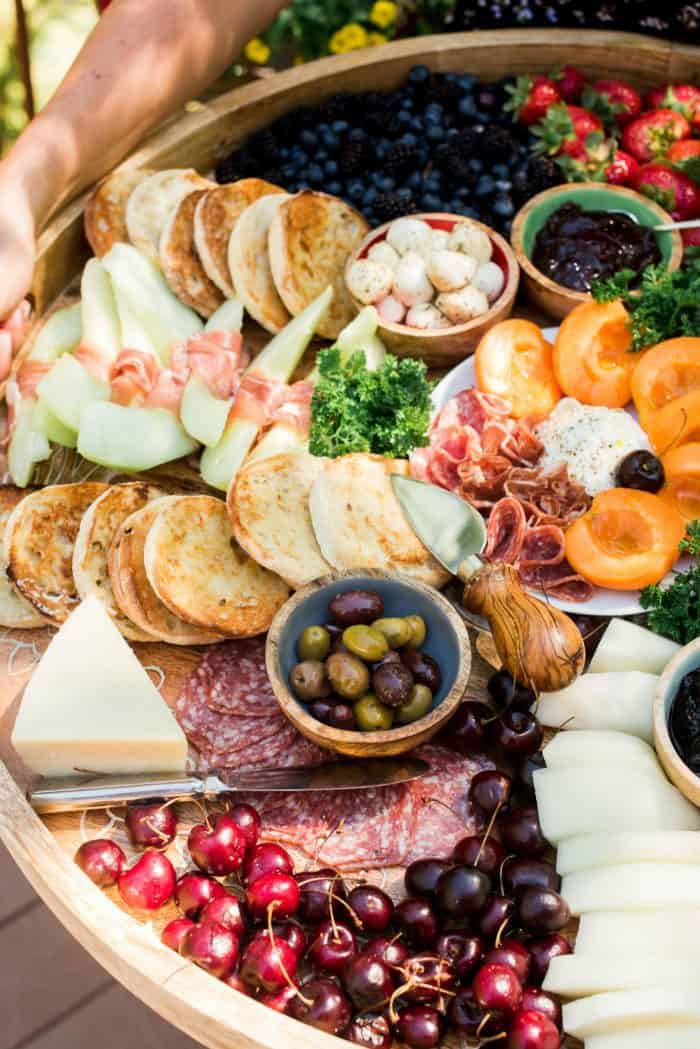 Toast 18 English muffins ahead of time and butter while they are hot. It's okay to serve them cool (they will be nice and crunchy, the way we love them).
Don't forget 2 kinds of jellies! We served fresh raspberry and blueberry—perfect for the season!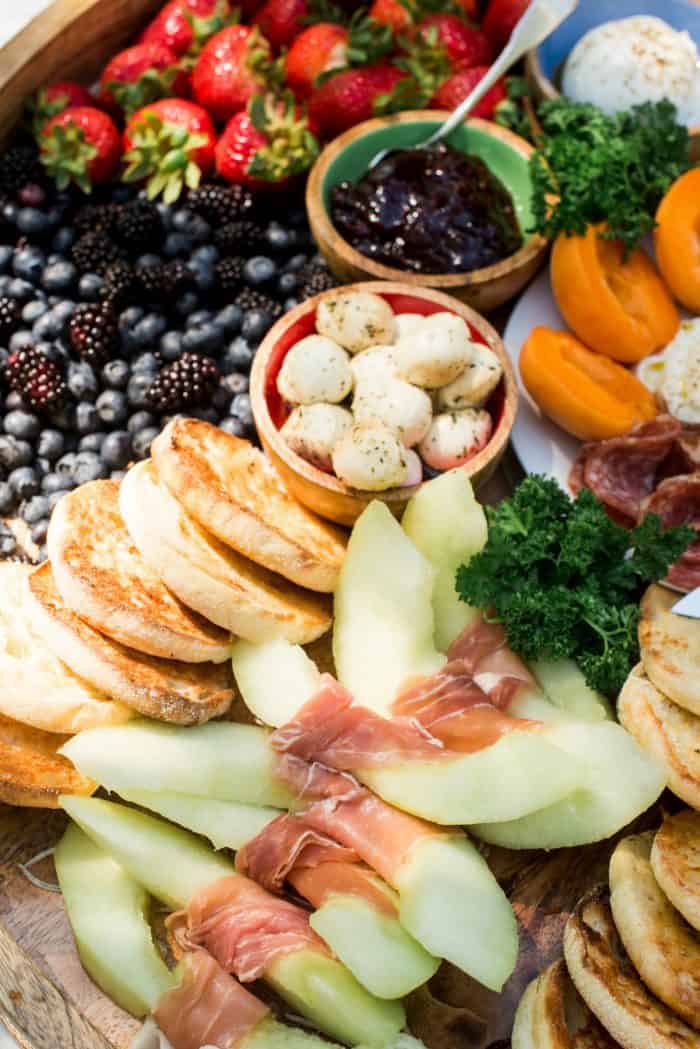 We love honeydew melon with prosciutto wrapped around slices.
Fill in all the areas with different cheeses, crackers, fruits, and all things breakfast!
So good.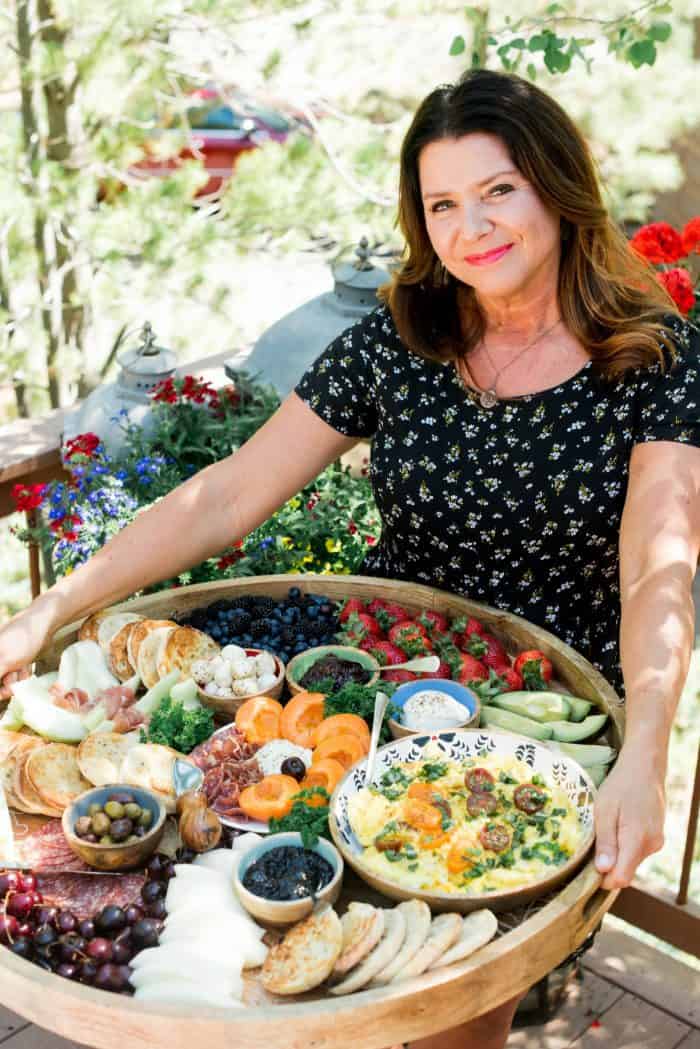 Happy weekend and SUNDAY BRUNCH, friends!
More charcuterie ideas: How to make an EPIC Charcuterie Board [RE], How we Charcuterie & Cheese Board [The Baker Mama], and Fruit Lovers Charcuterie [Tried and Tasty].
Get the Recipe: Scrambled Egg Brunch Charcuterie Board
Scrambled Egg Brunch Charcuterie Board with fresh fruit, cheese, salami, scrambled eggs, and English muffins! Mix and match your favorite jellies!
Ingredients
18 eggs, scrambled
1 Tbsp. butter
Soft cheeses, burrata, mozzarella balls
1 hard cheese, your favorite
Mixed olives
Salami slices
Prosciutto, wrapped around the sliced melon
2 kinds of jellies
19 English muffins, toasted and buttered
Summer fruits, cherries, apricots, melon (2 kinds, strawberries, blueberries)
Avocados, cut in thirds
Parsley + cherry tomates, for garnish
Instructions
Place the eggs in a blender. Add 3/4 cup water. Blend for 1 minutes.

In a large frying pan, melt 1 Tbsp. butter. Add eggs and cook on medium heat for 1-2 minutes; turn down to low heat and cook additional 3-4 minutes until eggs are done. Do not overcook!

Sprinkle eggs with fresh herbs and tomatoes!

Toast the English muffins and butter while hot.

On a large board, arrange all the food.

Serve while eggs are hot! Garnish empty spots with parsley!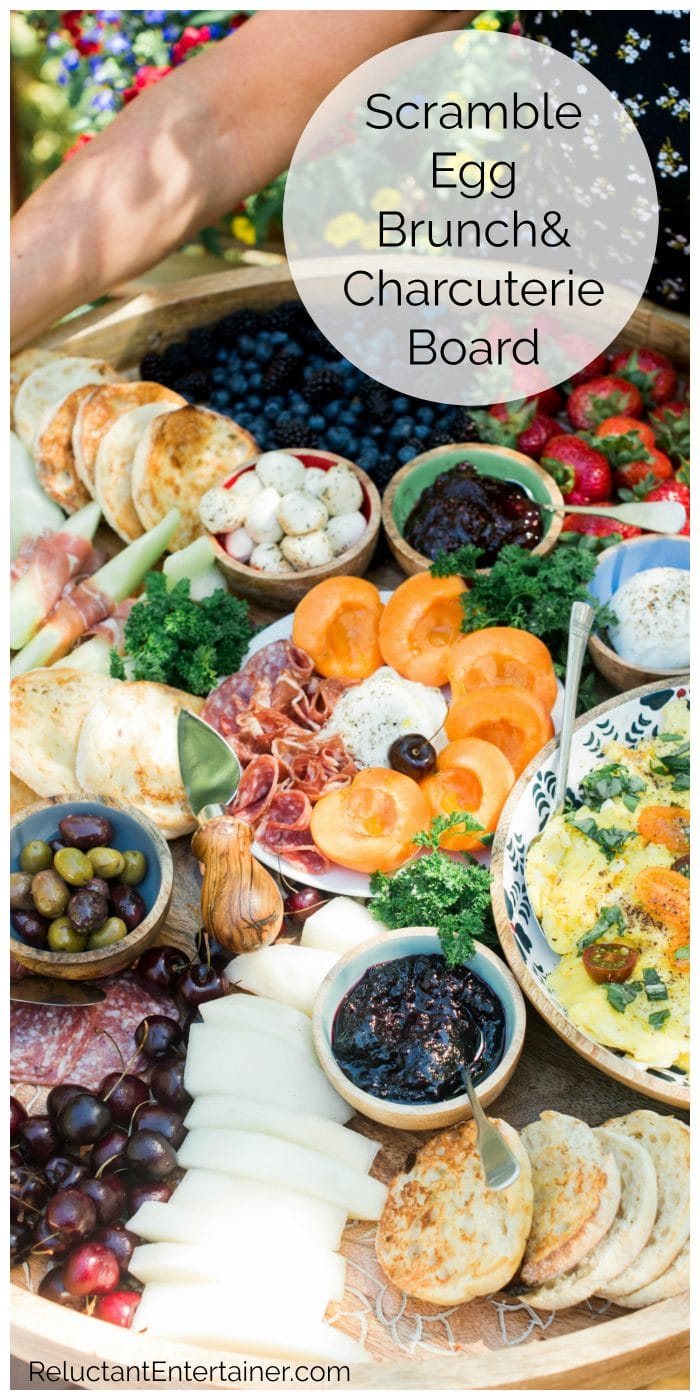 This post has affiliate links. Every purchase from these links supports RE at no extra cost to you. Thank you!
Hello and welcome to my home and table!
I'm Sandy—lover of food, family, cooking, THE BIG BOARD, travel, and bringing people together. Through great recipes and connection around the table, we become better, stronger, and more courageous people. Feasting on Life is real, and every time we do it, we grow a little more. Read more...