Shaved Asparagus Cucumber Sesame Salad
Take a peeler to shave asparacus and cucumbers into strips, for this fresh and lovely Shaved Asparagus Cucumber Sesame Salad. Perfect for a summer party!
Friends, if we fill out buckets with love, we can actually become love (says Bob Goff). I love this.
Today I'm sharing an easy summer salad: Shaved Asparagus Cucumber Sesame Salad. Super easy ingredients, fresh and lovely, served as a side to any grilled meat.
Since it's cucumber season, you may also love my Cucumber and Chickpea Salad and Cucumber Salad with Pineapple and Cilantro (we had this for dinner last night, if you watched my Instagram story), and Cucumber Tomato Avocado Salad recipes.
My heart is …
I see entertaining (or hosting) divided into two: heart and hands. My heart is, I want to feed and invite everyone. I love it when people come over, and I give my heart to hear our people's stories, dive into their lives, learn more about how they got to where they are today. Sometimes it's pretty, sometime's it's not.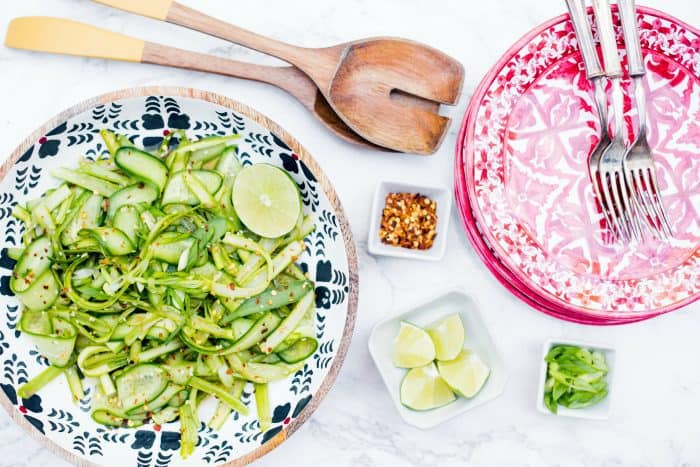 You do have to take into account how big your table is, or what kind of party you're hosting. Casual and everyone sits wherever? Invite as many as you think can fit.
Hosting around the table? Count how may you can squeeze around.
My hands are …
Then there are the hands. My hands are busy preparing, making sure everything flows, and that I make our space as comfortable as I can for our guests. Perfect? Never, ever. I don't even know what that means. But I work hard before they come to make sure not only I can enjoy myself, but that we can enjoy each other, with more time around the table.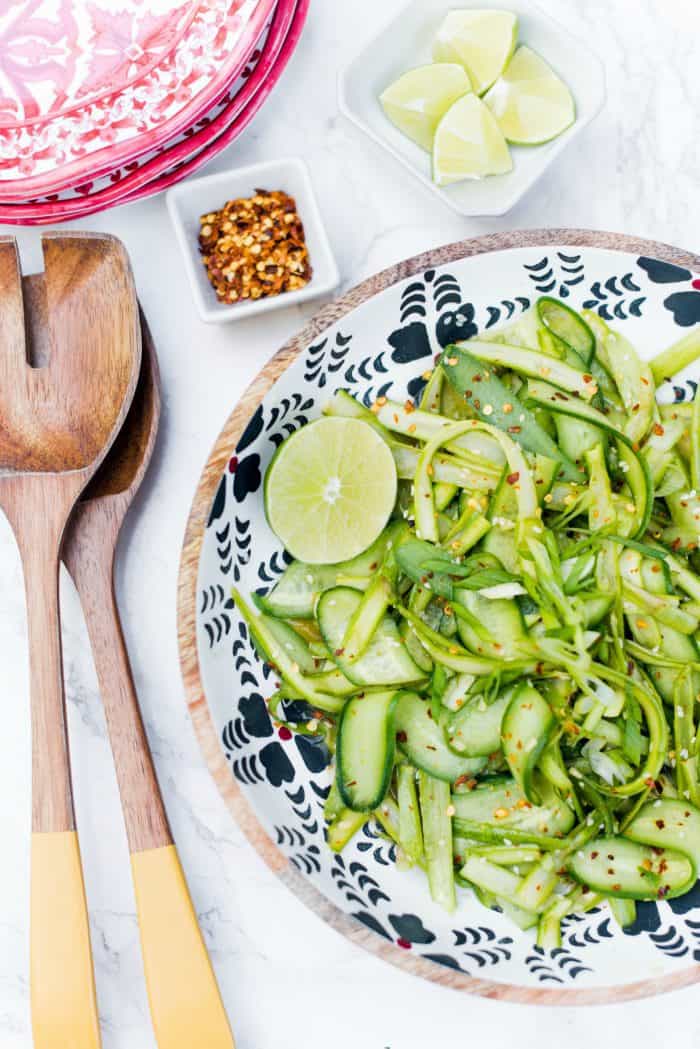 Shaved Asparagus Cucumber Sesame Salad
This salad today I love for summer. Prepare it ahead, which makes everything easier.
Most everyone has a potato peeler. And the ingredients are super easy!
I really try to prepare all my salads ahead of time, and then toss meat on the grill. At least for summer entertaining.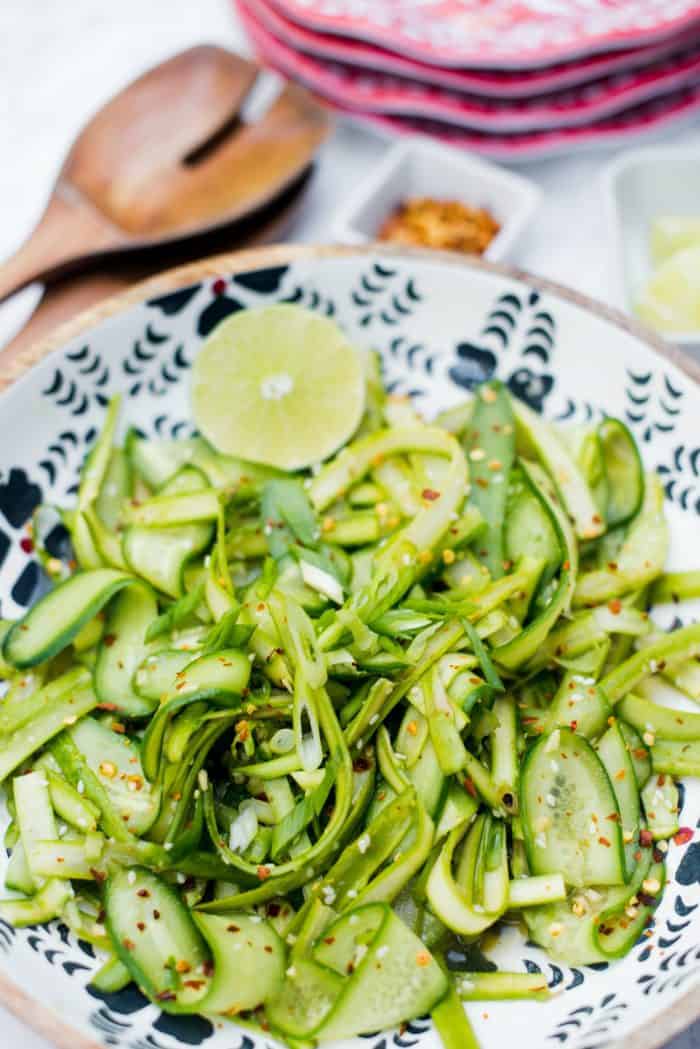 Have you ever been to a dinner where the hostess is cooking (not a problem), but doesn't get to break away from her guests? She's sweating away, and it's a labor of love.
Prepare food ahead of time
But there is a way around this. Try to get somewhat organized, plan ahead, and prepare what you can ahead of time.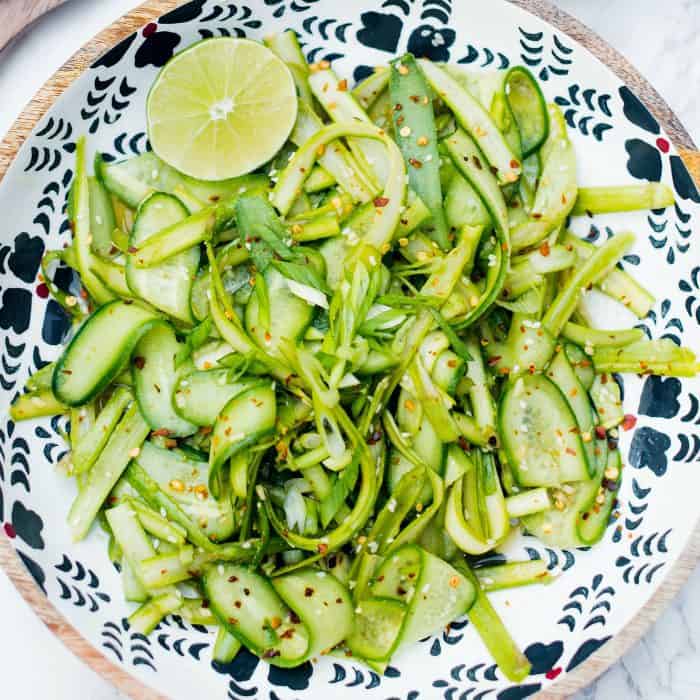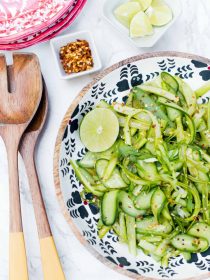 Get the Recipe: Shaved Asparagus Cucumber Sesame Salad
Ingredients
Sesame Vinaigrette: 2 tablespoons rice vinegar
1 tablespoon grated ginger
1 teaspoon garlic powder
1 tablespoon coconut sugar
2 tablespoons toasted sesame oil
Salt to taste
1/2 tablespoon sesame seeds
1/2 lime, juiced
Salad: 1 1/2 pounds of thick asparagus
7 small cocktail cucumbers, baby cucumbers
1/4 cup slivered scallions
1-2 teaspoons chili flakes
Instructions
Combine and thoroughly mix all ingredients for vinaigrette in a small bowl, and set aside.

Prepare the asparagus by snapping off the ends and removing the tops. Using a vegetable peeler, shave asparagus and cucumber into thin strips. This is best done while laying the vegetable on a flat surface and pushing in and away from the body, peeling back to front.

When veggies are shaved, mix them together in a medium bowl, then pour over and mix in the vinaigrette.

Serve cold and garnish with green onion and chili flakes.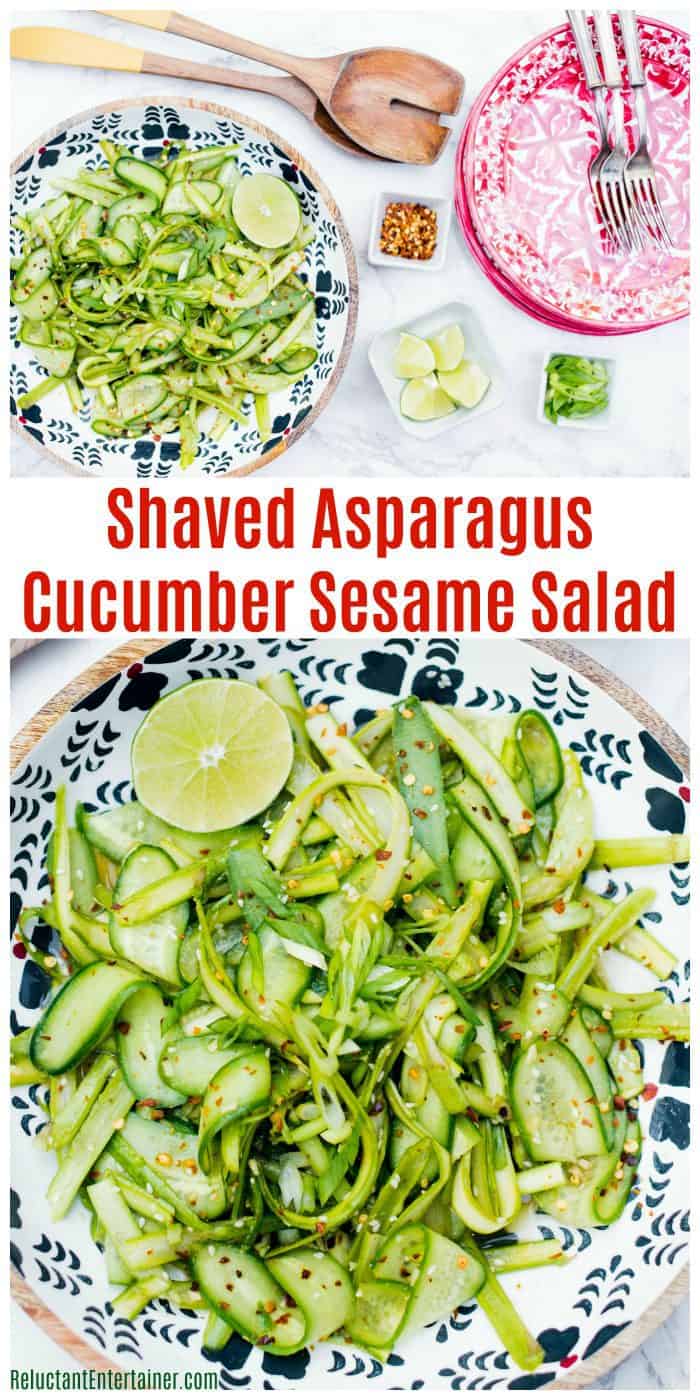 Shaved Asparagus Cucumber Sesame Salad
Serves 5-6
Hello and welcome to my home and table!
I'm Sandy—lover of food, family, cooking, THE BIG BOARD, travel, and bringing people together. Through great recipes and connection around the table, we become better, stronger, and more courageous people. Feasting on Life is real, and every time we do it, we grow a little more. Read more...