Shishito Pepper Cheese Board
Serve a Shishito Pepper Cheese Board, with either sautéed or grilled shishito peppers, with fresh veggies, cheese, meat, and crackers.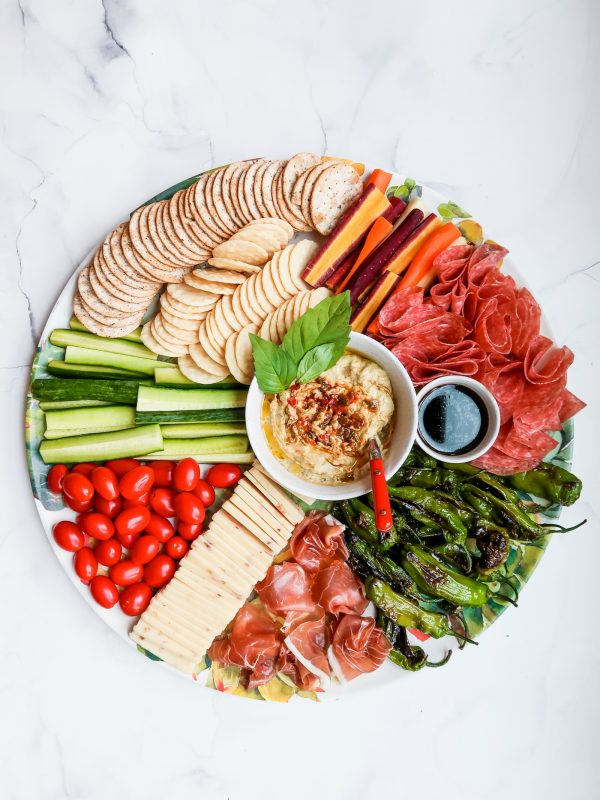 Happy Friday, Friends! This Shishito Pepper Cheese Board has got to be one of my favorite boards that we served this summer. It's full of farmer's market fresh veggies (don't forget the basil), and then of course, the star of the board: shishito peppers.
Shishito Pepper Cheese Board
Grab more of my cheese boards and The Big Board ideas for the weekend! Looking for a dessert this weekend? Try Grillled Chicken Caprese and this amazing Olive Oil Peach French Pound Cake!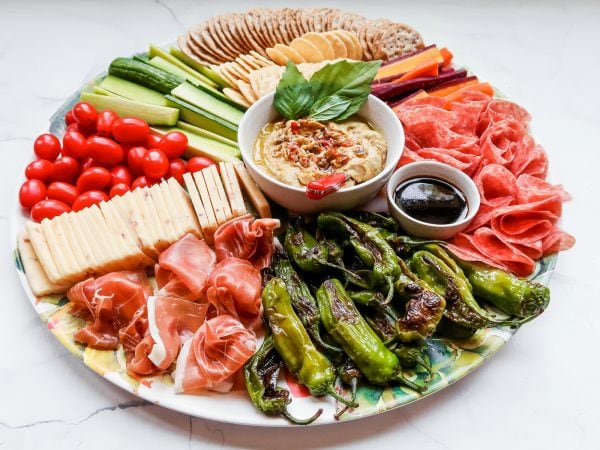 Friends, we recently hiked to the top of Tumalo Ridge, here in central Oregon. Our friends treated us to dinner on top of the mountain. This has got to be one of my most favorite summer memories.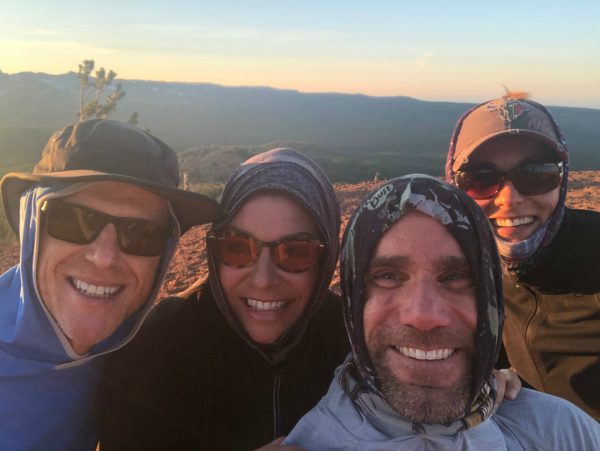 This last month of summer has been very busy for us, as we've just returned from a long 10 day road trip in our sprinter van. Don't forget you can see the highlights on my Instagram.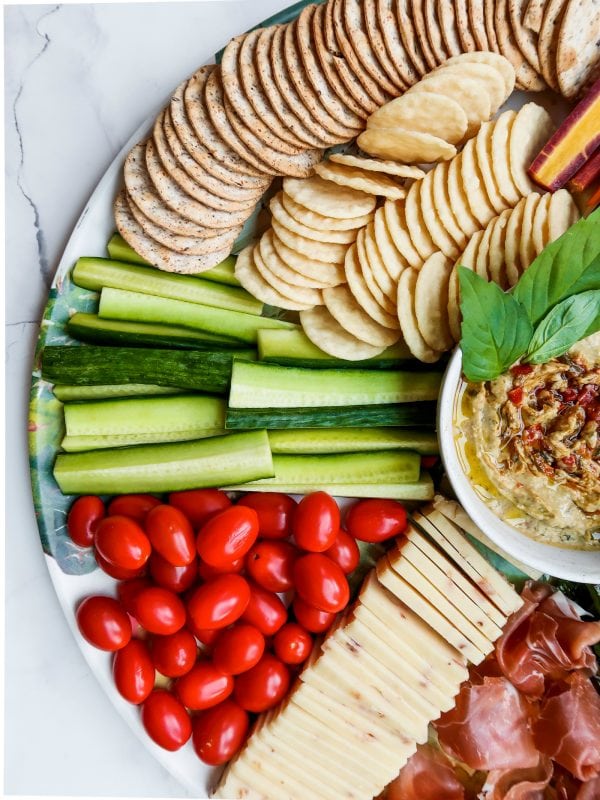 Over the summer we've served plenty of grilled tri-tip and burgers, and a variety of charcuterie boards. We have many more ideas for you to come, with my new line of charcuterie and dinner boards that I will be selling. I'm very excited about this, and I think you will be, too! [Stay tuned for pre-order link!]
Summer cheese board
In the meantime, here's one of my summer favorites: This Shishito Pepper Cheese Board!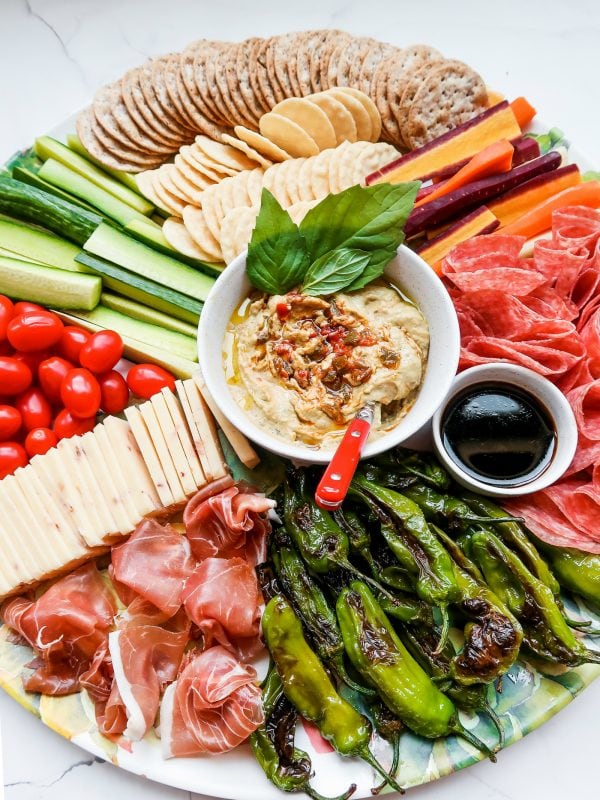 Ingredients you will need:
Hummus
English cucumber, sliced
Shishito peppers, sautéed with a side of soy sauce
Multi-color carrots
Sugar plum tomatoes
Cabot Smokey Bacon Cheese
Prosciutto
Hard salami
Multigrain crackers
Rice crackers (gluten-free)
Basil for garnish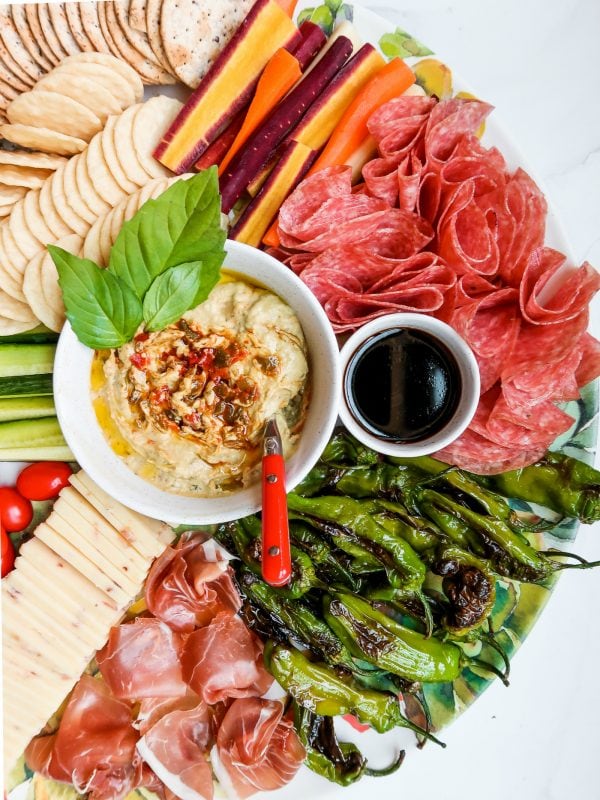 How to roast shishito peppers
Want to quickly roast these little beauty shishito peppers? So good.
How to Cook Shishito Peppers is simple; saute or grill.
Eat outside or in the great outdoors
Make a special memory one evening this last month of summer, and pack a picnic dinner and go on your favorite walk or hike.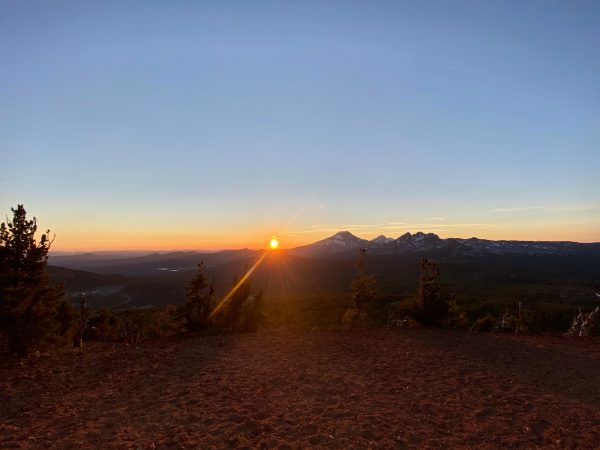 Mosquitoes aside, we love eating outdoors.
Keep it simple (pre-made dinners are fine) or make it special. Our friends ordered takeout from one of our favorite restaurants in Bend.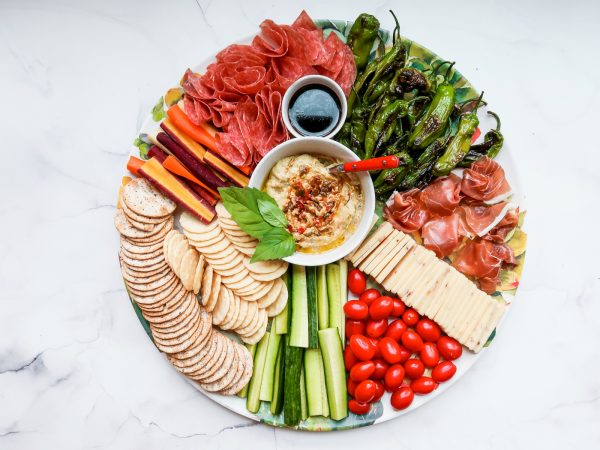 Sit and watch the sunset
We sat and watched the sunset. It was magical and glorious and majestic, walking back down the mountain.

Watching the sunset isn't just for people on vacation, Friends. I hope you are enjoying it this summer as much as I am!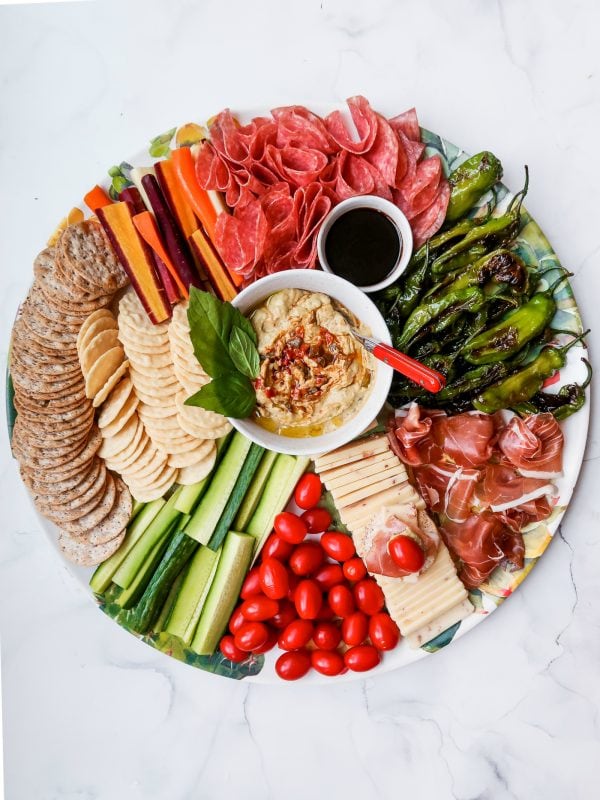 Get the Recipe: Shishito Pepper Cheese Board
Ingredients
10 oz hummus
1 English cucumber, sliced
6 oz shishito peppers, sautéed with a side of soy sauce
5 multi-color carrots, cut into sticks
8 oz sugar plum tomatoes
8 oz Cabot Smokey Bacon Cheese, sliced
5 oz prosciutto
5 oz hard salami
4 oz pkg multigrain crackers
3.5 oz pkg rice crackers, gluten-free
Basil for garnish
Instructions
Place hummus in a small bowl in the center of a board, tray, or platter.

Cook the shishito peppers (grill or pan fry).

Slice cheese and vegetables. Place around the hummus.

Lay down the crackers and garnish the hummus with fresh basil and serve!
Hello and welcome to my home and table!
I'm Sandy—lover of food, family, cooking, THE BIG BOARD, travel, and bringing people together. Through great recipes and connection around the table, we become better, stronger, and more courageous people. Feasting on Life is real, and every time we do it, we grow a little more. Read more...