Spinach Cobb Salad
Today I'm sharing a delicious Spinach Cobb Salad recipe!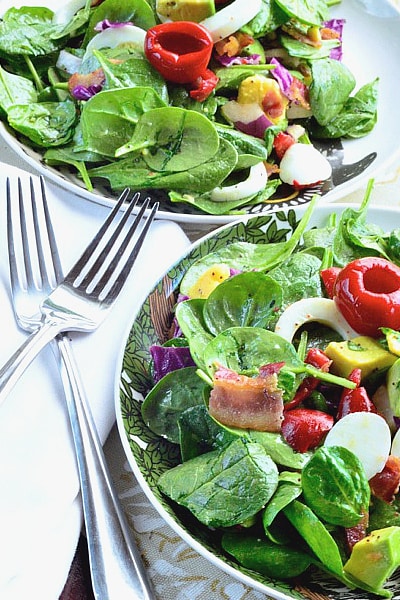 We were together. I forgot the rest. –Walt Whitman
I met my husband Paul in a restaurant. Surprised?! Me, there with a small group of mixed friends. He, there with a small group of guys, most of them roommates.
A mutual friend called me over and introduced me to the group, and I didn't really think anything of it.
Later I found out, jokingly, that I gave the right stance. (If you're just joining in, I started my Still Dating series a few weeks ago.)
The stance.
The right stance? Yes, my future husband was at the table, and he said that I stood unlike most single girls who strike the 3/4 stance. You know, when you're turned a little to the right or left, not straight on, with a little bit of pizzazz, or as guys say, "Showing the goods." We both laugh about it now. My husband is a writer, and some of his descriptions to this day make me grin ear-to-ear, or even laugh out loud.
What I found out later, what was even more funny to me, was that rumor had it I was interested in another guy there (other than my husband), which was news to me! But then, later that week, the phone rang. This was before cell phones or text messaging existed. I picked up the phone, and he was there.
I said yes.
He asked me out and I said yes.
I'm glad because little did I know how life would change so quickly for me.
We met, he called, and then he showed up at the door.
I still remember what he was wearing. I loved his style, his hair, his freckles, and his beautiful smile with his striped-blue shirt buttoned all the way up, which was the style back then in 1990. My heart did a flip-flop.
The car.
We got into his very old blue VW Squareback (which basically looked like this). I found out later that he and his roommates recorded a song about our first date, before it even happened. They all knew that Paul was going to ask me out, so they joked about his old car, and how I would see the road through the floorboard. What girl would want to ride in a car like that?
Pick me!
Pick me!
The song was sung by the guys, and the instruments included drums (pots and pans), harmonica, and a real guitar.
The song.
The chorus went like this.
Steel shank boots, size 6,
Paul gave them to Sandy,
Cuz the floor-boards weren't fixed
Steel shank boots
Steel shank boots
His roommates teased him saying, Your car is so bad that Sandy's feet are going to break through the passenger floor boards! So to save my feet from mutilation, Paul would need to make me wear steel boots, size six. Then they joked that eventually the steel from the boots would send sparks flying out behind the car!
On cassette.
He later gave me the song on cassette, which made my heart sink because I've had more than one guy give me a collection of love songs waaaaaaay tooooo early in the dating process. But this song was about me, it wasn't sappy, and it was very funny.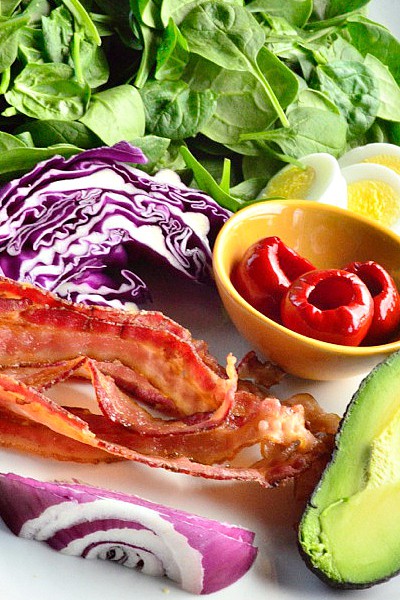 So, he picked me up, and we drove to Ashland, Oregon, which, is still one of our favorite places to eat and spend time.
It defines us.
Our life together, and very first conversations, began in an old VW Squareback, where I did not wear steel shank boots, but I saw that my new friend was way more than a fancy car.
And actually, the old car and very little "stuff" that we started our marriage off with, define who we are today, I believe in more ways than not.
What simple items from the beginning of your marriage define you?
We went to Greenleaf Restaurant, still very popular in Ashland, Oregon, and shared one of their famous salads. Today I'm sharing a similar recipe with you of healthy greens and yummy toppings.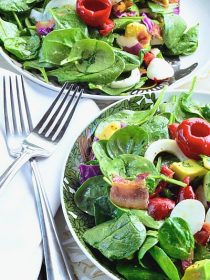 Get the Recipe: Spinach Cobb Salad
What really makes this salad different is Delallo's Pepperazzi Spicy Sweet Red Peppers.
Ingredients
3 tablespoons white-wine vinegar 2 tablespoons finely minced shallot 1 tablespoon Dijon mustard 1 teaspoon freshly ground pepper 1/4 teaspoon salt 3 tablespoons extra-virgin olive oil 10 cups baby spinach 2 large eggs, hard-boiled (see Tip), peeled and chopped 1 cup red cabbage, finely chopped 1/3 cup red onion, finely chopped 1 avocado, diced 4 slices cooked bacon, crumbled 4 Delallo Pepperazzi (Spicy Sweet Red Peppers), left whole
Instructions
Whisk vinegar, shallot, mustard, pepper and salt in a small bowl to combine. Add in oil and whisk until combined. Place spinach in a large bowl.

Place the rest of ingredients on top of the spinach leaves, except the sweet red peppers. Drizzle with dressing. Mix.

Divide the greens among 4 plates. Top with 1 or 2 Spicy Sweet Red Peppers.
How to boil the PERFECT egg:
To hard-boil eggs, with a spoon, gently place each egg in a medium pot of boiling water. Bring to a boil for 10 minutes. Remove from heat, pour out hot water and fill the pan with a mixture of cold water, and ice cubes; let stand until the eggs are completely cooled.

Hello and welcome to my home and table!
I'm Sandy—lover of food, family, cooking, THE BIG BOARD, travel, and bringing people together. Through great recipes and connection around the table, we become better, stronger, and more courageous people. Feasting on Life is real, and every time we do it, we grow a little more. Read more...