Summer Stone Fruit Cheese Board
A Summer Stone Fruit Cheese Board, made on the Big Board, is a fruit spread of peaches, nectarines and apricots with burrata cheese.
When thinking about a cheese board for summer, stone fruit is the perfect sweetness to pair with cheese and honey! I love peach season, specifically, and then there are plums and nectarines! So good.
Summer Stone Fruit Cheese Board
If you need some "cheese board tips" then follow along the basic steps to How to Make a Charcuterie Board or my most popular Epic Charcuterie Board posts! This charcuterie board is made on the 20-inch BIG BOARD (grab details below).
Ingredients for summer cheese board:
Goat cheese
Oregon smoked blue cheese (we love Rogue Creamery)
Burrata cheese
Brie cheese
Pistachios, hazelnuts, almonds
Prosciutto, pepper salami, smoked coppa
Balsamic vinegar or glaze
Olive oil seasoned with salt
Cherries, peaches, plumes
Garlic and thyme crackers
Leslie Stowe Raincoast Crisps
Specialized honey (or regular)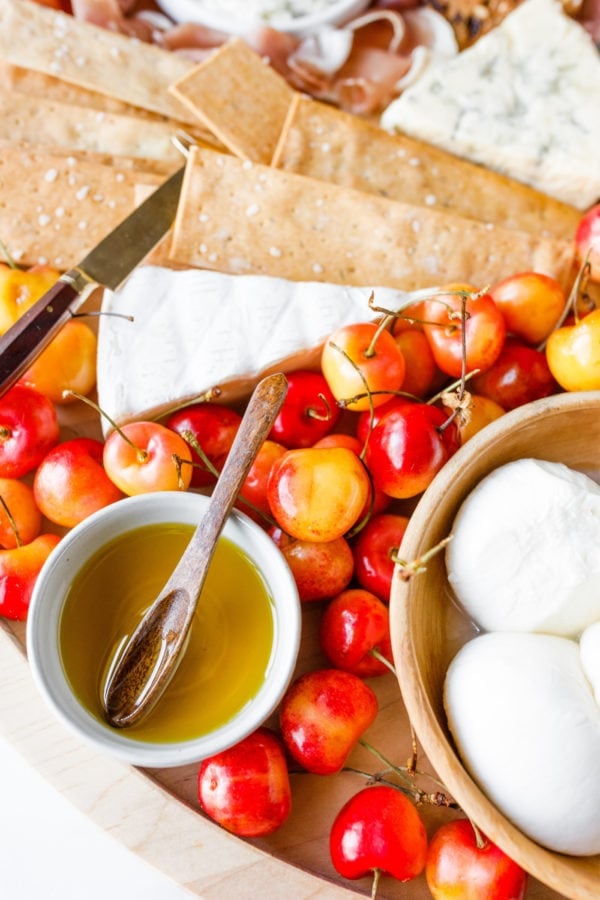 Peace and Plenty Farm
Friends, this cheese board was inspired by my visit to Peace and Plenty Farm in California. We tried their Saffron Infused Raw Honey—amazing!
When I saw this small jar, and I met the owner, Melinda, I knew we needed to try it. If you're in the Clear Lake area, visit their gorgeous sustainable farm. It was so impressive. Their farm was also featured in Martha Stewart's Living magazine last fall.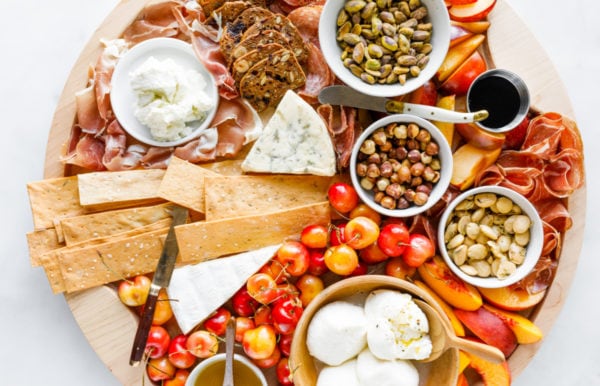 Do peaches go well with cheese?
Oh, yes, the sweet-and-savory combination of fresh peaches and burrata cheese is one of our favorite appetizer combinations, so good for a light summer dinner.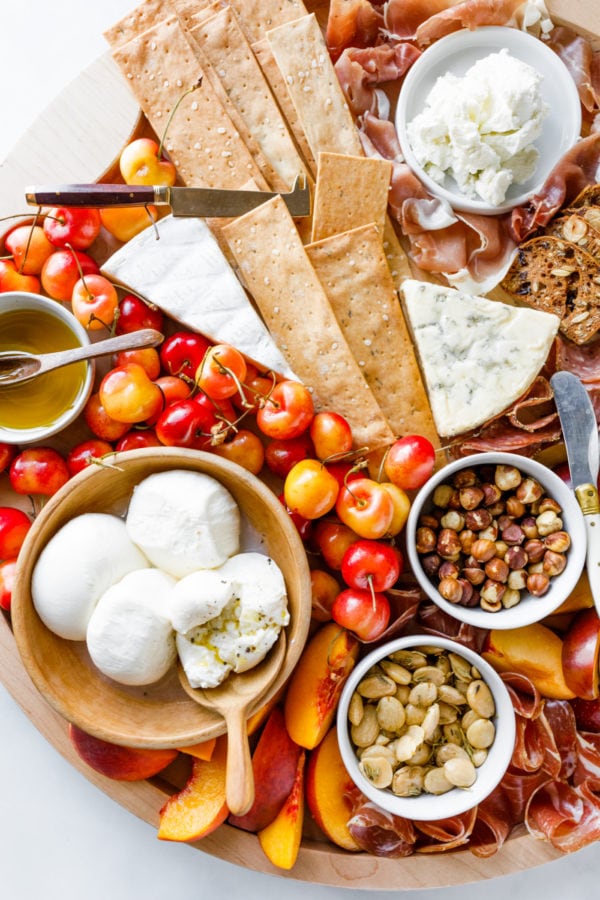 What cheese goes with stone fruit?
Cheese is amazing with stone fruit. Think Brie, a smoky blue cheese, or a mellow burrata. A stronger cheese goes well with a sweet piece of fruit. The stronger the cheese, the sweeter the fruit should be.
What cheese goes with nectarines?
A creamy cheese goes well with a nectarine!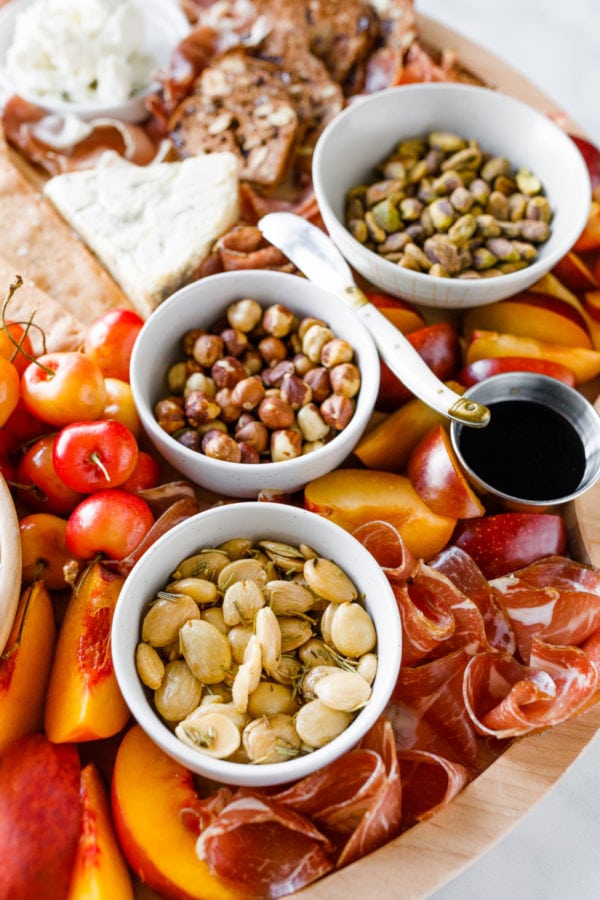 What is stone fruit?
Peaches, nectarines, plums, pluots, apricots, and sweet cherries. Fruit that has stones in the middle! Stone fruit is the epitome of summer, in my mind.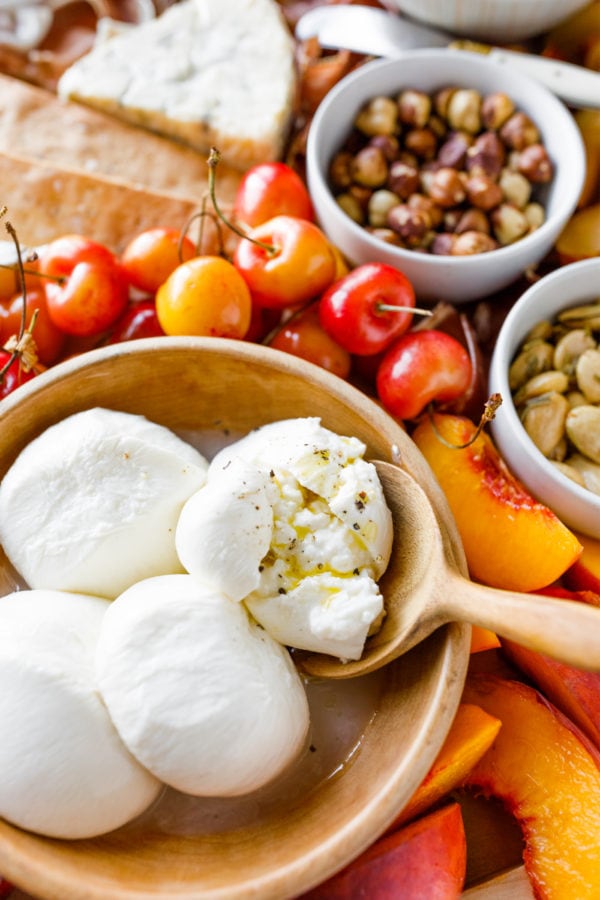 Every time we make a cheese board for friends, I seem to rediscover how delicious it is, the amazing flavors of burrata cheese with stone fruit.
ENJOY!
More cheese boards to try:
I love the colors of this Cheese Board Recipe
Easy Cheese Board recipe
Friends, The Big Board is here! Yes, I've partnered with JK Adams, the premier woodmaking company in Vermont, with my own line of RE boards!
20-inch
26-inch
12 x 36-inch
23-inch Lazy Susan
A board with a lip (or raised edged) so the food doesn't fall off
FOOD SAFE
Made in the USA
Undercut handles (a unique design)
Thank you for your support, as we've sold out so many times already!
Order The Big Board today!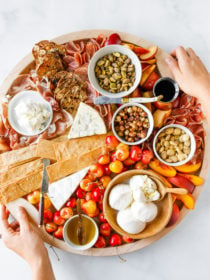 Get the Recipe: Summer Stone Fruit Cheese Board
Ingredients
4 oz goat cheese
¼ c balsamic vinegar or glaze, white or regular balsamic
⅓ c olive oil seasoned with salt
⅓ c roasted pistachios
⅓ c roasted hazelnuts
⅓ c almonds with rosemary
4 oz Brie cheese
4 oz Oregon smoked blue cheese
4 2 oz burrata cheese balls
4 sheets oz prosciutto
14 slices pepper salami
14 slices smoked coppa
2 c cherries
1-2 peaches, sliced
2-3 plumes, sliced
3 oz garlic and thyme crackers
3 oz Leslie Stowe Raincoast Crisps
Instructions
Slice all stone fruit and arrange on tray with blue cheese, Brie cheese, goat cheese, and crackers, and a side of honey or other sweet dipping sauce.

Add the nuts and meats.

Serve and enjoy!
Hello and welcome to my home and table!
I'm Sandy—lover of food, family, cooking, THE BIG BOARD, travel, and bringing people together. Through great recipes and connection around the table, we become better, stronger, and more courageous people. Feasting on Life is real, and every time we do it, we grow a little more. Read more...