Trader Joe's Greek Flatbread Pizza
A quick pizza recipe, Trader Joe's Greek Flatbread Pizza for lunch, dinner, or appetizer bites. Great for Game Day made with your favorite Greek toppings!
Easy for dinner or a snack, or even an appetizer if friends are coming over for a light snack, enjoy this Trader Joe's Greek Flatbread Pizza! Dinner on the table in 20 minutes!
Trader Joe's Greek Flatbread Pizza
Look for the pre-made flatbread over in the bread section at Trader Joe's. There are 2 in a pack (15 oz:) so you only use 1 for this recipe. Here's another recipe I made with this crust this last summer: Caprese Flatbread Pizza Recipe for 4.
Flatbread pizza crust
Oh, and good news! You can find most of these ingredients in any grocery store, in case you don't have a local TJ's. :)
Friends, have I told you how much I love our sunrises? I've been able to capture the most beautiful moments with my iPhone, and it definitely causes me to pause!
A good sunrise, and an easy dinner idea, start and end the day well :)
Ingredients for flatbread pizza
Pre-made pizza crust (or flatbread)
Pizza sauce (refrigerated pizza sauce is best! it's more fresh)
Sharp white cheddar cheese
Grilled Artichoke Halves
Red onion slices (thinly sliced)
Cherry tomatoes, halved
Combo marinated olives and feta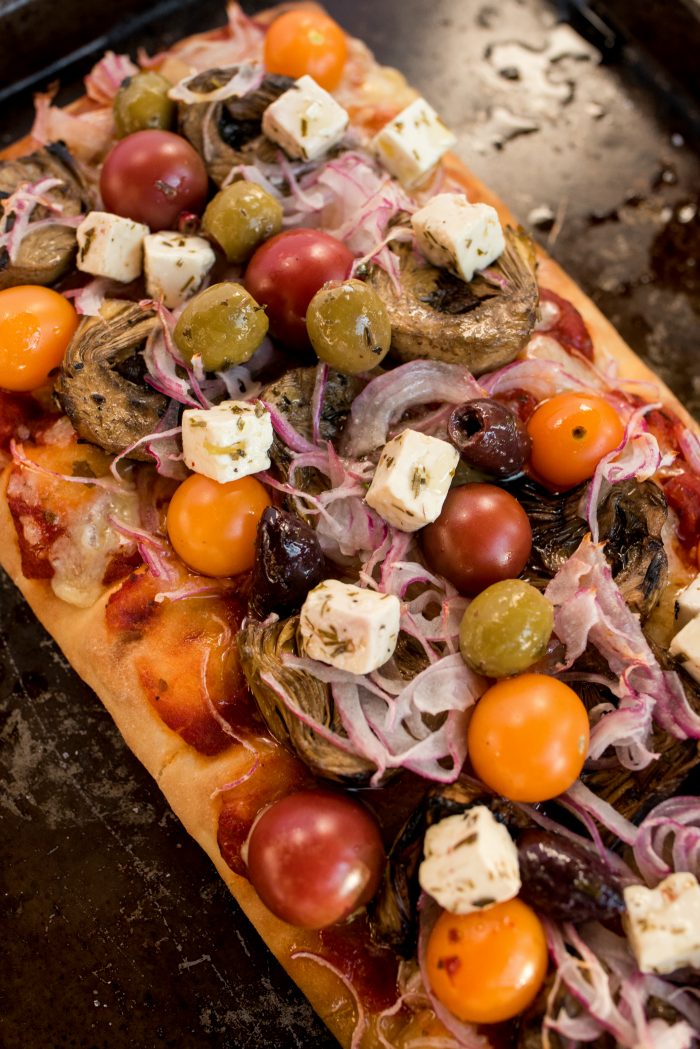 It reminds me daily when I get up and see the sunrise, that today may not be perfect and it will have its ups and downs. But the Creator of the universe gives us such beauty in the morning to make us pause and to remind us …. that He is with us.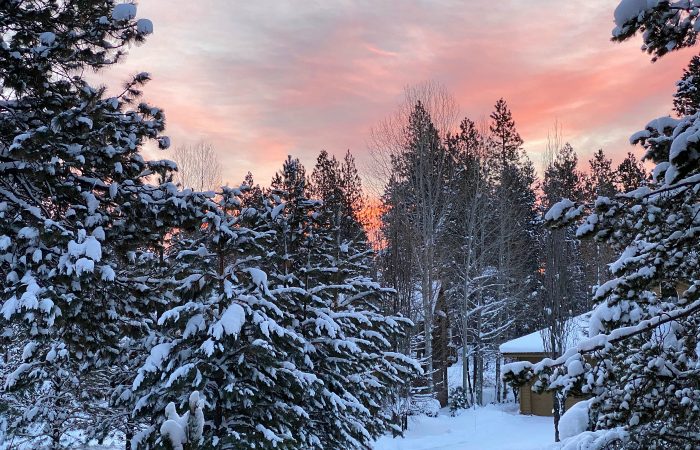 We've had colds, sooo much snow, the house has been turned upside down (depending on what projects we are working on), and honestly, it hasn't been a super-fun winter. It hasn't been bad, by any means, when you consider all we've been given.
We've just been slogging through the projects. [Above photo yesterday AM, with NO filter! Gorgeous!]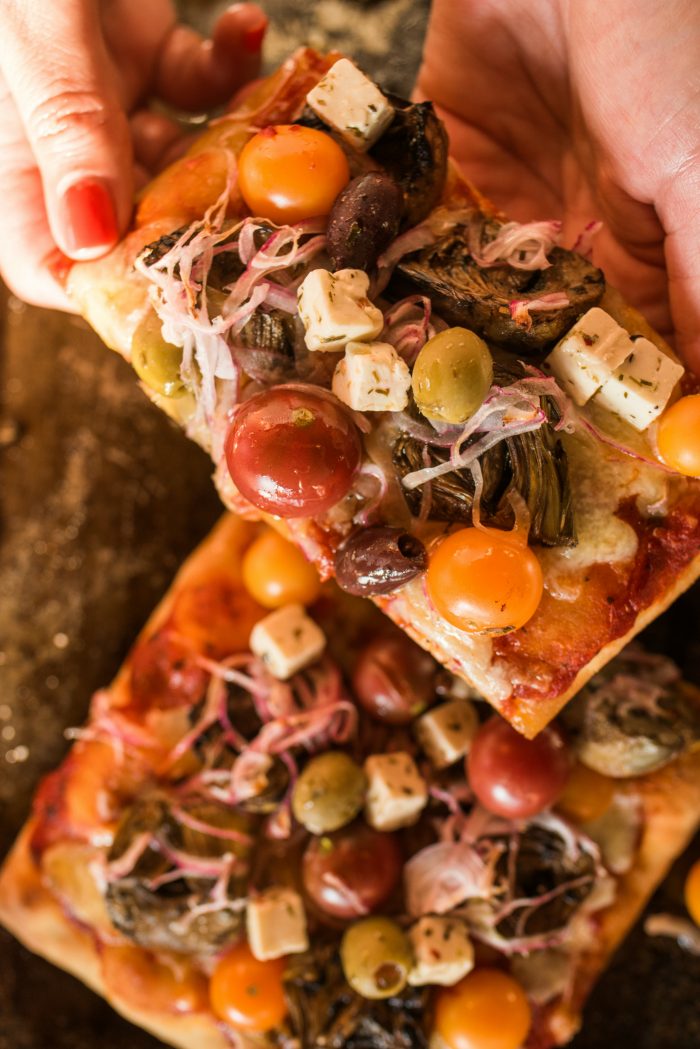 2020 goals!
Christmas was a blur, but great to all be together (the best part), and now we're slowly chipping away on getting healthy around here.
We're committed to wellness and wholeness, and that means not only good food, but sleep, exercise, water, walks, breathing the cold air.
It means having people over (we definitely host less in the winter), and taking our minds off of us and putting them on to others.
Eating together is spiritual
Eating together is spiritual. It yields good living, because people need each other and when you invest in relationships, it does something to your soul. And it doesn't have to be fancy.
I don't know about you, but when we put a little effort into having people over for a meal, when everyone gets settled, it just feels cozy.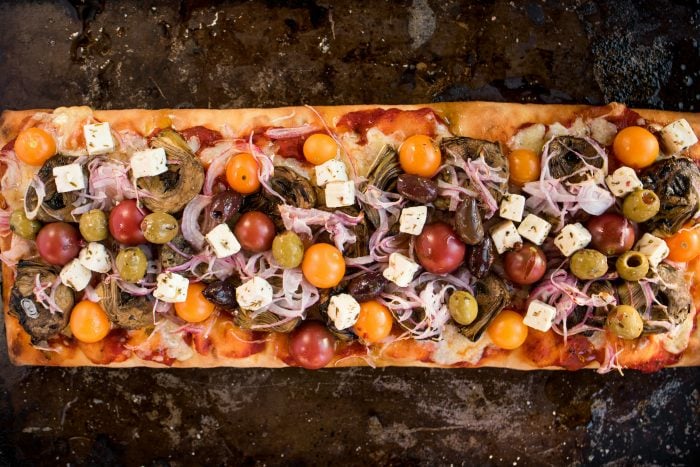 Casual food (like my charcuterie/cheese board ideas , are fun and cozy too. Or, if you want to try some kid-friendly recipes, these are good, too!
Today, enjoy this for the weekend, whether you're watching football or not.
Ingredients
1 Trader Joe's pre-made pizza crust, use 1 flatbread of the 15 oz. 2-pack
5 oz. Trader Joe's pizza sauce, refrigerated section, comes in 10 oz container
1 cup sharp white cheddar cheese
1 pkg. Trader Joe's Ibericos Tapa Style Grilled Artichoke Halves
1/2 cup red onion slices, thinly sliced
15 cherry tomatoes, halved
Optional: Marinated olives & feta, found in olive bar section
Instructions
Prepare the flatbread with pizza sauce, and then layer the other ingredients, ending with red onion.

Bake at 450 for 9-10 minutes. Bake right on the racks for a crispy crust, or bake on a cookie sheet for a softer crust.

Optional to top with feta/olive combination (drained), found in the fresh olive bar section of the grocery store.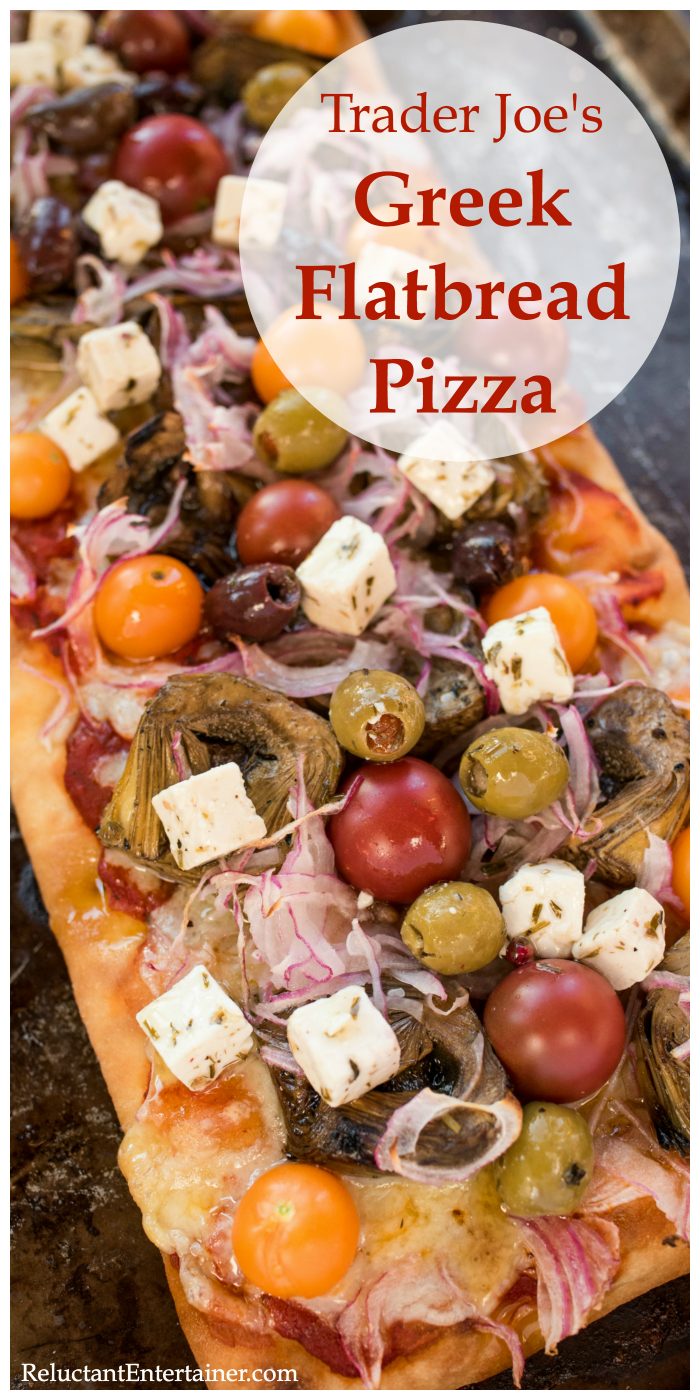 Hello and welcome to my home and table!
I'm Sandy—lover of food, family, cooking, THE BIG BOARD, travel, and bringing people together. Through great recipes and connection around the table, we become better, stronger, and more courageous people. Feasting on Life is real, and every time we do it, we grow a little more. Read more...