Cuban Sliders Game Day Board
Cuban Sliders are mini Cuban sandwiches made with ham, cheese, pickles, and butter dijon glaze–made on a dinner roll. Serve for any party!
Hey Friends, whether you're watching all the games at home or out with friends, Game Day is all about the food.
Cuban Sliders Game Day Board
We love the Cuban slider with combo of ham, cheese, and pickles, baked on warm, toasty rolls.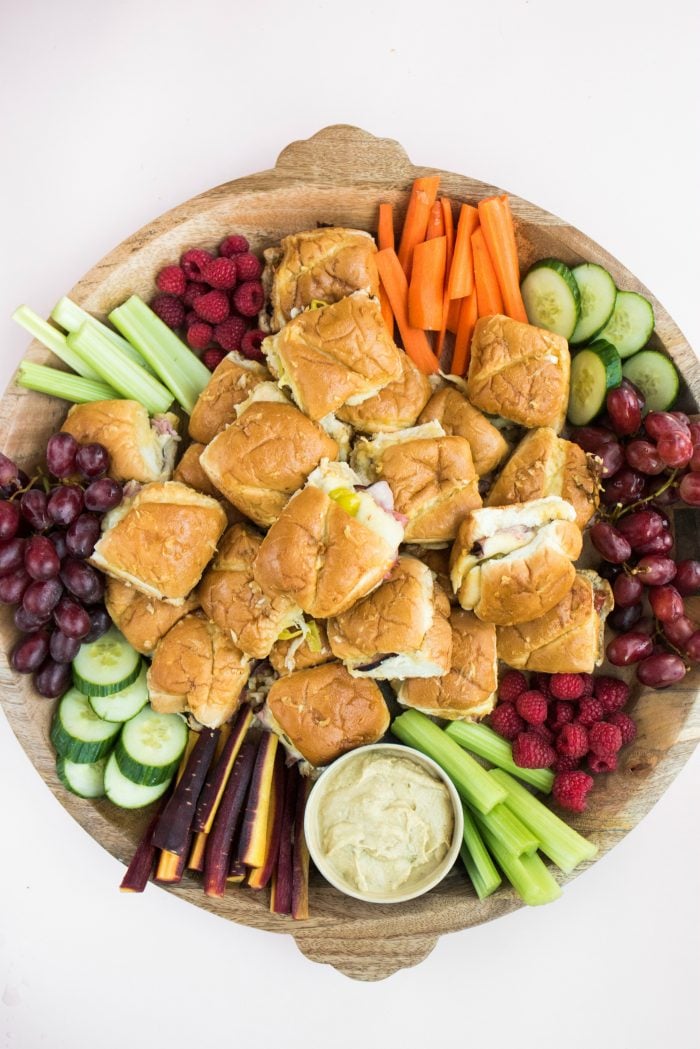 2 ways to make the sliders
You can serve them like I did for this Game Day Cuban Sliders Party (check out all the details + easy-to-buy trays!)
You can change up the Cuban Sliders by making the traditional recipe, or adding a little pizzaz to half of them.
1/2 platter – regular Cuban Sliders
1/2 platter – Cuban Sliders with salami and pepperoncini
Besides the game, and rooting for your favorite team, there is one other important feature: DELICIOUS GAME DAY FOOD.
How to serve cuban sliders
These sliders are savory and delicious to nosh on, with a side of fruit and your favorite chips! We love hummus and veggies, too!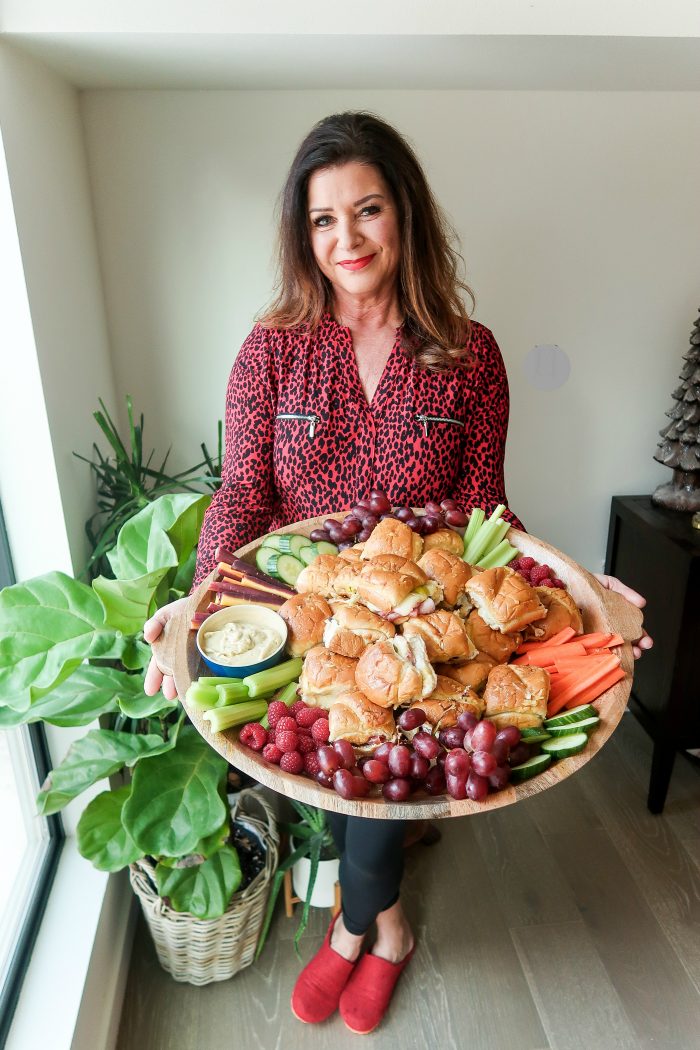 Here are some more of my favorite GAME DAY RECIPES:
Have you seen my Retro SPAM Charcuterie Board?
I love this Epic Greek Charcuterie Board.
Here's a lightened up Black Bean Dip in this game day board.
I love this Creamy Chorizo Cheese Dip! [Thanks, TidyMom!]
My TOP 4 game day salads to serve to a crowd!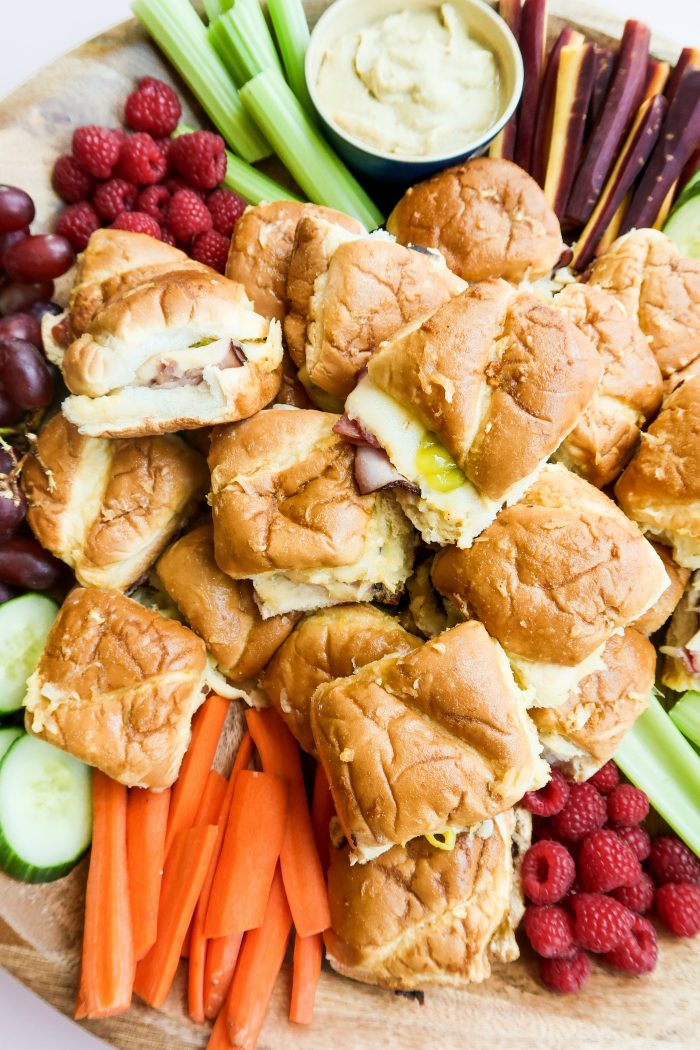 What's in a Cuban Slider?
It's basic. Ham, Swiss cheese, and sliced dill pickles.
It's optional to make 1 pan the classic way, and 1 pan with pepperoncini (chopped or sliced) and salami. This is our favorite Cuban Sandwich!
This recipe makes 2 9×13 pans, so 24 sliders, which feeds about 12 guests!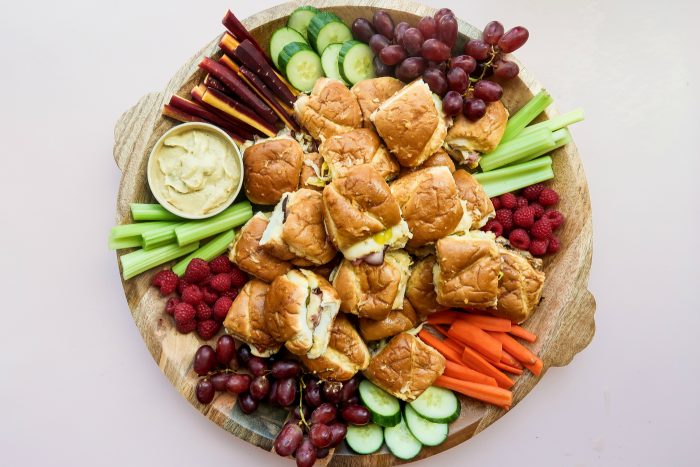 Easy for the novice cook to prepare and share with your friends, I say SLIDERS are a must for Game Day!
The Big Board
Grab your favorite size board now!
20-inch
26-inch
Food safe
Made in the USA by JK Adams
A board with a lip so the food doesn't fall off
Buy The Big Board, here!
Happy Hosting!
Friends, The Big Board® is here! Yes, I've partnered with JK Adams, the premier woodmaking company in Vermont, with my own line of RE boards!
20-inch round, maple
26-inch round, maple
12 x 36-inch maple
NEW 12 x 24-inch maple
23-inch Lazy Susan
26-inch ebonized BLACK, cherry
12 x 36-inch ebonized BLACK, cherry
A board with a lip (or raised edged) so the food doesn't fall off
FOOD SAFE
Made in the USA
Undercut handles (a unique design)
Thank you for your support, as we've sold out so many times already!
Order The Big Board® today!
Get the Recipe: Game Day Cuban Sliders Recipe
Optional to make 12 classic (ham, cheese, pickles) and 12 with ham, cheese, pickles, + pepperoncini and salami!
Ingredients
24 dinner or slider rolls
12 slices Black Forest ham, thick cut (cut in half)
12 slices Swiss cheese, cut in half
24 dill pickle slices
Optional: 1/3 cup pepperoncini, drained and chopped + 12 large salami slices
Butter Dijon Glaze for 24 Rolls
1 stick unsalted butter
1/4 c grated white onion
2 1/2 Tbsp Dijon Mustard
1 Tbsp honey, optional
Pinch of salt
Instructions
Preheat oven to 350 degrees.

Line two square baking dishes (or similar sized rectangular pans) with foil, making sure it overlaps the edges. With a serrated knife, cut the tops of the rolls apart from the bottoms and place 12 roll bottoms in each pan.

In one pan, layer 1 slice of ham, 1 slice of salami, 1/2 slice of Swiss cheese, and evenly divide the 1/3 cup of peppers onto all 24 roll bottoms. Finish layering the sliders with the remaining tops—a tip is to gently pull apart the rolls to allow the butter to seep in. Additionally, I tear the ham slices and cheese to fit onto one roll to make cutting and serving easier.

In the second pan, layer 1 slice of ham, 1/2 slice of Swiss cheese, and 2 dill pickle slices onto all 12 roll bottoms. Finish layering the sliders with the remaining tops—gently tear apart rolls if desired.

In a medium bowl, melt the butter, then whisk together with Dijon mustard, honey, and salt. Spoon the butter mixture over the tops of all 24 rolls, then cover with foil and bake for 20 minutes. When 20 minutes has passed, remove the top layer of foil and return to the oven for 10 more minutes.

Serve warm and enjoy!
This post has affiliate links. Every purchase from these links supports RE at no extra cost to you. Thank you!
Hello and welcome to my home and table!
I'm Sandy—lover of food, family, cooking, THE BIG BOARD, travel, and bringing people together. Through great recipes and connection around the table, we become better, stronger, and more courageous people. Feasting on Life is real, and every time we do it, we grow a little more. Read more...