Simple Entertaining with a Garden Fresh Tuna Sandwich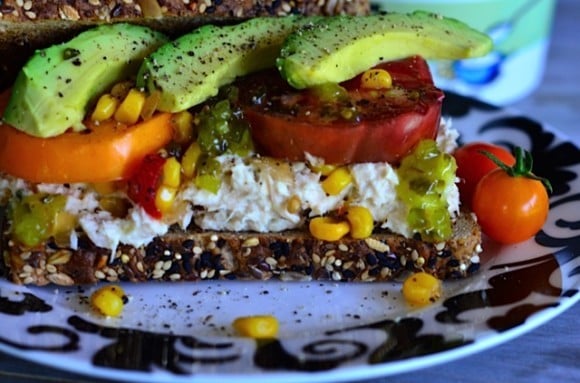 Simple entertaining with a garden fresh tuna sandwich, combined with some inspiration, can create spiritual monuments in our lives. It's the act of giving that not only gives us hope, but it teaches us the benefits of loving and sharing, often done through food.
Food just tastes better when enjoyed with a friend.
And even better when you're surprised with a drop-in visit.
And then you ask your friend if she's had lunch?
That's when I reach into the pantry, grab a can of tuna, and then look around to what garden fresh veggies are ripening on the counter.
There's something about a tuna sandwich, so tasty and fresh. In our home we call them "tuna melts", because we usually broil them with delicious cheese on top.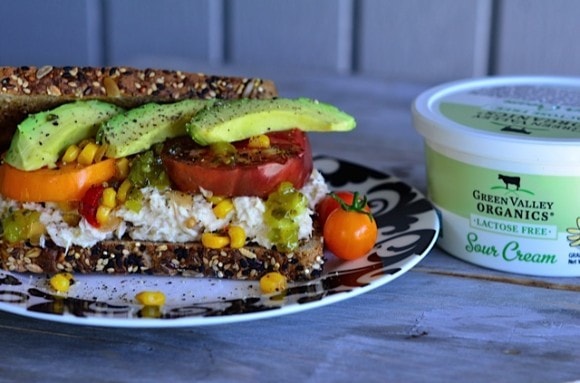 But this time I made a garden fresh, summer treat.
I added a lactose-free sour cream (instead of heavy mayo), salt and pepper, and corn relish with sweet relish.
Oh, boy!
And then I topped with fresh tomatoes and sliced avocado – can you say "heaven?" You can't go wrong with a few shakes of ground pepper, and then served on Dave's Killer Bread (also our family favorite).
Late summer tuna sandwiches are delicious to serve for drop-in lunches. Add in a bit of girlfriend talk, love and inspiration, and then a hug (it's always good to catch up with a friend), and send her on her way.
When's the last time you whipped up a tuna sandwich, and what are your favorite 3 ingredients to add?
Green Valley Organics provided the sour cream, but I was not compensated for this post today. All opinions are my own, simply because we LOVE Green Valley Organics Lactose Free Sour Cream!
Want to make home-canned gifts for Christmas this year? Try my Corn Relish or Sweet Smokey Zucchini Salsa!
Also visit Mountain Mama Cooks for her spectacular canning posts:
Hello and welcome to my home and table!
I'm Sandy—lover of food, family, cooking, THE BIG BOARD, travel, and bringing people together. Through great recipes and connection around the table, we become better, stronger, and more courageous people. Feasting on Life is real, and every time we do it, we grow a little more. Read more...