Turkey Pesto Super Sub Sandwiches
Today I'm sharing a delicious Super Bowl or Game Day recipe, Turkey Pesto Super Sub Sandwiches, perfection for your next party!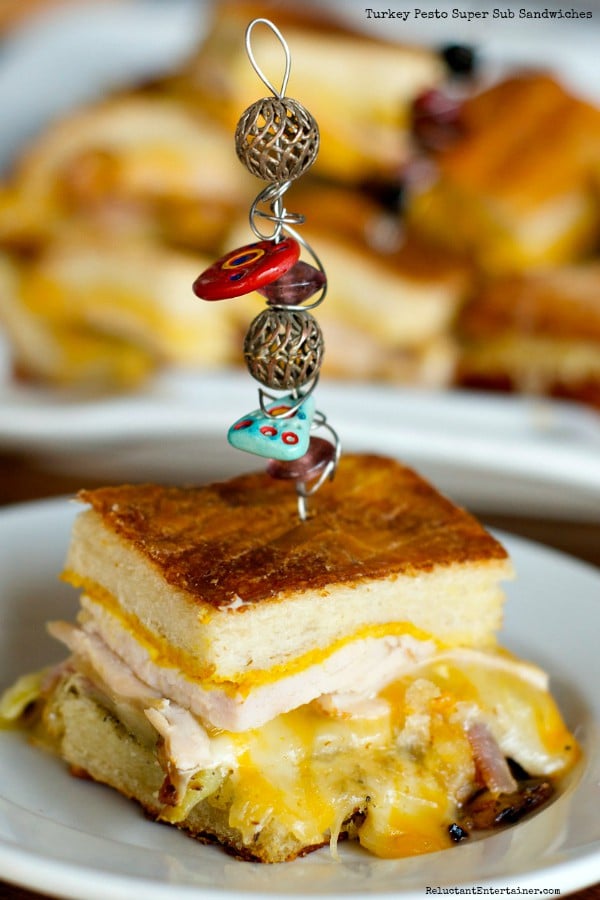 Here's how I know that it's a good Super Bowl Party … come Sunday, around 2:30, people start showing up with plates and dishes of good food! This year we're going to our friend's house, but whether we're entertaining in our home, or heading out to a party, for me Super Bowl is all about the food – and most of the commercials.
I like football, but don't love it (sorry!) but I do love soccer (the real football).
Okay, enough of that.
Of course, now that most of our friends are in our fifties or so, we try to be a little more mindful of what we're eating, a little more sensible for what will be at the spread.
I'm sure there will be a bunch of quality ingredients piled on the table, such as healthy snacks and munchies. But what's a Super Bowl part without a good sandwich, slider, or wing recipe?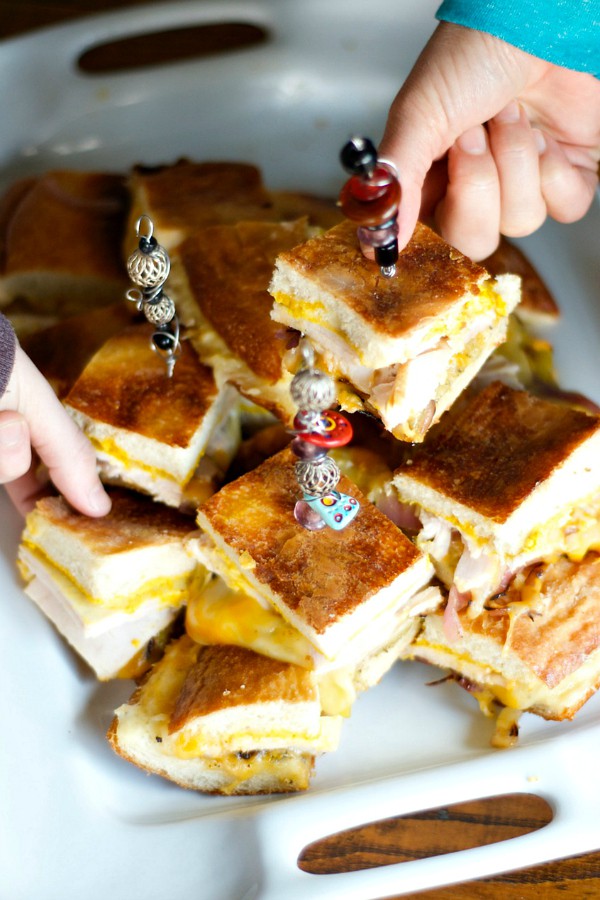 Turkey Pesto Super Sub Sandwiches.
So today I'm sharing one I made just yesterday, Turkey Pesto Super Sub Sandwiches, that feed up to 20. It was so good—better than a slider–I seriously could have munched on these little sandwiches all day long, so I took a platter to our neighbors and some to my Dad and his wife, Ginny!
Why "Super Sub?"
Here's the process, so easy.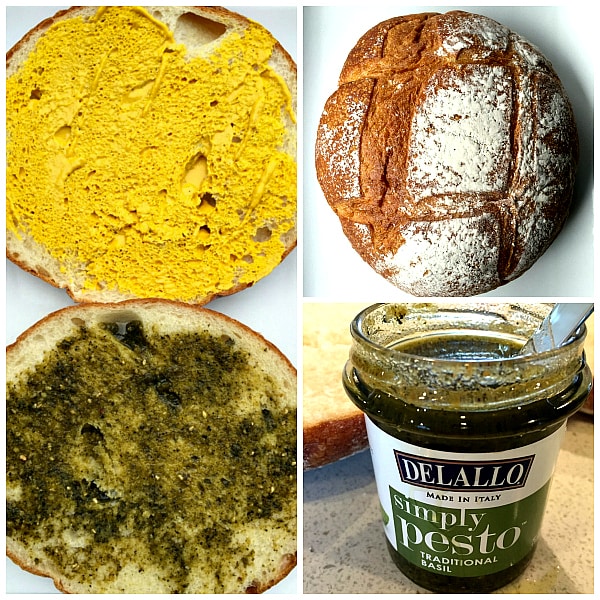 Start with a large round loaf of soft bread. I bought this 24 oz. Country French loaf from Costco – nice and fresh!
Sliced it in half, horizontally, spreading pesto on one side, mustard on the other.
Next you layer roast turkey slices and your favorite kind of cheese! Of course I used Tillamook cheese. (I'm from Oregon! They're from Oregon!) Easy-peasy!
On top of that you place grilled red onions (not burnt, but definitely nice and caramelized).
I placed a few pepperoncinis on top because I love pepperoncinis on a sandwich! To me, they make a sandwich come alive!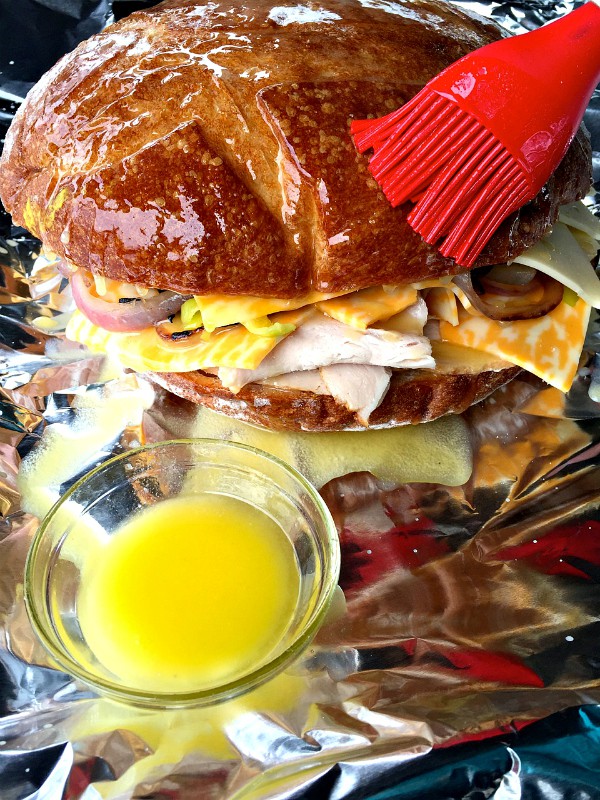 This is the cool part. Place the top piece back on the sandwich, press down, and brush the outside with melted butter.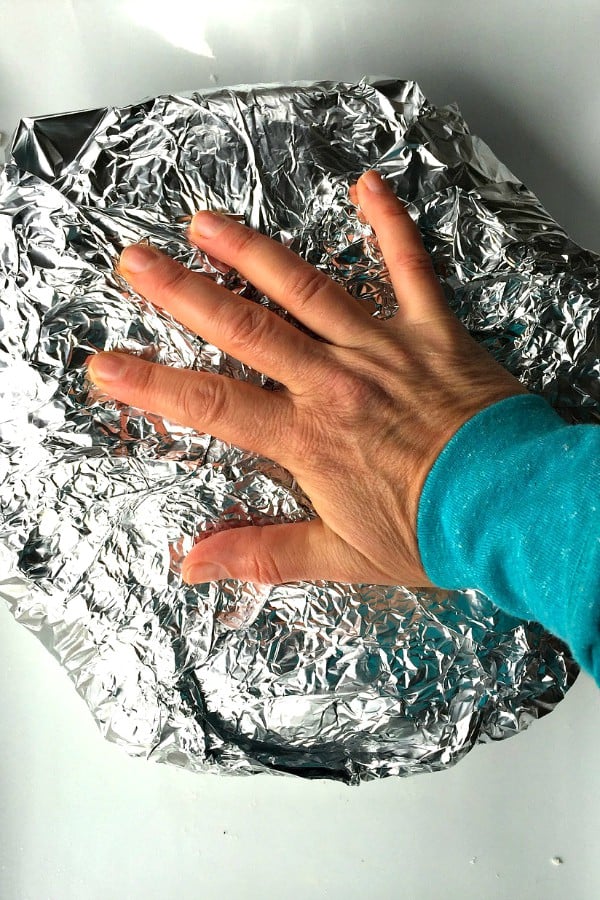 Wrap tightly in foil.
I've never done this before, so I thought I was inventing something new. HA HA. You then press the large sandwich between 2 cookie sheets, placing something heavy on top, like an ovenproof heavy skillet. I used my large LeCreuset skillet on top. Perfect!
Bake for 25 minutes, and the rest is history!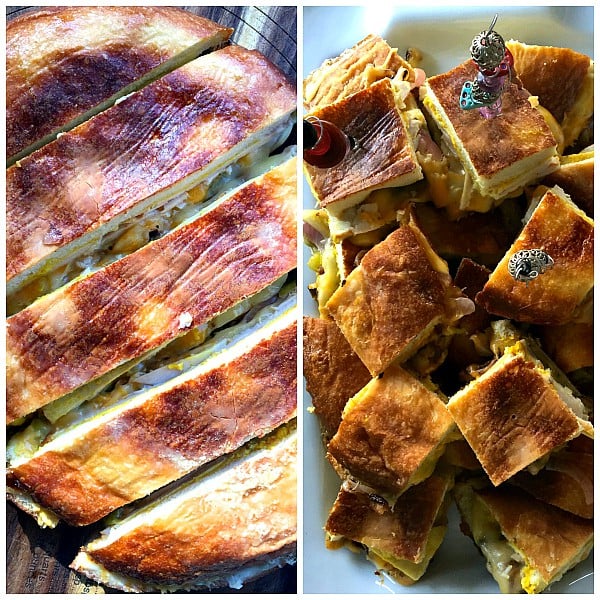 Cut and serve.
Read on to find out what to do next, but you can cut the sandwich (or large round) into whatever sizes you want to serve. Very cool.
Super Bowl Party Bling.
I used some cute little skewers, or party "bling," because they made the platter so pretty. By the way, a few friends asked me about these cute little "blinds" on Facebook. My friend, Jeannie, made them for me in her craft group with an old jewelry. Pretty sweet! I love them.
So what am I bringing to the Super Bowl party this year? I offered to bring a delicious, healthy soup recipe that I'll be sharing on my blog tomorrow (Friday), so come back on Friday if you want healthy.
In the meantime, for this recipe, this will be a keeper for sure! Delicious!
What are your Super Bowl plans this year? What dishes will you be cooking?
Turkey Pesto Super Sub Sandwiches
You can use more or less cheese or turkey, or different kinds of cheese, depending on the flavor you want. You can also use a different kind of bread. I used DeLallo's basil pesto and Tillamook's cheese – 2 of my favorite brands. Cut pieces big or small!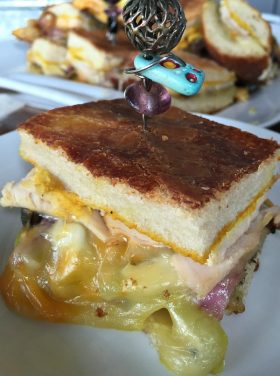 Ingredients:
24 oz. large round loaf of soft bread (I used Costco's Country French Bread)
1 Tbsp. olive oil
1 large red onion, thinly sliced
1/4 cup prepared basil pesto
1/4 cup prepared mustard
1 lb. roasted turkey slices
1 lb. sliced Colby Jack
1 lb. sliced Monterey Jack
1/2 cup sliced pepperoncinis
1/4 cup butter, melted
Directions:
Preheat the oven to 425 degrees.
Lay the bread on a cutting board and slice it in half, horizontally. Spread the pesto over one side and the mustard on the other side.
Layer the turkey, cheese slices (save out about 6 slices), onions, and pepperoncinis onto the bread. Place the remaining 6 cheese slices on top. Place the top piece of bread on top of the giant sandwich.
Push down on the bread to flatten it as much as you can. Brush with melted butter on both sides. Wrap the giant sub in several pieces of foil.
Press between 2 cookie sheets, placing a large ovenproof, heavy skillet on top.
Bake for 25 minutes. Remove from the oven and let sit for about 5 minutes. Open the foil and allow to cool for another 5 minutes before slicing into individual sandwiches.
Garnish with a pickle on top (optional) or skewers to keep the sandwich together. Serve!
All images and text ©
Don't forget if you're looking for an entire menu with lots of options, RecipeGirl has all the recipes you're looking for! Here's also a Game Day Caesar Salad Bar idea, plus a Mexican Super Bowl Party Menu.
Get more easy RE appetizer recipes, here.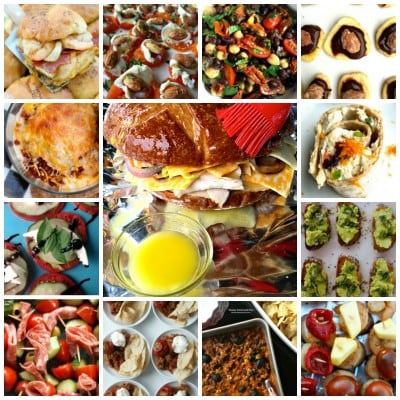 Are you following me on Instagram, Twitter, Facebook and Pinterest? If you'd like to subscribe to Reluctant Entertainer, to have each post delivered straight to your e-mail box, then please add your email, here. It's really easy! Thanks for being here today!