Pantry Turkey Taco Soup Recipe
Enjoy Pantry Turkey Taco Soup Recipe for quick dinner tonight! Made with beans and corn and tomatoes and broth from your pantry, add in ground turkey and you've got a delicious POT OF SOUP!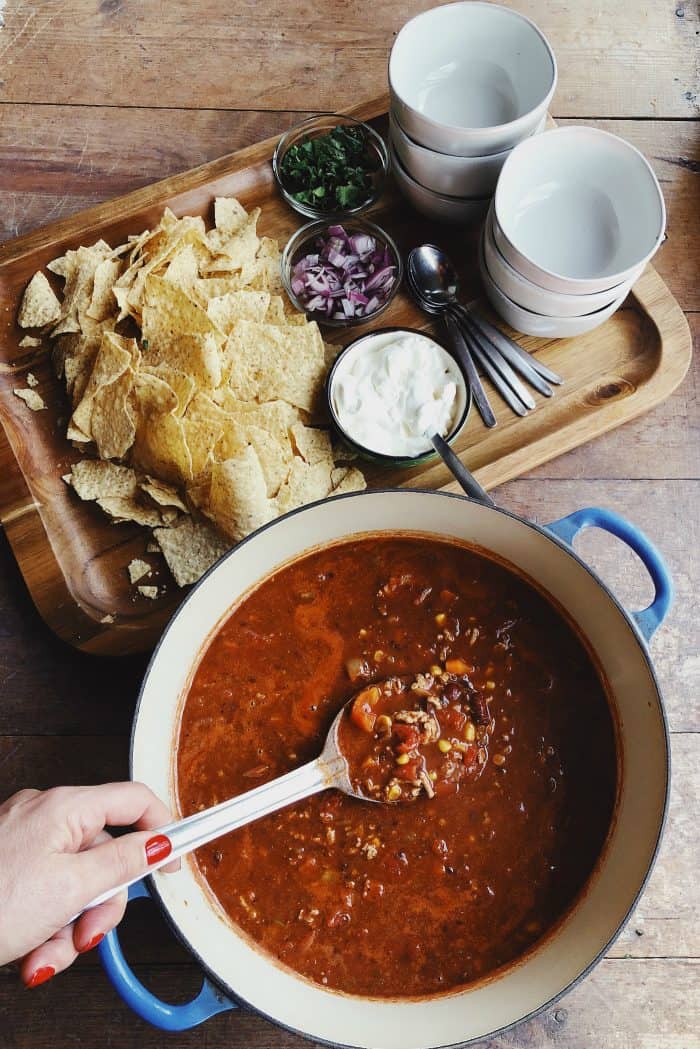 Good Morning Friends! It's been so sunny here in central Oregon. I feel a spring in my step, and a desire to get into the beautiful outdoors more! On my stove cooking this week is this Pantry Turkey Taco Soup Recipe!
Last week I shared this salad recipe and a few goals, but quite honestly, goal setting sort of wears me out. Instead, reframing ways I want to change over the next few months (instead of a year) is more tangible for me. I say, start small, with things that will help us be more disciplined and healthy!
I don't feel my life was out of balance to start with, except maybe a few too many sweets over the holidays, and slacking off on my exercise. Quite frankly, turning 55 this year sort of scares me! My mother was 59 when she got sick, and I know part of a healthy lifestyle is regular exercise. So I'm amping it up in that area. My kids keep reminding me, Mom, just keep moving. Never stop.
Running 4 miles this week was a huge accomplishment. I used to run for years, quite disciplined. So, with no snow on the ground right now, I've been able to accomplish that goal already.
I also believe if our souls aren't healthy, it's hard to do anything well. So for our family, we've started this new year reading a devotional together, God's Wisdom for Navigating Life, by Timothy & Kathy Keller.
The Proverbs are bites of wisdom that help conduct our daily life and encourage us to make better choices. I'm so thrilled our kids are reading this with us. I feel honored to be our kids' mom, and that our kids very much respect us parents. I don't know what we did right, but we'll take it. (Our kids are 25, 23, 21, the last one in college, the oldest applying for medical school this year.)
365 days of fresh, inspiring lessons and things to meditate on?
I'll take it!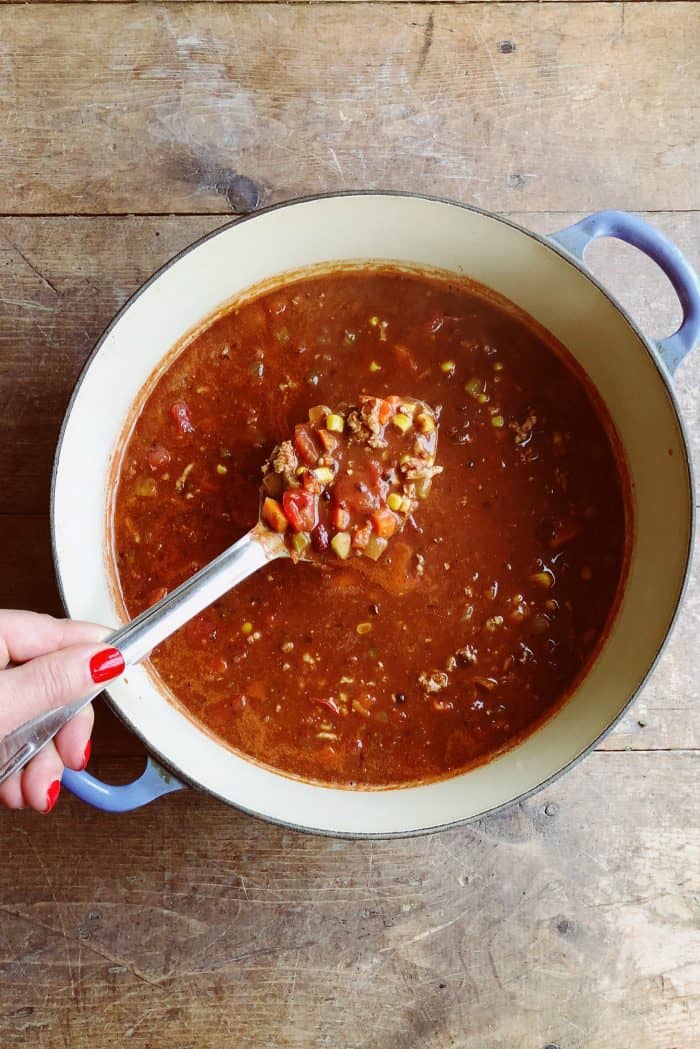 Pantry Turkey Taco Soup Recipe
I'm also cooking, as usual, but trying to stay away from sweets. This Turkey Taco Soup Recipe is a large pot of comfort, with a lot of flavor, and our family devours it every time I make it.
Did you know that Bush's Beans makes their refried beans with black beans?
I keep most of these ingredients in my pantry, which is why I call it Pantry Turkey Taco Soup (tomato sauce, diced tomatoes, corn, kidney beans, refried black beans, and chicken broth).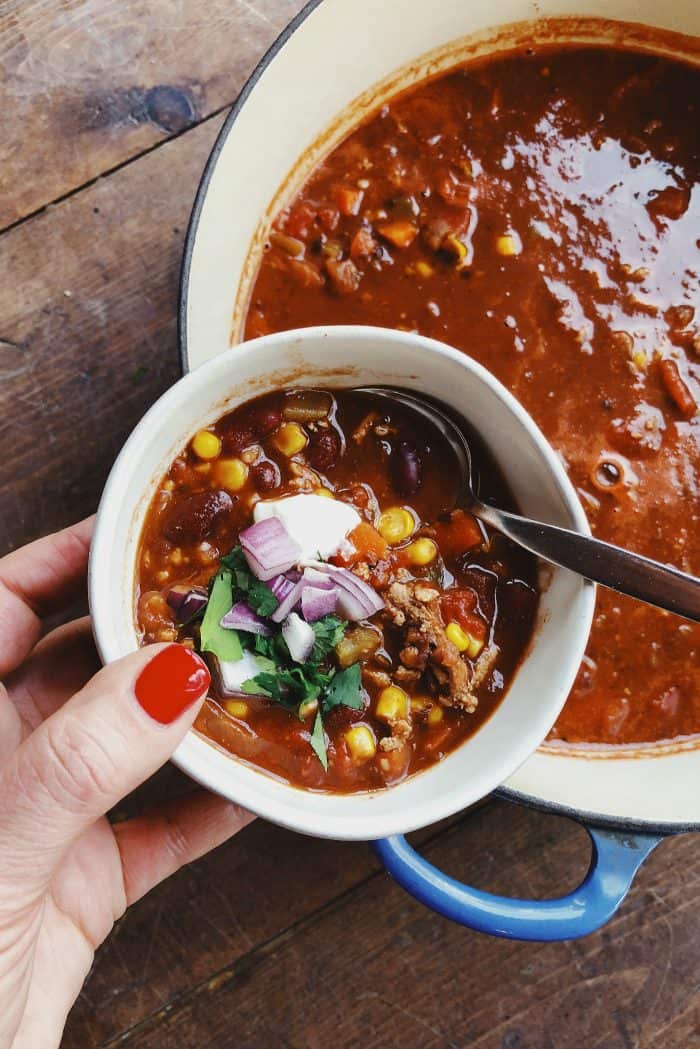 Add whatever toppings your family loves.
A little warning, that if guests are coming for dinner, you might want to double up on the recipe!
Delicous and so good and perfect for January!
What are you starting off the New Year reading?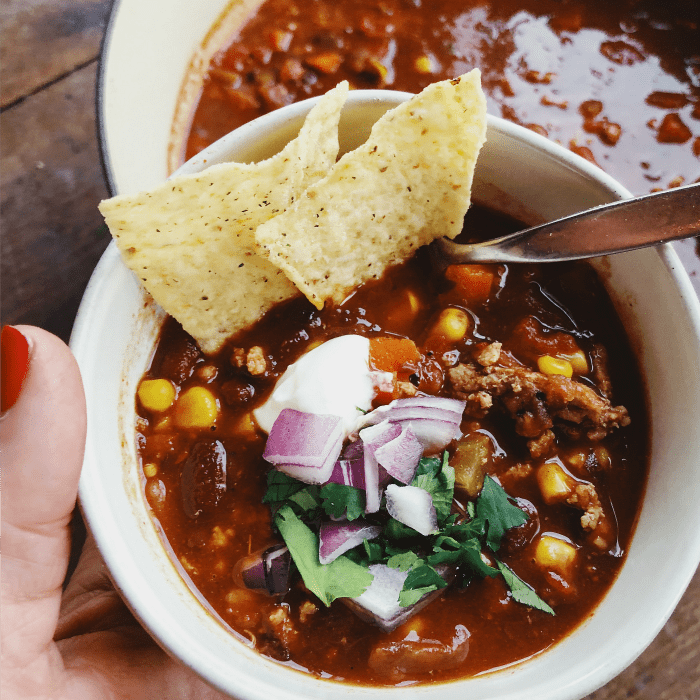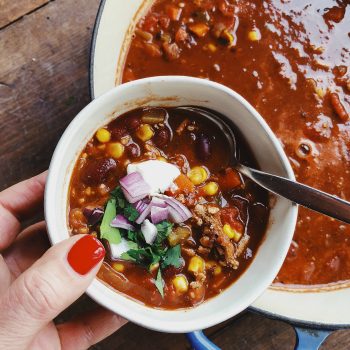 Print Recipe
Pantry Turkey Taco Soup Recipe
Ingredients
1

container 14 oz mirepoix

a mix of chopped carrots, celery, and onion, about 1 cup each - I buy at Trader Joe's

2

Tbsp.

olive oil

1

lb

lean ground turkey

15

oz

tomato sauce

15

oz.

can diced tomatoes

15

oz

can corn

drained

15

oz

Bush's kidney beans

drained

16

oz

Bush's Beans black refried beans

1

packet low-sodium taco seasoning

3

cups

low-sodium chicken broth
Instructions
In a large cooking/soup pot, heat the olive oil to medium heat; add the mirepoix (mix of onions, carrots, and celery), and cook on medium heat until soft, about 2-3 minutes.

Add the ground turkey and cook together until turkey is cooked through, about 5 more minutes.

I like to take a paper towel and lay on top of the meat mixture to take away any grease.

Drain the kidney beans and corn; set aside.

To the meat mixture, add tomato sauce, tomatoes, refried beans, taco seasoning and chicken broth. Add in the drained kidney beans and corn. Bring to a boil, cover and simmer about 10-15 minutes.

Serve with your favorite toppings, such as low fat sour cream, chopped red, onions, and chopped fresh cilantro.
More soup recipes: Chicken Barley Soup [Spend with Pennies], Instant Pot French Onion Soup [Well Plated], Easy Tomato Tortellini Soup [Belly Full], Creamy Butternut Squash Soup [RE], and one of the most popular on my blog, Chicken Bacon Sweet Potato Soup!