NYE Party Inspiration and Strawberry Balsamic Glazed Meatballs
I used Smucker's Strawberry jam for this delicious Strawberry Balsamic Glazed Meatballs recipe, perfect for NYE entertaining!
'Tis the season for New Year's Eve appetizers and drinks! The other night I took a giant bowl of delicious Strawberry Balsamic Glazed Meatballs to a party. These are also yummy eaten on rice and quinoa, or just plain served as an appetizer!
What are your plans for New Year's Eve this year? In the past, when the kids were smaller, we hosted lots of families for casual food, games, a fire outside, and fireworks.
I wanted to find some photos of years past, but ran out of time. We've transitioned to adult parties now, usually a sit-down dinner, but we change up the guest list every year! Last year we decided not to host, and went out to dinner with a few couples. I like to see what everyone in the family is "into" and not fall into traditionalism, because sometimes there are feelings that get hurt when we're not invited to the same party year after year. I say, change it up!
Host a NYE Party!
I also like to encourage people to host their own parties! We never expect invitations. We never want people to feel obligated to invite us over; we want them to "want" to invite us!
Inviting guest is an art. I've written a lot about it on RE, but it's good to think of people who know your other guests, or those who'll benefit by meeting new people, etc.
Here are some great posts when it comes to people, introducing one another, making invites, etc.
NYE Party inspiration.
How to Introduce Others
Intentional Invitations
Conversation is like ART … Keep it Real
10 Tips: Hosting a NYE party
Hosting a New to the Neighborhood Luncheon
Shyness is Real
Stree-Free NYE Party (all the details)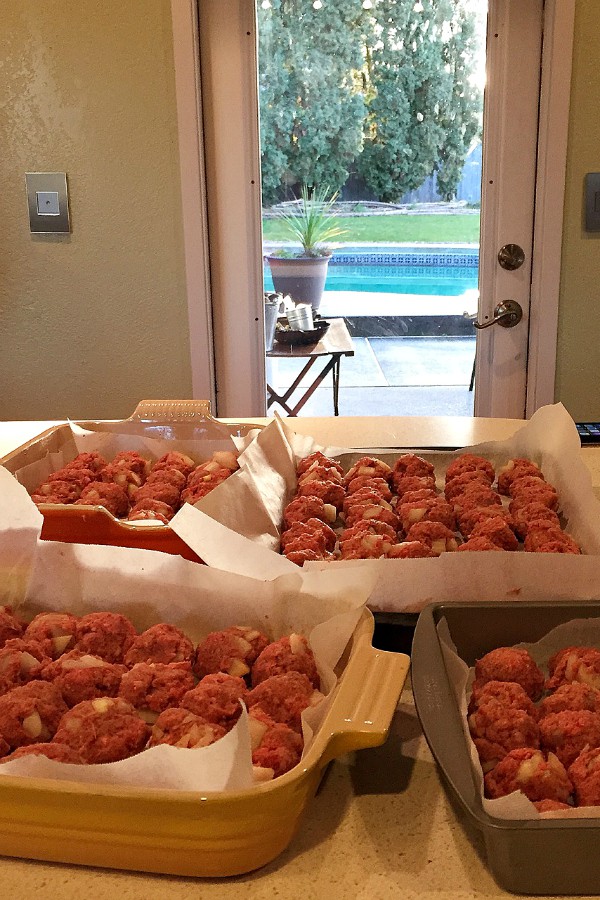 Strawberry Balsamic Glazed Meatballs.
In the meantime, my son helped me whip up a batch of these yummy meatballs. So fun for the holidays! An easy tip: Use either foil or parchment paper for easy clean-up!
Add these 2 ingredients to make the balsamic sauce.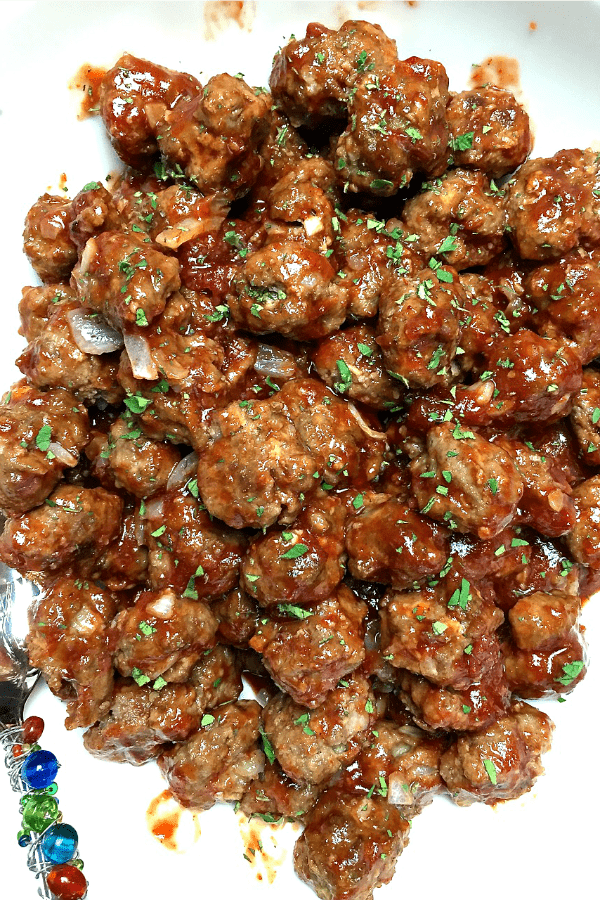 Mix together and serve with fresh parsley!
I'd love to hear if you're hosting for NYE?
Easy sweet and saucy meatballs served as an appetizer, over rice, or as Meatball Tacos. You can also use frozen prepared, bite-sized meatballs, thawed.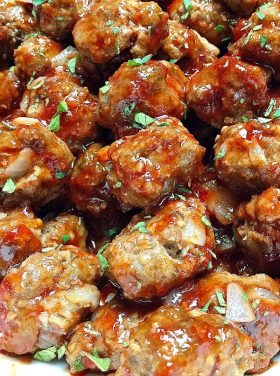 Ingredients:
3 lbs. lean ground beef
1 1/2 cup bread crumbs (any flavor)
1 large sweet onion, finely chopped
3/4 cup milk
3 tsp. salt
1/4 cup balsamic vinegar
1 1/2 tsp. white pepper
6 eggs
2 bottles (12 ounces each) chili sauce
1 jar (22 ounce) Smucker's strawberry jelly
Parsley, chopped
Directions:
Heat oven to 400°F. Stir together all ingredients except chili sauce and jam. Shape meat mixture into 1-1/2″ meatballs. Place in ungreased 13x9x2 rectangular pan lined with foil or parchment paper (easier to clean up).
Bake uncovered about 30 minutes or until no longer pink in center.
Heat chili sauce and jam in large saucepan over medium heat, stirring constantly until heated through. Stir in meatballs until coated. Simmer uncovered 30 minutes.
Serve in a slow cooker, or on an appetizer platter with toothpicks, or over rice or quinoa. Garnish with fresh chopped parsley.
All images and text ©