Turkey Potpie with Butternut & Pearl Onions
This Turkey Potpie with Butternut & Pearl Onions is a comfort one-pot meal with a delicious crust, easy to make with leftover turkey and vegetables. Watch the video!
I love hospitality. And when it involves food, it feels even better, because food and friends equal comfort and love. And who doesn't love a comfort Turkey Potpie with Butternut & Pearl Onions, hot out of the oven?
I'm bringing back an oldie (recipe) today from 2016, perfect for the season! Perfect for a harvest dinner, or even a Friendsgiving gathering!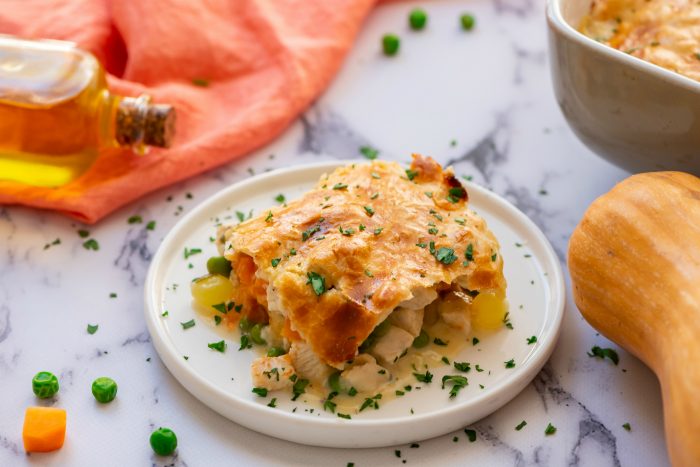 Turkey potpie
Friends, there's nothing better than the comfort potpie. This Turkey Potpie with Butternut & Pearl Onions is sooo good, made with leftover turkey or chicken.
With leftovers, you may also want to make a Easy Homemade Turkey Soup or this EPIC Leftover Turkey Charcuterie Board!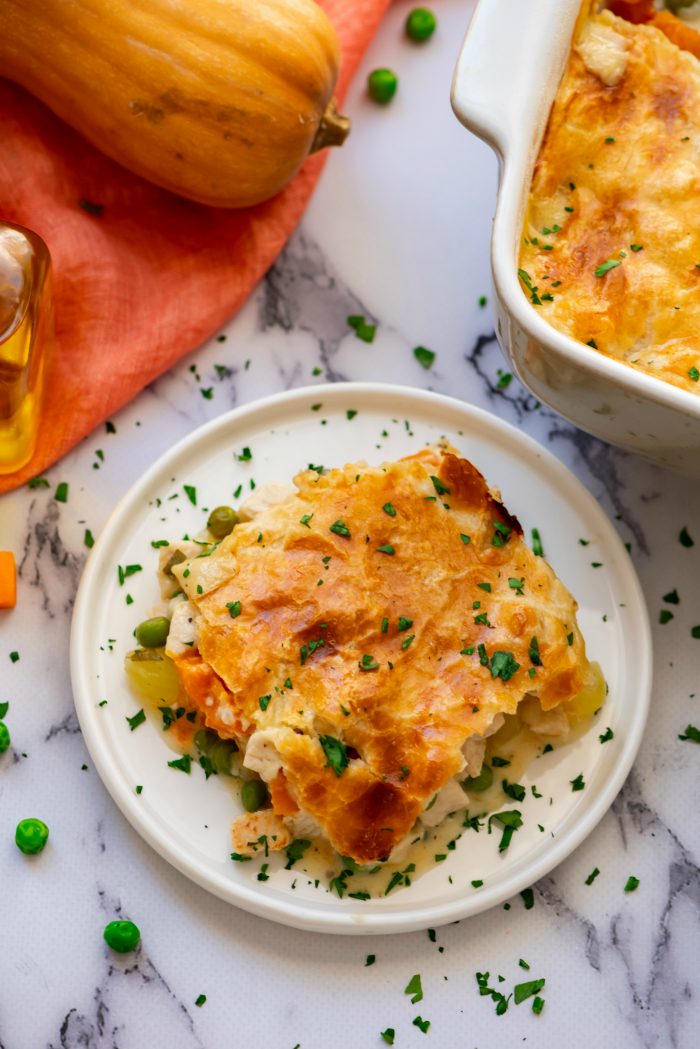 How to share hospitality
There are an abundant ways to be hospitable!
You can invite a person (doesn't even have to be a friend … yet) into your home for a cup of tea, or you can take a little something to a neighbor, or a meal to a family in need, or a dish to a "covered-dish" party (otherwise known as potluck). You can put a gift card in the mail, or send a package long-distance to a friend, or drop off a pizza to a family having a hard time.
There are so many ways to show love through food.
Turkey Potpie with Butternut & Pearl Onions
I recently made a Turkey Potpie with Pepperidge Farm® Puff Pastry Sheets and leftovers I had in the fridge. I invited a friend over for lunch and we sat and enjoyed a hot square of delicious potpie together.
Which, by the way, is a recipe worth keeping for the weeks ahead.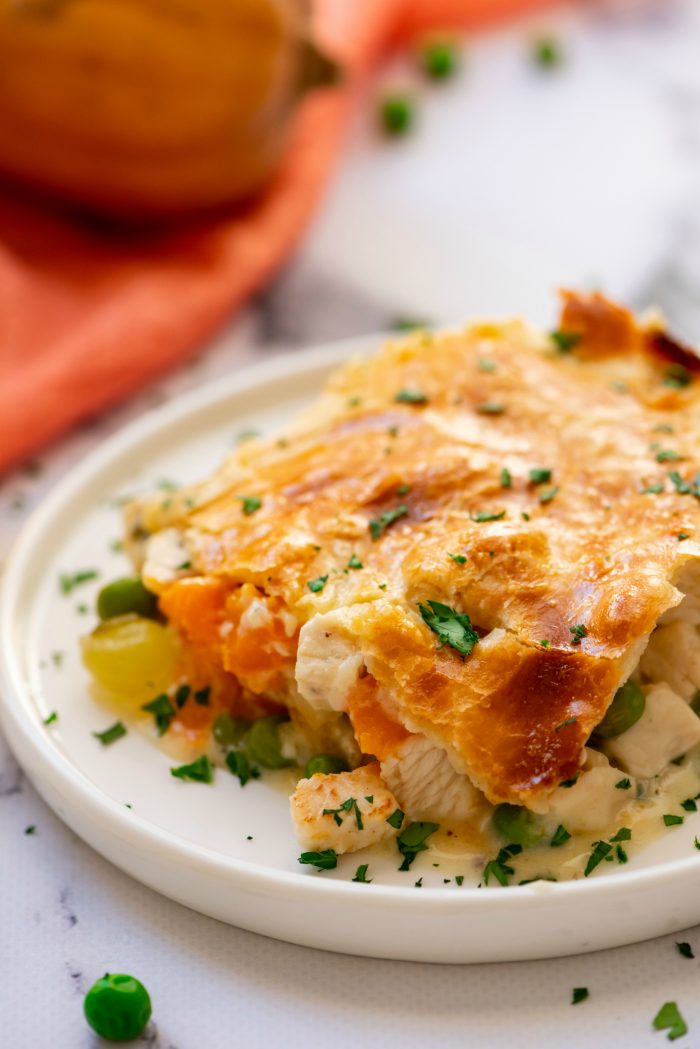 I also keep puff pastry on hand because it's affordable, it's sooooo tasty (who doesn't love it?), it's great for desserts and appetizers and main dishes.
I mixed butternut squash, pearl onions, leftover turkey, peas and fresh sage. Oh, man. So good!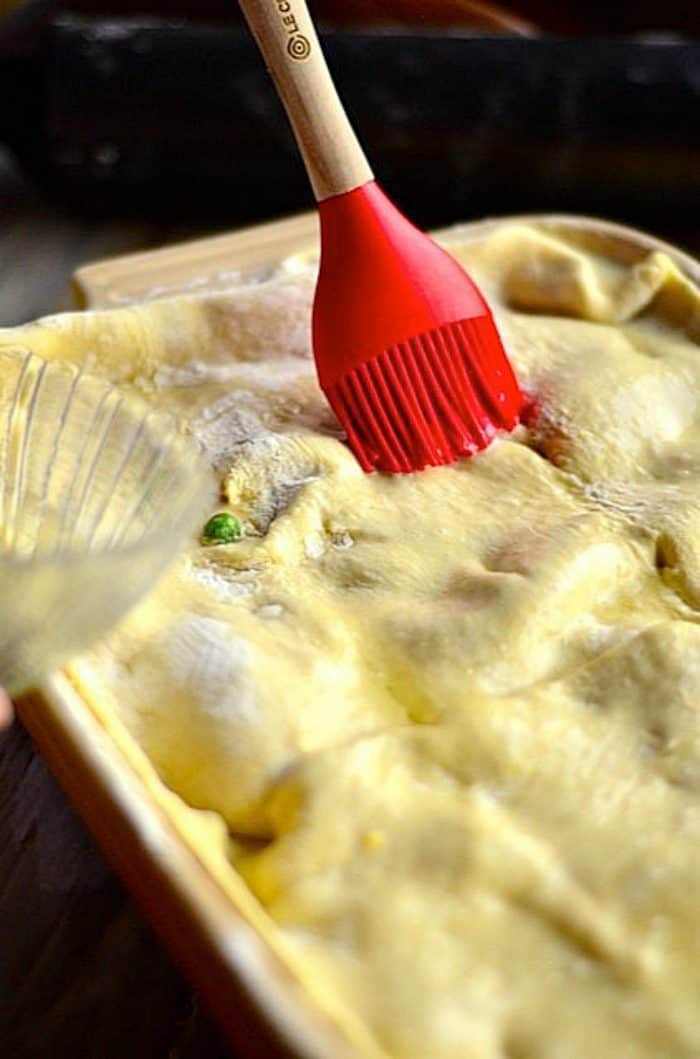 Brushing the final dish with an egg white wash. Love that little "pea" poking through, saying, "hi!" :)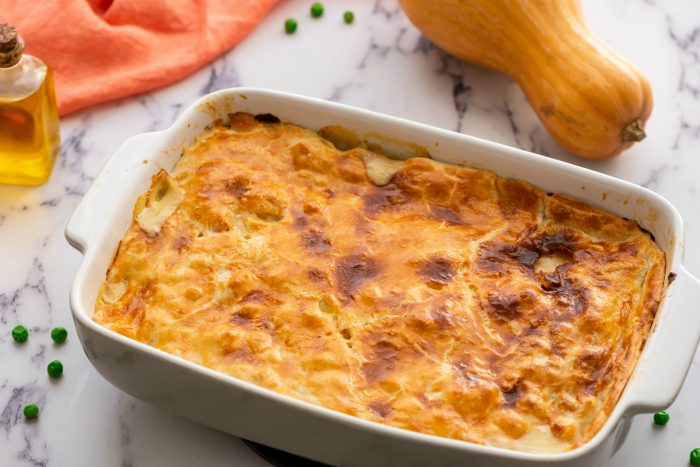 (Just out of the oven … Mm-m-m-m …)
ENJOY!
Get the Recipe: Turkey Potpie with Butternut & Pearl Onions
Ingredients
1 lb. butternut squash, cut in 1/2″ pieces
Olive oil
Salt and pepper
1 8 oz pkg frozen pearl onions
1 8 oz pkg frozen peas
2-3 cups turkey, cut in small pieces
3 Tbsp. fresh sage, finely chopped
4 Tbsp. butter
1/4 cup flour
2 cups chicken stock
1/2 cup heavy cream
2 cups cheese
2 sheets Pepperidge Farm Puff Pastry, thawed (use 1 1/2 sheets for 9×13 pan)
1 egg
1 tsp. water
Instructions
Preheat oven to 400 degrees.

Place the butternut squash on a baking sheet. Drizzle with olive oil and lightly salt and pepper. Bake for 15-20 minutes, or until tender. Set aside.

Place the frozen peas and pearl onions in a microwave safe bowl. Cover with plastic wrap. Microwave for 5 minutes.

Meanwhile, melt 2 Tbsp. butter in a large skillet over medium-high heat add the onions, butternut squash, peas, turkey, and fresh sage. Cook until heated through; turn heat down to low.

To make the sauce, mix the flour in 1/2 cup of cold water. Whisk to remove any lumps.

In a medium pan, melt 2 Tbsp. butter, add the flour mixture, and chicken stock. Heat to boiling; add the 1/2 cup cream. Mix in the 2 cups (your favorite flavors) cheese. Boil and simmer for 5 minutes until slightly thickened. Salt and pepper to taste.

Spray a 9×13 pan with cooking spray. Fill with the turkey mixture. Pour the sauce over the chicken mixture.

Unfold the thawed puff pastry onto a lightly floured surface. Roll pastry to seal any cracks.

Top the dish with the puff pastry. Make slit marks with a knife on top of the pastry for ventilation. (There may be a small amount left over.)

Beat the egg and water together in a small bowl. Brush over the pastry.

Place the prepared potpie on a baking sheet. Bake for 10 minutes.

Cover the pastry loosely with aluminum foil to prevent burning and cook for an additional 25 minutes.

Remove the foil and bake another 5-10 minutes, until crust is golden brown.

Remove from the oven and allow the cool for at least 10 minutes before serving.
Notes
Originally posted NOV 2016
Disclosure: I worked with Pepperidge Farm® Puff Pastry on this recipe, but as always, all opinions are my own.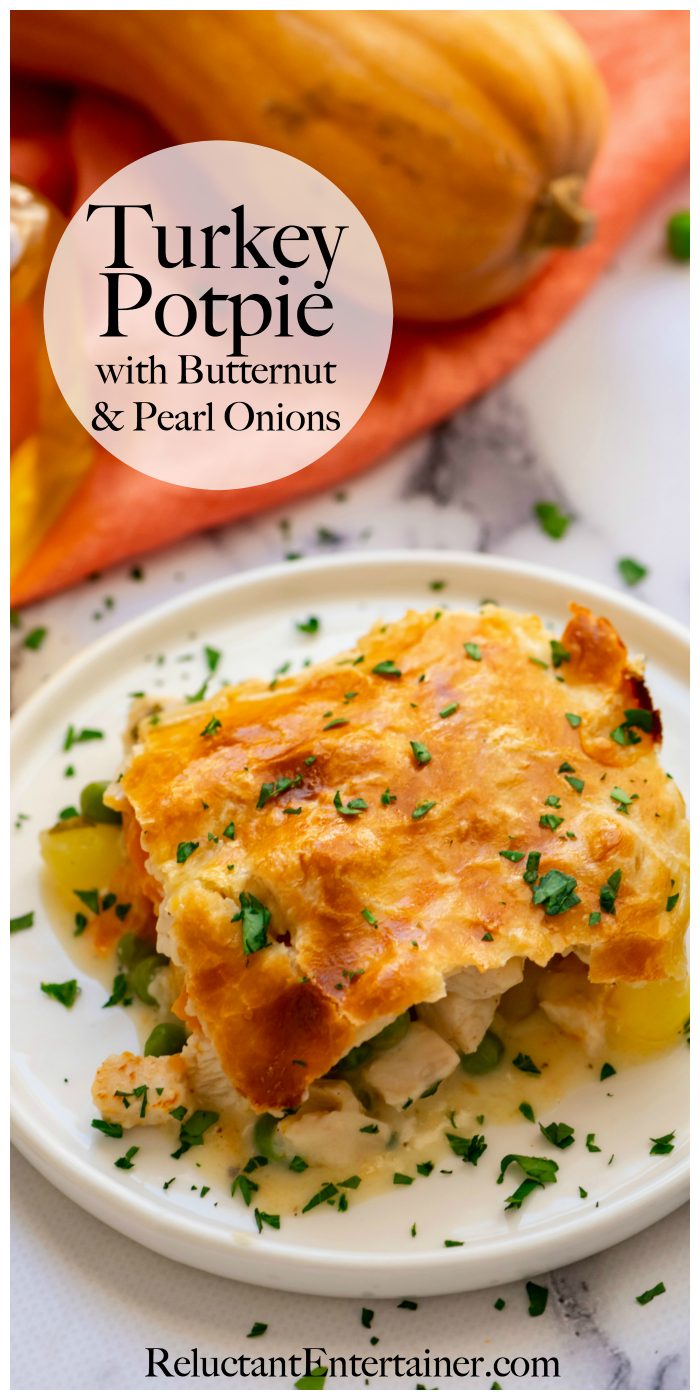 Hello and welcome to my home and table!
I'm Sandy—lover of food, family, cooking, THE BIG BOARD, travel, and bringing people together. Through great recipes and connection around the table, we become better, stronger, and more courageous people. Feasting on Life is real, and every time we do it, we grow a little more. Read more...