Make-Ahead Turkey Sandwich Kebabs
Turkey Sandwich Kebabs are the perfect, healthy lunch (without bread), made with your favorite lunchmeat. Make ahead for picnics, parties or school lunches!
Our kids are older now, but we still have a lot of activities and parties and people into our home, especially during the summer months.
Turkey Sandwich Kebabs
Providing healthy snacks and a fun lunch ideas, like these Make-Ahead Turkey Sandwich Kebabs, are my favorite. If you're grilling, don't forget these Barbecue Chicken Maple Kebabs or Pickle Caprese Salad Kebabs (if you're grilling burgers!)
Remember as a kid going to a pool party, and feeling like you were starving? We'd pop open a bag of potato chips, and munch on those as our poolside snack, but within 30 minutes we'd be starving again!
As the hostess, a great idea to serve to kids is to make a platter of Turkey Sandwich Kebabs. Of course, these are made low-carb, with no bread!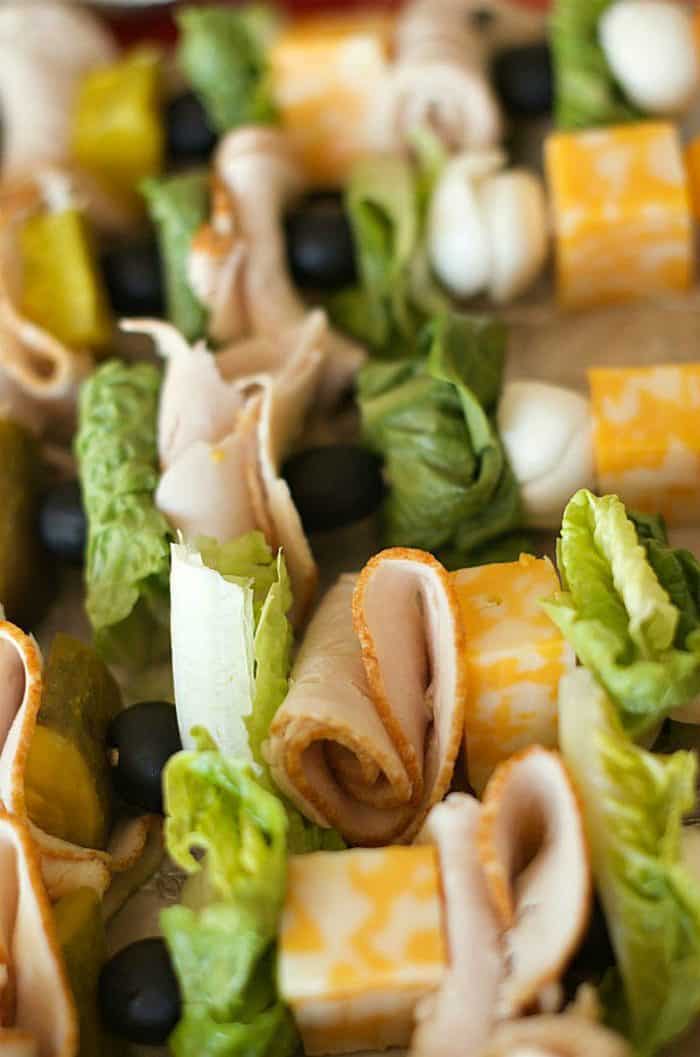 Make-Ahead Turkey Sandwich Kebabs
So, on wooden kebabs I placed a couple slices of turkey, lettuce, tomatoes, a hunk of pickle, tomatoes, cheese cubes and balls, and olives!
Who says a sandwich has to be on a piece of bread? :)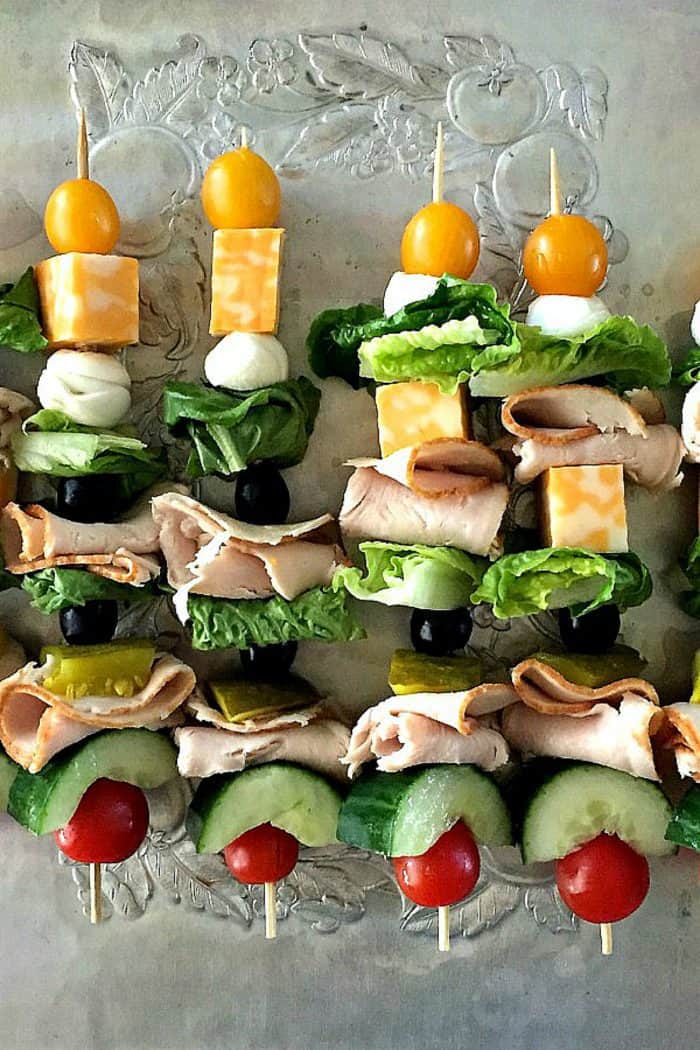 Make kebabs for different parties
These kebabs are also great ideas for back to school lunches, picnic options, a hiking snack, and great for camping or anything in the outdoors (keep them chilled).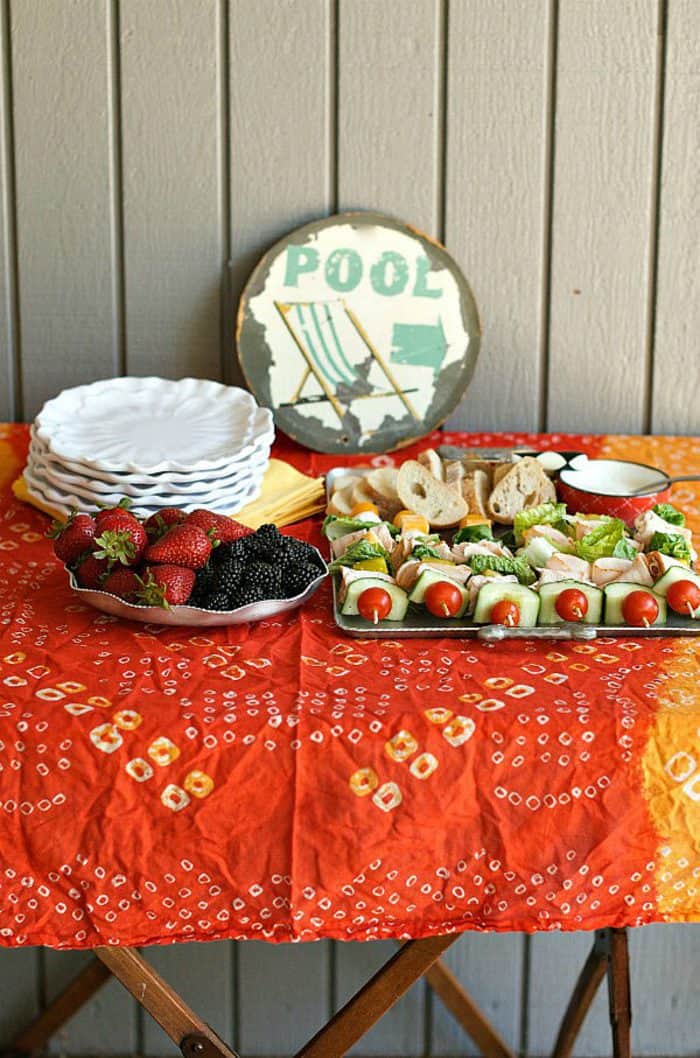 Set the table
I grabbed a clean swimming sarong as a bright cheery tablecloth.
Set the buffet area with a platter of kebabs, ranch dressing, and baguette slices.
Napkins and a bowl of fruit.
Get ready to dig in to a healthy snack or lunch that everyone loves!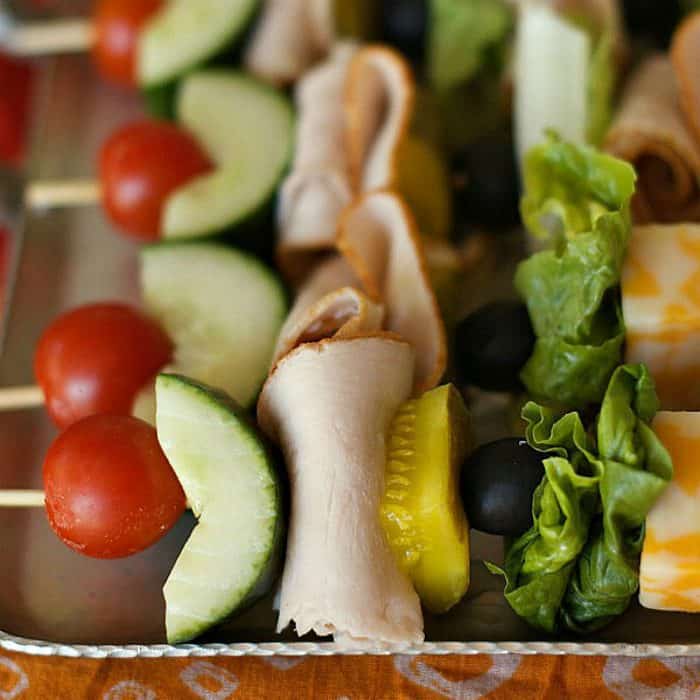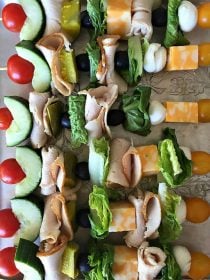 Get the Recipe: Turkey Sandwich Kebabs
These Turkey Sandwich Kebabs are the perfect, healthy treat that you can make ahead for lunches, picnics, or pool parties.
Ingredients
Lunch Meat, I used Foster Farms All Natural Turkey Lunchmeat
Lettuce, Romaine
Olives
Cherry Tomatoes
Cheese Cubes, I used Colby cheese and Mozzarella balls
Dill pickle spears
Cucumber chunks, seeds removed
Skewers
Ranch dressing, optional
Instructions
Chop and lay out all ingredients. Open a package of your favorite lunchmeat.

Layer ingredients on skewers, starting and ending with a cherry tomato or cheese cube, that will hold it all together.

Refrigerate until ready to serve. Serve with baguette slices and Ranch dressing.
More make-ahead recipes for back-to-school: Make Ahead Egg Muffins [Spend with Pennies], and Make-Ahead Cinnamon Rolls [Love from the Oven].
This post was sponsored in 2015 by #TheBestTurkey, Foster Farms All Natural Lunchmeat.
Hello and welcome to my home and table!
I'm Sandy—lover of food, family, cooking, THE BIG BOARD, travel, and bringing people together. Through great recipes and connection around the table, we become better, stronger, and more courageous people. Feasting on Life is real, and every time we do it, we grow a little more. Read more...