Quinoa and Currant Summer Salad Recipe
Try this Quinoa and Currant Summer Salad Recipe for any season. Delicious for a main dish, side dish, or a potluck dish, packed with protein and veggies!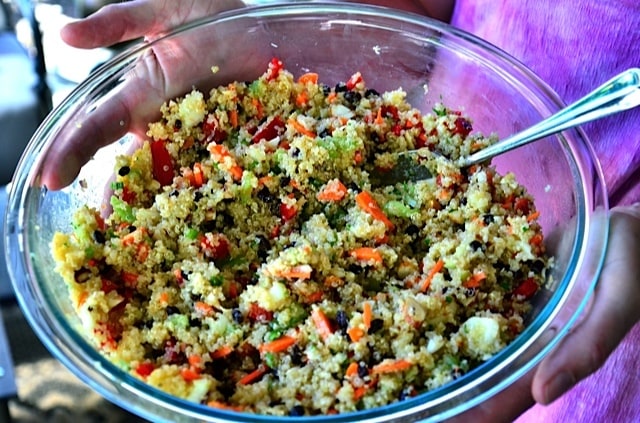 Sometimes our greatest joys come from life's simplest pleasures.
Like spending 3 days with our friends from Portland, with their three little kids.
With our kids being 20, 18, and 16 now, we're really digging the little kids' ages.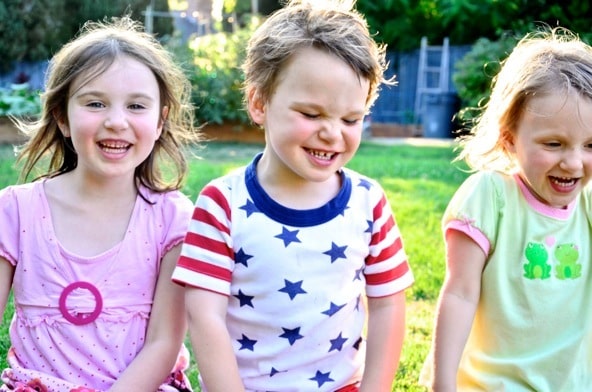 (photo from Abby)
They are so cute, interactive, and fun to be with, and to be quite honest, it does make me miss the younger years of parenting. But not how exhausted I always was! :)
Quinoa and Currant Summer Salad Recipe
We do a lot of cooking when they come down to our place, but Steph is great about bringing food with her, and they, like us – like to eat fresh!
This time she brought a killer quinoa salad that I couldn't wait to make again. We're big quinoa fans here, but I'm always amazed at how many people don't really know what it is.
So, taken from About.com, here's a blurb about quinoa:
What is quinoa?
While quinoa is usually considered to be a whole grain, it is actually a seed, but can be prepared like whole grains such as rice or barley. Try a quinoa pilaf salad recipe, or serve a vegetable stir-fry over cooked quinoa instead of rice. Quinoa is my favorite whole grain for three reasons: First, it takes less time to cook than other whole grains – just 10 to 15 minutes. Second, quinoa tastes great on its own, unlike other grains such as millet or teff. Add a bit of olive oil, sea salt and lemon juice and – yum! Finally, of all the whole grains, quinoa has the highest protein content, so it's perfect for vegetarians and vegans. Quinoa provides all 9 essential amino acids, making it a complete protein. Quinoa is a gluten-free and cholesterol-free whole grain, is kosher for Passover, and is almost always organic.
So here's the fabulous, fresh, and family-friendly recipe that I think you'll love.
I have to say the currants really make the salad unique and tasty!
My kids are already asking me when I'll be making it again.
What's your favorite way to cook with quinoa?

Quinoa and Currant Summer Salad Recipe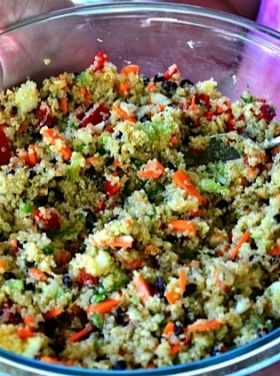 Ingredients:
1/4 cup chopped parsley
1/4 cup lime juice
1 tsp. agave nectar or honey
1 tsp. sea salt
1/2 cup olive oil
2 cups cooked quinoa
1 Tbsp. chopped parsley
1/2 cup currants
1/4 cup chopped raw almonds
1/2 cup diced carrots
1/4 cup chopped mint
1/4 cup chopped scallions
1/4 cup yellow pepper, chopped
1/4 cup celery, diced
1/4 cup red onion, diced
1/4 cup cucumber, diced
Directions:
Mix the first 5 ingredients in a bowl; set aside.
Add the other ingredients together in a larger bowl.
Mix in the dressing. Serve!
Also delicious to add any other vegetables in your fridge, such as cucumber, yellow pepper, red onion, celery.
All images and text ©