Valentine's Day Dessert Board
Filled with your favorite fruit and chocolate treats, make a Valentine's Day Dessert Board, a festive snack tray for your holiday party!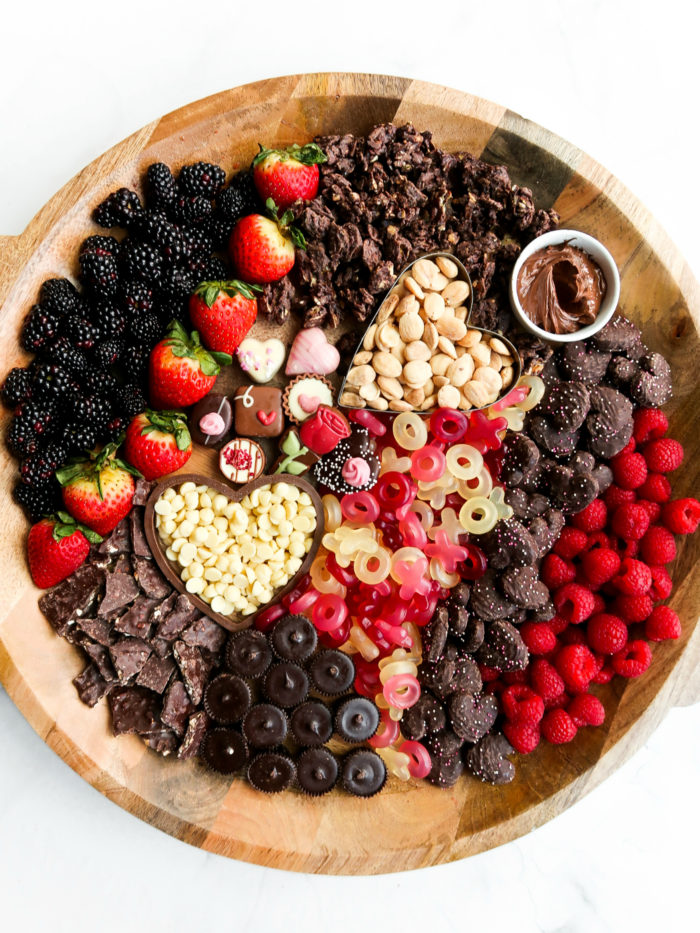 Friends, it's Valentine's week and a fun time to open your home, even for a small gathering! Create a simple menu (below), ask your guests to contribute to the meal, and enjoy this easy Valentine's Day Dessert Board at the end of the night!
Valentine's Day Dessert Board
Grab the shopping list, 2 HEART cookie cutters, and buy the board (below)! Have fun!
Ingredients for Valentine's Day Dessert Board
All you need to make this board is:
Trader Joe's Mini Chocolate Heart Cookies (so cute!), XO Gummies, dark chocolate peanut butter cups, and
"For the Love of Chocolate Collection" truffles
Large strawberries, raspberries, and blackberries
Marcona almonds
Dark chocolate almond bark and Dark chocolate coconut clusters (we bought at Costco)
Nutella (for dipping)
White chocolate chips (to nosh on!)
Or, make your own chocolate cookies … try these Ultimate Chocolate Cookies by my friend, Maria!
Love and grace
Love and grace are essential in life. In our own homes, and how we extend them to others. Which is why I love hosting, and a simple recipe like today's Valentine's Day Dessert Board.
It's a way to take what I've learned in life, and the gifts I've been given, and use them for good. I do believe that food and love and grace go hand in hand when we are hosting.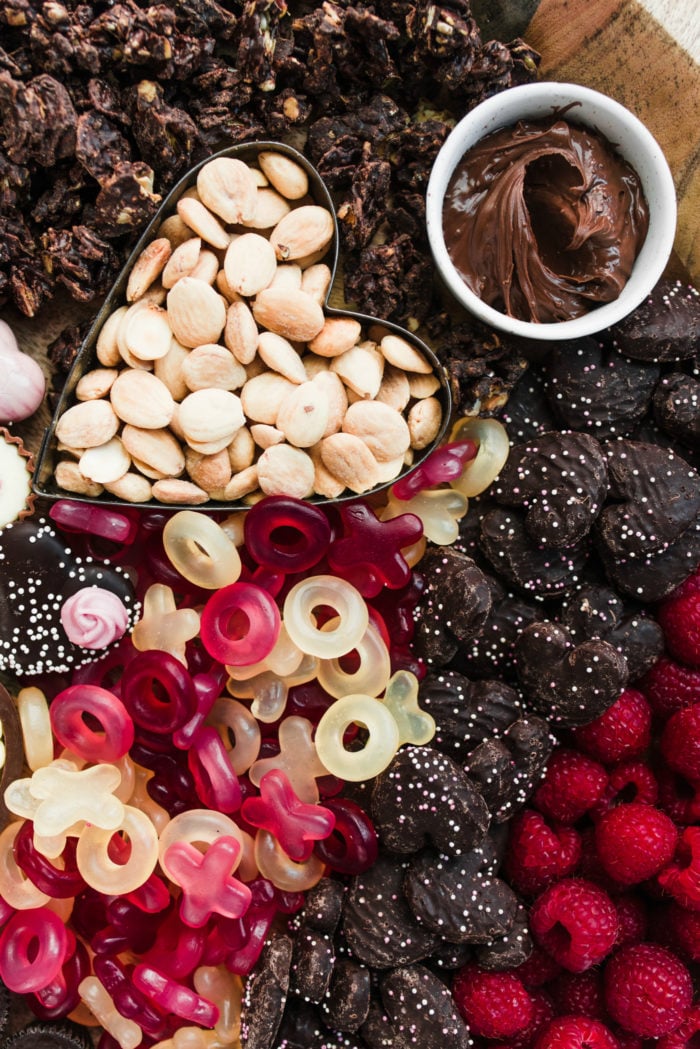 Hosting starts with grace
Obviously, we set out the food and invite others in, even if it's not always easy.
If we never make it happen, we miss some of the richest moments in our lives.
Hosting is sacred, as we never know how one invitation can help or change another person.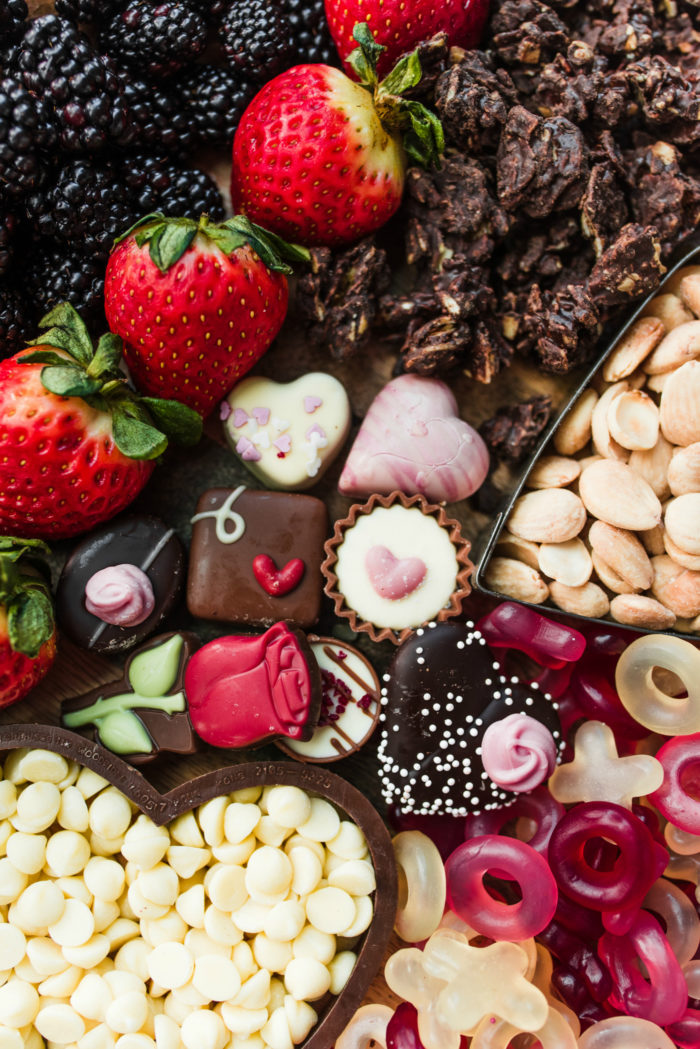 I came across these words on my blog a few years back and want to share them again:
Grace is something you can never get, but only be given. The grace of God means something like: Here is your life. You might never have been, but you are, because the party wouldn't have been complete without you. Here is the world. Beautiful and terrible things will happen. Don't be afraid. I am with you. Nothing can ever separate us. It's for you I created the universe. I love you. There's only one catch. Like any other gift, the gift of grace can be yours only if you reach out and take it. Maybe being able to reach and take it is a gift too. – Frederick Buechner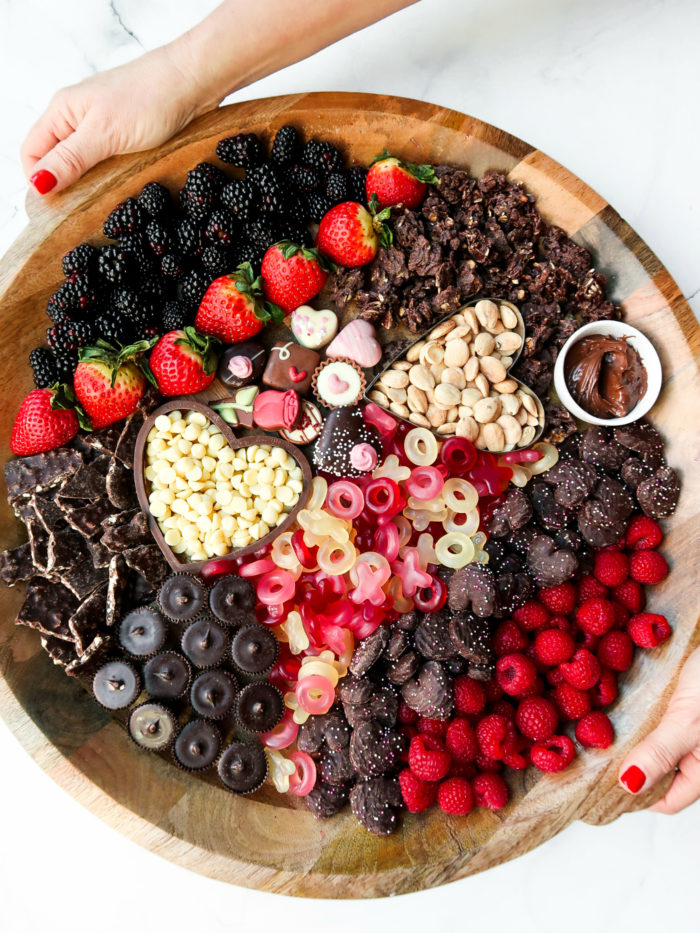 Let's celebrate grace with this simple menu for Valentine's Day!
Friends, The Big Board is here! Yes, I've partnered with JK Adams, the premier woodmaking company in Vermont, with my own line of RE boards!
20-inch
26-inch
12 x 36-inch
A board with a lip (or raised edged) so the food doesn't fall off
FOOD SAFE
Made in the USA
Undercut handles (a unique design)
Thank you for your support, as we've sold out so many times already!
Order The Big Board today!
Happy Hosting!
Ingredients
10 oz Trader Joe's Mini Chocolate Heart Cookies
14 oz Trader Joe's XO Gummies
6-8 large strawberries
10 oz raspberries
10 oz blackberries
1 c Marcona almonds
1 c dark chocolate almond bark
1 c dark chocolate coconut clusters
12 Trader Joe's dark chocolate peanut butter cups
1 package Trader Joe's "For the Love of Chocolate Collection" truffles
1/3 cup Nutella
1 cup white chocolate chips
Instructions
To arrange board, lay down your cookie cutters and fill them with chocolate chips and almonds. continue filling in the empty spaces with the remaining ingredients!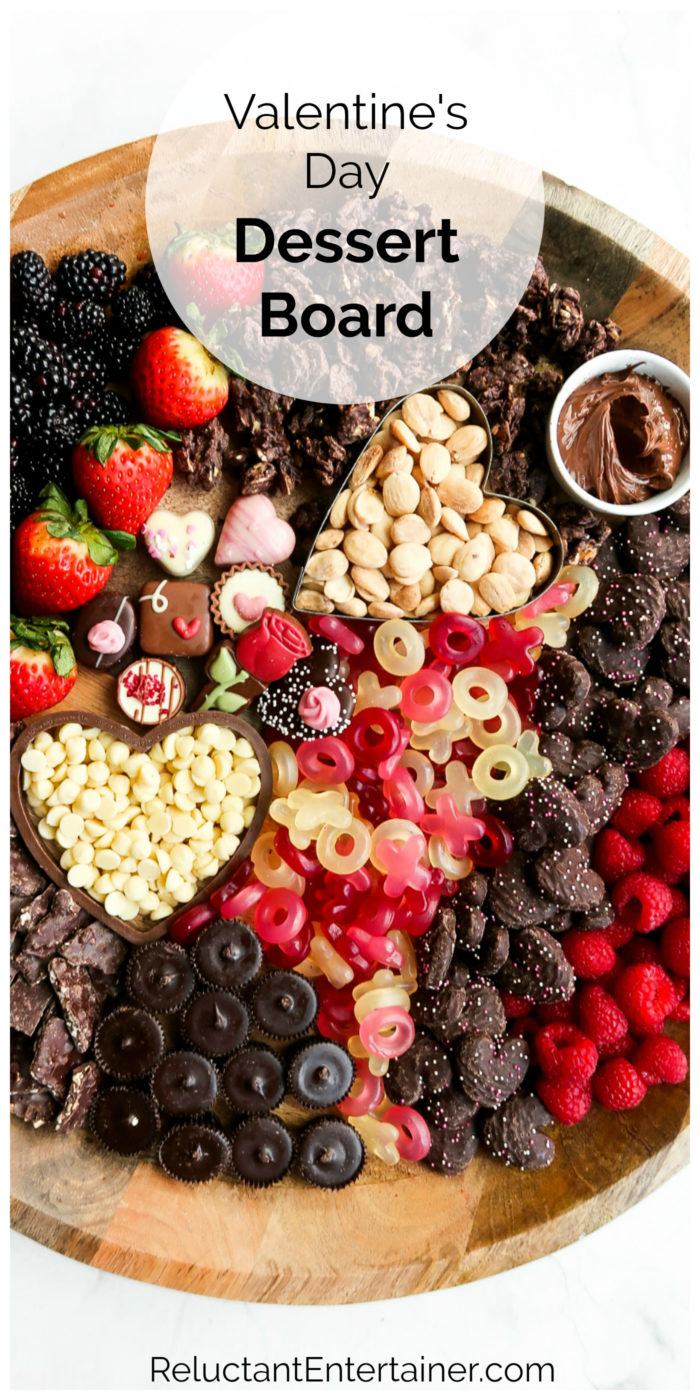 Hello and welcome to my home and table!
I'm Sandy—lover of food, family, cooking, THE BIG BOARD, travel, and bringing people together. Through great recipes and connection around the table, we become better, stronger, and more courageous people. Feasting on Life is real, and every time we do it, we grow a little more. Read more...