Yellow Squash Zoodles with Meatballs
Yellow Squash Zoodles with Meatballs is a tasty summer meal with spiralized squash, meatballs, sauce, and fresh garden tomatoes.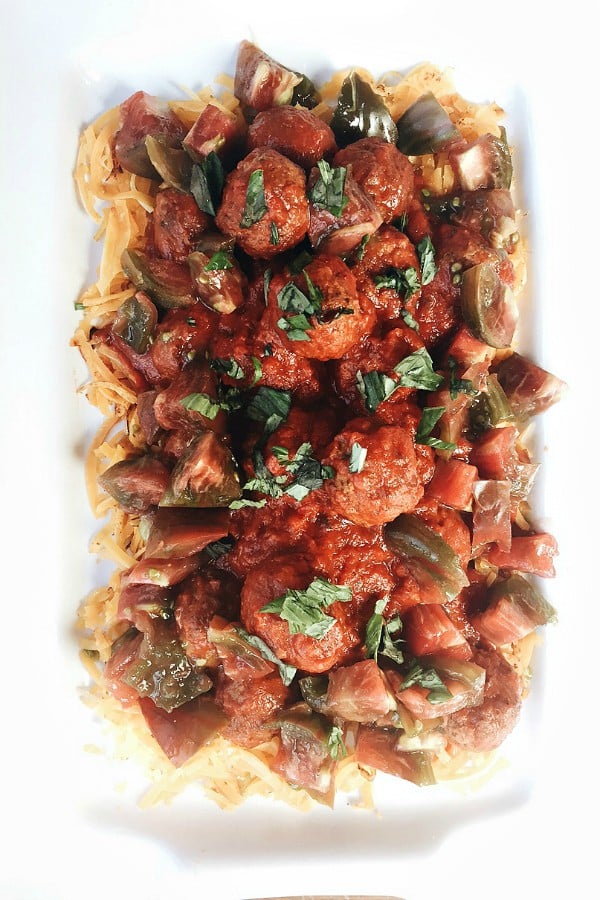 Friends, let's talk bike riding. We love to ride our bikes, and living in a community now where it's busy during the summer months, I've seen it all.
People, who clearly have not been on a bike in 30 years, the cyclists on a mission (probably on their way out of the village area for a long ride up to Mt. Bachelor, going rather fast), the electric bikes, the cruisers, the ancient bikes (like 2 of ours), the cute little kids, bike trailers, new tag-a-longs, the people who try to ride while keeping their dog on a leash, the pack of kids (friends), probably on their way to the pool … and my favorite?
My favorite this summer has been seeing quite a few elderly people on their bikes. Several had to be in their 90s. That made me smile. I want that to be me someday!
The other observation about bike riding is that, generally, they are very friendly, happy people.
There's something about freedom on a bike, the wind in your face, the ability to go fast, nice groomed paths where you can actually enjoy the beauty around you–and also I think cycling holds truths for all of us. It brings us back to when we were a little kids, our own stories of our first crashes, how our parents let us ride all day long–with no water bottle or cell phone–without checking in. Riding to the store for a popsicle or candy – it was casual fun.
We were trusted on a bike.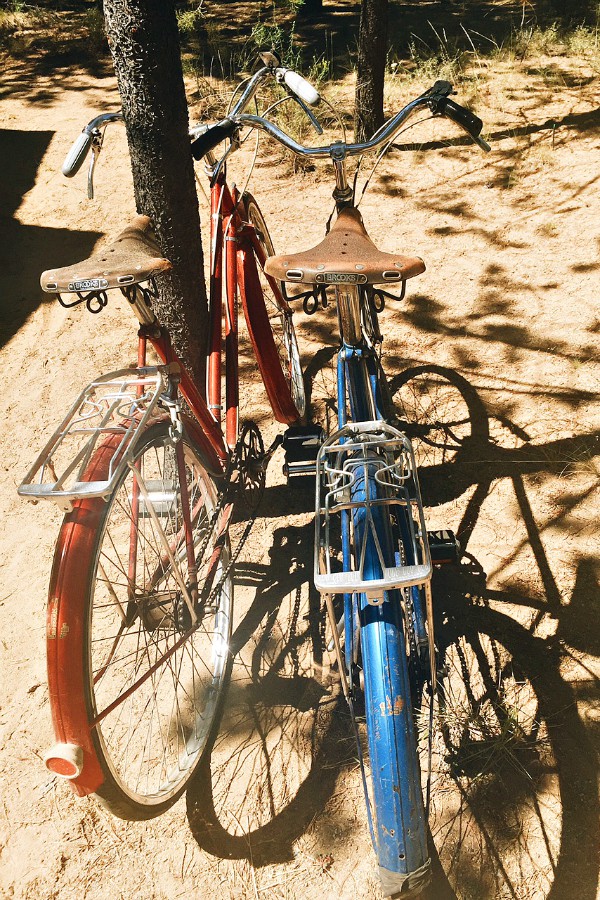 I actually bought this bike when we first moved here at a consignment shop, but my daughter has taken it over, since she rides to work. So for now, I ride the blue bike above. A Brooks bike from England, I read up on and found that the timeline says these bikes were probably built in the 50s. The seat? SO comfy! I've taken over the blue one …
But there's one thing missing from my favorite blue bike: A basket. I'd love to put Haggis in a large basket and take him for rides. Like Dorothy and Toto! :o) We shall see.
In the meantime, we're loving our new kitchen; we just ordered our lighting yesterday! And in the evening we swing open all of the doors, to enjoy the breeze and beauty of a nice, cool evening. It's enchanting over here in central Oregon. There's just something about the very blue skies, the smell of the ponderosas and not-so-pretty lodge pole pines, and the stillness in the air. Yes, you can smell the stillness. It smells like earth, which I love.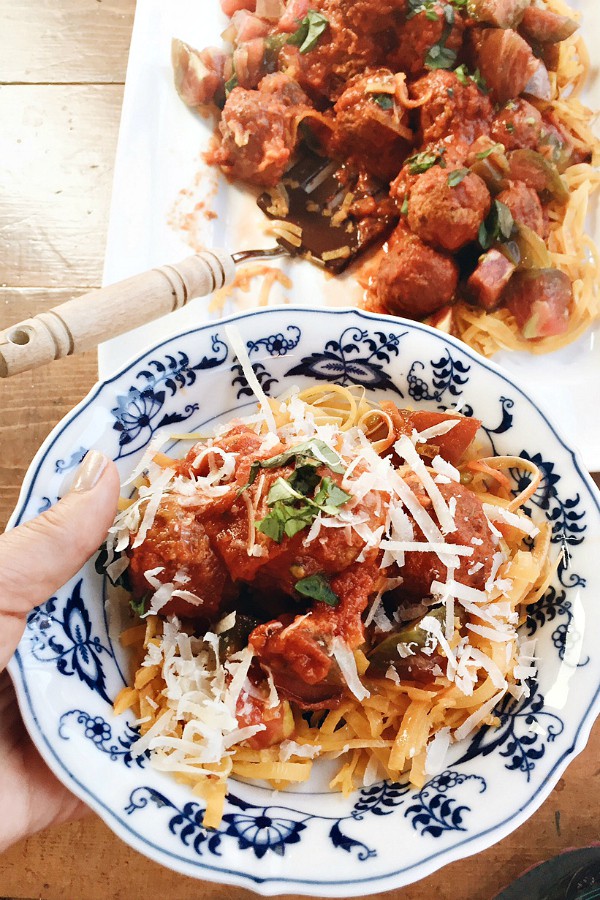 Yellow Squash Zoodles with Meatballs
After one recent bike trek, we came home to this dinner, so delicious after an invigorating mountain bike ride!
You can spiralize your own squash, or you can buy it at Whole Foods (like I did).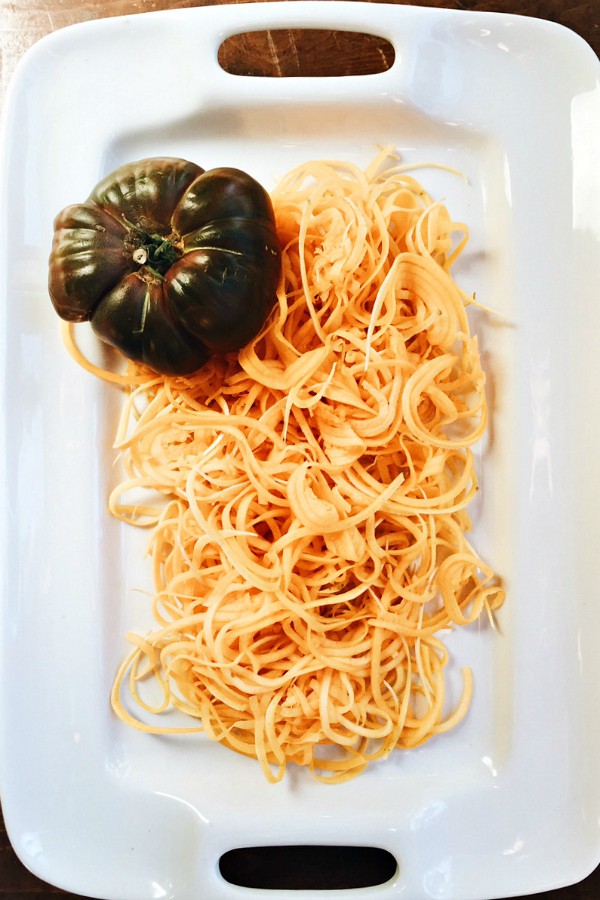 I love to make meatballs (triple or quadruple the recipe) and freeze, so they're ready to pull out of the freezer for a quick meal, or buy the Italian meatballs at Trader Joes! :)
And, the BEST sauce ever is DeLallo brand. True Italian sauce, best flavor. I know, I've tried them all!
Enjoy this delicious summer recipe today, Friends!
Happy Friday!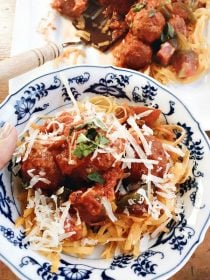 Get the Recipe: Yellow Squash Zoodles with Meatballs
Ingredients
4 yellow squash, spiralized
Olive oil
2 large garlic cloves, minced
1-2 large heirloom tomatoes, cut in chunks
Fresh Parmesan to taste, optional
1 jar 25 oz. DeLallo Pomodoro Fresco Tomato Basil Sauce
12-18 meatballs
Fresh basil leaves for garnish
Instructions
Spiralize the squash (or buy them already spiraled).

In a large skillet, add the olive oil and heat, adding the minced garlic cloves. Cook for 1-2 minutes.

Cook the zoodles in the garlic oil for only 2 minutes. Remove from pan.

In the same pan, add the spaghetti sauce and meatballs. Cook until heated through, for about 5 minutes, on low heat.

Lay the noodles on a large platter (or individual servings), adding the spaghetti meatball sauce on top. Top with fresh tomatoes, basil, and Parmesan cheese (optional).
More DeLallo pasta recipes:
Elbow Macaroni Chicken Noodle Soup
Squash Ribbon Pasta with Salmon Herb Sauce
Hello and welcome to my home and table!
I'm Sandy—lover of food, family, cooking, THE BIG BOARD, travel, and bringing people together. Through great recipes and connection around the table, we become better, stronger, and more courageous people. Feasting on Life is real, and every time we do it, we grow a little more. Read more...