Best Clam Chowder
Any time of year, this delicious, creamy soup, Best Clam Chowder, is the perfect dish to serve for a lighter holiday meal.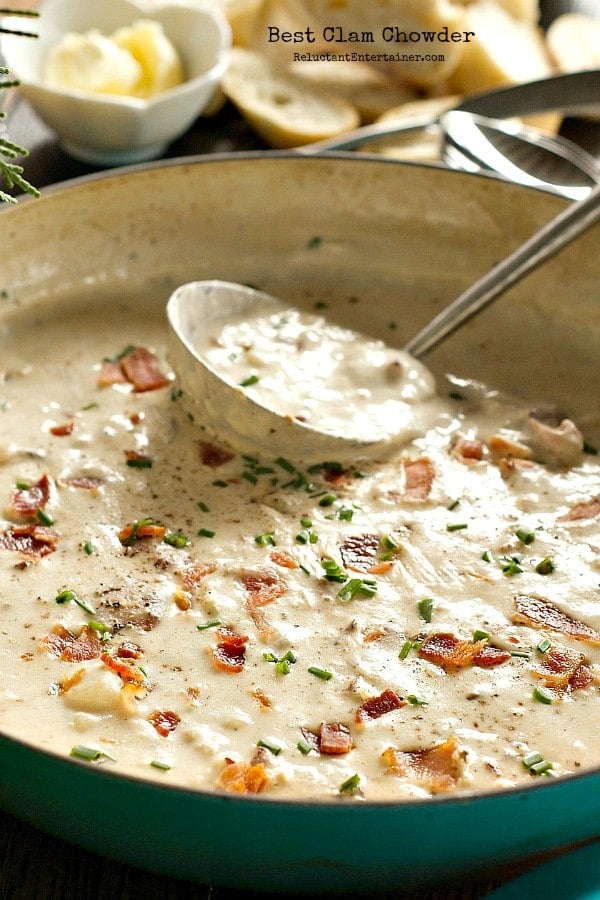 Merry Christmas Eve, Friends! I love the magic of today—the eve of the most wonderful day of the year! Hopefully your menus are planned, shopping is done, and you're not working too hard with frantic last-minute details.
It's easy to get snippy and short with one another with fractured spirits, when we're doing too much! I've learned to slow down, realize it's not a race (well, sort of it is), and to have everything crossed off my list by the Eve.
Part of my easy planning is to make a big pot of soup that everyone loves!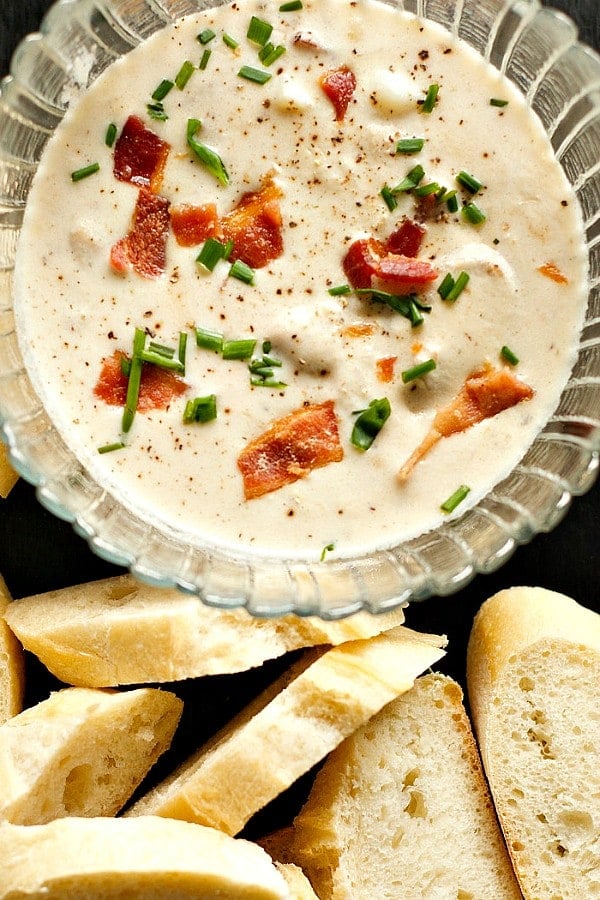 Best Clam Chowder.
Clam Chowder is so easy to make, I always wonder why I don't make it more often. It's comforting, filling, and delicious if you serve it with a shrimp salad and sourdough bread.
The perfect Christmas Eve meal.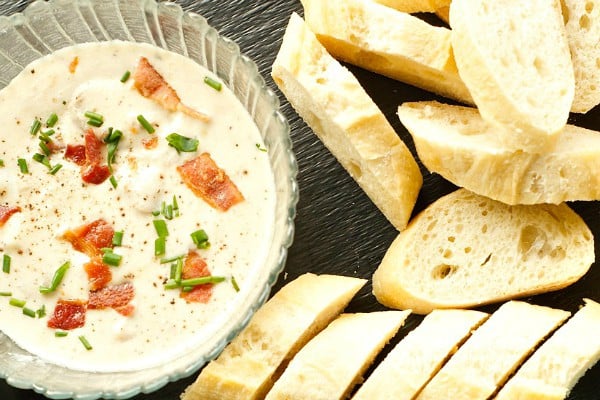 Relax and remember.
So from our family to yours, remember to slow down, relax, and be present in the moment!
Don't over complicate. If you're planning one big meal on Christmas Day or Eve, keep the other one simple! You don't need to be a slave to your kitchen!

Get off social media. Hopefully once you've figured out your menu this week, you're off Pinterest and Facebook and enjoying your family. Don't be looking at what others are doing — look inside (your own windows) and don't miss out on the beauty happening before your very eyes! Every day is a gift and we can't take our days for granted.

Relish in the joys. Christmas is a time of giving, tradition, cheer, and relaxation. We're hosting my Dad and his wife for prime rib on Christmas Day, but plan to relax, watch movies, slowly open gifts, go on a walk.
I have one small wish … a wish I always have on Christmas Day. It rarely happens in southern Oregon, but that wish is that we'd wake up to a blanket of snow.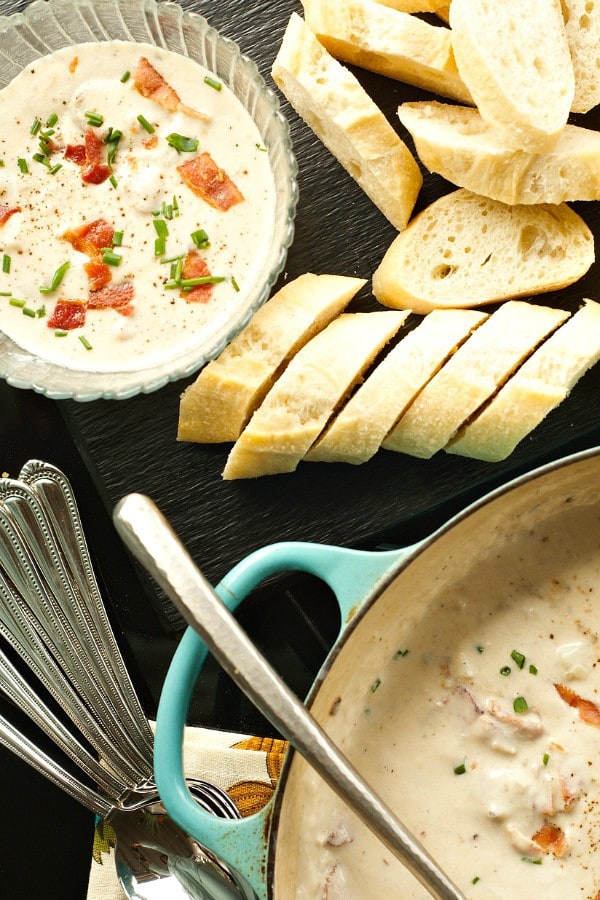 In the meantime, my cup runneth over with the true meaning of this beautiful season, with gratitude, thanksgiving, and renewal.
And this delicious comforting Best Clam Chowder!
What do you plan to serve on Christmas Eve or Day this year?
Best Clam Chowder
Yield: 5-6
Prep Time: 20 minutes
Cook Time: 35 minutes
Total Time: 55 minutes
This delicious, creamy Best Clam Chowder is the perfect soup to serve for a lighter holiday meal.
Ingredients:
8-10 bacon strips, divided
2 Tbsp. butter
2 celery pieces, chopped
1 leek, finely chopped
1 large onion, chopped
2-3 garlic cloves, minced
3-4 small potatoes, peeled and cubed
1 cup broth
1 bottle (8 ounces) clam juice
1/2 teaspoon white pepper
1/2 teaspoon salt
1/2 teaspoon dried thyme
1/3 cup all-purpose flour
2 cups fat-free half-and-half, divided
3 cans (6-1/2 ounces each) of whole clams, undrained, chop into chunky pieces
Bay leaf
Chopped fresh chives or green onions, for garnish
Directions:
1. In a Dutch oven, cook bacon over medium heat until crisp. Remove to paper towels to drain; set aside. Add butter to the drippings; saute celery, leek, and onion until tender. Add garlic; cook 1 minute longer. Stir in the potatoes, broth, clam juice, salt, pepper and thyme. Bring to a boil. Reduce heat; simmer, uncovered, for 15-20 minutes or until potatoes are tender.
2. In a small bowl, combine flour and 1 cup half-and-half until smooth. Gradually stir into the soup. Bring to a boil; cook and stir for 1-2 minutes or until thickened.
3. Stir in clams and remaining half-and-half; heat through (do not boil); turn down to low heat; add the bay leaf. Add 4 strips of bacon (crumbled).
4. Crumble the reserved 2 strips of bacon. Garnish chowder with crumbled bacon and fresh chopped chives.

More Clam Chowder recipes:
Manhattan Clam Chowder (Simply Recipes)
Slow Cooker New England Clam Chowder (Baked by Rachel)
Smoked Salmon Chowder (Pinch of Yum)