Double Chocolate Texas Sheet Cake Recipe
This Double Chocolate Texas Sheet Cake Recipe feeds a large group of guests, perfect for SUMMER, Memorial Day, or Fourth of July entertaining!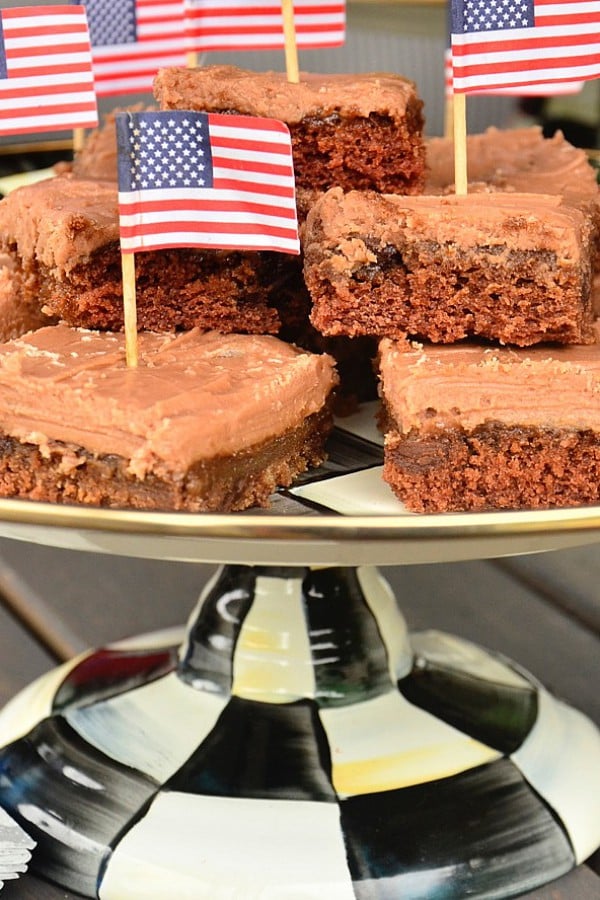 Life seems simple and easier this time of year — when the sun rises early and sets late, giving us extra hours to gather with friends late into the evening for fresh, casual meals. Or when you whip up a Double Chocolate Texas Sheet Cake recipe to feed a crowd. When we can just slip on a pair of flip-flops and our schedules are more relaxed.
I love summertime! (More on the table, here.)
What makes it easy for me, when I'm asked to bring a dessert or make something up for a large group we may be entertaining, is to pull out my KitchenAid stand mixer and bake a cake.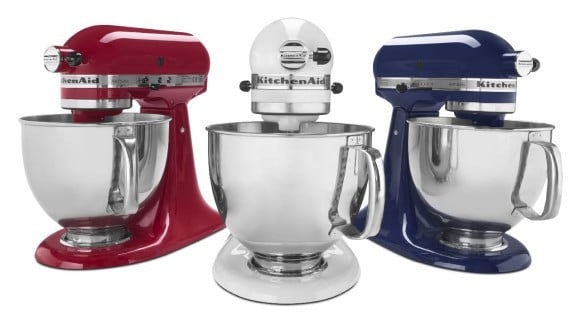 Today's recipe isn't the standard Texas Sheet Cake recipe that everyone makes. It has a little bit more chocolate than normal.
Double Chocolate Texas Sheet Cake Recipe
It's similar, except the extra chunks or chips of chocolate makes it Doubly Chocolatey Good!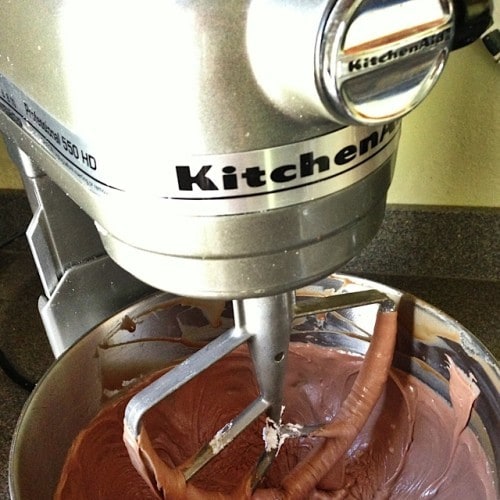 You don't have to wash the large KitchenAid mixing bowl once the cake is in the oven; just add the frosting ingredients right to the same bowl and mix. Super efficient!
Spread the frosting on the cake while it's hot. Good luck if you can keep your fingers out of the frosting.
Everyone loves it – everyone!
It has the best creamy frosting.
The best!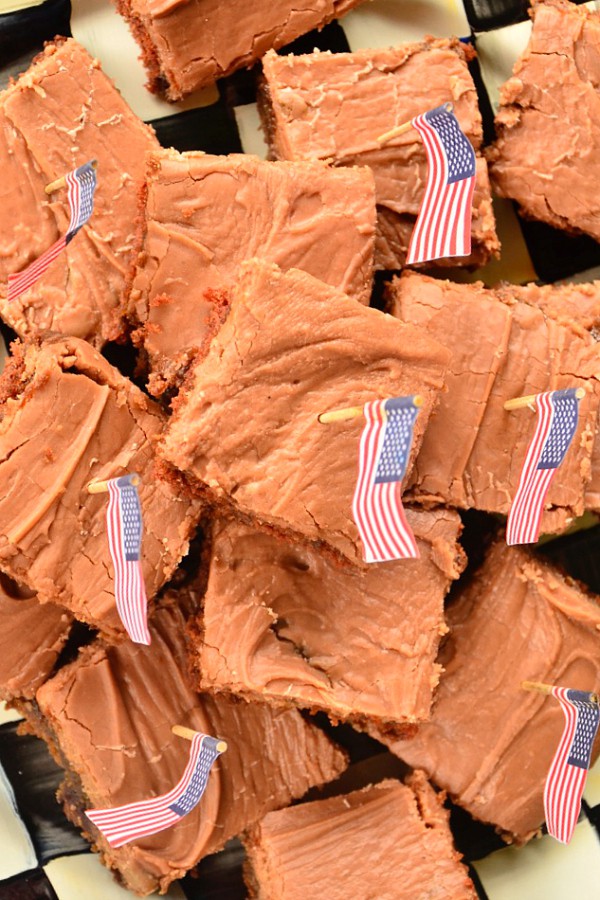 And it's easy to cut and display on a platter and serve to your guests. Easy!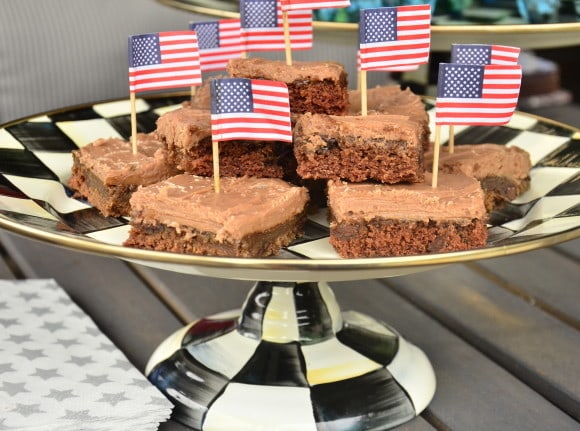 It always feeds a crowd.
Cut the pieces small.
Add little flags and your'e set for the 4th of July.
What's your go-to chocolately dessert for holidays that feeds a crowd?
Double Chocolate Texas Sheet Cake Recipe
Yield: 18
Prep Time: 10 minutes
Cook Time: 20 minutes
Total Time: 30 minutes
This Double Chocolate Texas Sheet Cake Recipe feeds a crowd, perfect for Memorial Day or Fourth of July entertaining!
Ingredients:
1 cup butter
1 cup water
1/2 cup cocoa
2 cups sugar
2 cups flour
1/4 teaspoon salt
2 eggs
1 teaspoon baking soda
1/2 cup sour cream
1 teaspoon vanilla
1 1/2 cups chocolate chips (or chunks)
FROSTING:
1/2 cup butter
1/4 cup cocoa
1/4 cup plus 2 tablespoons milk
1 box (1 pound) confectioners' sugar, sifted (4 1/4 cups sifted)
1/2 teaspoon vanilla
Directions:
Combine the butter, water, and cocoa in saucepan over medium heat; heat until butter melts.
Add sugar, flour, salt, eggs, baking soda, sour cream, and vanilla; mix well. Pour into a 15x10x1-inch jelly roll pan.
Sprinkle the chocolate chips (chunks) over the batter.
Bake at 350 for 20 minutes.
Frost the cake while it is hot.
For frosting, combine butter, cocoa, and milk in a saucepan; bring to a boil. Add remaining ingredients and mix well with electric mixer.
Spread frosting over hot cake and sprinkle with chopped pecans (optional).
Cool and serve.
This post is sponsored by KitchenAid; but as always, all opinions are my own.

CONTEST CLOSED.
Are you following me on Instagram, Twitter, Facebook and Pinterest? If you'd like to subscribe to Reluctant Entertainer, to have each post delivered straight to your e-mail box, then please add your email, here. It's really easy! Thanks for being here today!