4th of July Party Drinks Display
Just in time for a summer party holiday, this 4th of July Party Drinks Display is a fun way to set out the beverages, in a patriotic setting!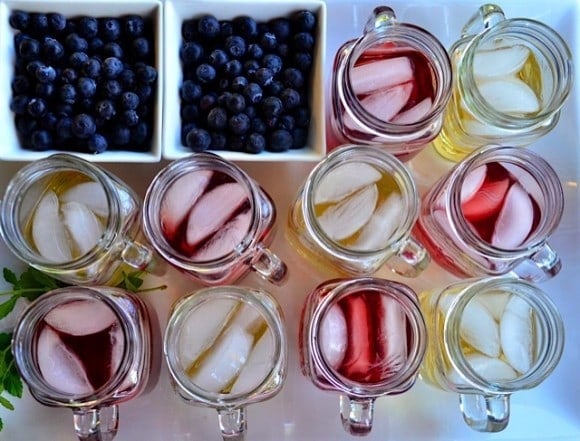 In the next couple of weeks I'll be sharing some fun 4th of July party ideas, for the season at hand, like this 4th of July Party Drinks Display.
What I love about holidays is that you don't have to celebrate only on the "day," but the festivities can begin weeks ahead of time. I will admit though, when a holiday is over, I'm done with the theme. I like to clean up, put the holiday stuff away, and move on to a fresh clean look.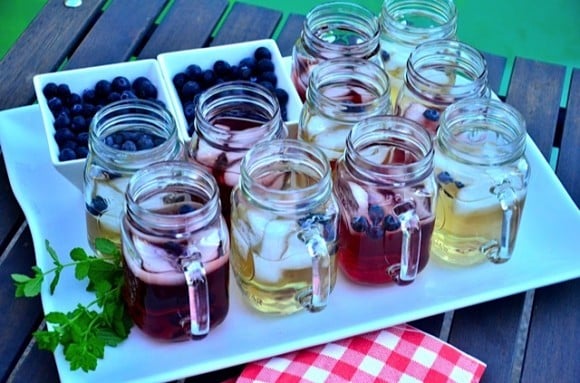 4th of July Party Drinks Display
This year, I'll use my Dollar Store mugs with handles and set up a fun drink station with red and white drinks, and fresh blueberries!
How easy is that?
You can serve red and white wine or champagne, a variety of red and white juices or spritzers, or even Kool-Aid or juices for the kids.
In flag fashion, I'll line up the drinks in rows.
And add fresh blueberries for guests to munch on in bowls, forming the square (of the flag) at the upper left corner.
Yum!
I'll add a few ice cubes right before the guests arrive, and a few blueberries for more color.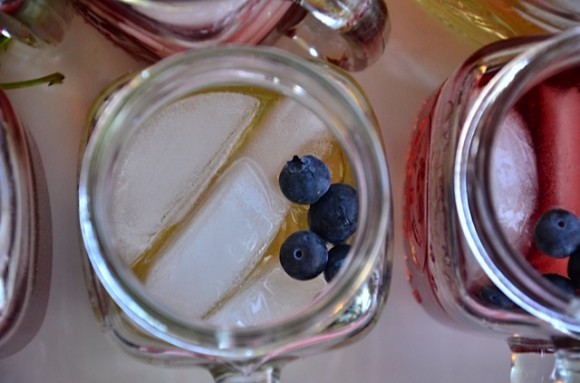 I'm a party girl for sure, but I don't sit home and plan for weeks ahead of time. My inspiration usually comes the day of the party, using what I have.
I'm usually short of time, so a simple, fresh, fun idea works best for me.
My philosophy about drinks is this: If you have the time, do something fun and creative, but if you run out of time – don't worry about the drinks! Guests don't expect a creative display every time, and I've often completely run out of time and have found myself pulling wine glasses or drinks from the fridge right as the guests arrive.
There are no rules. Except for making your guests feel welcome, and then having a memorable time with them!
Do you get creative with holidays, or does that part of entertaining stress you out?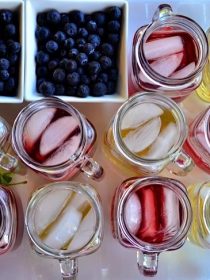 Get the Recipe: 4th of July Party Drinks Display
Ingredients
White wine, champagne, or white grape juice
Red punch, juice, or red wine
Fresh blueberries
Ice
Instructions
Fill mug glasses with drinks, alternating the colors, as in stripe form.

Place blueberries in a retangular dish (or 2 square) for the "stars."

Right before serving, add ice!

ENJOY!
Here's a fun party drink recipes for the 4th from Recipe Girl: Red, White and Blue drinks, and more ideas from Tidy Mom (4th of July Crafts and Treats). Looking for more treats? Try this Double Chocolate Texas Sheet Cake or Old-Fashioned Homemade Vanilla Ice Cream, or for breakfast, this Raspberry Yogurt Cake!
SaveSave
Hello and welcome to my home and table!
I'm Sandy—lover of food, family, cooking, THE BIG BOARD, travel, and bringing people together. Through great recipes and connection around the table, we become better, stronger, and more courageous people. Feasting on Life is real, and every time we do it, we grow a little more. Read more...