Barbecue Chicken Pizza Board
Serve a Barbecue Chicken Pizza Board for any holiday or special meal, with your favorite pizza and a giant green salad and pickled onions. Make it special and ENJOY!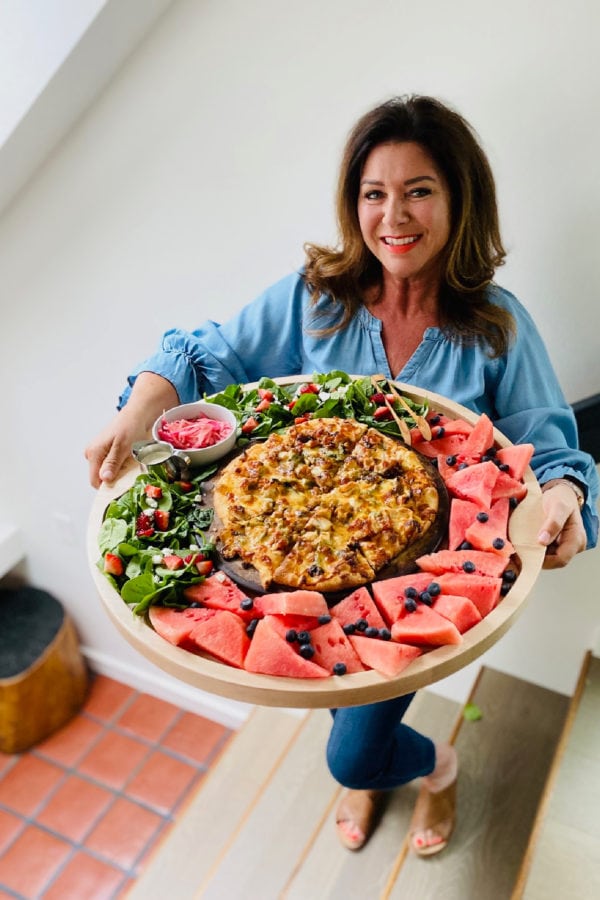 Just in time for the weekend, enjoy this Barbecue Chicken Pizza Board, so delicious, you just might want to make two pizzas. I do get asked often for board ideas, and what if you want to double the recipe? This is easy!
Barbecue Chicken Pizza Board
For this board, make two pizzas and keep one warm in the oven while you serve the first one. Just refill the empty pan with the fresh pizza, and keep the board-serving going! Easy!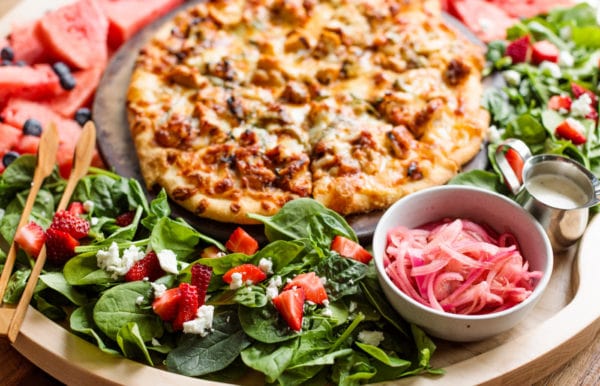 Are you ready for Father's Day weekend? My dad came in April for a long stay and we had the best time. And this will be my husband's first ever Father's Day without any of the kids. But wait—Mother's Day this year was the same for me. We are truly empty nesters now! We are so grateful for our kids, and also our dads. Paul and I have been very blessed.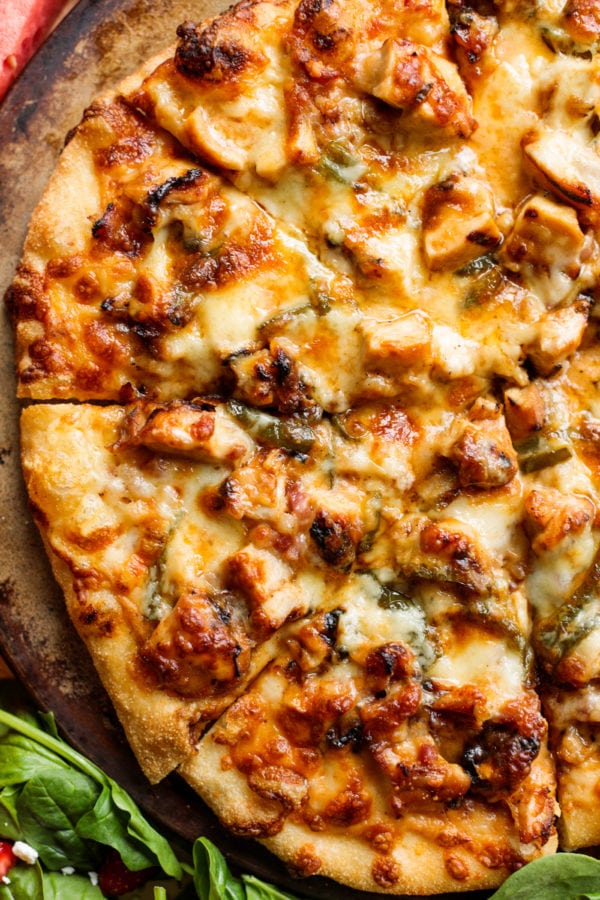 Ingredients for Barbecue Chicken Pizza Board
Just in time for a great meal on Sunday, put together a food spread on a board! All you need are these ingredients:
Watermelon, bluberries and strawberries
Spinach salad with dressing
One amazing BBQ Chicken Pizza (homemade is the best)
Grab my easy chicken pizza recipe, Homemade BBQ Chicken Pizza, and get started!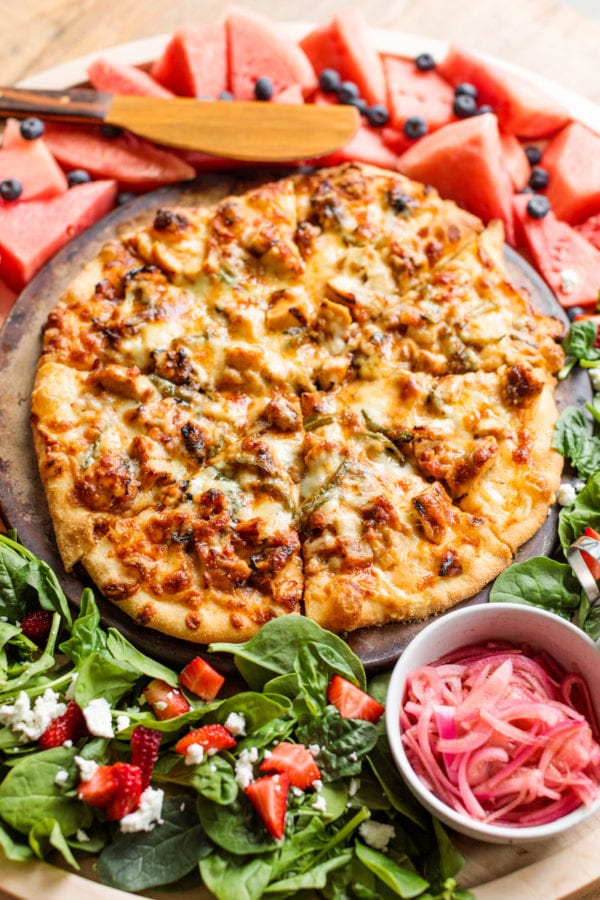 Holidays and Summer Cookouts
My dad and mom hosted a lot when I was a child. The table was always full of life and conversation. We did, as kids, learn to be quiet and listen around the table, and I'm sure occasionally we also really got out of hand. From holidays to backyard cookouts, my parents really did love food and people. I'm glad I learned from them.
By the way, my friend Kurt Berger made the beautiful wood knife that I'm using here. It's made out of zebra wood, with a yellow heartwood handle. So lovely, a keepsake I will always cherish that my friend Jenny gave me for Christmas.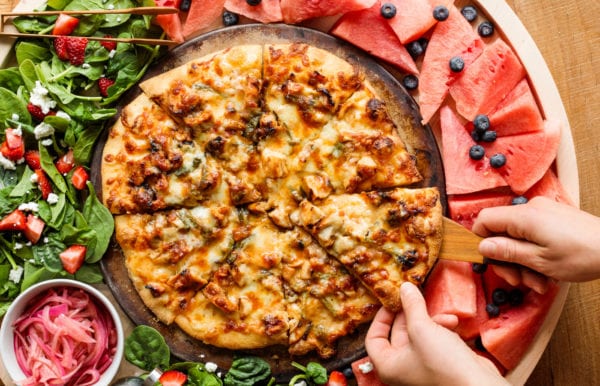 For Father's Day, you can make a board with your favorite pizza, salad, fruit … make it your own!
Take your favorite family dish and make it special.
Basically, any dinner can be made and served on The Big Board! [Food safe boards in 4 epic sizes, made in the USA].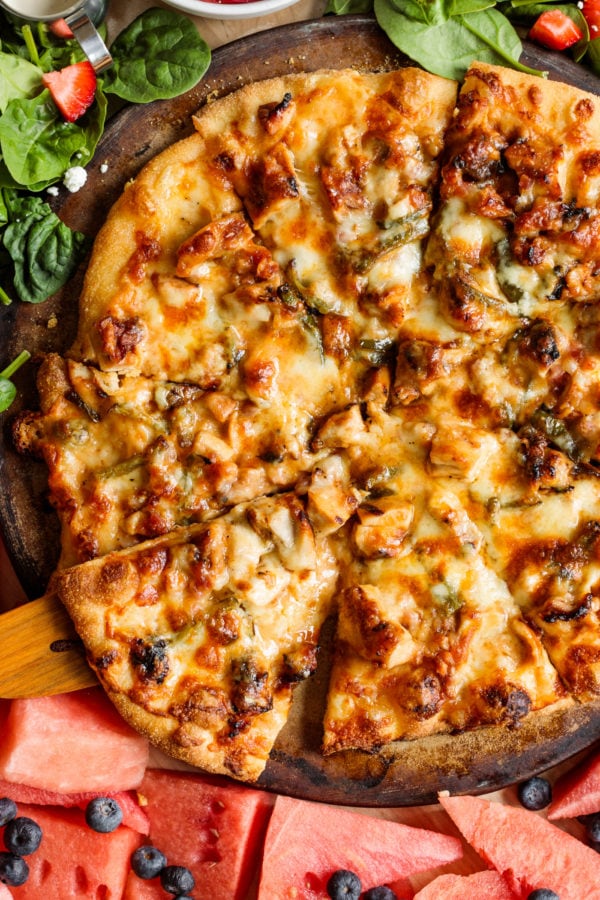 Don't forget the homemade vanilla ice cream. This was our family go-to recipe when I was a child and people were coming over during the summer months. My dad was the one in charge of the ice cream, and I got the job of sitting on the (cold) machine, because toward the end, the churning gets hard.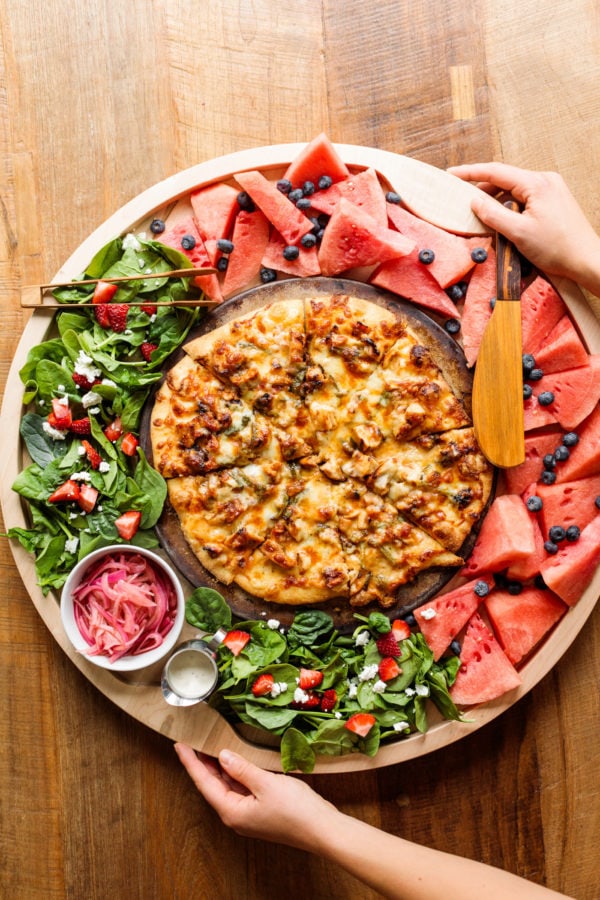 I don't know about you, but I think pizza and ice cream go hand in hand!
Happy Father's Day to everyone who is celebrating this weekend!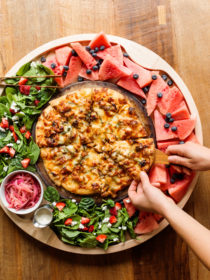 Get the Recipe: Barbecue Chicken Pizza Board
Made on the 23-inch Lazy Susan
Ingredients
1/2 watermelon, chilled
1/2 c blueberries
1 c strawberries, roughly chopped
4 c spinach
1/2 c pickled red onions
1/8 c feta or goat cheese
1/4 c dressing
1 BBQ Chicken Pizza
Instructions
Make the pizza according to which recipe you are using. You can also buy a frozen cheese pizza and add your favorite ingredients.

Place a hot pad in the center of the board and leave space for the size of the pizza pan.

Around the outside make a spinach salad on one side, with strawberries and goat cheese, and place the watermelon and blueberries on the other side. Add in the salad dressing in a small container.

Place the pickled onions in a small bowl.

When the pizza is done, allow to sit for 5 minutes before cutting. Place the pan on the board and serve!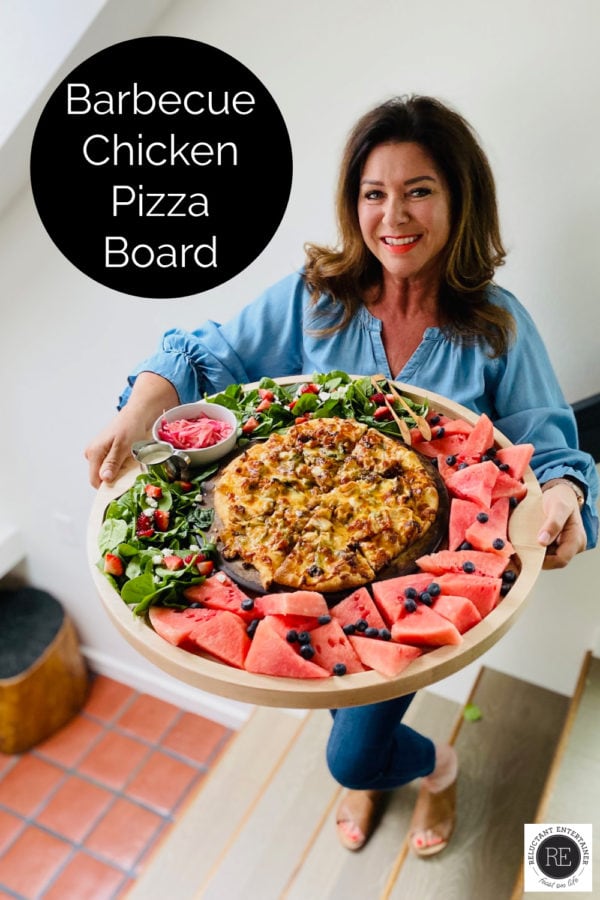 Hello and welcome to my home and table!
I'm Sandy—lover of food, family, cooking, THE BIG BOARD, travel, and bringing people together. Through great recipes and connection around the table, we become better, stronger, and more courageous people. Feasting on Life is real, and every time we do it, we grow a little more. Read more...