Cheesy Baked Zucchini Casserole
Cheesy Baked Zucchini Casserole with mozzarella cheese, heirloom tomatoes, and fresh basil, is a smart way to use up garden produce!
Friends, how is it now summer? The gloriously hot days are finally here. I love the poem I'm sharing today, so keep reading. And grab your garden produce or Farmer's Market finds and get creative with a summer squash casserole.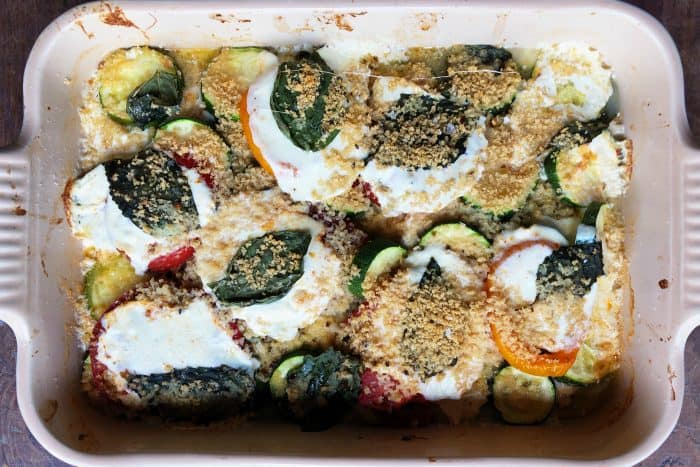 Cheesy Baked Zucchini Casserole
Enjoy this summery Cheesy Baked Zucchini Casserole for an easy weeknight meal! (Or, how about this Summer Squash Casserole made with pesto or these Acorn Squash Sprouted Rice Bowls? YUM! And dessert? These Butternut Squash Granola Parfaits are also delish!)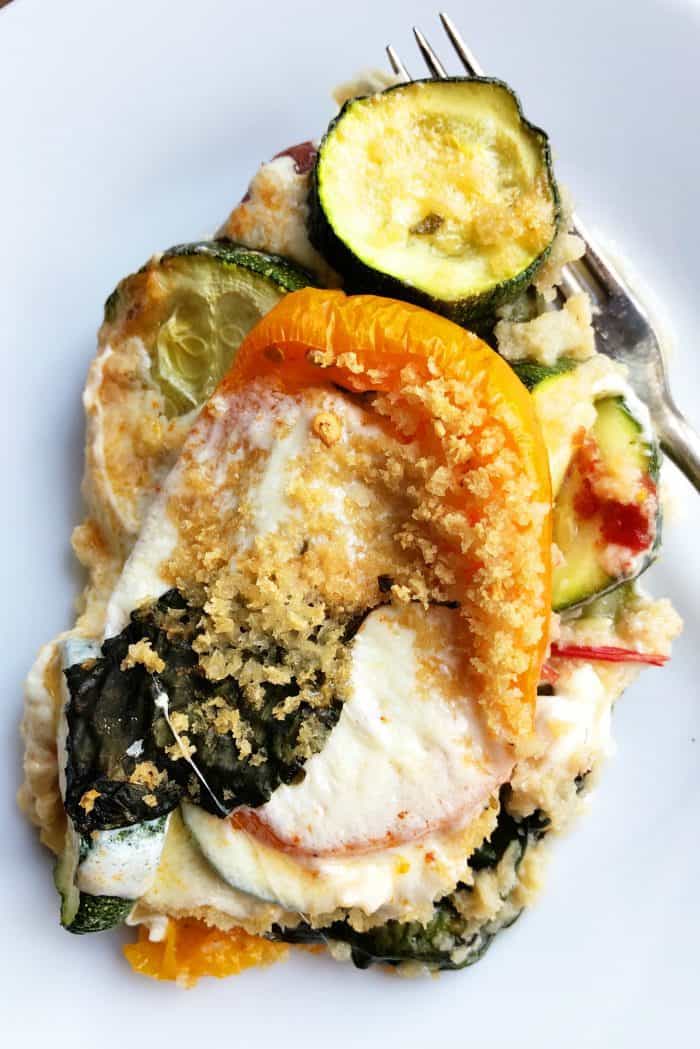 Ingredients for Summer Zucchini Casserole
All you need is zucchini, cheese, fresh basil, and big fat heirloom tomatoes.
What I love about zucchini casseroles is you can mix the cheeses, or use different varieties.
We like the crunch of panko bread crumbs on top! So good.
The casserole may be a little watery (always when you cook with squash), so use a slotted spoon or spatula when serving.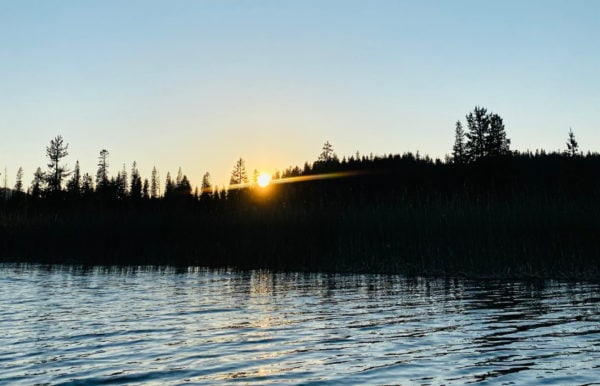 When I think of summer solstice, I think of doing something special on the 21st of June every year.
Last night in the evening we floated Hosmer Lake for the solstice, and this picture above is right about 8 pm.
This old poem sums it up, by Mark Twain.
Warm Summer Sun Poem by Mark Twain
Warm summer sun,
Shine kindly here,
Warm southern wind,
Blow softly here.
Green sod above,
Lie light, lie light.
Good night, dear heart,
Good night, good night.
–Mark Twain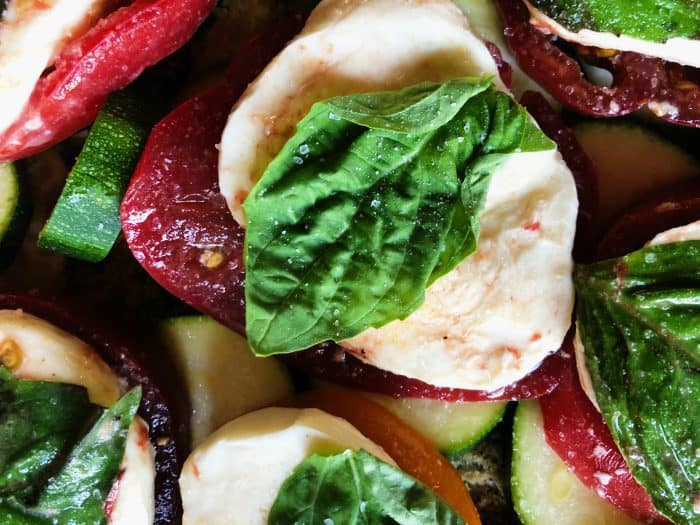 Baked Zucchini Casserole with basil and cheese
Friends, who are you having over for a summer meal. Your house doesn't have to be perfect, you don't have to cook a big gourmet meal (this Cheesy Baked Zucchini Casserole is budget friendly, and delicious served with hot crunchy bread and a glass of wine). In fact, most of summer we eat outside! You, too?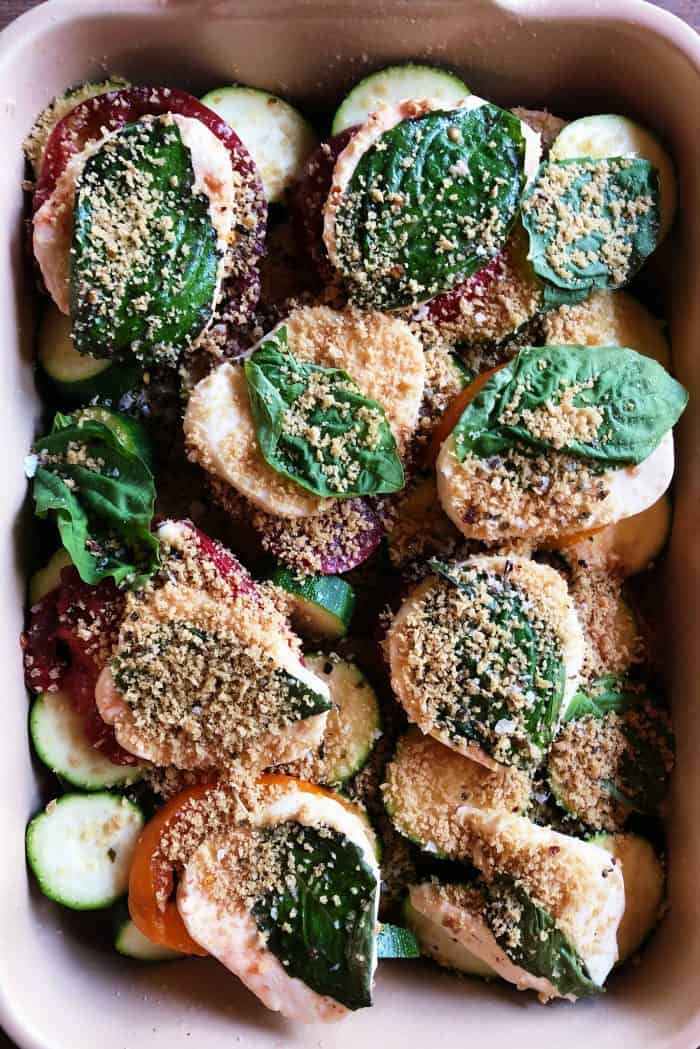 How to make Baked Squash Casserole:
Saute large zucchini slices with a little butter, cooking until they begin to soften.
Place the zucchini in a greased casserole dish. Salt and pepper!
Slice heirloom tomatoes and place on top of the zucchini.
Top with thick slices of mozzarella cheese and fresh basil.
Sprinkle bread crumbs on top (you can add fresh Parmesan as an option if you want more cheese.)
Place in the oven and bake at 375 degrees F for 25-30 minutes, or until the cheese is golden brown.
Remove from oven really important to let sit for 5-10 minutes before serving.
Hello summer, and thank you for letting us create new memories this year with wonderful people in our lives, and great food!
More squash casseroles:
Roasted Summer Squash with Lemon, Mint, and Feta [Kalyn's Kitchen], Forbidden Rice with Acorn Squash and Pecans [A Spicy Perspective], and Picked Squash [A Farmgirl's Dabbles].
Get the Recipe: Cheesy Baked Zucchini Casserole
Ingredients
2 Tbsp butter
2-3 medium zucchini, sliced thickly
1 tsp salt
½ tsp pepper
2-3 heirloom tomatoes, sliced thickly
Gourmet salt, or seasoning
½ - 1 cup basil leaves, optional to chop or leave whole
8 oz. mozzarella cheese, sliced thickly - we buy at Costco
1 cup whole wheat panko crispy bread crumbs
¼ cup Parmesan cheese, optional
Instructions
In a large skillet, heat 2 tablespoons of butter over medium-high heat. Add zucchini; cook 4-5 minutes, stirring frequently, until crisp and tender. Salt and pepper. Remove from heat.

Spray a 9x13 pan with cooking spray. Lay the zucchini on the bottom of the pan.

Lay the sliced tomatoes on top of the zucchini; place mozzarella slices on top. Sprinkle with your favorite gourmet salt. I used Mountain Mex Sweet Salt Seasoning, but you can use Lawry's or Trader Joe's Garlic Salt (in grinder) or whatever flavor you like. Place fresh basil leaves on top (optional to chop or leave whole).

Sprinkle bread crumbs on top. (Optional to add Parmesan to the bread crumbs if you want more cheese).

Bake at 375 degrees for 25-30 minutes, or until cheese is melted and vegetables are tender.

Remove from oven. Allow to sit for at least 5 minutes before serving. Serve with a slotted spoon or spatular because there may be extra liquid on the bottom from the zucchini.
Notes
reposted from Aug. 2018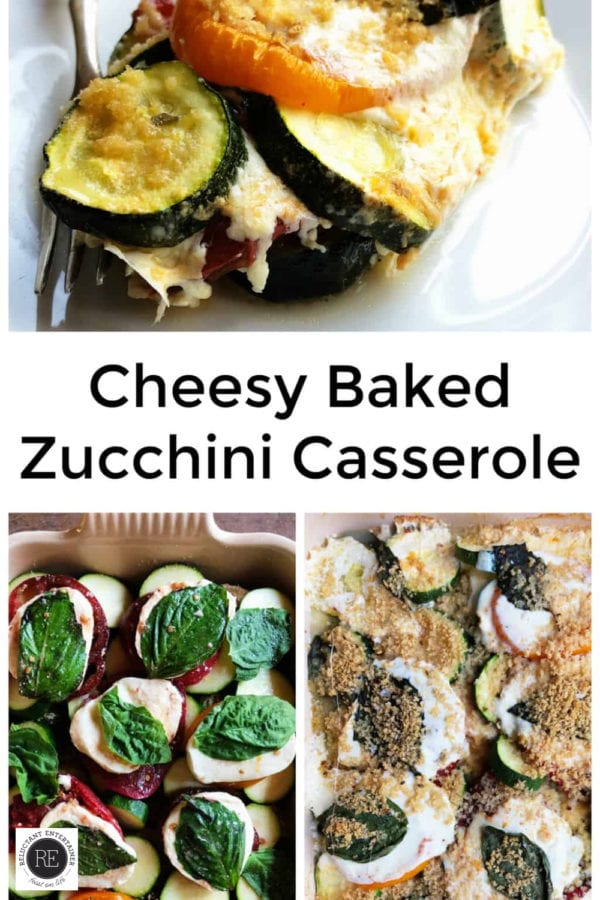 Hello and welcome to my home and table!
I'm Sandy—lover of food, family, cooking, THE BIG BOARD, travel, and bringing people together. Through great recipes and connection around the table, we become better, stronger, and more courageous people. Feasting on Life is real, and every time we do it, we grow a little more. Read more...