Summer Squash Casserole Recipe
This "full-of-the-earth," Summer Squash Casserole recipe is a delicious garden dump dish full of herbs, zucchini, tomatoes, and cheese!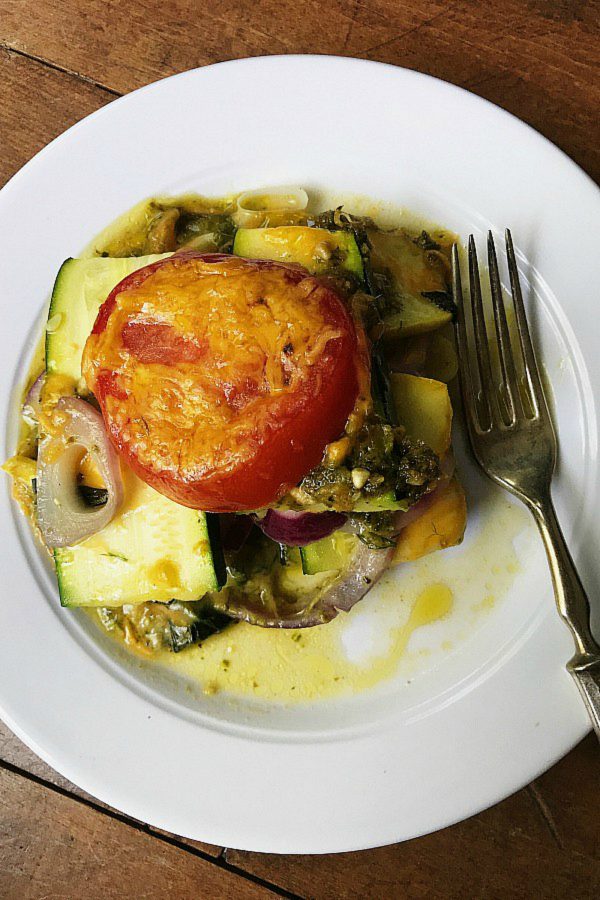 Layer together harvested zucchini (both green and yellow), or your favorite squash, to make a healthy Summer Squash Casserole. Watch the video to see how easy it is!
Summer Squash Casserole
For our family, a summer meal is often a vegetarian dish! But what I love about this recipe is you can add chicken (or any other leftover meat), and it's also pasta-free!
Think "garden dump," which means, what do you have growing in your garden right now? Zucchini, tomatoes, and fresh herbs?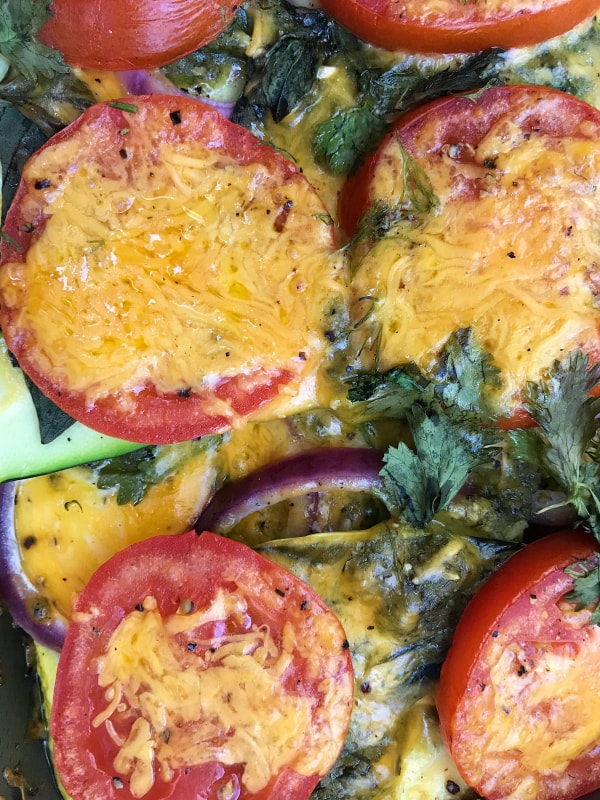 Easy dinner casseroles
If your a lover of easy casseroles for dinner, then this recipe is for you! Layer, bake, and serve! Or, you may even love this Coconut Salmon Zucchini Noodle Bowl Recipe!
Ingredients for squash casserole
All you need for this recipe is:
Zucchini (yellow and green)
Fresh cilantro or basil or dill
Cheese
Pesto
Red onion
Tomatoes
Salt and pepper
More Zucchini recipes to try:
We love recipes with zucchini, like these Chocolate Zucchini Muffins, Zucchini Black Bean Quesadillas, and Carrot Pineapple Zucchini Bread.
Also, try my friend Gina's Crustless Summer Zucchini Pie!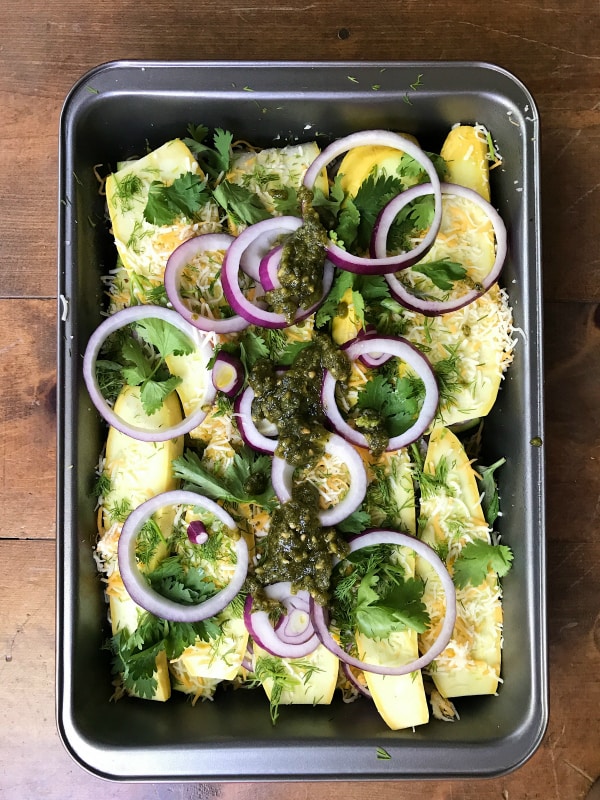 Garden Dump Casserole
The casserole is not only pretty, it's also so good for you! But wait … when you serve it, it's a little messy. :) It can be a little watery, so use a slotted spoon or spatula to dish it up.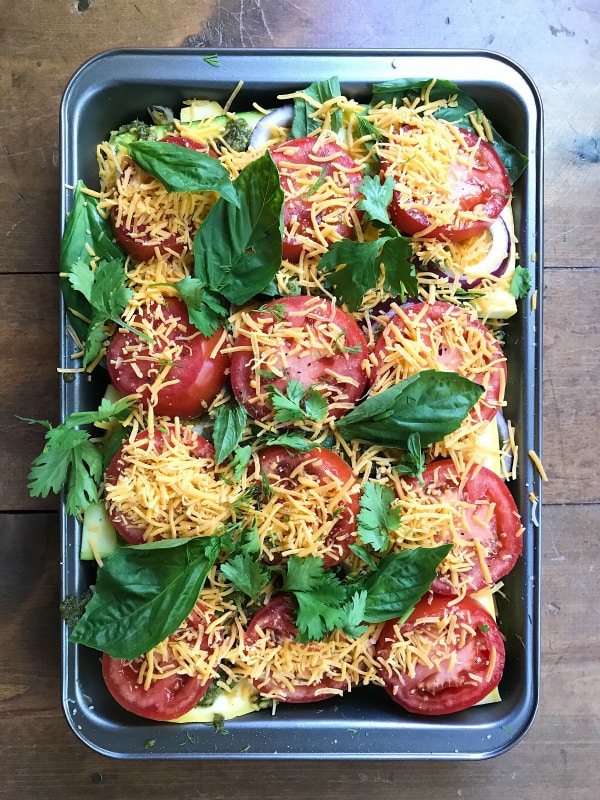 There's really no right or wrong way to make this–it essentially uses sliced squash in place of pasta.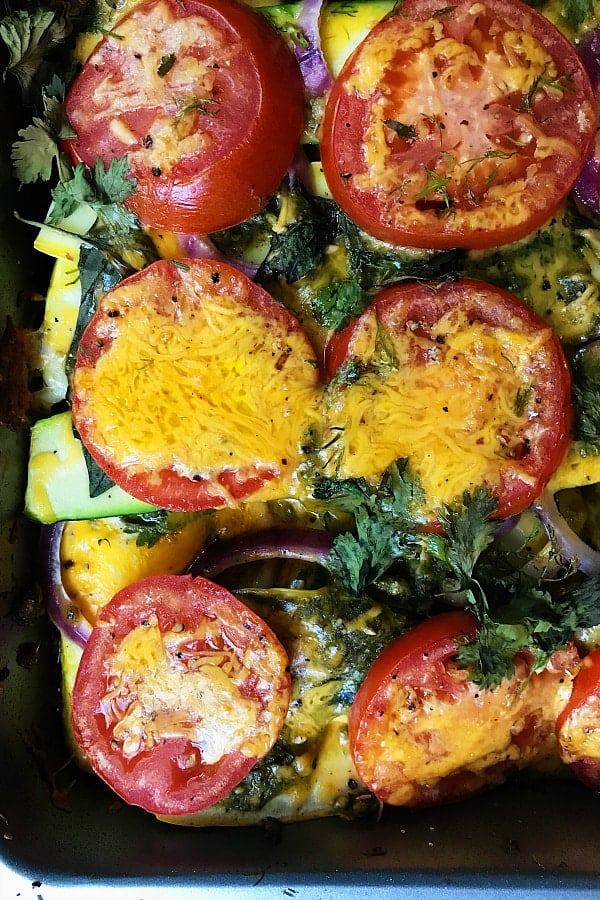 We've even baked this casserole while camping in our Camp Chef Outdoor Camp Oven [affiliate link]. I love this little oven, because it holds a 9×13 pan!
Make ahead at home, and then bake at 400 degrees for 40 minutes (covered with foil).
Seriously, this is our new favorite summer recipe–healthy, starch free, and full of the earth!
ENJOY!
Get the Recipe: Summer Squash Casserole
Ingredients
2-3 medium zucchini, sliced 1/2 inch thick
1 medium yellow zucchini, sliced 1/2 inch thick
Fresh cilantro or basil or dill, chopped (or all 3) – use a lot
3 cups cheese, we used Sharp Cheddar
1/2 cup pesto
1/2 large red onion, sliced
3 medium tomatoes, sliced
Salt and pepper
Instructions
Preheat oven to 400. Grease or spray a 9×13 pan. Layer the bottom with sliced squash. Spread 1/2 the pesto over the sliced squash, 1/2 of the zucchini slices, 1 cup of cheese, red onion, 1/2 of the fresh herbs, and salt and pepper.

Repeat above step, ending with sliced tomatoes on top.

Place a large piece of foil over the pan to seal.

Bake at 400 for 35-40 minutes, until squash is tender but not overcooked (use a fork to test if it is soft, but do not over cook).

Remove foil; let sit for 10 minutes before serving.
Notes
reposted from JULY 2017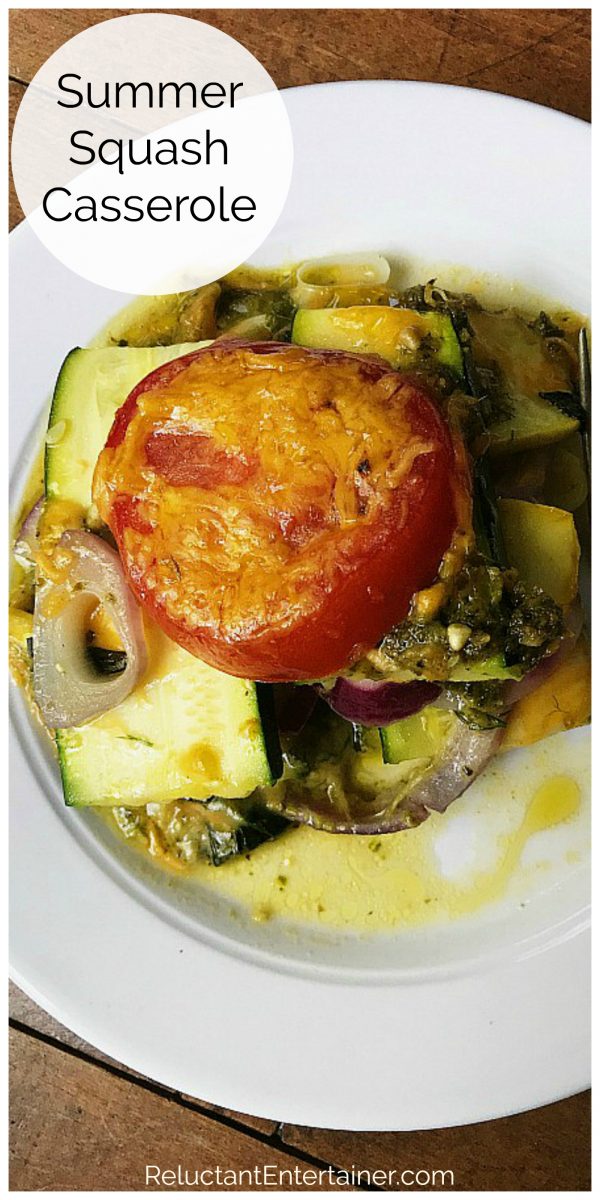 SaveSave
SaveSaveSaveSave
SaveSave
SaveSave
SaveSave
SaveSave
Hello and welcome to my home and table!
I'm Sandy—lover of food, family, cooking, THE BIG BOARD, travel, and bringing people together. Through great recipes and connection around the table, we become better, stronger, and more courageous people. Feasting on Life is real, and every time we do it, we grow a little more. Read more...