Pickled Red Onions Recipe
Serve a pickled red onions recipe with ANYTHING that needs a hint of bright, vinegary flavor, like chicken, rice, pizza, tacos, and burgers!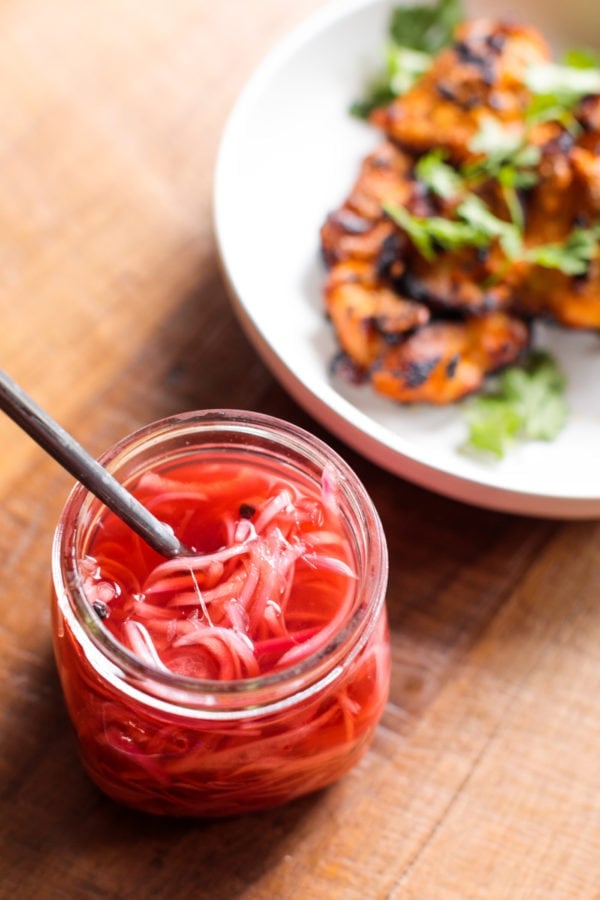 Here's a simple pickled onion recipe that is delicious to make ahead and keep in the fridge.
Pickled Red Onions Recipe
Easy to grab for sandwiches, burgers, salads, chicken, and more! They have a tanginess to them, and so flavorful!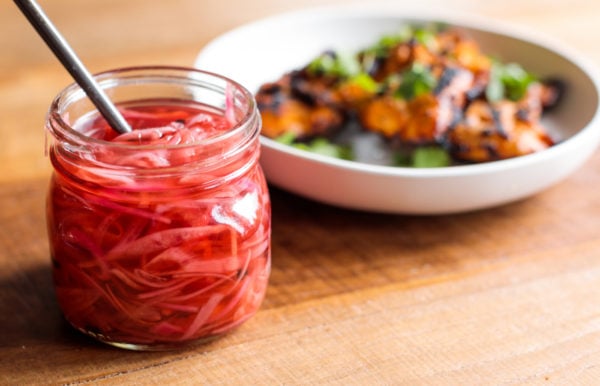 We eat outdoors because we love the beauty around us. Everytime we sit outside for dinner, we are honestly in awe of the the vast beauty of the sunset, mountains and trees around us.
Last night's sunset was amazing!
What to pair pickled onions with
Yes, when we sit outside for a meal, we use regular dishes. Nothing fancy.
I just love this time of year– picnicking and outdoor dining! And this Pickled Red Onions recipe is perfect paired with so many other recipes!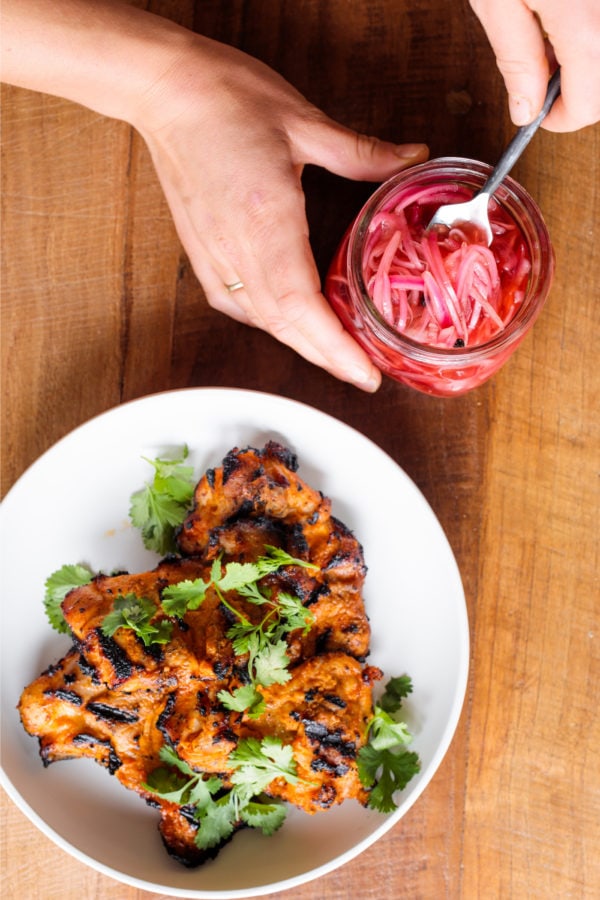 Ingredients for Pickled Red Onions:
Large red onion
White vinegar
Sherry vinegar
White sugar
Peppercorns
Kosher salt
If you've ever had Mexican food, or a sandwich or burger with red pickled onions, then you're going to want this recipe today!
Make ahead and store in the fridge for easy entertaining! This recipe really does liven up Mexican food–especially tacos. In fact, serve them on a taco board!
Do pickled onions go bad in the fridge?
How long do pickled red onions last in the fridge? Keep these pickled red onions in the refrigerator for up to 2 weeks. Store in a sealed container, like a mason jar with a lid.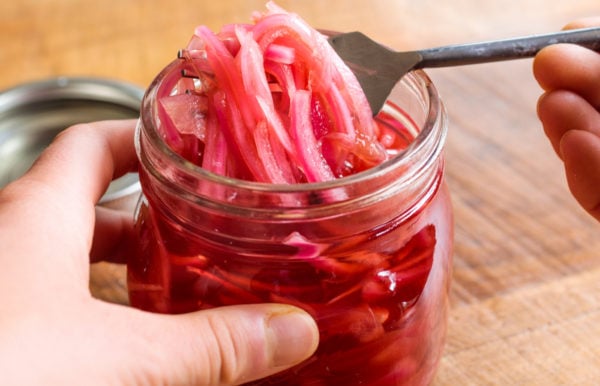 Garden childhood memory
I still remember the scent of dill in my Grandmother's mud room. My sister and I would play for hours in the now-torn-down farm house on Vilas Road in Medford, Oregon. We'd spend hours at Grandma's house, my mom helping Grandma with harvesting and canning from the garden. As a little girl, I really didn't have a clue about the hard work that went into farming and gardening. But I do remember the huge bouquets of gladiolas that lined the front porch, and on the old farm table, quart jars filled with dill pickles, peaches, pears, green beans and cherries.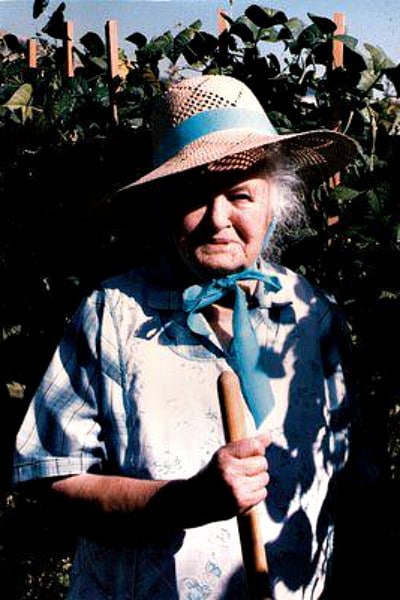 Pint jars of every kind of jam imaginable to man, relishes, tomatoes, and creative sauces. You name it, my Grandma Dubs canned it, or pickled it.
I was never crazy about onions, but like I said, mom taught me an easy way to make them tasty and perfect for different dishes. She also marinated cucumbers this way.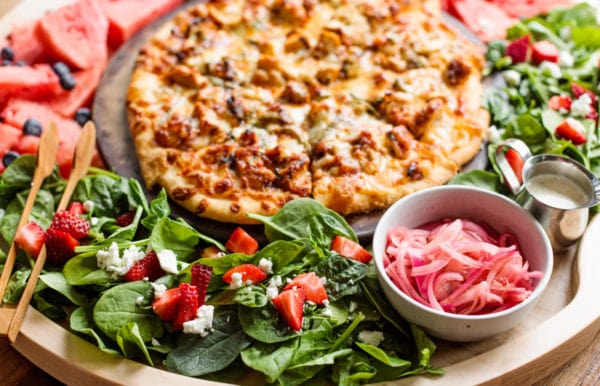 And you can serve the onions this way, in salads, with already cooked meats, or pile them on a sandwich–my all-time favorite!
I recently made my husband a sandwich.
These onions! These onions! Which meant, they are really good!!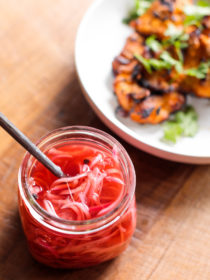 Get the Recipe: Pickled Red Onions Recipe
Serve pickled onions with ANYTHING that needs a hint of bright, vinegary flavor; chicken, rice, pizza, even pasta!
Ingredients
1 medium to large red onion, ends removed, peeled and halved
2 c boiling water
½ c white vinegar
½ c sherry vinegar
¼ c white sugar
6 peppercorns
¾ tsp kosher salt plus more to taste
Instructions
Using a sharp knife or a mandolin, slice your onion halves in a parallel direction to produce long, 1/4-1/2'' strips.

Bring water to a boil. Place the onions in a colander and pour 1 cup of boiling water over them. This tones down the strong onion flavor and par cooks them.

Transfer the remaining water to a small saucepan, along with the vinegars, sugar, and salt. Bring to a boil, then simmer until sugar dissolves—1 minute. Taste and adjust seasonings if needed, then remove from heat.

Place onions and peppercorns in a jar and pour warm vinegar over all. Allow to sit at least 45 minutes before serving.

Allow onions to come to room temperature before storing in the refrigerator.
Hello and welcome to my home and table!
I'm Sandy—lover of food, family, cooking, THE BIG BOARD, travel, and bringing people together. Through great recipes and connection around the table, we become better, stronger, and more courageous people. Feasting on Life is real, and every time we do it, we grow a little more. Read more...