Barbecue Pickled Ginger Burgers
Enjoy these Barbecue Pickled Ginger Burgers for your favorite holiday gathering, weeknight dinner, summer barbecue, potluck, or pool party!
Friends, Happy Friday and Father's Day weekend! If you're grilling, make sure and try these Barbecue Pickled Ginger Burgers!
When I was a kid, we ate burgers all the time in the summer. My parents raised our own beef, so we had a plentiful supply of the best hamburger. My pop would man the grill, while my sisters and I chased each other through the sprinklers (sometimes the irrigation sprinklers!)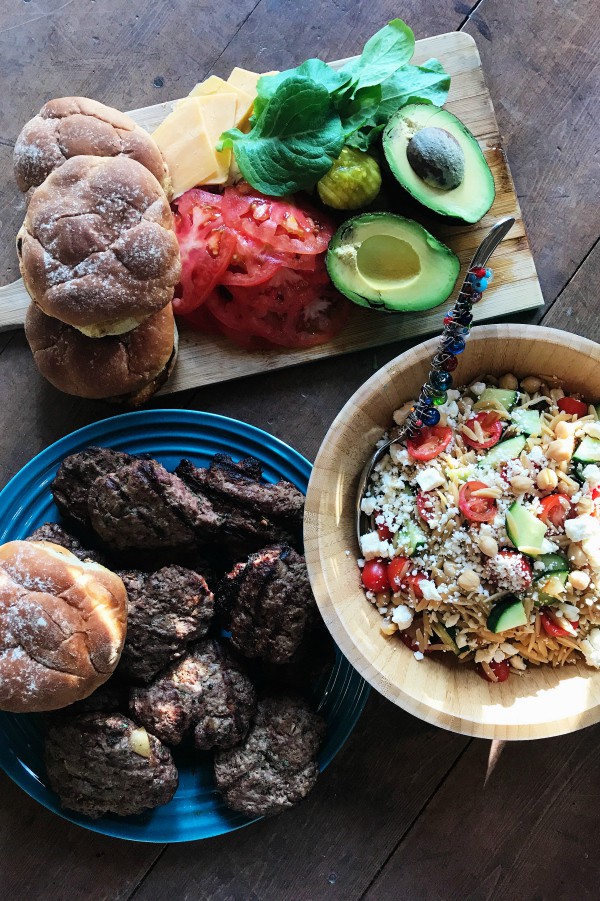 Mom would make the burgers ahead of time, layering them between wax paper on a cookie sheet, along with her famous best potato salad. Dad would pull out the ice cream maker for Mom's Old-Fashioned Homemade Vanilla Ice Cream, gathering the ice blocks (that he'd break up with his maddox), and rock salt. He'd then lay down a towel for us girls to take turns sitting on the bucket, while dad would churn and churn.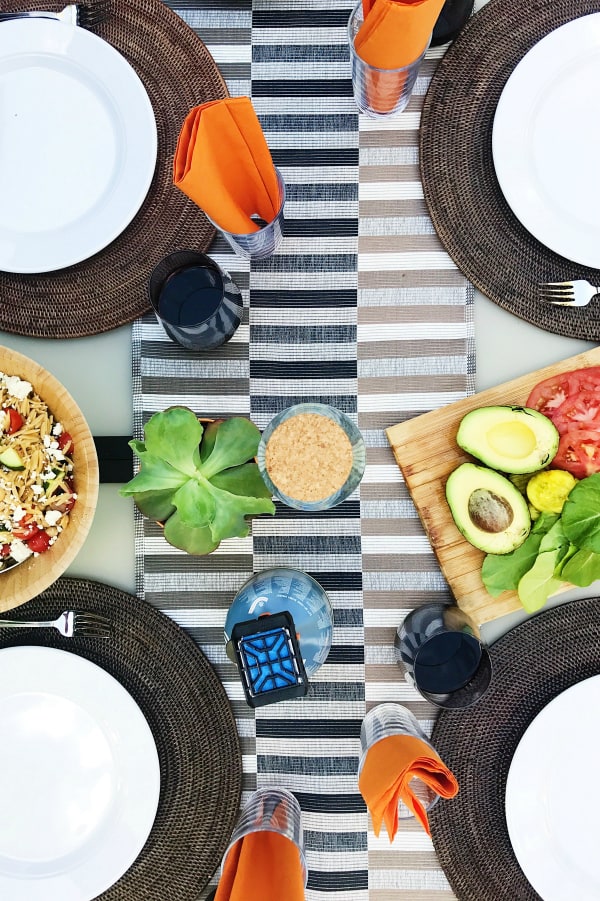 Burgers were always thick and juicy, and I can still taste them. Thinking back, I can't put my finger on what made them special, because there was nothing gourmet about them. They were just ground beef, seasoned with salt and pepper, topped with a pickle, lettuce, and a slice of tomato on a tiny white bun.
Perhaps it was because Mom formed them by hand, just right (the secret is to not over-pat them), or that dad figured out how to cook them perfectly.
It could also be that we girls were easy to please, and considering how hard we played in the summertime, anything our parents cooked, we devoured! We were not picky eaters!
It's good to have burger memories! We also ate burgers at every camping trip, on the river (my dad owned a river boat), and at many potlucks and picnics!
Barbecue Pickled Ginger Burgers
Now that I'm grown, we love a little more "gourmet" to our burgers.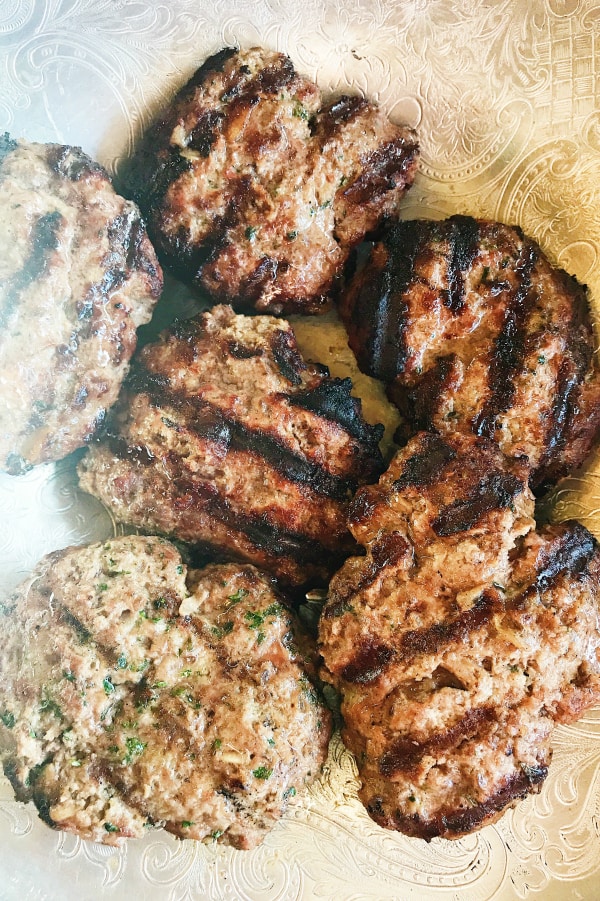 This time we made our patties with pickled ginger (I know, it may sound strange, but it's soooo good!). My husband loves liquid smoke, and then fresh herbs always make the finishing touch!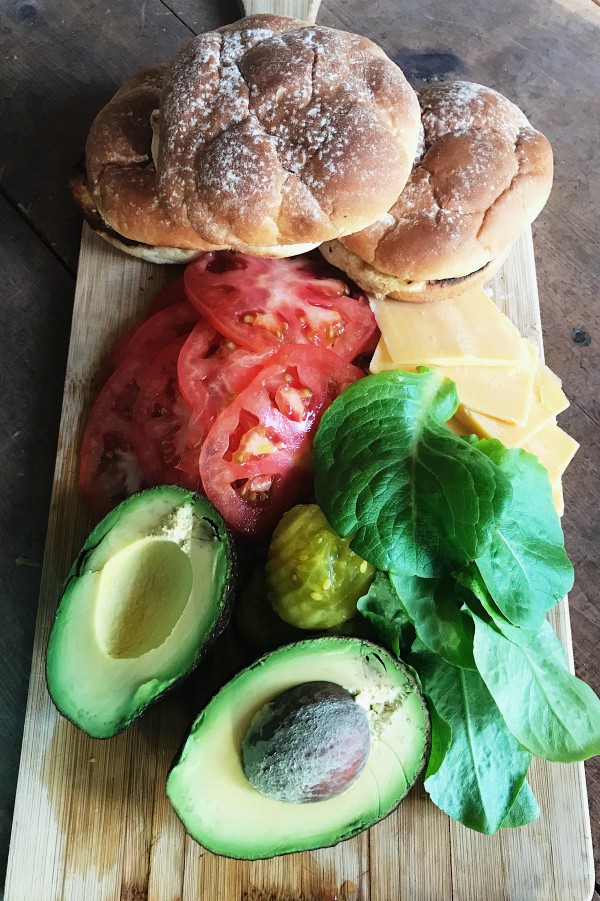 The place in my heart once reserved for a pretty plain burger, has only been enhanced by bacon, avocado, grilled onions, and even pickled ginger added under the bun.
You can make this recipe with beef or turkey.
And, try some of my friend's recipes, too! The Best BBQ Baked Beans [Foodie Crush], Summer Vegetable Pasta [The Little Kitchen], No Bake Banana Split Dessert [Brown Eyed Baker], or my Summer Orzo Salad [in the photos].
I'd love to hear what your secret to the "perfect" burger is?
Get the Recipe: Barbecue Pickled Ginger Burgers
Ingredients
1 ½ pounds ground beef
1 egg
2 tsp. minced garlic
2 capfuls liquid smoke, optional
1 tsp. salt
1 tsp. celery salt
1/4 cup pickled ginger, drained
1/4 cup dried parsley
1/2 cup Panko bread crumbs
1 tsp. pepper
Favorite hamburger buns + toppings
Instructions
Preheat a gas grill to medium heat, or prepare a medium-hot fire in a charcoal grill with a cover.

To make patties, combine the beef, egg, garlic, liquid smoke, salt, celery salt, pickled ginger, dried parsley, and Panko bread crumbs in a large bowl; mix well.

Handle the meat as little as possible to avoid compacting it. Divide the mixture into 8 equal portions and form the portions into patties to fit the buns.

To avoid having your meat stick to the grill, when the grill is ready, brush the grill rack with vegetable oil. Place the patties on the rack. Close the cover and cook, carefully turning once (to prevent juices from escaping), until done to preference, 5 to 7 minutes on each side for medium.

Add your favorite toppings to the buns and assemble the burgers. Top with freshly ground pepper before adding the top bun; serve!

SaveSaveSaveSave
SaveSaveSaveSaveSaveSaveSaveSaveSaveSaveSaveSaveSaveSaveSaveSaveSaveSaveSaveSaveSaveSaveSaveSaveSaveSaveSaveSaveSaveSaveSaveSaveSaveSaveSaveSaveSaveSaveSaveSaveSaveSave
SaveSave
Hello and welcome to my home and table!
I'm Sandy—lover of food, family, cooking, THE BIG BOARD, travel, and bringing people together. Through great recipes and connection around the table, we become better, stronger, and more courageous people. Feasting on Life is real, and every time we do it, we grow a little more. Read more...