Best Blueberry Kuchen Recipe
Enjoy a piece of Best Blueberry Kuchen Recipe with breakfast or tea; a moist snack cake with plump fresh or frozen blueberries!
Here's what I love about a good blueberry coffee cake–it's comforting, moist, sweet, and it makes me happy! Enjoy this Best Blueberry Kuchen recipe today, because you can make it any time of year, with frozen or fresh blueberries!
Best Blueberry Kuchen Recipe
You may have already tried my Best Blueberry Cobbler Recipe or Best Blueberry Crunch, but this is the perfect weekend blueberry morning cake. Or, if you're looking for a breakfast casserole try this Easy Blueberry Lemon Breakfast Casserole or my AMAZING Baked Berry Mascarpone Stuffed French Toast recipe.
What is kuchen?
Kuchen means "cake" and this one is delicious! Learn the origins of this traditional German dessert and how to make it!
Ingredients for blueberry kuchen:
Flour + sugar
Baking powder
Grated lemon zest
Ground nutmeg + salt=
Whole milk or half-and-half
Butter
Egg
Vanilla + almond extractFresh or frozen blueberries (I love that you can use either!)
Toasted almonds (optional)
Sweet blueberry coffee cake
Sweet coffee cake is like a sweet friendship. I was recently reminded of this quote, that made me think of how we sometimes want to quit, throw in the towel on a project, give up on a friendship, or not work hard at something. True friends can speak to us in love, tell us the truth about ourselves, and what matters. And sometimes it comes when we need it most.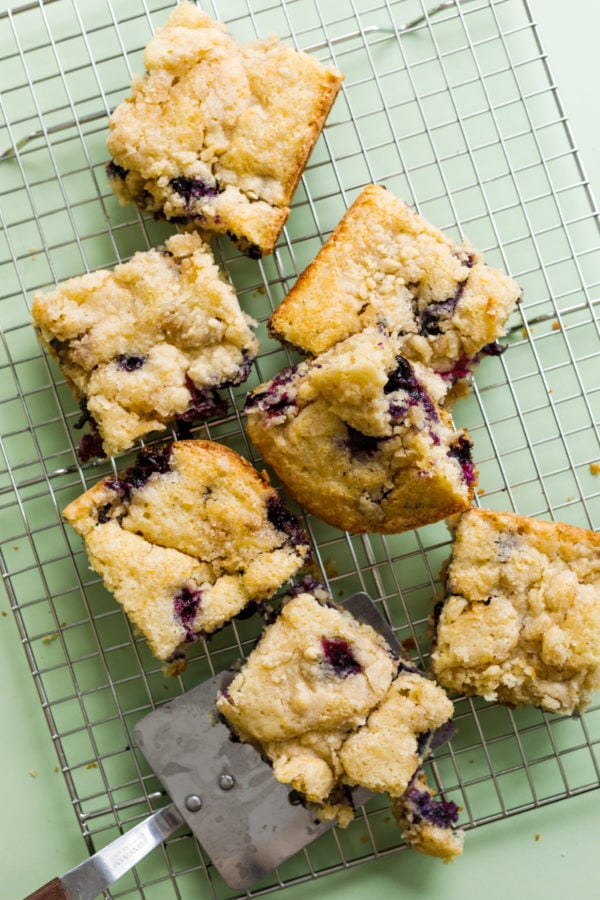 "Friendship doesn't always mean being partners in crime; sometimes, at its best, it requires exactly the opposite—an honest word, a push, a loving correction." —Shauna Niquist
True words. I'm grateful for many amazing friendships in my life. I can't even count them all, but they are woven together like fabric, with sweet memories and a whole lot of love!
How to make Blueberry Kuchen
This recipe has a cake base, and then a strudel-type topping, which is why I love it so.
I grew up with kuchen that my mom made, and it has sweet, sweet tasty memories for me!
Mix the cake ingredients and pour into a baking dish.
Sprinkle with fresh or frozen blueberries.
Prepare the streusel by adding flour, sugar, and butter.
Crumble on top of the cake batter.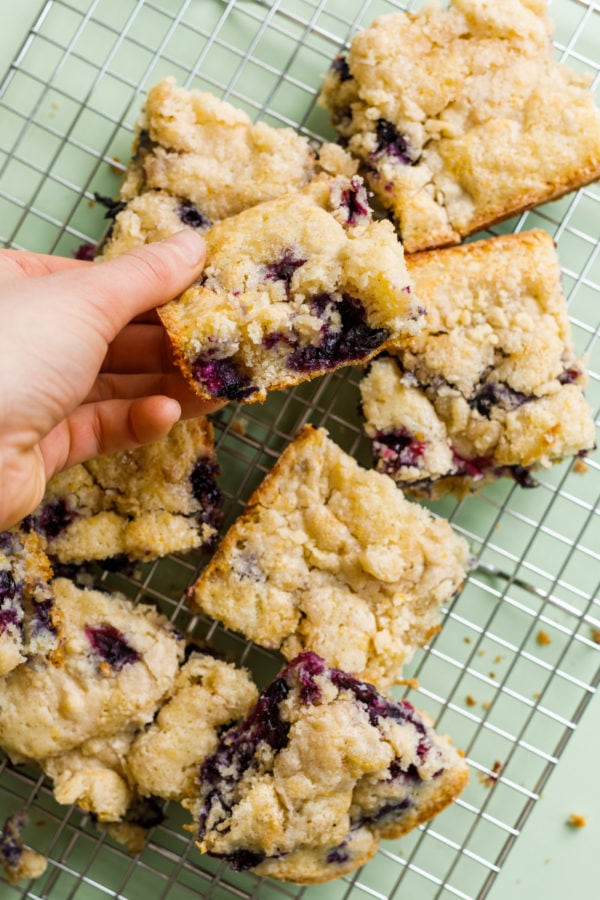 How to make kuchen moist
Add the blueberries! The fresh or frozen bluberries make this cake so moist and delicious! The more berries, the moister the cake will be.
Adding toasted almonds is optional.
How do you serve kuchen?
You can eat pieces warmed up in the microwave for 10 seconds or more, cold (refrigerated), or at room temperature anytime of the day. Most kuchen recipes are eaten for breakfast or as a dessert. You can even add whipped cream on top!
More kuchen dessert recipes: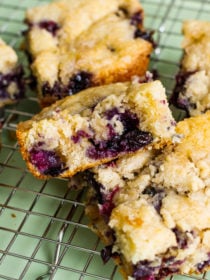 Get the Recipe: Best Blueberry Kuchen Recipe
Ingredients
1-1/2 cups all-purpose flour
3/4 cup sugar
2 tsp baking powder
2 tsp grated lemon zest
1/2 tsp ground nutmeg
1/2 tsp salt
2/3 cup whole milk or half-and-half
1/4 cup butter, melted
1 large egg, beaten
1/2 tsp vanilla extract
1/2 tsp almond extract
2 cups fresh or frozen blueberries
TOPPING:
1/2 cup sugar
1/2 cup all-purpose flour
1/4 cup butter, melted
1/2 cup sliced toasted almonds, optional
Instructions
Preheat oven to 350 degrees.

In a bowl, combine the first 6 ingredients. Mix in the milk, 1/4 cup melted butter, egg, vanilla, and almond extract. Mix together for 2 minutes or until well blended.

Prepare a 9x13 baking dish with cooking spray. Pour the mixture into dish. Sprinkle with blueberries.

In a small bowl, combine 1/2 cup sugar and 1/2 cup flour; add 1/4 cup melted butter. Toss with a fork until crumbly; sprinkle over blueberries. Add the toasted almonds (optional).

Bake for 35-40 minutes or until lightly browned. Allow to cool 5-10 minutes before serving!
Hello and welcome to my home and table!
I'm Sandy—lover of food, family, cooking, THE BIG BOARD, travel, and bringing people together. Through great recipes and connection around the table, we become better, stronger, and more courageous people. Feasting on Life is real, and every time we do it, we grow a little more. Read more...