Blue Cheese Bruschetta Balsamic-Glazed Pork Tenderloins
Enjoy Blue Cheese Bruschetta Balsamic-Glazed Pork Tenderloins for your next al fresco dinner party, served with a side of fresh summer bruschetta.
Hey, friends, a picnic can be complicated (thus, only a few posts about picnics on my blog), because it just seems like so much work. But a dinner party? This is what I love.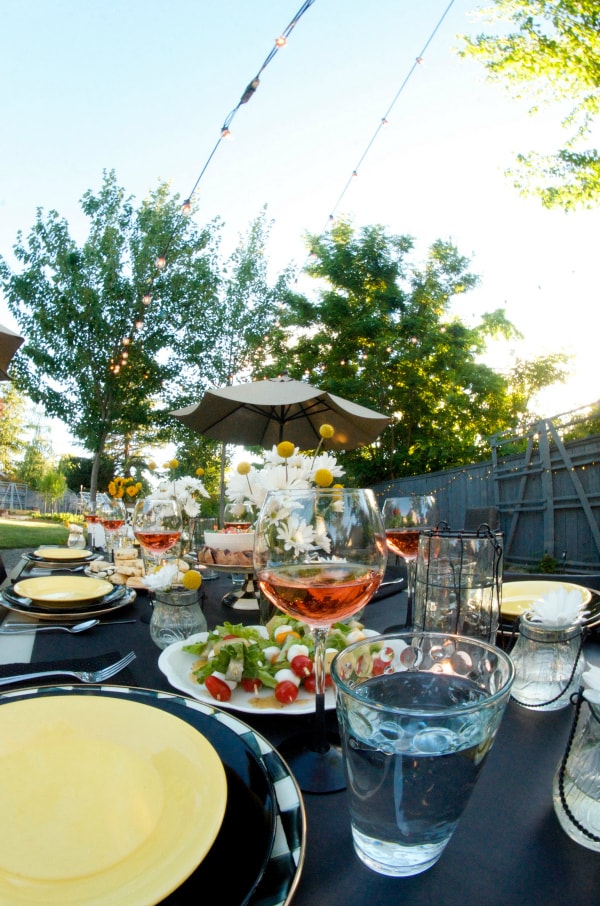 You don't have to worry about keeping the food cold or warm, or forgetting anything (hand raised!), and then let's talk bugs. I hate trying to enjoy a meal when there are bees or mosquitos being annoying and pesky!
And I love it when everyone brings a dish!
Today I'm reaching back to a fun party in our yard a few years ago with Billy Balls (Craspedia Globosa Billy Balls or also known as Drumstick Flowers) and daisies from our yard, and a yummy, summer menu.
Al fresco dining is my favorite. Because when and if the bugs do show up, you can always move to a new location, or even head inside for dessert.
Blue Cheese Bruschetta Balsamic-Glazed Pork Tenderloins
For this party, I made a delicous Blue Cheese Bruschetta Balsamic-Glazed Pork Tenderloin recipe.
Pork tenderloins are super easy, and don't take long to cook, so you can get back to your guests!
We served a fresh blue cheese bruschetta with chopped tomatoes and corn, served with a traditional balsamic-glazed pork tenderloin.
The ultimate summer bruschetta (and yes, with pickles!)
You can absolutely prepare this recipe in the oven, if you're not a grillmaster.
Grilling a tenderloin will lock in the juices, so you might expect a slightly different taste or look to the pork.
But the secret ingredient? A delicious pork dish served with a summer-fresh bruschetta, with a glass of Rose wine!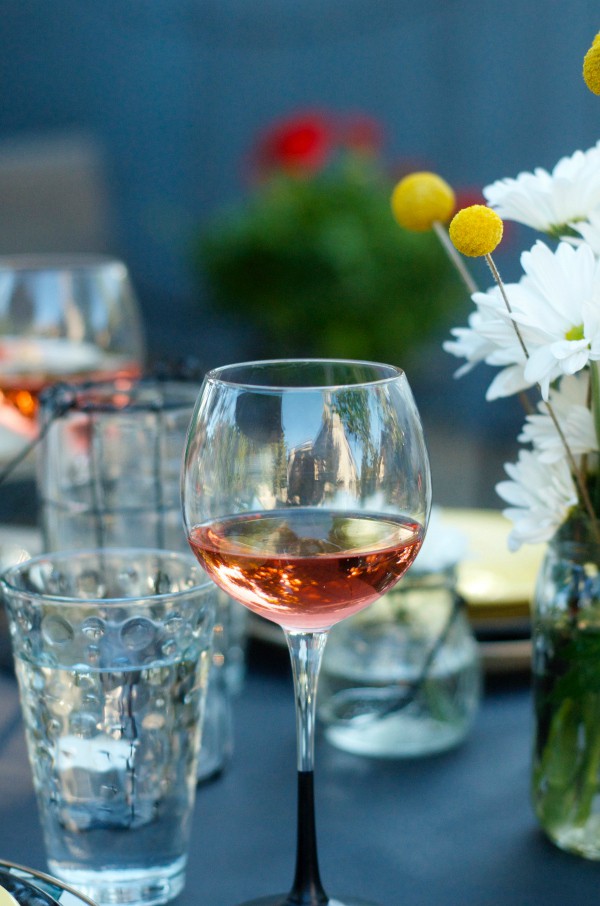 Happy al fresco dining, Friends!
Get the Recipe: Blue Cheese Bruschetta Balsamic-Glazed Pork Tenderloin
Ingredients
1/2 cup blue cheese
1/2 cup fresh corn, about 3 cobs, cooked and cut off the cob
1/2 cup roma tomatoes, chopped
1/2 cup pickles, chopped (dill or bread and butter flavors)
1/4 cup red onion, diced
1/2 tsp. chipotle chili pepper, or cayenne; optional
1/2 cup basil or dill, chopped
2 1.5 pounds pork tenderloins
Salt and pepper
3 Tbsp. olive oil
1/3 cup dry red wine
1/2 cup beef stock
1/4 cup balsamic vinegar
1 tsp. butter
Instructions
For the bruschetta, combine blue cheese with fresh ingredients (corn, tomatoes, pickles, onion, herbs, and optional chili pepper); lightly mix together. Cover and refrigerate.

For the pork, season the tenderloins heavily with salt and pepper. Gently rub with 1 Tbsp. olive oil.

Heat skillet on high and add 2 Tbsp. olive oil. Sear the tenderloins for 3 minutes on each side, lowering the heat to medium and cooking until done (145 degrees with a meat thermometer).

Remove tenderloins and cover with foil to keep hot.

Remove the pan from the heat and add the wine, scraping any browned meat bits from the bottom of the pan. Return to heat and add the stock, cooking for 2-3 minutes to reduce the sauce.

Whisk in the vinegar and butter, cooking for 2 more minutes, reducing the sauce.

Slice the meat, and plate on a serving platter; spoon the sauce over the sliced meat.

Serve the meat alongside the Blue Cheese Bruschetta. Garnish with whole basil leaves.
More recipes: Pickle Caprese Salad Kebabs, Apricot Ricotta Honey Basil Bites, Pumpkin, Bacon & Goat Cheese Dip, and Grilled Bacon-Wrapped Corn.
SaveSave
SaveSave
SaveSave
Hello and welcome to my home and table!
I'm Sandy—lover of food, family, cooking, THE BIG BOARD, travel, and bringing people together. Through great recipes and connection around the table, we become better, stronger, and more courageous people. Feasting on Life is real, and every time we do it, we grow a little more. Read more...