Broiled Teriyaki Salmon
An easy Broiled Teriyaki Salmon recipe for a last-minute meal, with an extra bit of brown sugar and ginger that glazes the fish to perfection.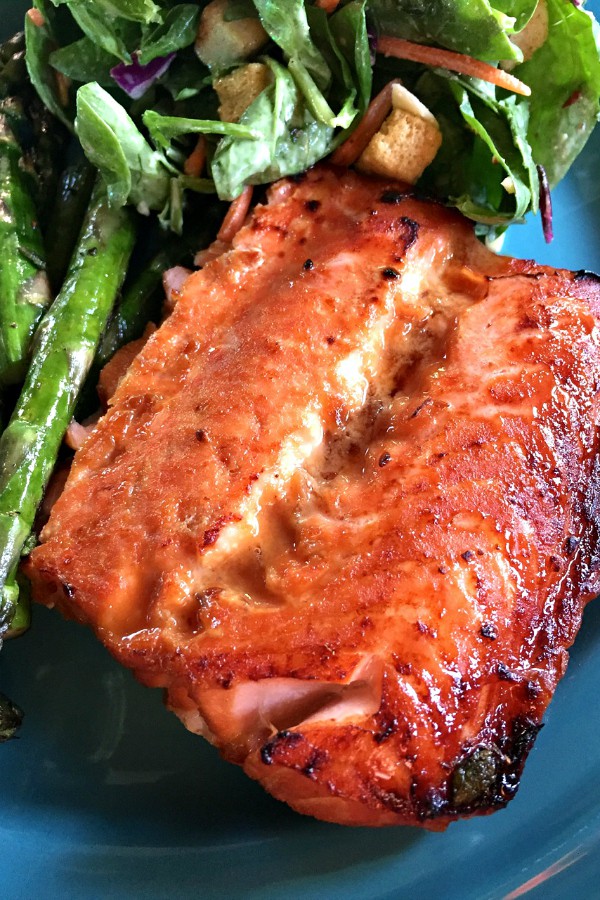 Friends, today I'm sharing my quick, easy, dependable, Broiled Teriyaki Salmon recipe that everyone loves! Seriously, I've used this little "trick" for years now, especially for last-minute company, or when there's little time to get dinner on the table. It's perfect for when you are running out of time to make a good salmon marinade, with 3 simple steps.
Start with your favorite teriyaki sauce for the marinade (I use Trader Joe San Soyaki), then add 2 secret ingredients, and broil to perfection.
Last week for our silver wedding anniversary, this is what I cooked! It's wasn't a gourmet or fancy meal, in fact, I had really wanted to find an awesome restaurant here in Bend, but honestly, we just ran out of steam.
We're also just taking it all in … the beauty around us, and haven't left our little nest much, except to run in to town for home improvement items and groceries!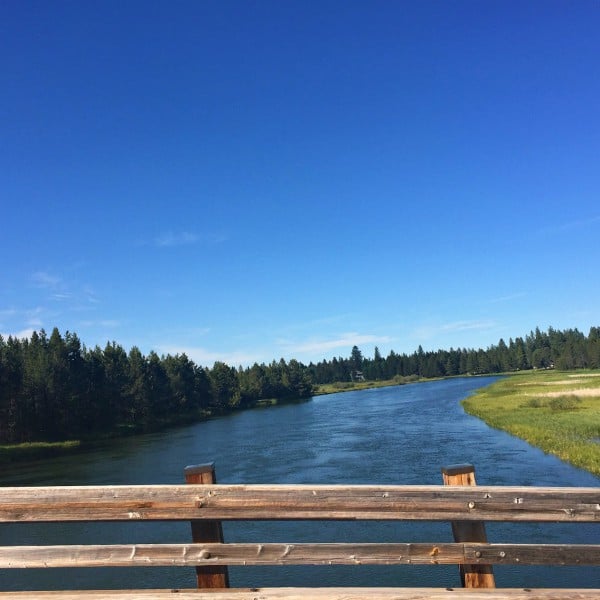 With only a 4-minute walk to the river, there's been some fishing going on around here.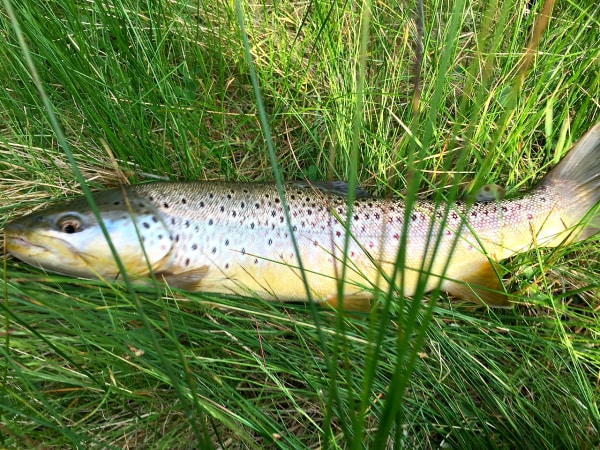 Haggis had a run-in with a deer. I've seen quite a few ducks and their babies. And there are so many new bird sounds! We also drove by a huge herd of elk on the way to our house. So much to take in!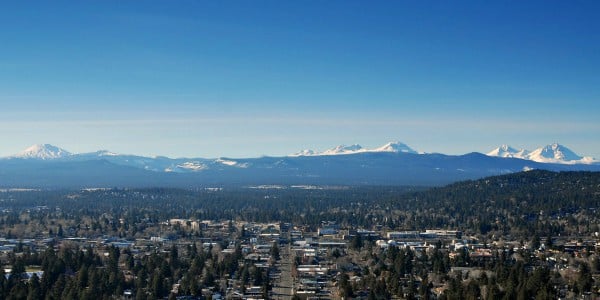 Of course, there are Mount Bachelor, Broken Top, and the Three Sisters on the left, that we pass as we head into town.
This morning was an early-morning reality check for me, as I drove my husband to Redmond airport. I'll be doing the same thing tomorrow morning at 4 am, with our son headed to China. It's a piece of cake now in the summer (37 minute drive door-to-door), but in the wintertime, with all the snow? Another story.
Broiled Teriyaki Salmon
Back to salmon for dinner. I really love this recipe for guests. It's tried and true, and the extra bit of sugar is what glazes the fish to perfection, and the ginger gives an extra zip of flavor!
If you're buying salmon with skin, broil it skin side down (easier to remove). You'll need to cook it on one side only (a bit longer than if you're flipping it).
Remember, never over-cook salmon. Even after you pull it from the oven, it will continue to slightly cook.
ENJOY!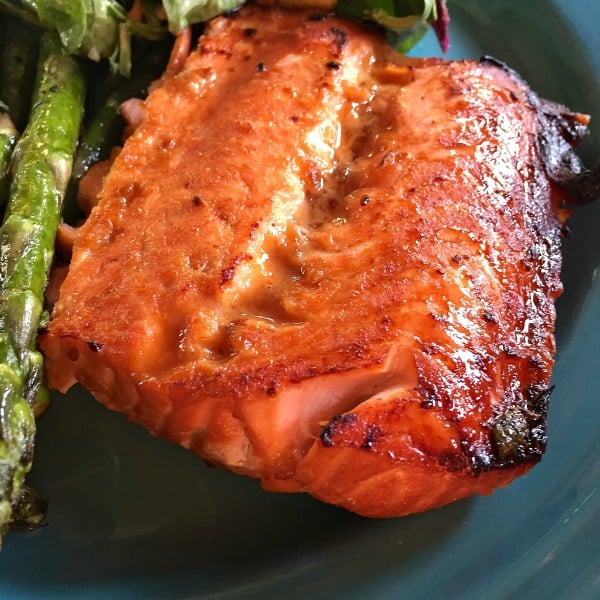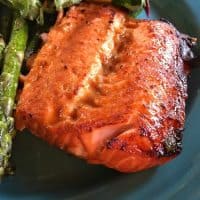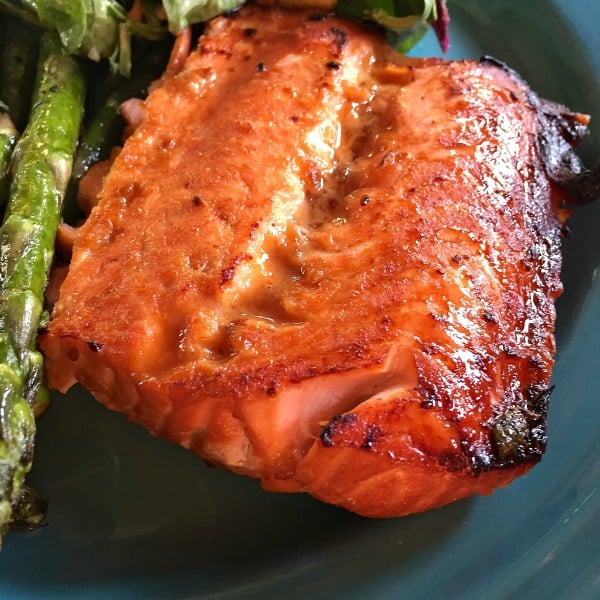 Print Recipe
Broiled Teriyaki Salmon
Ingredients
2

lbs.

fresh salmon

about 1 inch in thickness (you can cut into serving sizes or larger pieces)

1

cup

favorite teriyaki marinade

I use Trader Joe San Soyaki

1

Tbsp.

dried ginger

1/3

cup

dark brown sugar
Instructions
In a small bowl, combine the teriyaki sauce, dried ginger, and dark brown sugar; whisk together. Pour into a ziploc bag; add the salmon.

Preheat the broiler to high. Place the salmon on a prepared (sprayed) broiler pan or baking sheet. Broil for 5-6 minutes, flip, and then broil for another 5-6 minutes more. (With skin, I broil for about 8-10 minutes total, skin-side down. It will be a little darker on top than if you are flipping it).
More salmon recipes:
Broiled Wild Salmon with Apple and Cherry Chutney {Skinnytaste}
Broiled Salmon with Honey & Garlic {The Wocked Noodle}
Broiled Salmon with Chermoula Herb Crust {A Beautiful Plate}