Butter Leaf Lettuce Spicy Tuna Recipe
Looking for a fun healthy lunch idea? This Butter Leaf Lettuce Spicy Tuna Recipe are wraps that take only about 5 minutes to make!
This Butter Leaf Lettuce Spicy Tuna Recipe is a healthy, tasty lunch or snack, with a spicy tuna mixture wrapped in lettuce leaves! Maybe you've tried my Salmon Rolls, or you just love tuna! Here are 9 Easy Canned Tuna Meals.
Butter Leaf Lettuce Spicy Tuna Recipe
What I love about this recipe is they are so good, you can't tell it's canned tuna! For years every summer I would can 100 pounds of tuna (fresh from the OR coast), but for now, we love the white albacore tuna from Costco.
Ingredients for Butter Leaf Lettuce Spicy Tuna Wrap
Butter leaf lettuce
Medium bell pepper
Cucumber
Albacore tuna
Olive oil (or coconut or avocado)
Vegenaise
Fresh ground pepper
Sriracha sauce (use True Made Vegetable Sriracha if you want to make this Whole 30, or make your own Sriracha Sauce recipe).
Chili flakes for sprinkling
Cilantro (optional)

What kind of lettuce is used for lettuce wraps?
The most popular lettuce used for wraps is often Iceberg lettuce! But for this recipe we love soft butter lettuce! If you love a crunch, you can use Romaine lettuce, too.
To change it up, mix up the veggies and add shredded red onions, slivered almonds, and toss with rice vinegar, a little oil and a pinch of salt.
How do you make it Whole 30?
We have a Whole 30 Charcuterie Board coming up–filled with our favorite Whole 30 snack foods. I can't wait to share it with you. For now, this recipe is Whole 30 approved (as long as the Veganaise is Sugar-free and made without soy, canola, pea protein, or aquafaba).
You can't go wrong with a simple canned tuna recipe and lots of bright flavor!
Tuna Wraps with lettuce and Albacore tuna
We're reaching for healthy food options these days, like today's Spicy Tuna Lettuce Wraps, with a simple can of Albacore tuna.
So simple, it takes no time to make. And you just feel good after eating a lettuce wrap, don't you?
This Butter Leaf Lettuce Spicy Tuna Recipe is one of our daughter's go-to recipes!
Eat a healthy lunch and take a walk
Here's what happened yesterday. We were both working away toward a couple of deadlines, and it would have been easier to keep going.
Instead, we grabbed a healthy lunch. Drank an extra glass of water. Put on our snowshoes. And headed out for a couple of hours to enjoy nature, the white and glowing blue landscape. It's so beautiful where we live (central Oregon).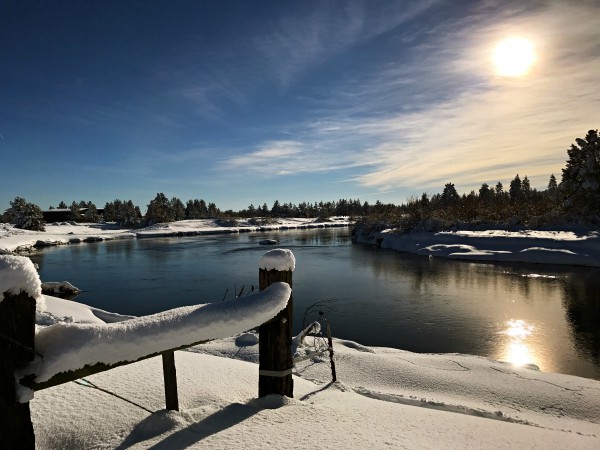 There's something about the outdoors that forces your thoughts upward. And you just come back a different person.
Have you experienced this, too?
More healthy rolls and wrap recipes:
Meatball Chicken Lettuce Wraps Plate
Get the Recipe: Butter Leaf Lettuce Spicy Tuna Recipe
Ingredients
1 head butter leaf lettuce
1 medium bell pepper
½ cucumber
1 can albacore tuna, drained
1 tbsp olive oil
1 tbsp Vegenaise
½ tsp pepper
2 tbsp Sriracha sauce
Chili flakes for sprinkling
Instructions
Slice pepper and cucumber into medium-thin strips. Set aside.

Rinse and dry lettuce leaves.

Lightly drain tuna. In medium bowl, combine with olive oil, Vegenaise, pepper, and Sriracha.

Evenly distribute tuna and veggies onto lettuce leaves. Sprinkle with chili peppers.
Notes
reposted from Jan 2017
Hello and welcome to my home and table!
I'm Sandy—lover of food, family, cooking, THE BIG BOARD, travel, and bringing people together. Through great recipes and connection around the table, we become better, stronger, and more courageous people. Feasting on Life is real, and every time we do it, we grow a little more. Read more...