Cauliflower Bacon Gratin
This Cauliflower Bacon Gratin is a delicious dish to serve for a cozy gathering, or a holiday potluck or meal. A winner at every table!
I'm so in love with this time of year, the bright blue skies, flowers popping up everywhere, the longer days, spring break with my kids all home, and Easter – all right around the corner.
I'm reminded of why I should love, and be so grateful for, this day – with all of the beauty around us.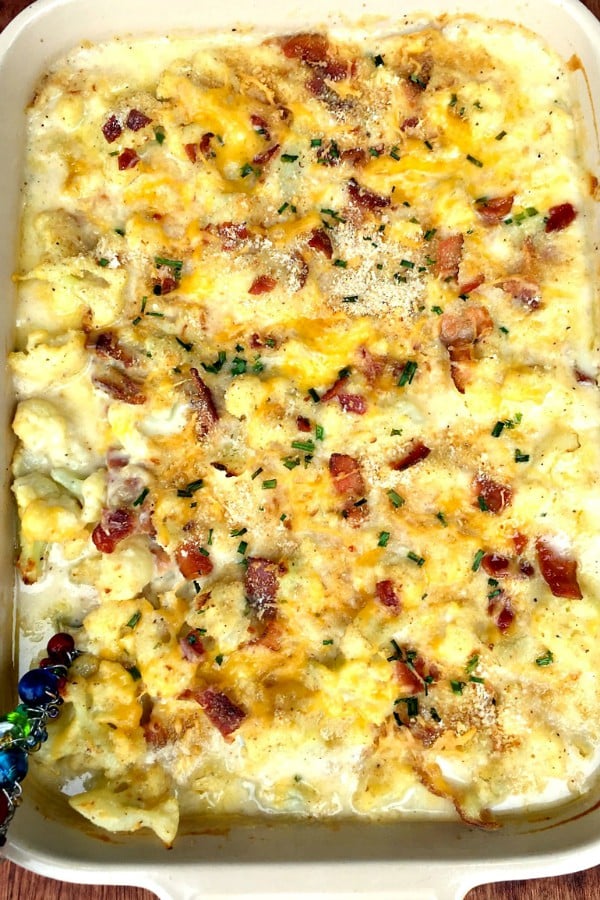 I wrote about it before, (I want my life to be fueled by love), but Bob Goff is not only a joyful, playful person, he gets the meaning of living.
The call on our lives to truly be present and live in the moment.
Bob Goff, Love Does (book)
"There is only one invitation it would kill me to refuse, yet I'm tempted to turn it down all the time. I get the invitation every morning when I wake up to actually live a life of complete engagement, a life of whimsy, a life where love does.

It doesn't come in an envelope. It's ushered in by a sunrise, the sound of a bird, or the smell of coffee drifting lazily from the kitchen.

It's the invitation to actually live, to fully participate in this amazing life for one more day. Nobody turns down an invitation to the White House, but I've seen plenty of people turn down an invitation to fully live." 

– Bob Goff, Love Does
Make a simple invite
One simple way that I can reach out to people is to invite them over for dinner.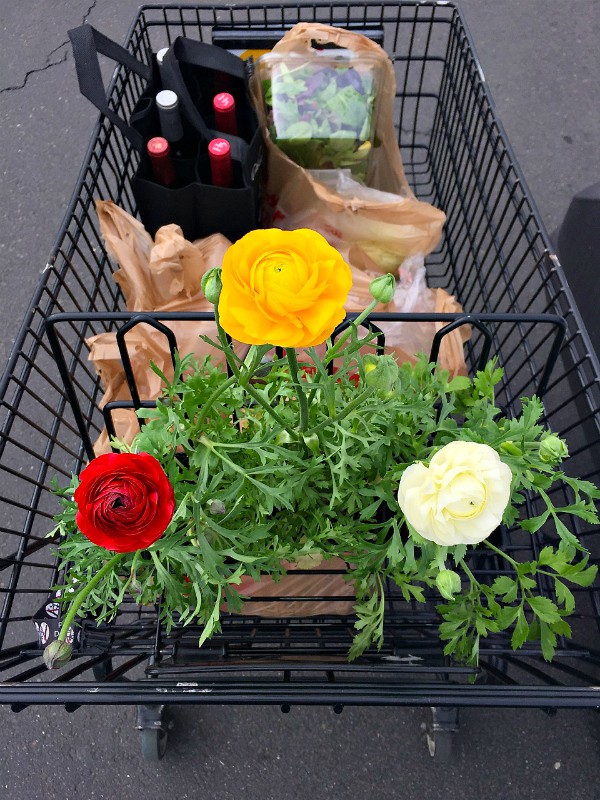 Loving Ranunculus flowers
Since it's a gorgeous season for ranunculus flowers, I was thrilled when I saw these staring at me in Fred Meyer.
I loaded my cart and brought 3 home, and have been enjoying them since.
Two are now planted in an outdoor pot, and it sure is fun to buy grocery store flowers, enjoy them for a tablescape, and then put them where they really are happy – in a garden bed.
Cauliflower Bacon Gratin
Setting the table is easy.
Make the invitation.
Plan an easy menu, with today's Cauliflower Bacon Gratin (perfect side dish for Easter!)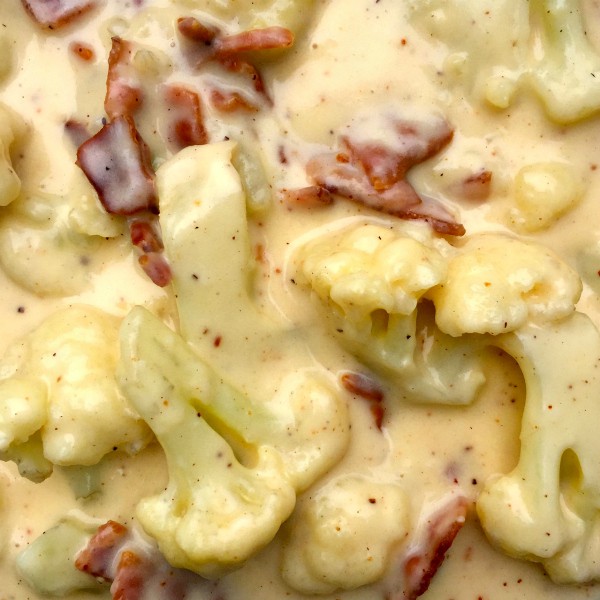 It's super easy; undercook the cauliflower (boil), and add in the bacon and homemade cheesy sauce. Bake with bread crumbs and chives!
Enjoy the season, my friends.
Don't let a day slip by where you haven't fully lived and loved.
Cauliflower Bacon Gratin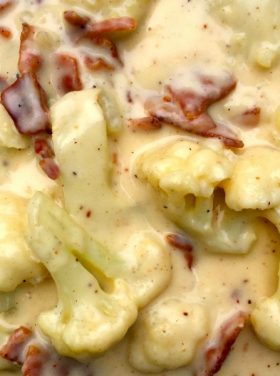 Ingredients:
10 slices of bacon, cooked and chopped
8 cups of cauliflower, cut into bite-sized pieces
6 Tbsp. flour
3 Tbsp. butter
4 cups 1 % milk (thicker sauce, use light whipping cream)
3 cups sharp cheddar cheese (I use Tillamook's Extra Sharp) plus a little more for topping
1 tsp. nutmeg
Salt & pepper
3/4 cup breadcrumbs
Fresh parsley, chopped
Directions:
In a large skillet over medium-high heat, cook the bacon until crispy and browned. Set aside on paper towel.
Heat a large pot of salted water on high until boiling. Add the cauliflower and cook for 3 minutes. Drain and set aside.
In the same pot, melt the butter. Whisk in the flour, stirring constantly. Stir in the milk, and stir constantly until thick and creamy. Stir in the cheese, nutmeg, and salt & pepper to taste.
Add the cauliflower and bacon to the cheese mixture and toss to combine. Pour into an 9×13 baking dish and top with bread crumbs and a sprinkle of cheese.
Bake at 375F for 30 minutes or until bubbly and golden.
Sprinkle with fresh parsley before serving.
All images and text ©
More Cauliflower recipes:
Cauliflower White Cheddar Soup {RE}
Moroccan Lentil Cauliflower Soup {RE}
Creamy Cauliflower Mash with Kale {Skinnytaste}
15-minute Cauliflower Rice {Pinch of Yum}