Easy Chicken Melon Salad Bowls
A light and fresh entree, easy Chicken Melon Salad Bowls, a chicken salad served in the scooped-out melon, for easy spring and summer entertaining!
Sometimes you have to say good-bye to restaurant crowds and long waits, and just settle back into your own backyard. We do that quite a bit, even though we live in the city, as we feel that our backyard is like a park.
I agree, that having a space that is comfortable for guests really does help with hospitality. Even though it's not essential, creating an environment helps settle in and relax, with the people that you are with.
This time of year in Oregon gets really hot, with temperatures creeping up to the 100s. So when a few friends came over to enjoy our pool and sit on our back patio, I whipped up this delicious chicken salad – in melon bowls – for everyone to indulge in.
Oh, and this time of year I love taking herbs or plants from the garden, and getting creative with our outside decor.
I've learned to not reserve my decorative efforts solely for the tabletop, especially for casual entertaining when we may be sitting and eating around the pool, but to think of how I can dress up the backyard in different ways.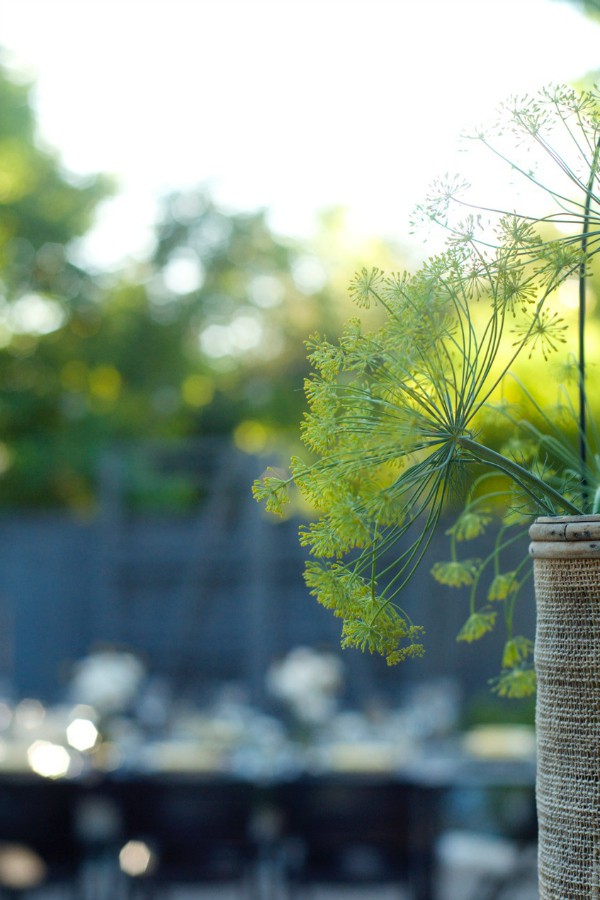 Instead of a usual flower arrangement, this time I chose dill from the herb bed, adding it to hanging baskets.
Chicken Melon Salad Bowls
A delicious, light summer meal.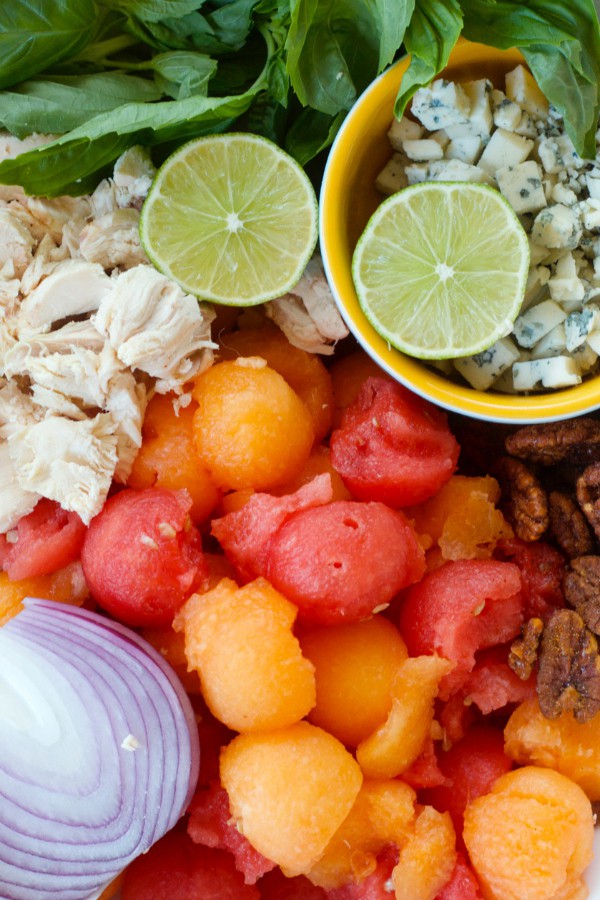 Mixed together with chicken and fresh basil.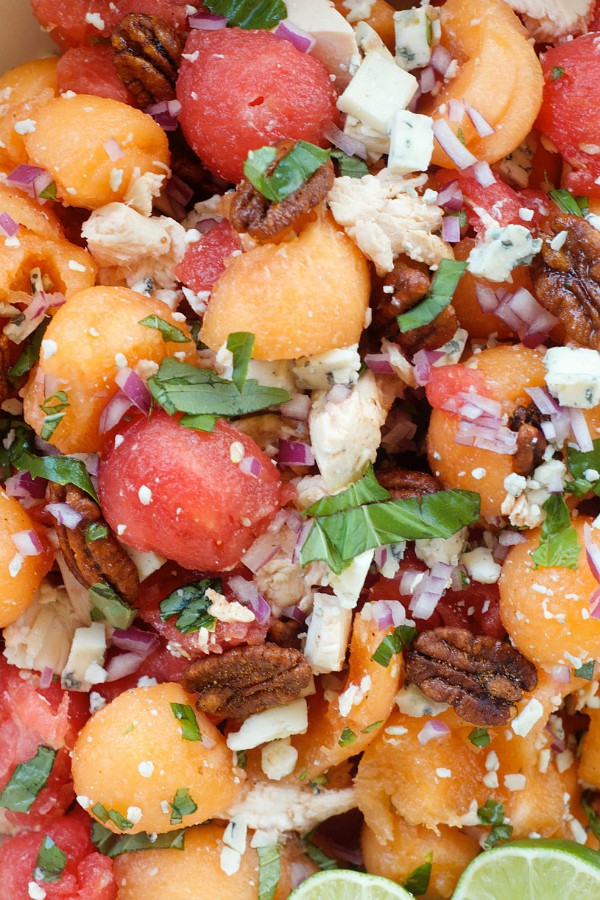 Scoop out the melons.
A nice finishing touch of ambience.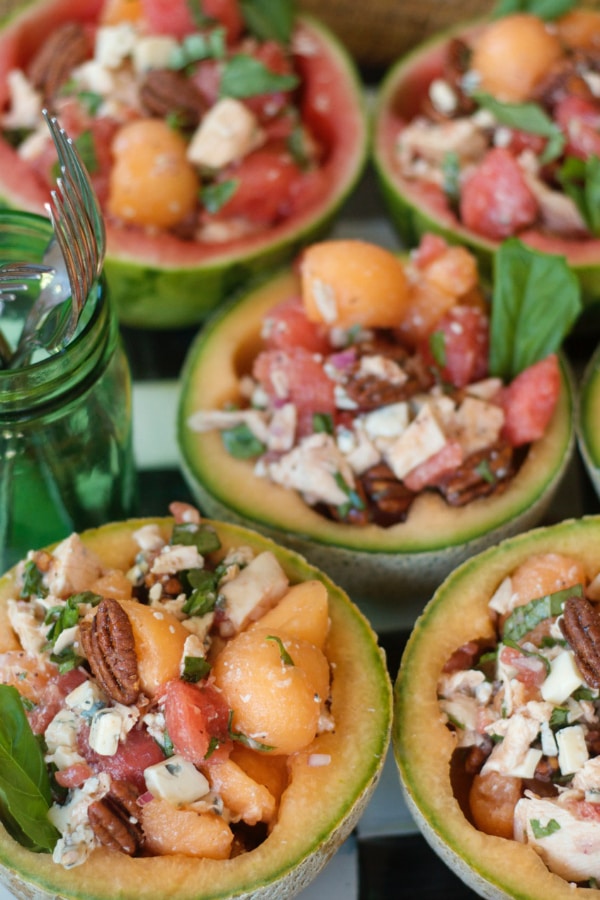 Now that says summertime with a Capital S!
Do you stress over entertaining in the summer, or do you keep it light and fresh?
Chicken Melon Salad Bowls
Makes 8 large salads. Regular toasted pecans taste yummy, too. You can make your own dressing or use a bottled dressing (we love Briannas Rich Poppy Seed Dressing), but NO dressing is just as delicious!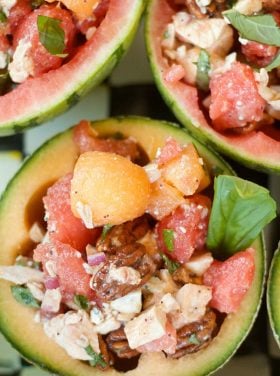 Ingredients:
2 small watermelon
2 small cantaloupe
2 lime
2 cups rotisserie chicken, chopped
1/4 red onion, finely chopped
1/2 cup Gorgonzola cheese
Spicy Pecans (I buy at Trader Joe's)
1/2 cup fresh basil, finely chopped (+8 leaves for garnish)
1/2 cup Sweet Onion Poppyseed Dressing (or Briannas Rich Poppy Seed Dressing) – optional
Directions:
Cut the melons in half, removing all seeds. Using a melon baller or small cookie dough scoop, carve out balls of melon and set aside.
In a large bowl, mix the melon, chicken, onion, cheese, basil, and nuts. Squeeze the fresh lime over the mixture.
If using a light dressing, such as a sweet (poppyseed) dressing, lightly toss it around the ingredients.
Fill the melon bowls with the chicken mixture, garnishing with fresh basil. Serve!
All images and text ©Sandy Coughlin for Reluctant Entertainer.
More melon recipes:
Mint Melon Salad {She Wears Many Hats}
Melon and Feta Salad {A Closet Cooking}
6 awesome ways to serve fruit in a fruit bowl {Prevention Magazine}