Classic Salmon Caesar Salad Recipe
Enjoy this Pacific Northwest delight, a delicious Classic Salmon Caesar Salad Recipe made with fresh garden beets and radishes!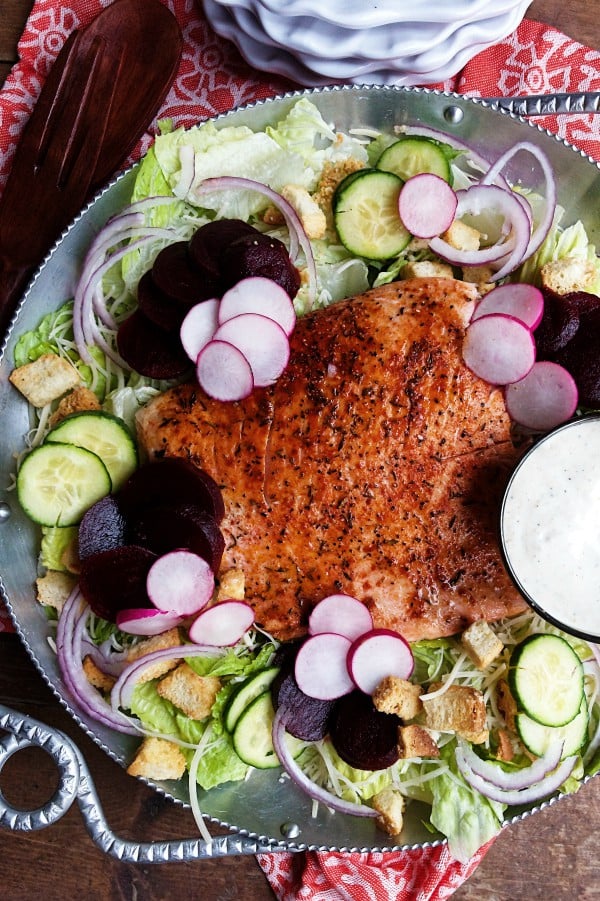 I often think about how lucky I am to be living in the Pacific Northwest. One of the highlights where we live is the Deschutes River, so close to our backyard! It's never boring, with so much of nature to explore. Add a Classic Salmon Caesar Salad Recipe to the menu for the day, and you're set. :)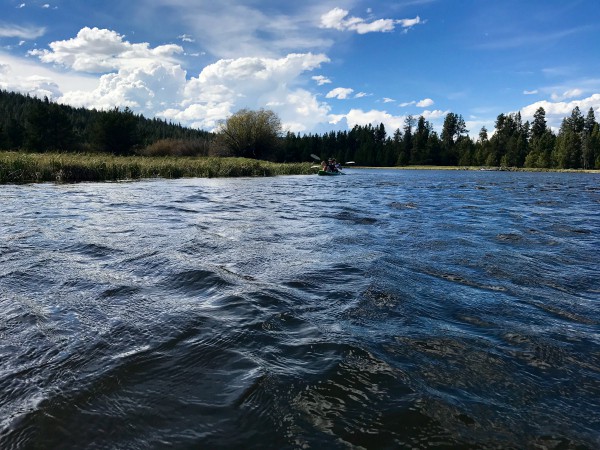 With the first hint of spring, when the first daffodil bursts out of the ground, you remember where you were last spring. It's mile marker of change, the newness of life, a new adventure for our family.
Up to our eyeballs in boxes, yard sales, downsizing, purging, cleaning, saying our goodbyes …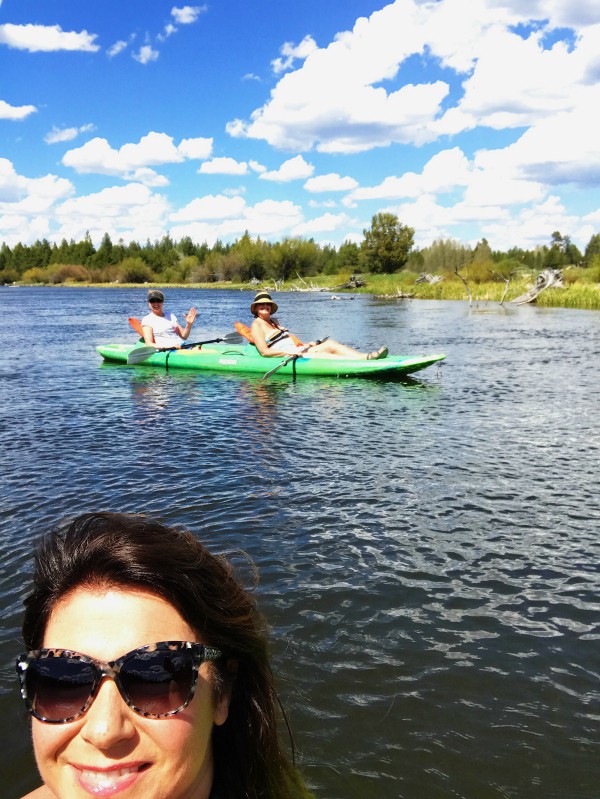 My sisters came for the weekend, on the hottest day of the year, and I surprised them with a kayaking trip down the Deschutes (it was a lovely 80 degrees on this day!) This was our first time to be together since our move a year ago.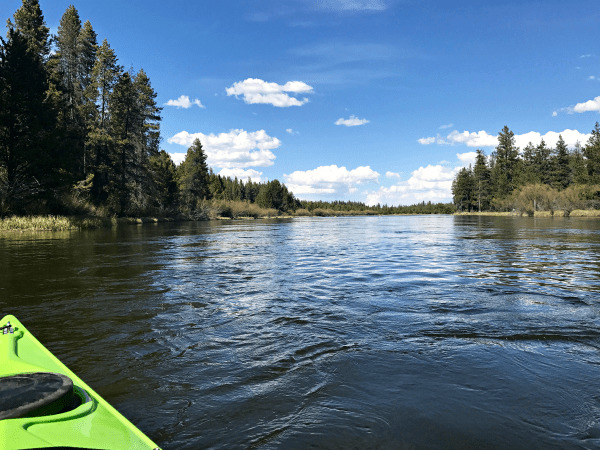 We were the only ones on the water, besides a few paddle boarders, and all the ducks and baby ducklings! Our lunch was packed, with our Pomegranate Kommbucha drinks (did you know these are made right here in Bend?), and sunscreen.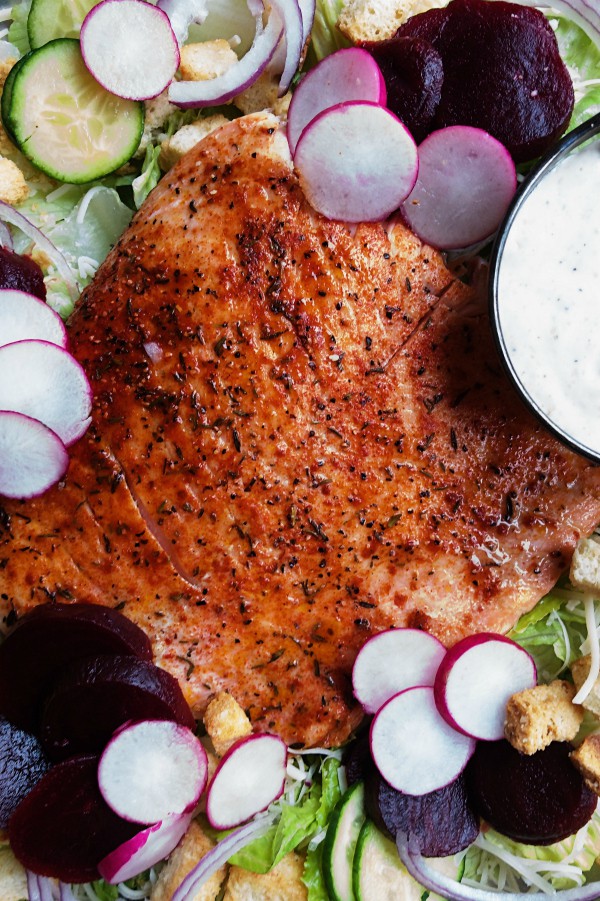 Classic Salmon Caesar Salad Recipe
I cooked salmon for my sisters, the first night they were here. Leftover salmon is delicious in so many recipes, but today I'm sharing a Classic Salmon Caesar Salad Recipe.
You can always put your spin on a Caesar, but for me, I love beets!
This time of year there is so much hiking and camping and bike riding to be done!
The scenery and outdoors in the Pacific Northwest will take your breath away!
Salmon is a favorite, and sharing the Pacific Northwest artisan cuisine is a great to way to show off the area, with a "little taste of Oregon."
Cook your meat ahead of time. I used Rub with Love salmon rub, also made right here in the Pacific Northwest (Seattle, WA).
A Salmon Caesar Salad, a glass of white wine, the perfect pairing for company, any season, but particularly for spring and summer! ENJOY!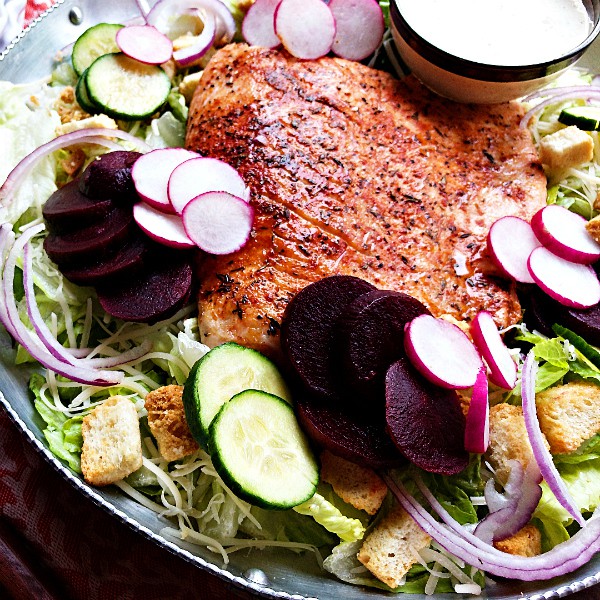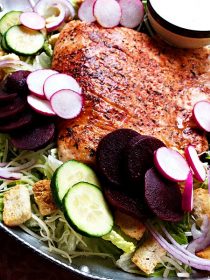 Get the Recipe: Classic Salmon Caesar Salad Recipe
Ingredients
4 6 ounce salmon filets (or one large 24 ounce filet)
Salt & pepper, or favorite seasoning (I used Rub with Love salmon rub)
Olive oil
Romaine lettuce, chopped
Radishes, sliced
Beets, cooked
Cucumber, sliced
Red onion, thinly sliced
Parmesan cheese
Croutons, optional
Shaved Parmesan cheese
Juice from half a lemon
Caesar dressing
Instructions
Preheat oven to 400 degrees and line a rimmed baking sheet with parchment paper. Place salmon filets on one baking sheet, drizzle with olive oil, and season with salt and pepper (or your favorite seasoning).

Bake salmon for 15 minutes or until top is browned. Remove and drizzle with fresh lemon juice and set aside.

Prepare the salad with chopped romaine, sliced radishes, sliced cooked beets, cucumber, and redonion. Place the salmon on top; serve with Caesar dressing. Enjoy!
More salads: Taco Pasta Salad [Wine & Glue], Tuna Spinach Salad [Food on the Table], Veggie Lover's Greek Pasta Salad [Foodie with Family].

Hello and welcome to my home and table!
I'm Sandy—lover of food, family, cooking, THE BIG BOARD, travel, and bringing people together. Through great recipes and connection around the table, we become better, stronger, and more courageous people. Feasting on Life is real, and every time we do it, we grow a little more. Read more...