Coconut Mandarin Orange Quinoa Breakfast
This Coconut Mandarin Orange Quinoa Breakfast is a delicious make-ahead snack or breakfast, served with coconut milk and walnuts!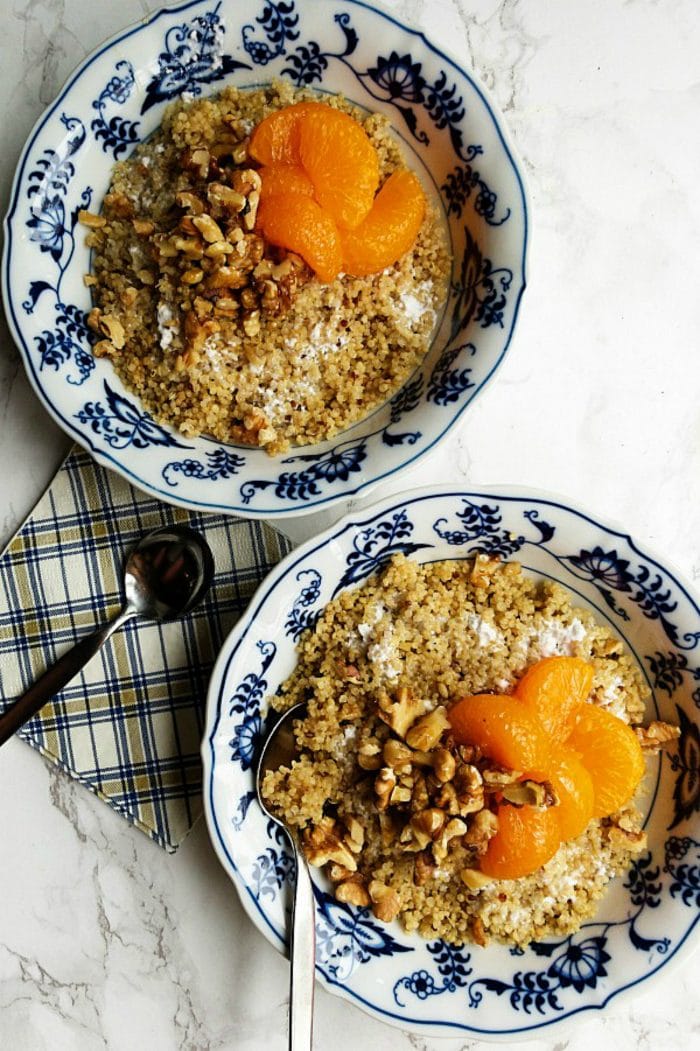 A recipe that is super-easy for camping, is Coconut Mandarin Orange Quinoa Breakfast. At least for me, when we camp in our VW, my meal planning is very intentional, because of the space.
Coconut Mandarin Orange Quinoa Breakfast
In this case, bring already cooked quinoa in a Ziploc bag, a can of mandarin oranges (pineapple is good, too), and we always bring nuts with us for a healthy snack.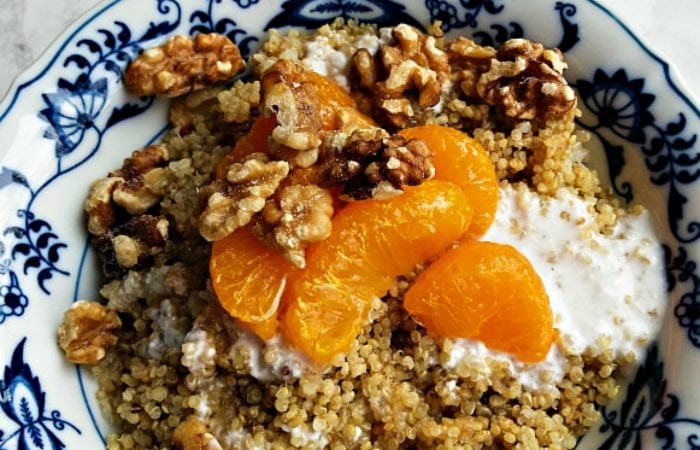 Toss in a can of coconut milk.
Better yet, I bet coconut Greek yogurt would be a tasty touch, too!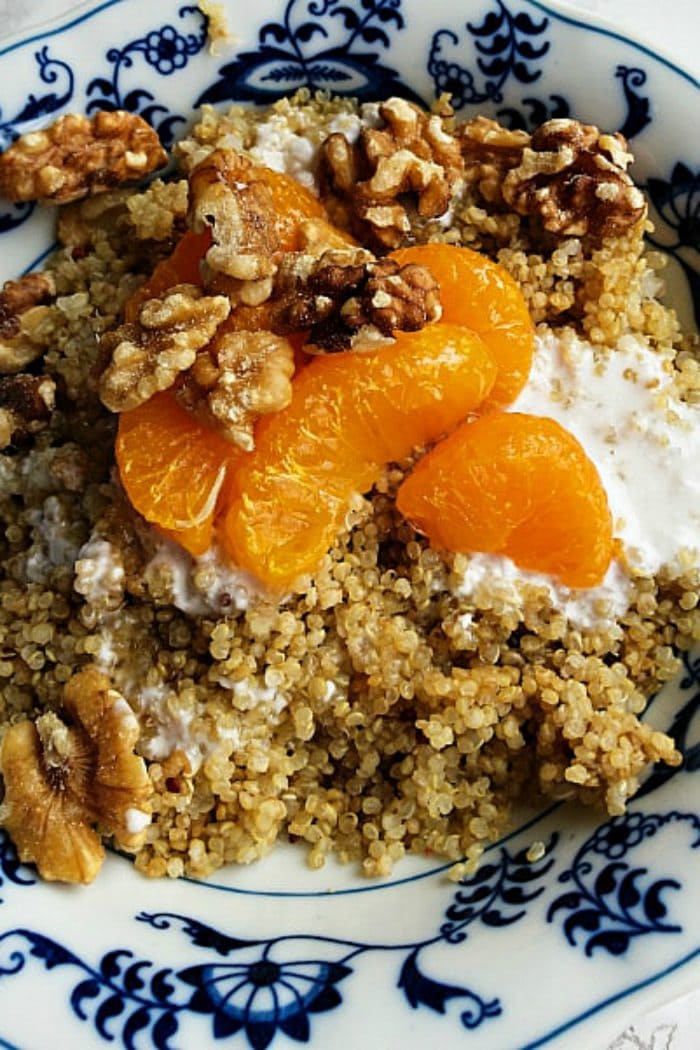 Ingredients quinoa breakfast bowls:
Cooked quinoa
Coconut milk (or yogurt)
Maple syrup (or honey)
Mandarin oranges
Walnuts (toasted)
Camping in Oregon
Friends, we're dusting the snow off our VW Vanagon (Westfalia), dreaming about spring!
Just when we think we can take ol' Rosemary out for a drive, it starts to snow again. But the snow is melting, and actually our son set up his "study space" inside her.
In the past, we could pop over to the Oregon coast quite quickly, but now that we are in central Oregon, we'll have to be a bit more intentional with our planning.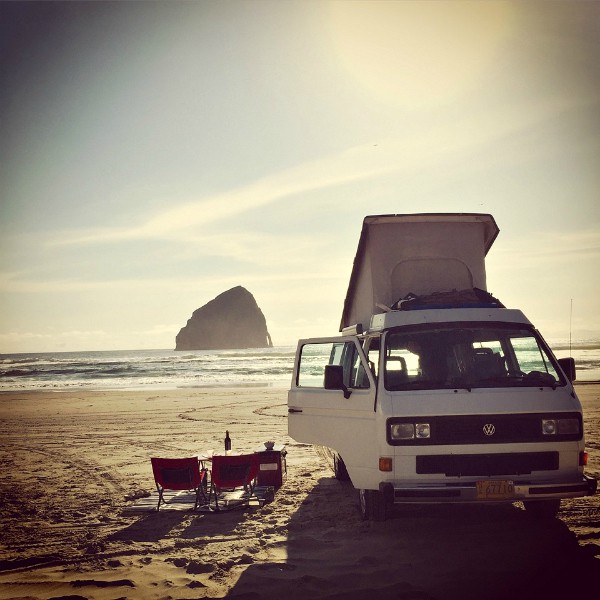 We long for a warm day on the beach at Pacific City.
Our camping is much more simplified now that it's usually just Paul and me. Years ago, we had a small trailer that we'd take the kids out in. It really does feel like this was just yesterday, when the kids were just babies (1998).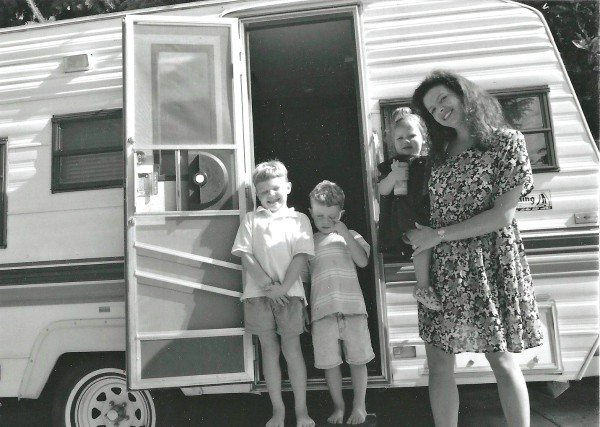 And then today. (Our family of 5 does not fit in the VW, but we'll often take 1 kid with us, and always Haggis McStitch!)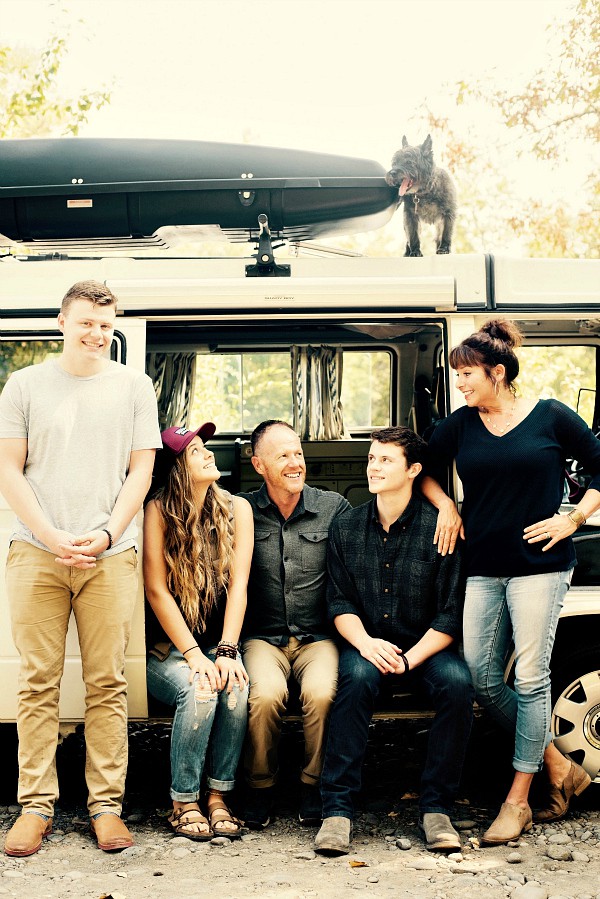 Easy camping quinoa breakfast bowls
One of our favorite camping breakfasts are these quinoa bowls. You can cook the quinoa ahead, and the rest is super easy to put together in less than 5 minutes!
The perfect camping breakfast!
ENJOY!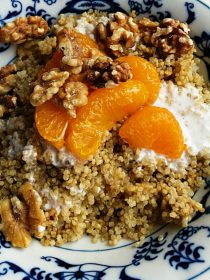 Get the Recipe: Coconut Mandarin Orange Quinoa Breakfast
Ingredients
1 1/2 cups cooked quinoa
1/4 cup coconut milk, or yogurt
2 tsp. maple syrup, or honey
1 can mandarin oranges, drained
1/4 cup walnuts, chopped (optional to toast)
Instructions
Heat the quinoa in a bowl with coconut milk and syrup; mix well.

Place in 2 serving bowls; top with mandarin oranges and walnuts. Optional to add salt.
Hello and welcome to my home and table!
I'm Sandy—lover of food, family, cooking, THE BIG BOARD, travel, and bringing people together. Through great recipes and connection around the table, we become better, stronger, and more courageous people. Feasting on Life is real, and every time we do it, we grow a little more. Read more...