Garbanzo Bean Bacon Chopped Salad
This Garbanzo Bean Bacon Chopped Salad is the perfect lunch or dinner, made with chopped veggies, chicken, and topped with a sprinkle of sunflower seeds.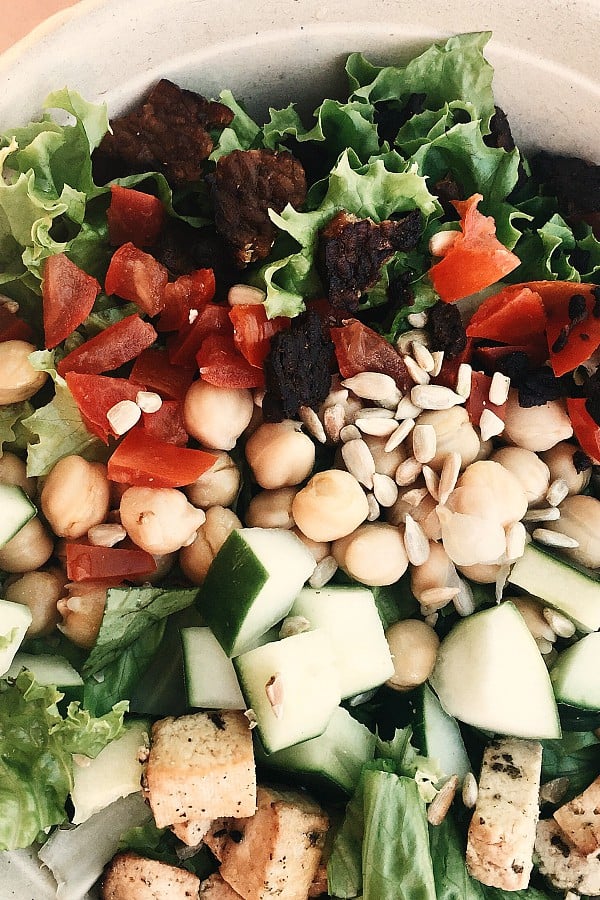 Friends, what is your favorite lunch? I'd have to say a BLT sandwich, or some kind of salad. Today I'm sharing a delicious Garbanzo Bean Bacon Chopped Salad, which is one of our favorite recipes. Open up a can of garbanzos beans, chop some veggies and chicken, and fry up some bacon. Of course, the dressing makes it even better!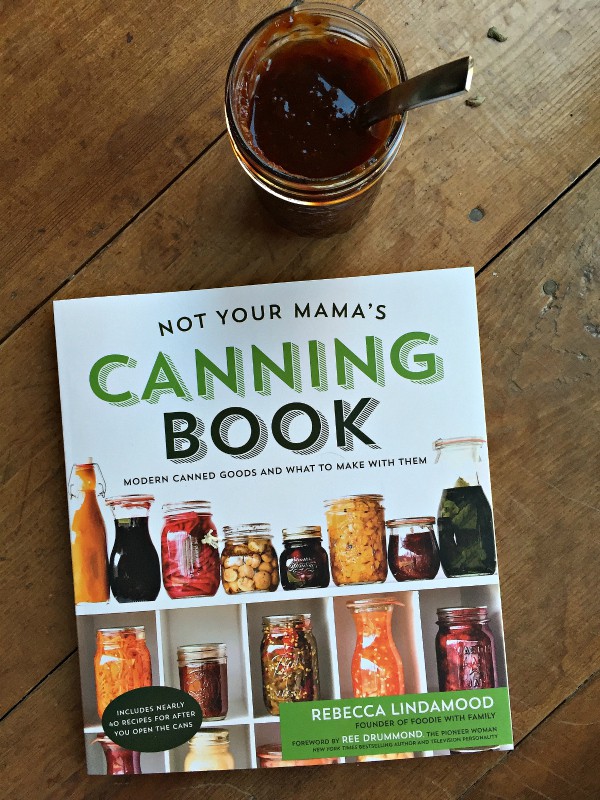 I also want to share with you a new cookbook that is out, Not Your Mama's Canning Book, Modern Canned Goods and What to Make With Them, written by my friend, Rebecca Lindamoon. I first met Rebecca on a trip to The Pioneer Woman's ranch, a few years ago. A few of us girls stayed at Ree's lodge, cooked together, rode horses, ate some fabulous food.
Rebecca taught us how to make fresh mozzarella cheese and roasted red pepper spread. What a fun trip! And I'm telling you, Rebecca is really, really talented!
When Rebecca's book arrived, I checked out every page and recipe. But more importantly, she sent me one of her canned sauces, which I quickly devoured over a lunch salad.
A few of my favorites: Her pie fillings, Canning 101 tips, slow cooker soups, and Pie in a Jar recipes!
A little secret here to all my readers who've followed me for quite some time, and know that I've loved canning over the years. When we packed up to move to our new home in central Oregon, we had 4 yard sales. At one of the sales, I sold all of my canning supplies! I truly enjoyed canning over the years, and it connects me right away to my mom and my Grandma Dubs when I even hear the word, but I was ready to not lug everything with me, and take the time that it used to take to produce so many jars.
Plus (a big plus), we do not have a garden anymore!
But for those of you who dig canning, then this book is for you, because it has modern canned goods, and what to make with them.
Head on over to Amazon now and get your copy of Rebecca's book! Spring and summer are on the way! The bounty will be plentiful, and Rebecca shares a lot of new ways of making sauces, chutneys, jams, pickles—you name it!
Garbanzo Bean Bacon Chopped Salad
For my salad today, make your own bottled dressing, or drizzle with olive oil and balsamic vinegar.
We're on a "garbanzo bean" kick the last few months, and have been eating them in salads and stews, roasting them, so enjoying them!
For the chickpea salad, you can use a bottled dressing, or make your own!
The tomato, bacon, cucumber, and chickpeas, and sunflower seeds added to a big bowl of salad greens and this delicious vinaigrette, to me, is the perfect salad.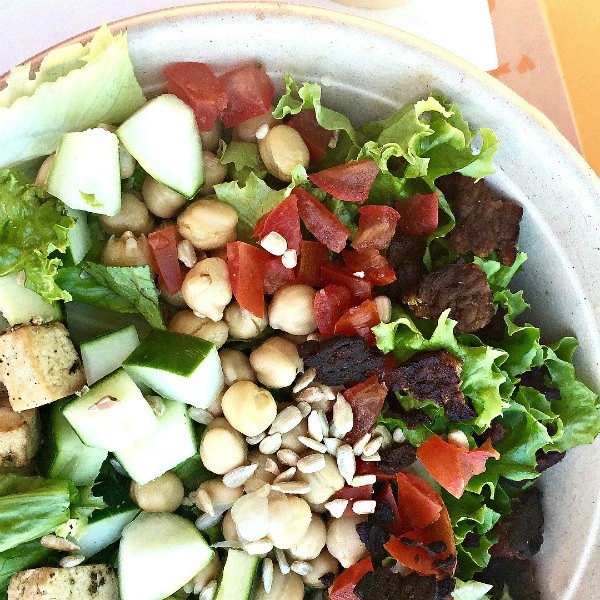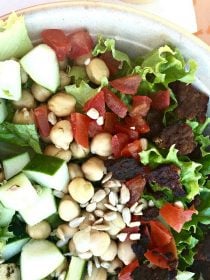 Get the Recipe: Garbanzo Bean Bacon Chopped Salad
Ingredients
Butter lettuce, or favorite greens (cored, chopped, about 4 cups)
Diced tomato, about 2 medium
Garbanzo beans, rinsed and drained
Bacon, cooked and crumbled
Chicken cubes, cooked (or rotisserie chicken)
Cucumbers, diced
Sunflower seeds
Olive oil & balsamic vinegar, or your favorite dressing
Instructions
Arrange the lettuce in a large bowl or serving platter.

Arrange the tomato, garbanzo beans, bacon and chicken on the bed of lettuce.

Sprinkle on top cucumbers and sunflower seeds. Season to taste with salt and pepper. Drizzle with good olive oil and balsamic vinegar (or your favorite dressing).
My favorite canning recipes:
Sweet Zucchini Relish (our favorite!)
Sweet Smoky Zucchini Salsa (our favorite!)

Hello and welcome to my home and table!
I'm Sandy—lover of food, family, cooking, THE BIG BOARD, travel, and bringing people together. Through great recipes and connection around the table, we become better, stronger, and more courageous people. Feasting on Life is real, and every time we do it, we grow a little more. Read more...