Crunchy No-Bake Chocolate Peanut Butter Bars
These Crunchy No-Bake Chocolate Peanut Butter Bars are the perfect snack or dessert to make in 5 minutes, and then serve later to your guests!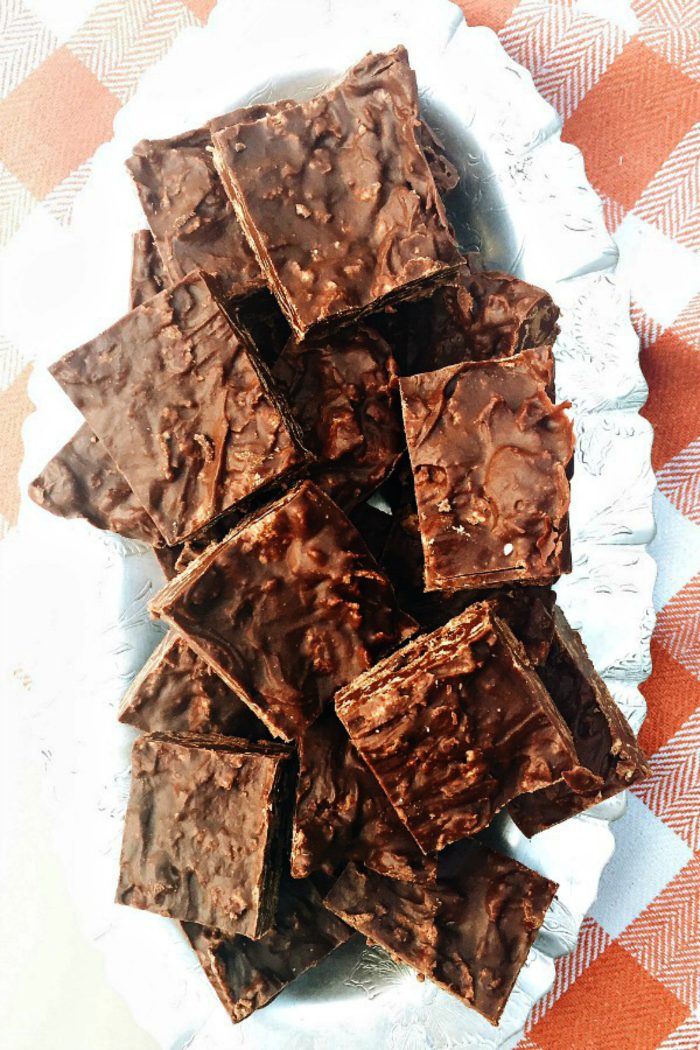 For an easy "anytime" recipe, make Crunchy No-Bake Chocolate Peanut Butter Bars for the perfect dessert.
Crunchy No-Bake Chocolate Peanut Butter Bars
When my friend, Mary, sent me her new cookbook, The Weeknight Dinner Cookbook [buy HERE – AFFLINK] I was so happy to read through it, trying some of her fabulous dinner recipes, but when I got to the Crunchy No-Bake Chocolate Peanut Butter Bars, I knew I needed to make these … STAT.
Childhood friend and memories
When my childhood friend and her husband came to dinner this past week, we laughed, and laughed, and … well, we shared some pretty fun memories around the table while growing up together. Let's just say, my children were amused.
Anyone who knew you as a child, and still wants to spend time with you, is a true friend. That is my friend, Lisa.
We don't see each other often enough, but we do keep in touch with texting and email. When we do sneak a visit in, we fall right back into our familiar ways. I love the comfort of a true friendship.
This day, we went on a long walk along the river, on a blistering, sunny day. Yes, the combo of wind, rain, and sunshine! We do live in Bend, Oregon, which has the highest average number of sunny days in the state (an average of 158 days clear days and 105 days that are mostly sunny). Needless to say, we were bundled up, and were talking a million miles a minute, and we didn't even notice the weather, because the SUN was out!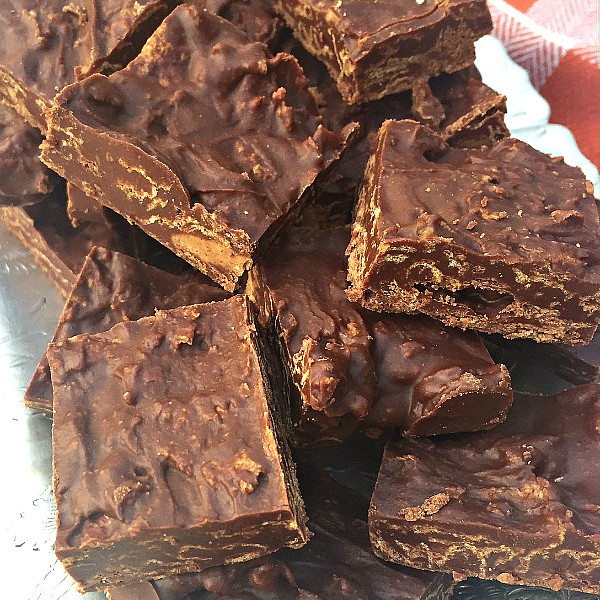 One thing we both always loved, with a sweet, tender friendship that began in 4th grade, was chocolate.
We are both still chocolate lovers!
No-Bake Chocolate Peanut Butter Bars
This recipe today reminds me of Lisa, and of how much we loved to eat Malt Balls and Reese's Peanut Butter Cups. Of course, I'm still a chocolate and peanut butter lover to this day.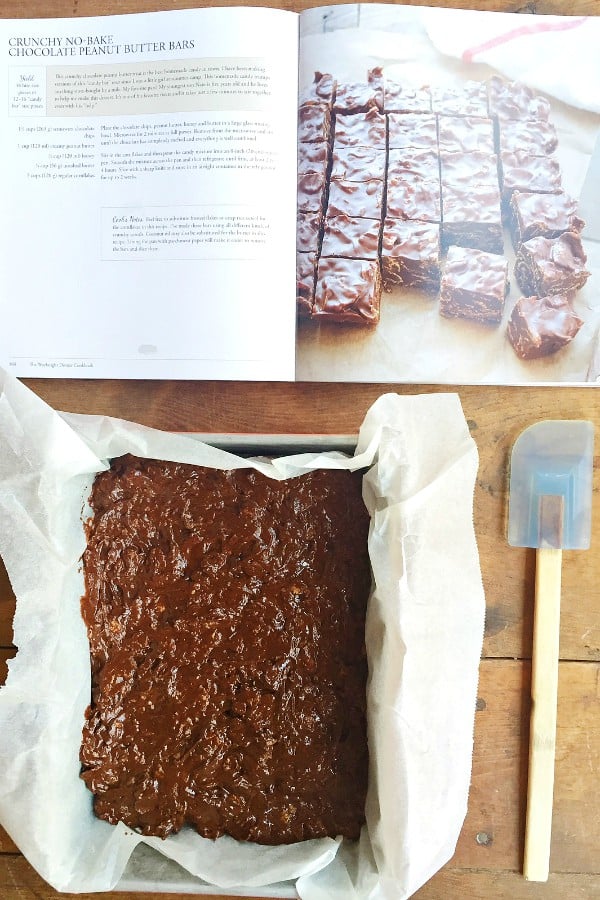 Chocolate + Peanut Butter? A no-brainer
I love a good no-bake recipe. Easy to whip up, chill, and then cut right into … and share!
I've made a batch with peanut butter, and another with almond butter!
You can even freeze these, which I ended up doing. I love to have a "treat" ready at all times, for when company comes!
If you want to keep them in the fridge, they will store up to two weeks.
Mary blogs at Barefeet in the Kitchen, and she has become a dear friend of mine. :)
For weeknight recipes, I'm loving Mary's book for easy dinners, and also her Pinterest Board!
Wait until you try her Crunchy Honey Lime Chicken, or Sweet Chipotle Chicken Bites, or Chicken Parmesan Meatloaf (YUM!), and she has some killer slider recipes, like these Chicken Cordon Bleu, and Game Day Sliders. Don't forget I just released a new video for my Shrimp Bacon Sliders.
Buy Mary's book here!
And, this is the perfect book to buy for holiday gifts coming up! You can check it out on Amazon, here.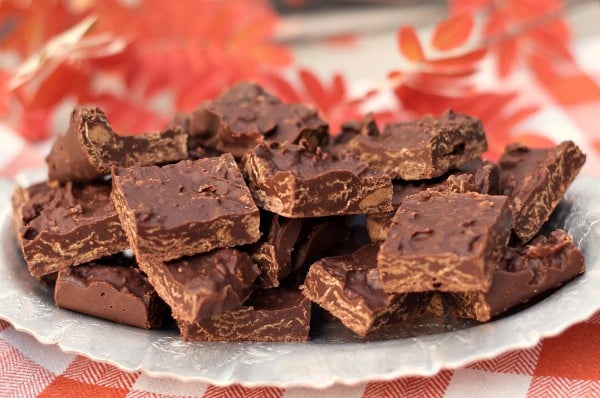 Get the Recipe: Crunchy No-Bake Chocolate Peanut Bars
These no-bake chocolate peanut butter bars are easy to make at home; refrigerate for up to 2 weeks, or freeze! You can substitute crisped rice cereal for the corn flakes if you wish.
Ingredients
1 1/2 cups semi-sweet chocolate chips
1 cup creamy or crunchy peanut butter
1/2 cup honey
1/4 cup unsalted butter
3 cups corn flakes, I used bran flakes
Instructions
Place the chocolate chips, peanut butter, honey and butter in a large glass mixing bowl.

Microwave for 2 minutes at full power.

Remove from the microwave and stir until the chocolate has completely melted, and everything is well combined.

Gently stir in the corn flakes. Mix until well combined.

Pour the mixture into an 8×8″ square baking pan. Smooth the mixture across the pan and refrigerate until firm, at least 2-4 hours.

Slice with a sharp knife, and store chilled in the refrigerator for up to 2 weeks.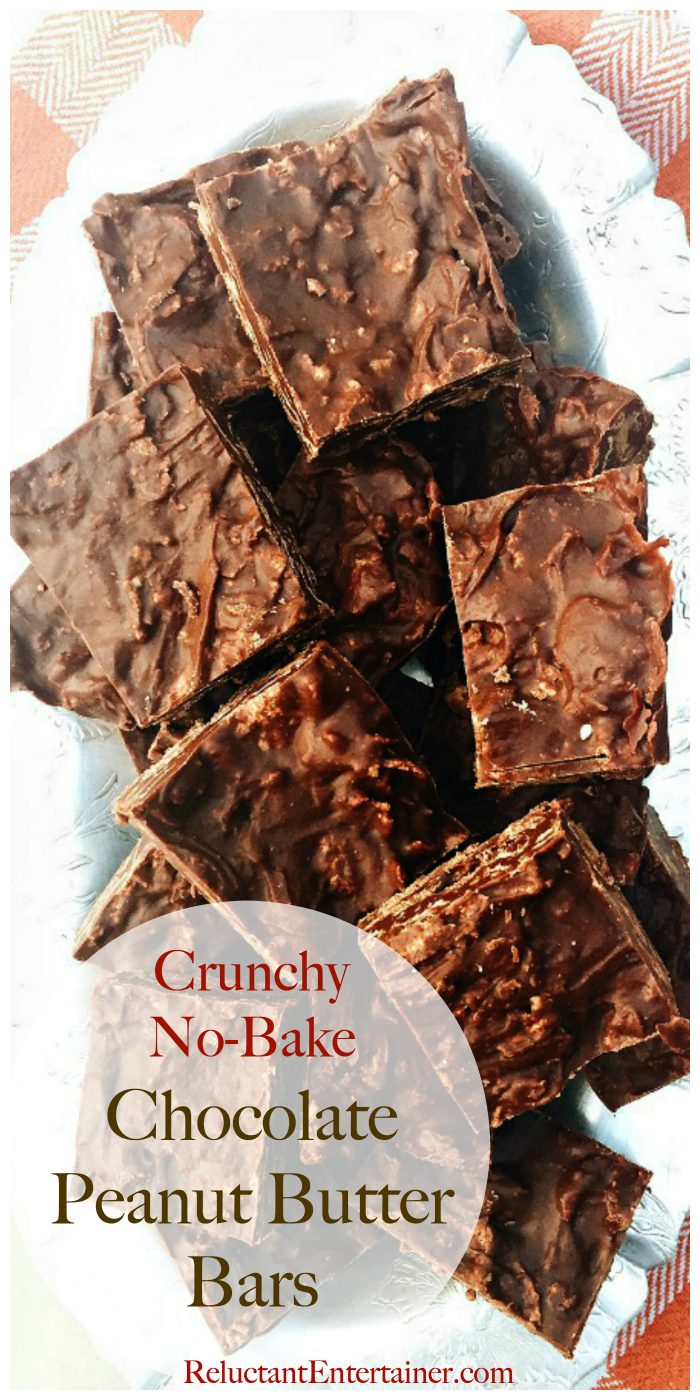 This post has affiliate links. Every purchase from these links supports RE at no extra cost to you. Thank you!
Hello and welcome to my home and table!
I'm Sandy—lover of food, family, cooking, THE BIG BOARD, travel, and bringing people together. Through great recipes and connection around the table, we become better, stronger, and more courageous people. Feasting on Life is real, and every time we do it, we grow a little more. Read more...