Fly Fishing North Umpqua River and Steamboat Inn Stay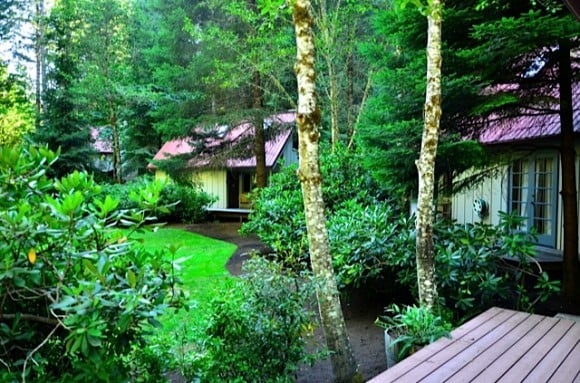 Turning 50 has been an adventurous month for me, most recently staying at the beautiful Steamboat Inn in southern Oregon, 40 miles outside of Roseburg, and enjoying fly fishing the North Unmpqua River, with the trip sponsored by Travel Oregon.
My husband and I had driven through the Inn's property years ago, always dreaming of staying on their gorgeous grounds, which are perched on a bluff, overlooking the North Umpqua River. So this was a dream come true! Not only did we enjoy every aspect of a hot summer's weekend on the grounds, we woke up one morning at 3:30 a.m. (yes, a.m.!) and our guide, Tony Wratney, from Summer Run Guide Service, met us in front of the Inn to spend the next 6 hours with us on a guided fly fishing tour of the river for summer steelhead.
The North Umpqua is world famous for its wild steelhead runs, lush scenery, and rich tradition of fly fishing. (Below, Tony catching a big one!)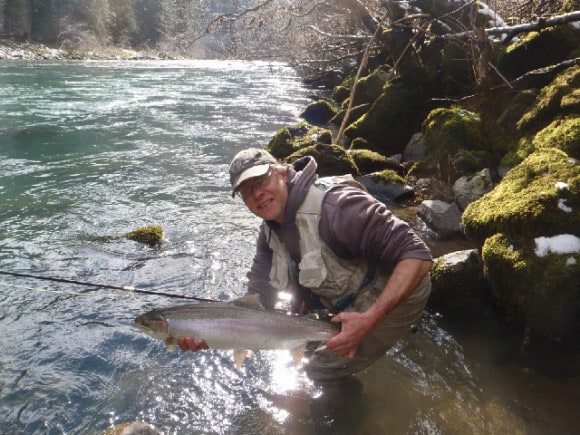 My waders and boots were laid out, I was so excited.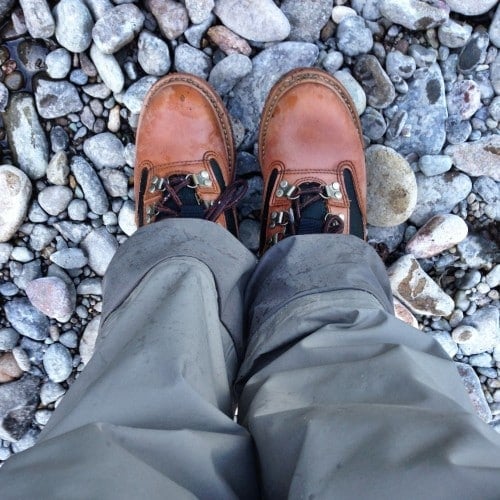 My husband is an avid fly fisherman, so he knew all the ropes. I do have waders, but it's been a while since I've fly fished, and never on these waters, which are rapid in parts and are rocky underfoot. On the Umpqua, the steep walls bookend the river, with patches of slower moving, and then speedy waters.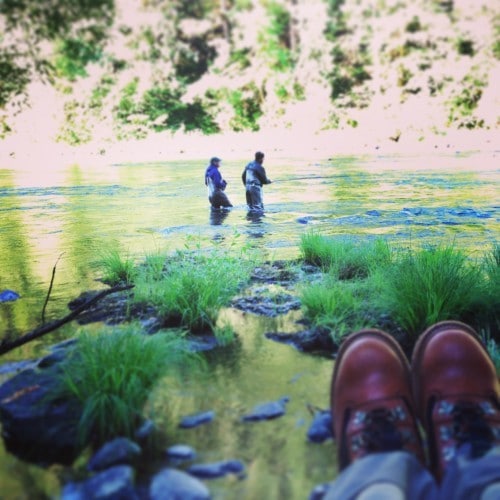 To be honest, I was a bit scared in the complete dark when Tony said, "Sandy, grab my wrist," leading me through deep waters up past my waist, out to the middle of the river.
There, we put in our lines and I learned to cast. Or, relearned to cast.
The sun came up on the water and there were many spotlights of light, illuminating the entire river. It was truly magical. I completely forgot that it was 4:30 am.
It was also tranquil, the feeling of the water rushing up around me, yet staying dry. The feel of the cast when I "did it right," and the frustration of "when I did it too fast (or wrong)."
We didn't catch any fish on this day, but as we were hiking later and passed three other fishermen, they also admitted that they saw fish but got skunked as well.
That's why they call it fishing, not catching. It's more about the experience and less about the catch, in my mind.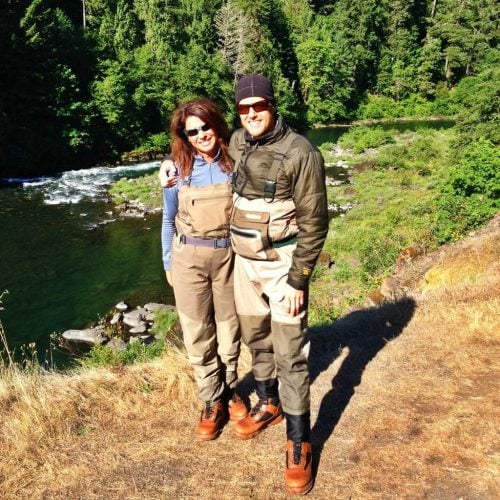 My mind was whirling with thoughts of gratitude, peace, excitement, and prayers.
There is nothing like experiencing nature at its finest, and for fly fishing, it's either early in the morning or late in the evening when the sun is off the water.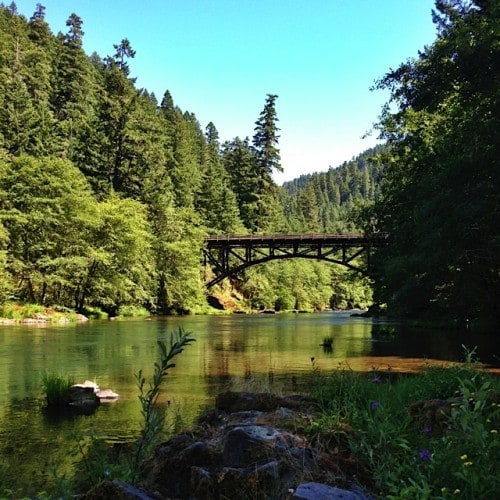 Tony was such a gentleman, and as my husband was reminiscing later, a great teacher. He was patient, and thoughtful of other fishermen–you never want to hog a space, but always want to think of other fishermen who want to catch fish and vacate the pool entirely in honor of them.
We all want to enjoy God's gifts of clear sweet water, and the forest, and all creatures that live in them.
Talking about those creatures, we ran across one of these fishing line collectors. And whenever we do, we think of our good friend former State Senator Jason Atkinson. He was instrumental in having them placed throughout our great state, improving the well-being of so many animals in and around our state's rivers. Thank you again Jason for coming up with such a smart and inexpensive solution. May you run again for Governor!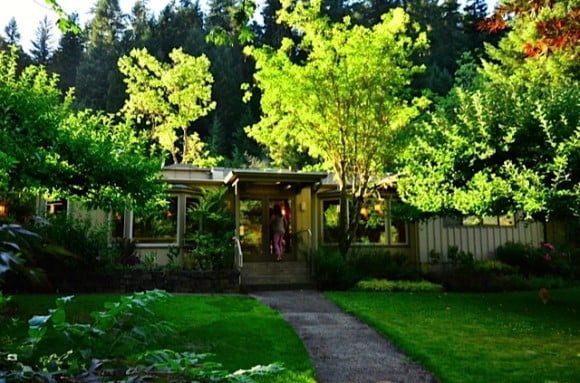 The Inn …
Steamboat Inn was built in 1954 and is now owned by three wonderful people, Jim and Sharon and their partner Pat, who all work hard to make sure their guests are taken care of. I would say they went out of their way to make sure everyone was comfortable.
The Inn has a very classy feel to it, as you can see from the main building's architecture and decor.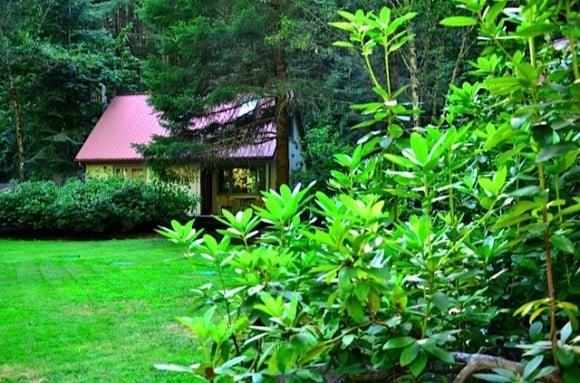 Cabin 12 …
The rooms consist of suites and cottages, and there are a few houses to rent on the property, too. We stayed in a very cool cottage–Cabin 12.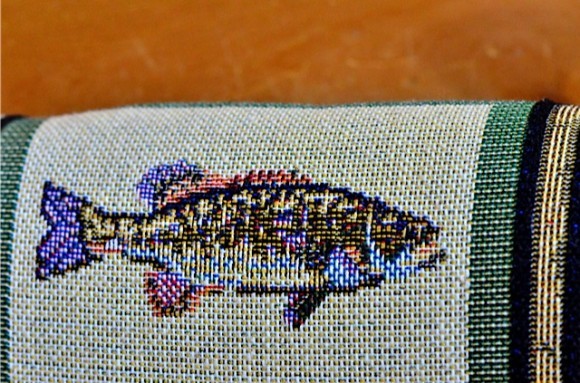 It had a quaint little kitchen with everything in its place, a king-sized bed, a loft with a queen bed, and a pull-out bed, and fish decor.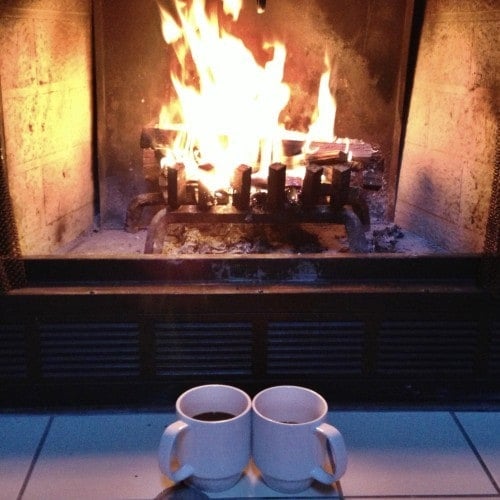 The bathroom was completely up to date, with a large soaking tub, and the living space had a wood-burning fireplace.
A separate door to the master bedroom to the great outdoors.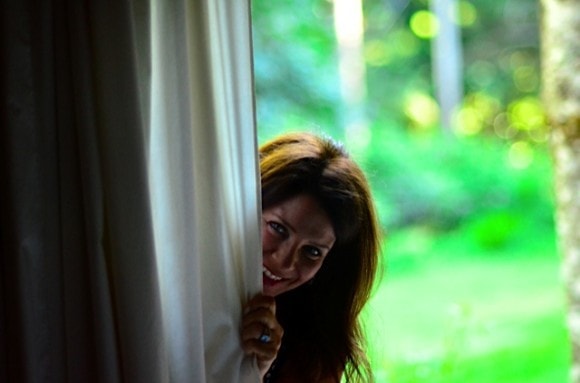 And the porch.
A perfect place to read a book, have a glass of wine, and just relax.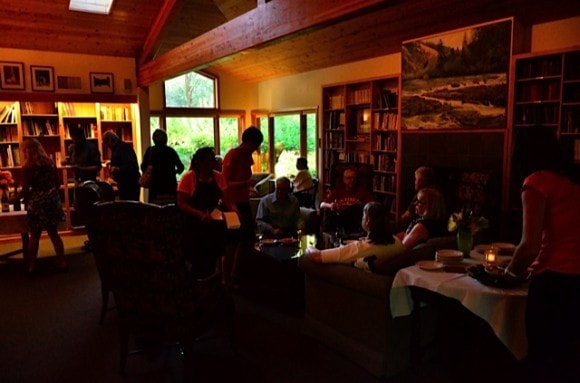 The library …

Each night of the summer at dusk, the doors of the Steamboat Inn close to all but Inn guests and those who have made reservations. This is what makes the evening unique, as the guests gather in the library to sip an aperitif, enjoy the evening's appetizers, and exchange views of what made their day special at Steamboat Inn. We met some of the most interesting people–friends–which made the evening more special.
Dinner served …
Let me tell you a little more about the evening dinner. As you come into the lodge, the tables are set.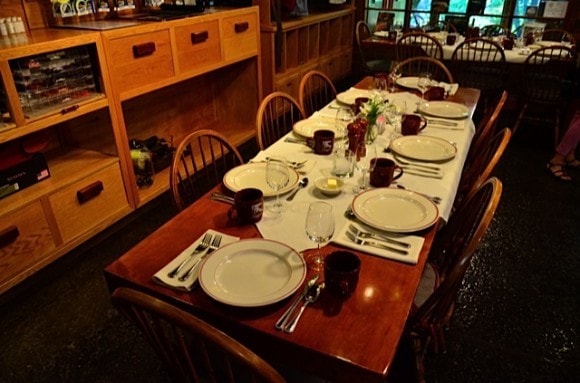 The meal sometimes referred to as the "Fisherman's Dinner," because the menu changes nightly, so as a guest, you never know what you'll get. Paul and I like surprises, and being foodies, we couldn't wait to taste the fine flavors of the Chef-prepared-meal, served family style meal, ending with coffee and a delicious dessert.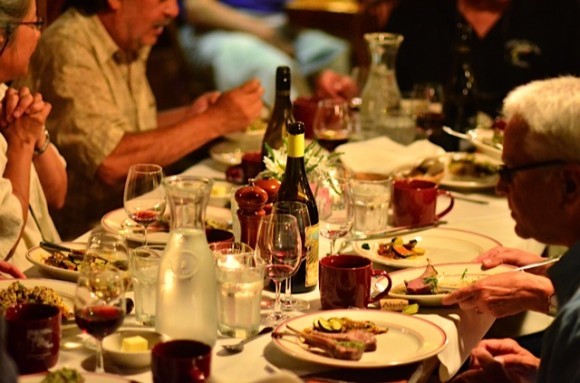 The most awesome part of eating family style is getting to know your neighbors! We joked the first night that we had the "fun" table.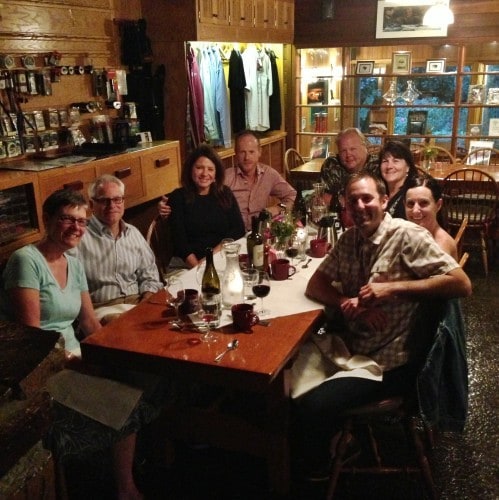 Which means, we were a lively group who sat and talked for hours, even after the restaurant had shut down. That's a sign of a good time, I'd say.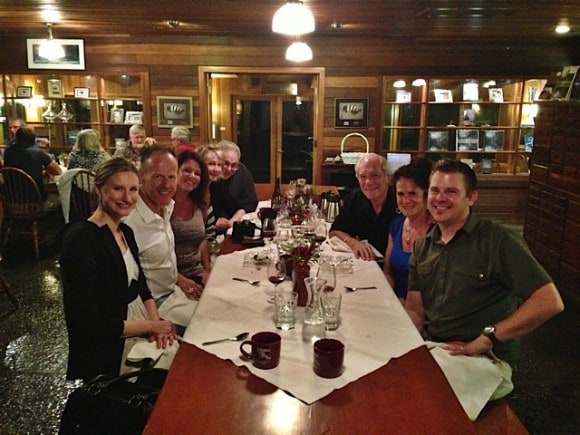 And the last night's meal … we were all from southern Oregon! Sometimes you have to leave town to meet new people in your hometown, or to catch up with old friends. :)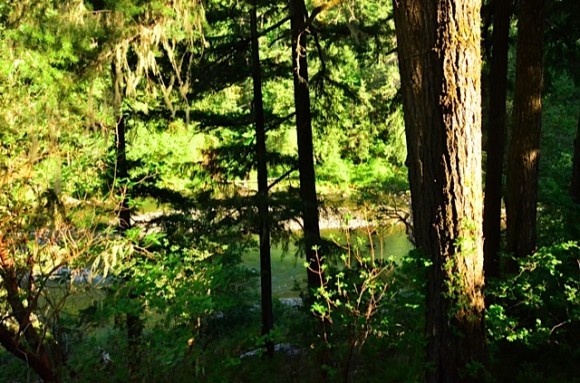 The grounds …
The ever-changing beautiful lush flower gardens graced the grounds, with a view of the river rushing by at the lodge and some of the cabins (next time we want to stay on the river!)
Can you imagine waking up to the sound of a river? So very peaceful, yet reflective. There are unique sitting areas around the property, too, where the Inn's perennial gardens come to life.
And more food …
Every meal was amazingly classy, with a little gourmet flair.
Fly Fishing the North Umpqua River and our Steamboat Inn stay was one of the most memorable experiences my husband and I have had in a long time.
It's the perfect quiet weekend for two, for special occasions like birthdays or anniversaries. It's romantic, unique, and so comfortable, and for the summer months there is a lot of hiking and exploring the picturesque waterfalls, some within walking and hiking distance.
And did I mention that the staff was absolutely fantastic?
From what we learned from the guests around the dinner table, Steamboat Inn has become their traditional getaway year after year. We met one couple that have been coming for more than a decade to celebrate their anniversary, and they stay in the same cabin each time.
I can only imagine what Autumn is like with the big leaf maples reflecting their red and gold hues in the quiet river pools, and the gardens full of mums, flowering kale, asters, Japanese Maples, begonias, and Dahlias. But for now, we enjoyed summer at its finest.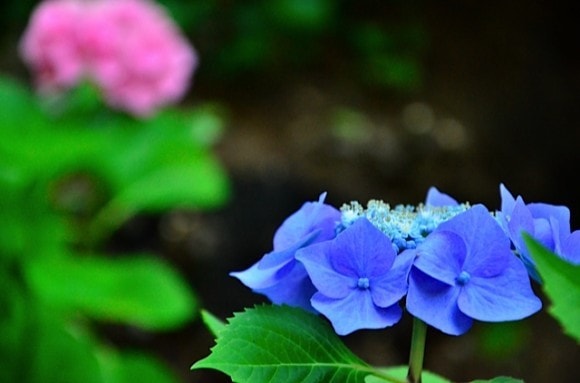 And now we know why it's been a secret place for many.
Do you have a secret get-away place you enjoy that's tucked away in the mountains or the great outdoors?
This post is sponsored by Travel Oregon who paid my expenses for lodging and food. Travel Oregon also was right there helping me celebrate my 50th in downtown Portland a few weeks ago, too! Thank you!
Hello and welcome to my home and table!
I'm Sandy—lover of food, family, cooking, THE BIG BOARD, travel, and bringing people together. Through great recipes and connection around the table, we become better, stronger, and more courageous people. Feasting on Life is real, and every time we do it, we grow a little more. Read more...