Summer Garbanzo Tomato Salad
This Summer Garbanzo Tomato Salad is delightful to enjoy or serve to guests any time of year, but especially with fresh garden tomatoes and fresh herbs.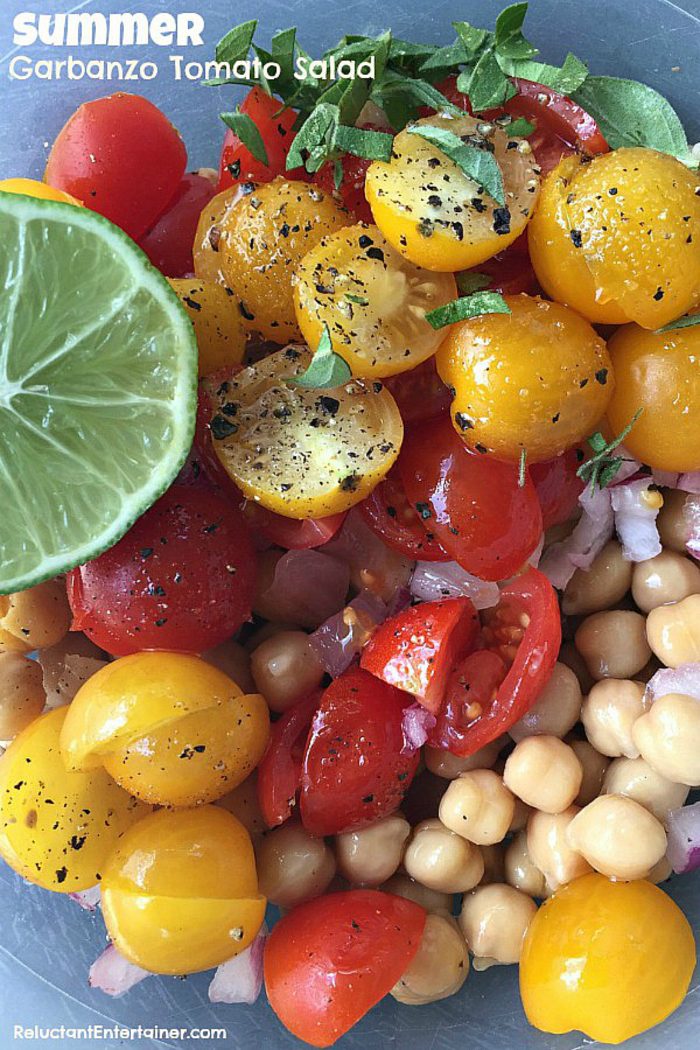 Friends, one of my favorite summer salads is this Summer Garbanzo Tomato Salad. So easy to whip up for company, or to bring to a potluck.
Garbanzo Tomato Salad
Are you planning on hosting a lot this summer? Here are a few of my favorite salads.
Garbanzo Bean Bacon Chopped Salad
Summer Orzo Salad with Garbanzo Beans
Roasted Vegetables & Chickpea Bowls
Keep Garbanzo beans stocked in pantry
I love to keep garbanzo beans (or chickpeas) on hand because there are so many recipes you can use them in. Like, How to Make Crispy Roasted Garbanzo Beans with only 5 ingtredients!
Do you ever make your own hummus? Or have you ever made garbanzo chili?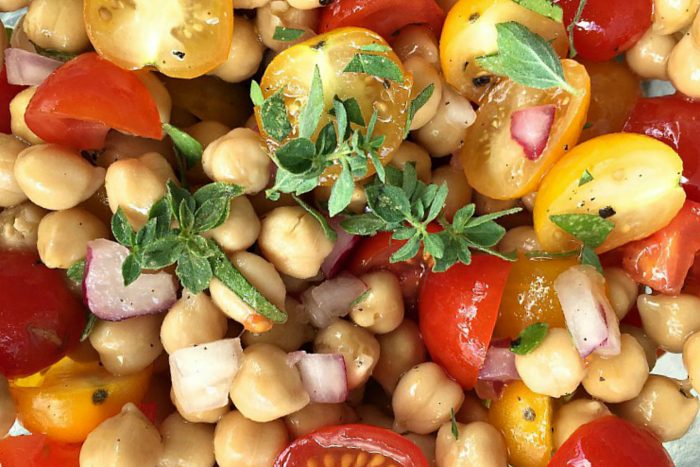 A little bit of reminiscing today on the blog.
I think about the homes we are given and how they meet our needs. When we bought our last home, we had big dreams to entertain a lot of people and enjoy it to its fullest. I'd say we've accomplished that, and more. But there's one thing that's quite different between me and my husband. I would entertain every night if I could, and so this has caused a bit of discord between us. Not in a bad way, because every marriage has things that have to be worked through, and we learn to come to a happy medium.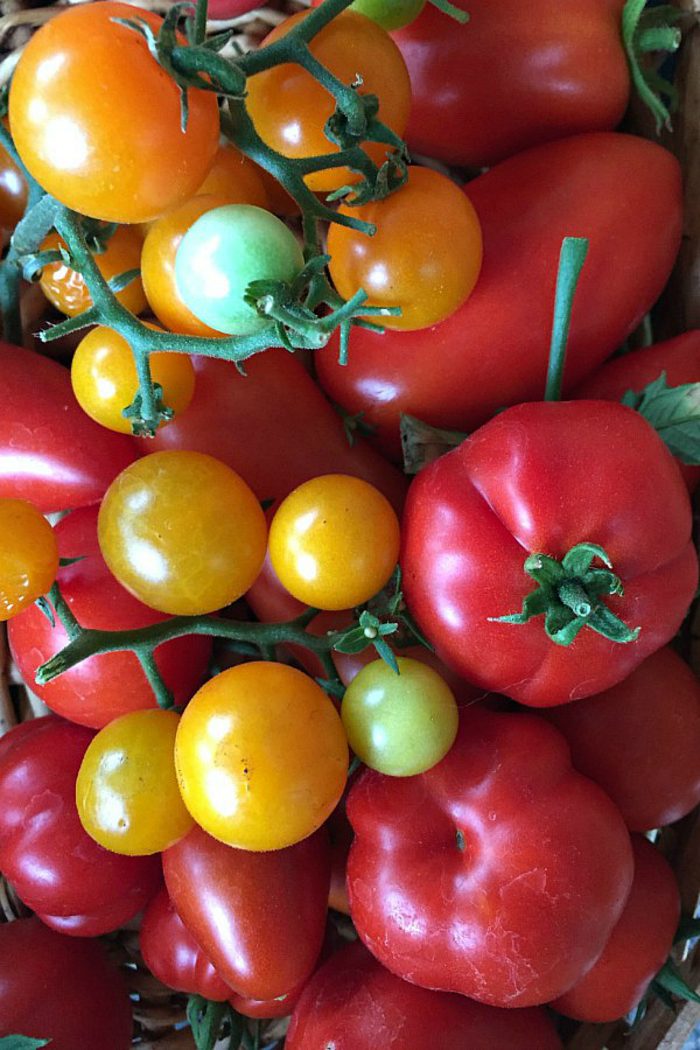 Learning the balance of hosting
My husband has been over-the-top accommodating of my desires to have party after party, and I'd say he's learned to come on board and enjoy it with me. Don't get me wrong, I'd never host like we do if Paul didn't enjoy it as well. The one thing I've learned though, like when I texted him if we could invite a couple over, is to not get upset or get my feelings hurt when he needs a break.
Me: Baby, can we have the ___ family over tonight?
Paul: No.
I know he's tired, been working hard, so I get it. Earlier in our marriage I would have pressed for a "yes" … I'll clean the house, I'll do the barbecuing, all you have to do is show up …
But now I settle in when my husband says "no" and I go with the flow.
It's all okay, because in a few nights, or when the weekend rolls around, I'm sure I'll get a hearty "yes" from him.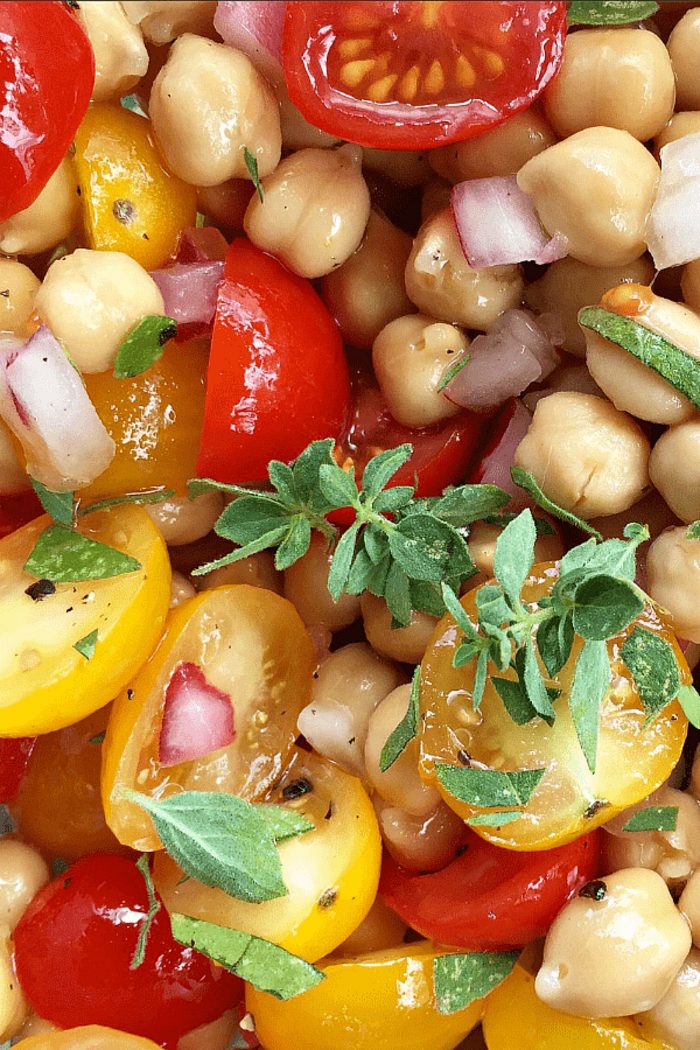 Learning from others
All this to say, I love every chance that I get to open our doors and to invite others in. With all walks and ages and seasons-of-life friends, I love using my gift of hospitality. I've learned a lot from many of my hospitable friends (and I've told them this), and that helps me to hopefully do the same for people who come into our home.
In fact, years ago when I wrote my book, I remember at the book party honoring my friend Michelle, who taught me a lot about people and hosting and cooking—how to do it in a classy way— and more importantly, how to love people.
Influenced by others
Which makes me wonder when was the last time I actually told someone that I was influenced by, how much I appreciate them, what I've learned from them, and how I've taken what I've learned and put it to good use in my life.
My homework assignment this week: I have a few people who've come to mind as I've written this post …
Garbanzo Tomato Salad
Earlier this week we made this delicious Summer Garbanzo Tomato Salad, and as I made it, I honestly thought of a friend of ours who had a change of diet. Everything about this salad is just so right!
Little did I know his wife would text me and ask me about the ingredients (because I posted it on instagram). Too funny!
I love how when we cook, we can think of others and their needs or diets, or even … I really miss them … I think it's time to get a date on the calendar.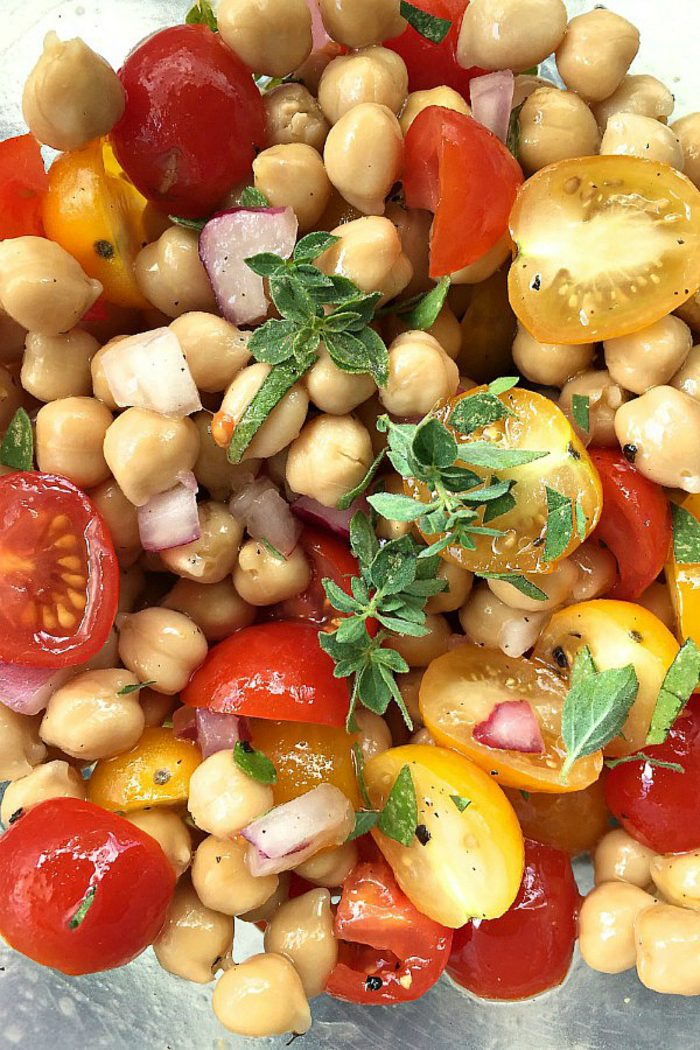 Anyway, we enjoyed this salad for lunch. You can't get any fresher or easier, and it's delicious with fresh herbs. Don't forget the oregano!
The best summer sald!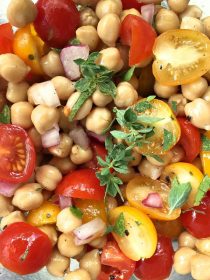 Get the Recipe: Garbanzo Tomato Salad
Tastes best with fresh summer herbs and garden tomatoes.
Ingredients
1 15 oz. can Garbanzo Beans
1 cup cherry tomatoes, halved
1/4 cup red onion, finely diced
1/3 cup olive oil
1 lime, freshly squeezed
Salt and pepper
Fresh oregano, finely chopped
Instructions
Drain the beans; place in a bowl with tomatoes and onion.

In a separate bowl combine the oil, salt and pepper, and fresh-squeezed lime. Mix together and pour over the beans and tomatoes.

Mix and chill; serve cold.
Notes
Reposted from JULY 2015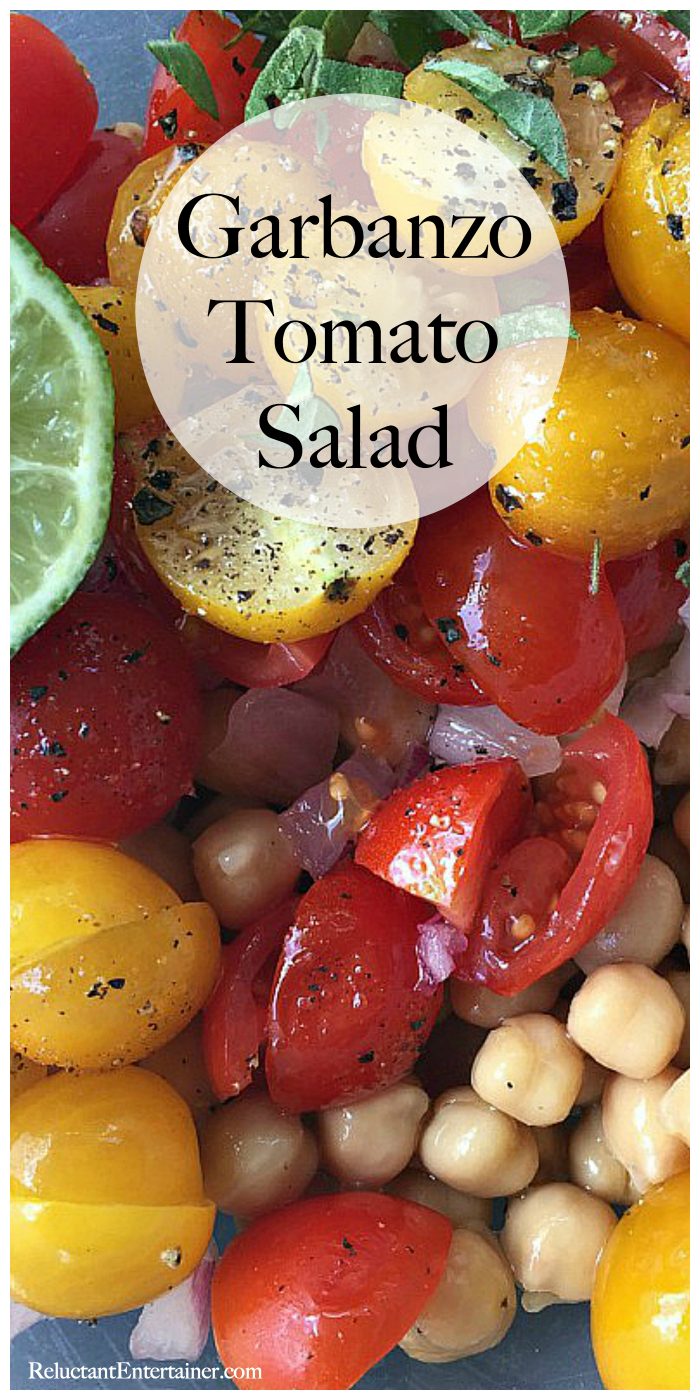 Hello and welcome to my home and table!
I'm Sandy—lover of food, family, cooking, THE BIG BOARD, travel, and bringing people together. Through great recipes and connection around the table, we become better, stronger, and more courageous people. Feasting on Life is real, and every time we do it, we grow a little more. Read more...