How to Make Crispy Roasted Garbanzo Beans
A light snack that is gluten-free, learn How to Make Crispy Roasted Garbanzo Beans with only 5 ingtredients. Delicious served on a Greek Charcuterie Board!
Friends, since I posted my Epic Greek Charcuterie Board, so many wrote to me and asked how to make crispy roasted garbanzo beans. Today I'm sharing the super easy recipe.
Roasted Chickpeas
I love savory roasted garbanzo (or chickpeas) beans for a quick snack, or I'll even grab a bag full when we go on a hike or kayaking, or I'm stuck driving in my car for a while.
Garbanzo beans are packed with nutrients, and of course, they are what hummus is made from. You may have tried my Fresh Mint Lemon Hummus Recipe or Black Bean Hummus or White Bean Basil Hummus recipes!
How to Make Crispy Roasted Garbanzo Beans
The first thing you need to do is dry out the garbanzo beans. So you start with a baking sheet lined with paper towels. Open a can of garbanzos and rinse and drain.
Next arrange them on top of the paper towels, laying more paper towels on top. Roll with your hands and rub the garbanzos until they are very dry. If you do not dry them well, they tend to burn in the cooking process.
The skins will come off, but don't worry if they don't all come off. It just means you'll get crispier roasted garbanzos! YUM!
Next, lightly oil the beans (2 cans of beans with two tablespoons of oil). You can use avocado, canola, or even coconut. Sprinkle with kosher salt and fresh cracked pepper.
Pop in the oven and bake! It's really that easy.
When the timer goes off, turn off the oven and leave the garbanzos to dry longer in the heat.
Check and make sure they are the texture you are looking for. The longer in the oven (30 minutes or so), the crispier they will be. We love them nice and crispy!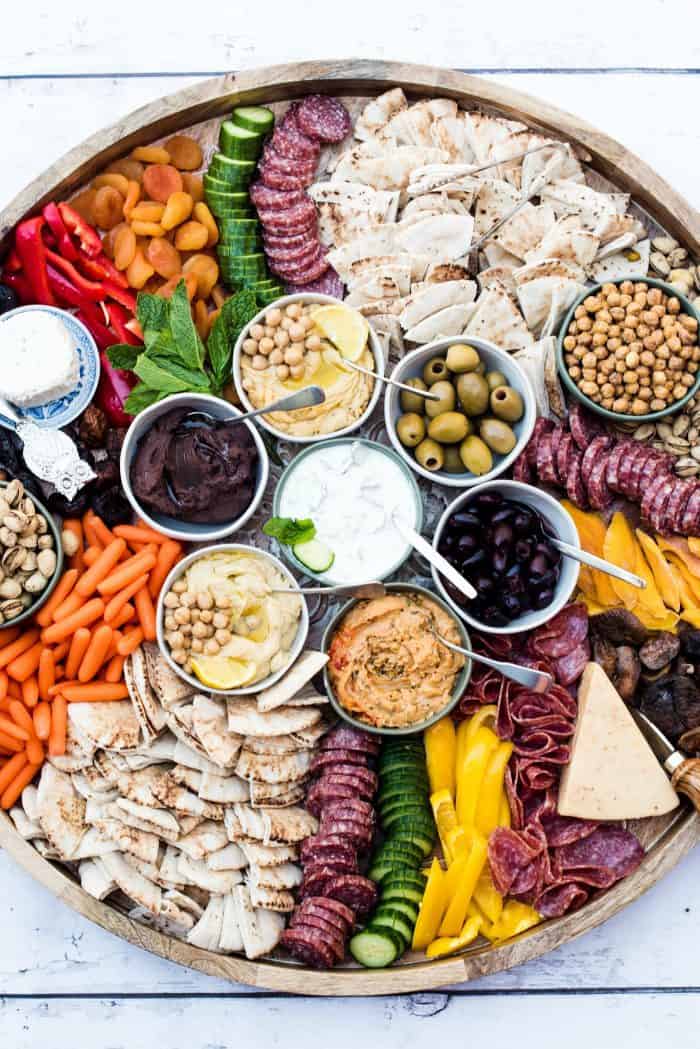 Here's the secret to adding extra flavors. We love savory garbanzo beans, so I like to add a mix I bought in New Orleans, which consists of rosemary, basil, and sea salt. But you can add your own favorite flavor.
It's very important to add these seasonings at the very end of the cooking process, because at the high heat, they can burn.
Oh, and if you love a sweet snack, try adding sugar. cinnamon, and ginger to the garbanzo beans. So good!
Store in an airtight container. Take them camping, hiking, kayaking, or simply munch on them when you want a high protein snack!
Of course we love them sprinkled or served on an EPIC Greek Charcuterie Board! :)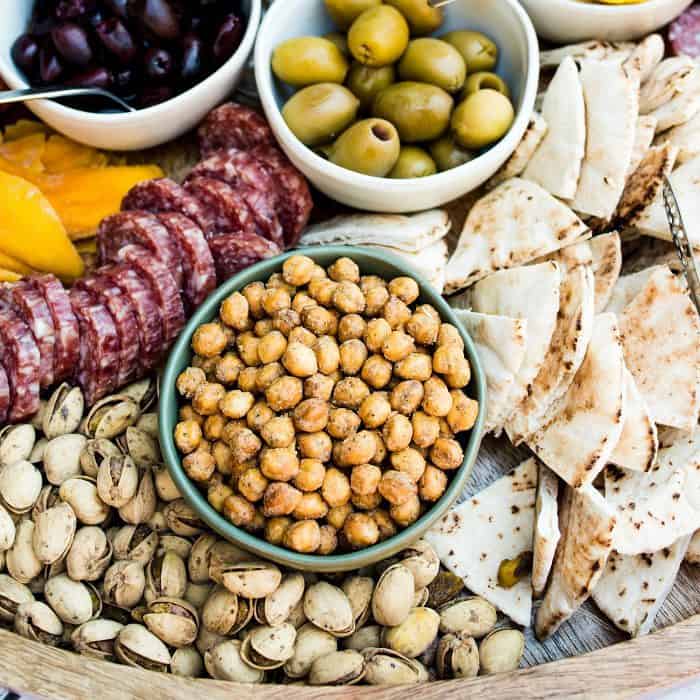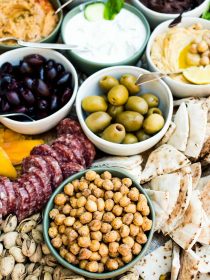 Get the Recipe: How to Make Crispy Roasted Garbanzo Beans
Store in airtight container or Ziploc bags.
Ingredients
2 canss Garbanzo beans
2 Tbsp. olive oil
Kosher salt
Fresh cracked pepper
Your favorite seasoning
Instructions
Drain and rinse the beans, then pour onto a rimmed baking sheet, on top of paper towels. Place more paper towels on top (or use kitchen towels), and roll and pat at the same time. The skins will come off. Discard the skins.

Remove the paper towels and drizzle oil over the beans.

Sprinkle with sea salt and fresh cracked pepper.

Bake at 400 degrees for approximately 30 minutes or until crispy. Turn the oven off and allow to continue baking (stirring every 10 minutes) until they are the texture you like.

At the very end of baking, add any additional spices (sweet or savory).

Remove from the oven; allow to completely cool before eating!
More garbanzo bean recipes:
Hello and welcome to my home and table!
I'm Sandy—lover of food, family, cooking, THE BIG BOARD, travel, and bringing people together. Through great recipes and connection around the table, we become better, stronger, and more courageous people. Feasting on Life is real, and every time we do it, we grow a little more. Read more...