Goat Cheese Bacon Crostini and Micro Greens
This Goat Cheese Bacon Crostini and Micro Greens is a fun appetizer to serve for St. Patrick's Day!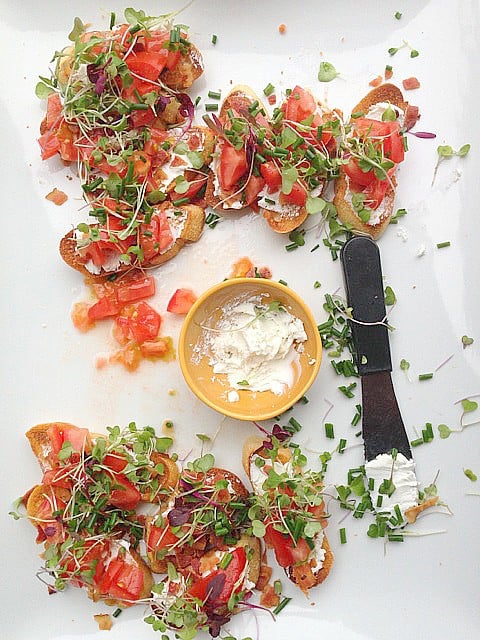 KISSING for an Irish Dinner Party is very important, but also important is serving good drinks and appetizers as your guests walk through the door. That is why I'm sharing my Goat Cheese Bacon Crostini recipe that I recently served at our St. Patrick's Day Dinner Party.
But, first let's talk "kissing."
I'm married to an Irish man, so kissing happens much more than on a daily basis, or even on St. Paddy's Day! (Last weekend hiking in SLC).
There's 2 specific kinds of kissing for St. Paddy's Day, since I'm here to help reluctant entertainers …
2 kinds of kissing for St. Patrick's Day:
1. Keep it Simple Sister (KISS). If you're planning a St. Patrick's Day dinner party, come back later this week, because I'll be sharing a full "fool proof" easy menu with you. The most important thing to keep in mind when entertaining is to keep it as simple as can be. Learn to plan ahead, delegate some of the dishes, pull in a little green (of something you already have, or pick up a green plant), and make traditional Irish food – which is very simple! (Menu to come later this week!)

2. (KISS) your guests for good luck. Since legend has it that kissing the actual blarney stone is supposed to give the kisser the gift of persuasiveness and eloquence, I guess a good kiss on the cheek, as guests come through the front door, is the right way to get the party started!
What's a blarney stone?
According to legend, kissing the stone endows the kisser with the gift of the gab (great eloquence or skill at flattery). The stone was set into a tower of the castle in 1446. The castle is a popular tourist site in Ireland, attracting visitors from all over the world to kiss the stone and tour the castle and its gardens.
The word blarney has come to mean "clever, flattering, or coaxing talk". John O'Connor Power's definition is succinct: Blarney is something more than mere flattery. It is flattery sweetened by humour and flavoured by wit. Those who mix with Irish folk have many examples of it in their everyday experience.
It's what the Irish do!
Ths past weekend, at our dinner party, we kissed our guests as they came through the door. It's just what the "Irish" do.
Mwah! and Welcome!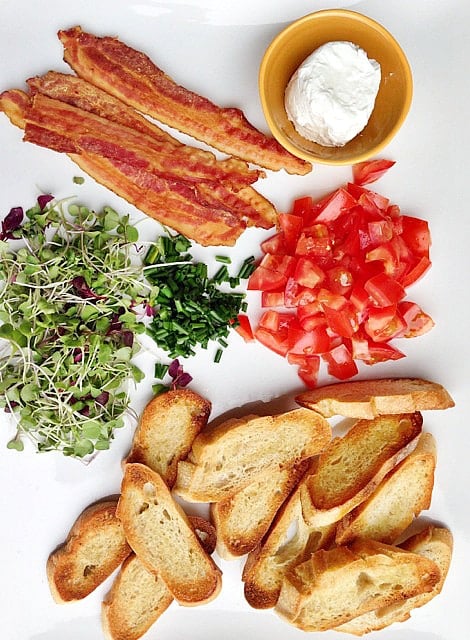 Okay, let's get serious. Putting the kissing aside, let's talk appetizer. What's the perfect little appetizer to serve for a St. Patrick's Day party?
I'm in LOVE with micro greens, and you'd know this if you've been following my Instagram as of late. I buy them at Trader Joe's, and to me they look like mini 4-leaf clovers. They're delicious and I've used them on tacos, pizza, appetizers, sandwiches, in wraps … you name it, they're on it.
Today's yummy appetizer is SO easy. Enjoy!
Now don't forget to kiss your guests as they come through the door!
I'm sure good luck will be sure to come your way. :)
What's your favorite appetizer to make for St. Patrick's Day?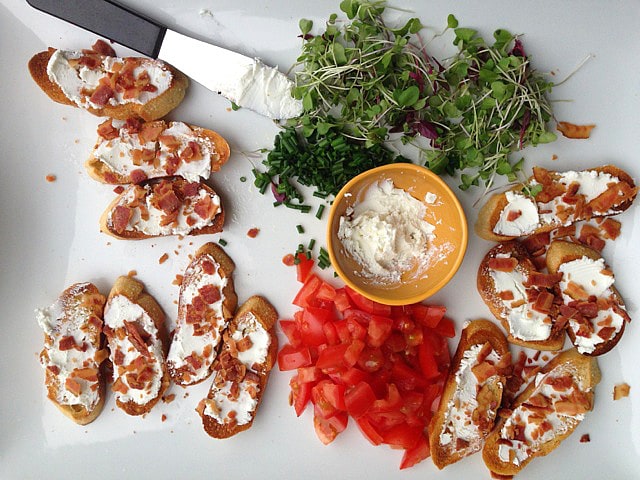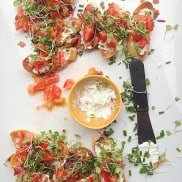 Print Recipe
Goat Cheese Bacon Crostini with Micro Greens
A variation of a BLT crostini.
Ingredients
1

loaf French baguette

cut into 1/4-inch slices

1

garlic clove

2

T.

olive oil

4

ounces

soft fresh goat cheese

room temperature

¼

teaspoon

coarsely ground black pepper

salt and pepper

4

slices

of crisp bacon

crumbled

1 to

mato

chopped

Fresh micro greens

Chives
Instructions
Rub baguette slices with garlic clove. Drizzle with olive oil and broil until just crisp, but not starting to brown, flipping each piece over to the other side, about 5 minutes.

Spread about a teaspoon of goat cheese atop the toasted baguette slices; add salt and pepper. Top with crumbled bacon, a few tomatoes pieces, micro greens and fresh chives.

Place crostini on platter and serve.
Other bacon crostini posts:
Fig Bacon Honey Crostini {Just Putzing}
Roasted Brussles Sprouts Bacon Crostini {Kitchen Confidante}
Gooey White Cheddar Bacon Crostini {Autentic Suburban Gourmet}