Jalapeno Popper Mummies
Give your poppers a festive and fun Halloween twist and make these tasty Jalapeno Popper Mummies! These fun snacks are dressed up to look like mummies, and with big, bold flavor in every bite, they're fun, easy and tasty!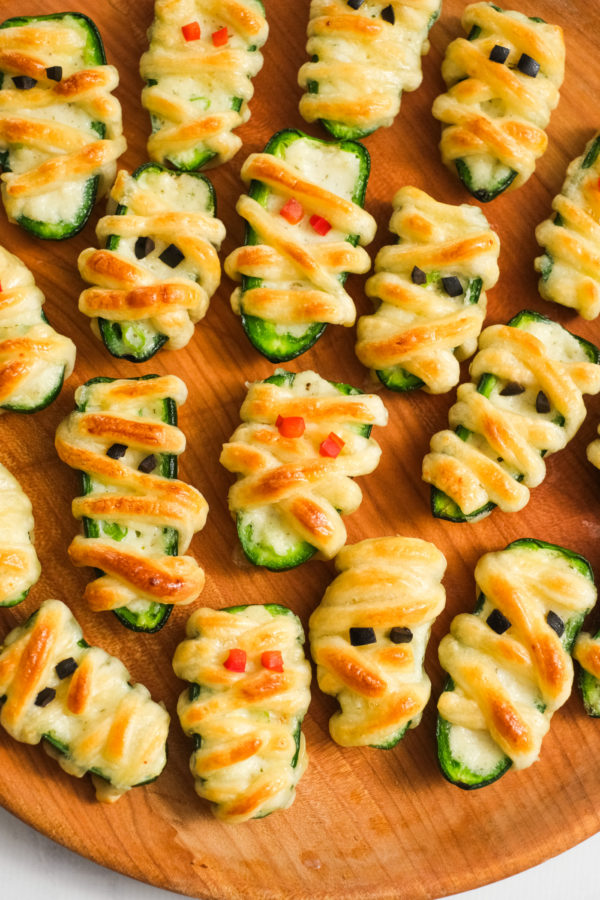 Don't be intimidated by making these Jalapeno Popper Mummies! They're easier to make than you might think, and with the help of a few packaged ingredients, you'll be munching on these spooky treats in no time!
Jalapeno Popper Mummies
Jalapeno poppers are the ultimate snack. They're perfect for game day when you're tailgating or in front of the TV, or anytime you need to put out a fun treat that everyone loves. Poppers are essentially stuffed jalapenos that are then wrapped in bacon before cooking. These mummies get a festive update with the addition of crescent roll dough that's wrapped around the mummy to look like their wrapping.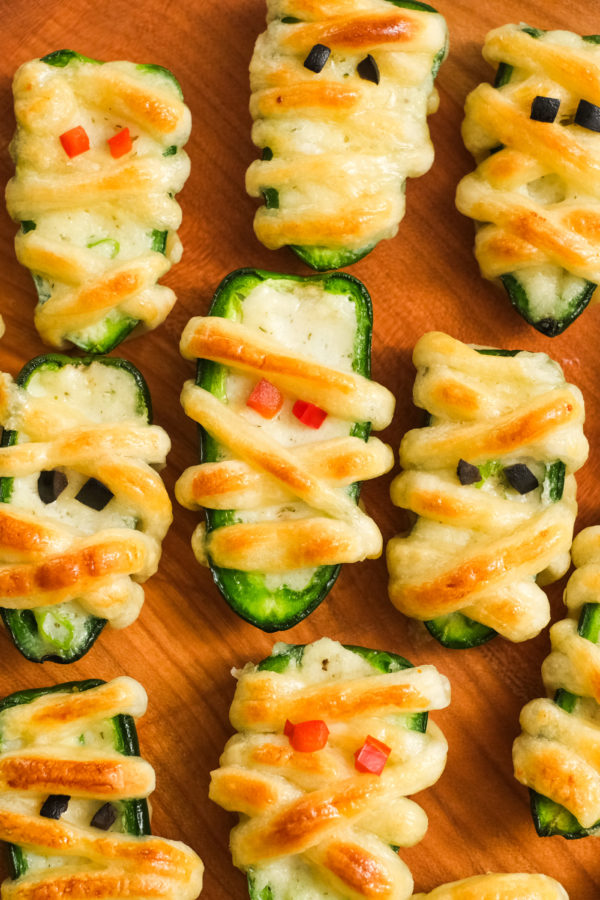 The best way to tackle making these tasty poppers is to have everything ready to go. You can prep the jalapenos ahead of time, but do so safely! Be sure to see my tips for handling jalapenos below. Then, stuff them, wrap them and pop them into the oven!

Why I love this recipe
I love making fun eats like these that also taste delicious!
These are grownup flavors, but these Jalapeno Popper Mummies bring out the kid in all of us!
A few packaged ingredients cut down on the prep time, so these don't take very long to make.

Gather these ingredients
Black olives
Pimentos – Drained.
Boursin cheese – You'll need 2 5.2-ounce packages; at room temperature.
Green onion – Sliced
Jalapeno peppers
Refrigerated crescent roll dough
Egg – Just one egg white.

How to make the best Jalapeno Popper Mummies
Preheat your oven to 400-F and grab a baking sheet. You can line the baking sheet with parchment paper (not waxed paper) for easier cleanup.
Cut the black olives and pimentos into small pieces for the eyes and set these aside. Refer to the pictures for help.
Mix the softened Boursin and the sliced green onion together in a small bowl. Set this aside when mixed.
Cut the jalapenos in half lengthwise and remove the seeds and membranes. Spoon the cheese mixture into each of the halves. See my tips below for the safe handling of jalapenos.
Unroll the crescent dough and separate it into 4 rectangles – not triangles. Press the perforations together with your fingers, then use a pizza cutter, knife or kitchen scissor to cut each rectangle lengthwise into 10 strips, making a total of 40 strips of dough.
Wrap each jalapeno half with 2 strips of dough, covering the jalapenos like a bandage, leaving a space for the eyes and leaving a space near the stem-end of the chile for the face.
Transfer the wrapped jalapenos to the baking sheet and brush the dough with the whipped egg white.
Bake at 400-F for about 8-10 minutes or until the pastry is golden brown.
Remove the poppers from the oven and make the face with the pieces of olives and pimentos.
Serve warm and enjoy!

How to safely handle jalapenos
It's important to handle jalapenos properly to avoid any discomfort or irritation. Always wear food-safe gloves to protect your skin from the oils that contain capsaicin, the compound that makes peppers spicy. Begin by washing the jalapenos thoroughly under running water. Then, slice them in half, scoop out the seeds and cut away most of the white ribs inside the chilis. Avoid touching your face, especially your eyes and mouth, until you have safely disposed of the gloves and washed your hands thoroughly.

Tips & substitutions
You can prep the jalapenos a day in advance and keep them in the fridge in an air-tight container until you're ready to stuff and wrap them. This will also lessen the spiciness of the peppers.
You can find Boursin cheese in the deli section of most grocery stores. If you can't find it, you can substitute whipped cream cheese with herbs and garlic.
The crescent dough will puff a little as it cooks, so don't wrap your mummies too tightly, and don't wind the dough strips too closely together.
When buying the jalapenos, don't worry if they aren't all the same shape or size. Having a mixture of sizes will make the mummies look extra cute!

Serving suggestions
One of my favorite things to do is to put out a selection of Halloween-inspired dishes for fun finger-food eating. Some of my favorites include Spooky Oreo Cake, Apple Pumpkin Cupcakes, and Mummy Oreo Truffles. Or, add these Jalapeno Popper Mummies to your favorite Halloween snack board.

Storage
Store any leftover poppers in an airtight container in the fridge for 2-3 days. You can reheat them in the oven.

Check out these awesome jalapeno popper recipes while you're here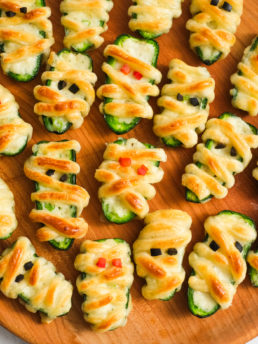 Get the Recipe: Jalapeno Popper Mummies
Easy to make and fun and tasty to eat, these spooky Jalapeno Popper Mummies are perfect for Halloween! Recipe makes 20 mummies.
Ingredients
3 black olives
2 Tbsp pimentos, drained
2 5.2 oz Boursin cheese, room temperature
1 green onion, thinly sliced
10 jalapeño peppers
8 ounces refrigerated crescent rolls
1 egg beaten
Instructions
Preheat the oven 400° F.

Cut the black olives and pimentos into small pieces for the eyes. Set aside.

In a small bowl, mix together the softened Boursin cheese and the scallion and set aside.

Cut jalapeño chiles in half lengthwise, wearing gloves, and remove seeds and membranes. Spoon cheese mixture into chile halves.

Roll out the crescent roll dough, and separate into 4 rectangles (not triangles). Press the perforations together with your fingers. Using a pizza cutter or a knife or kitchen scissors, cut each rectangle lengthwise into 10 pieces, making a total of 40 pieces of dough.

Wrap each jalapeño half with two lengths of dough strips, covering the chiles like a bandage, leaving a space for the eyes.

Near the stem end of each chile half, make sure there is space for the "face" of the mummy.

On an ungreased large cookie sheet, place wrapped chile halves, cut side up.

Separate the egg whites; whisk together in a small bowl. Brush the dough.

Bake in a 400° F oven for 8-10 minutes until the pastry is golden brown.

Remove from the oven and place the olives and pimento pieces on the "face" of the mummy, creating eyes.

Serve warm and enjoy!
Notes
NOTE: These can also be baked in an air fryer at 375° F for about 10 minutes. Be sure to check them early. TIP: Be sure to handle jalapeños carefully! The oils that get on your hands can cause some burning, especially if you rub your eyes. If possible, use food-safe plastic gloves when working with the chiles—you can find them at the pharmacy.
Calories: 94kcal, Carbohydrates: 10g, Protein: 2g, Fat: 6g, Saturated Fat: 2g, Polyunsaturated Fat: 2g, Monounsaturated Fat: 1g, Trans Fat: 0.002g, Cholesterol: 17mg, Sodium: 456mg, Potassium: 45mg, Fiber: 1g, Sugar: 3g, Vitamin A: 377IU, Vitamin C: 5mg, Calcium: 8mg, Iron: 1mg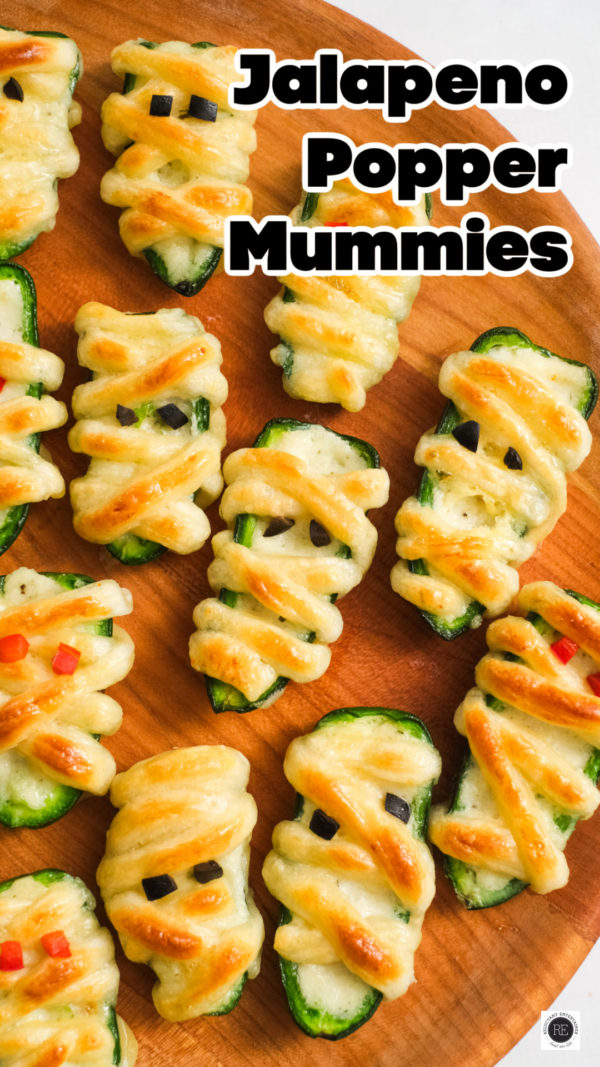 Hello and welcome to my home and table!
I'm Sandy—lover of food, family, cooking, THE BIG BOARD, travel, and bringing people together. Through great recipes and connection around the table, we become better, stronger, and more courageous people. Feasting on Life is real, and every time we do it, we grow a little more. Read more...