Jasmine Rice Poke Bowls
These Jasmine Rice Poke Bowls are fresh and delightful to serve for any meal, any season. You can substitue the Jasmine rice for garden greens!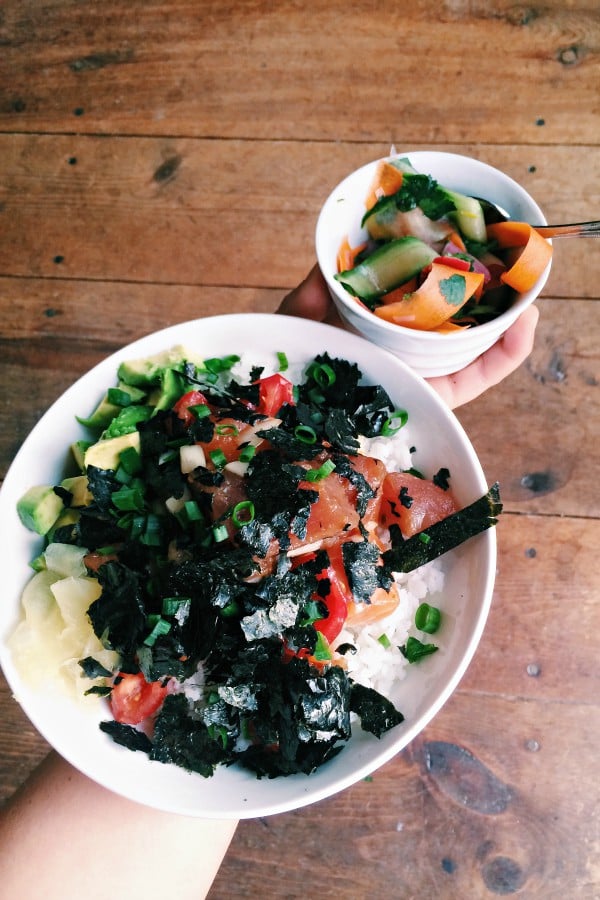 When my husband and I visited Kauai a year ago with some of our best friends, Bill and Jenny, one of the meals we loved was poke that we purchased at the fish market, bringing it back to our beautiful place to enjoy for lunch! Since then, I've been a huge poke fan … but never attempted to make it in my own kitchen.
One of the most favorite memories of summer for me so far is having my daughter, Abigail, home from college. Not only do I love and miss our baby girl while she is away (and her violin music that exudes class and sentimentality), her dad and I miss her cooking! (How about these Banana Chocolate Chip Pancakes, or these Summer Spring Rolls?)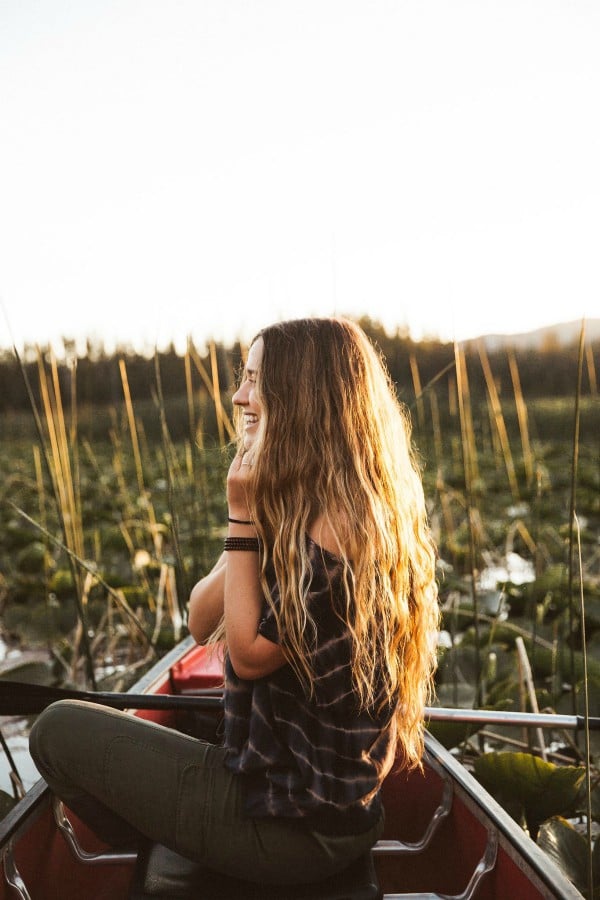 Being a fan of her photography and style as well, I also want to share some beautiful pictures of her here in Central Oregon, that her talented friend, Kyle Meck, who also lives in our neck of the woods, took of Abigail on Hosmer Lake a few weeks ago. (Follow Kyle on Instagram for more Oregon beauty.)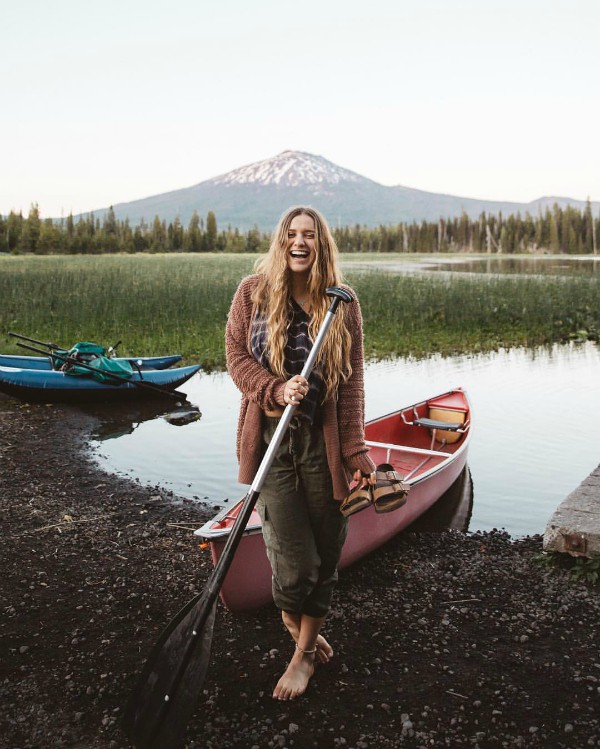 Oh, the beauty of Central Oregon.
Oh, the beauty of Miz Abby (inside and out).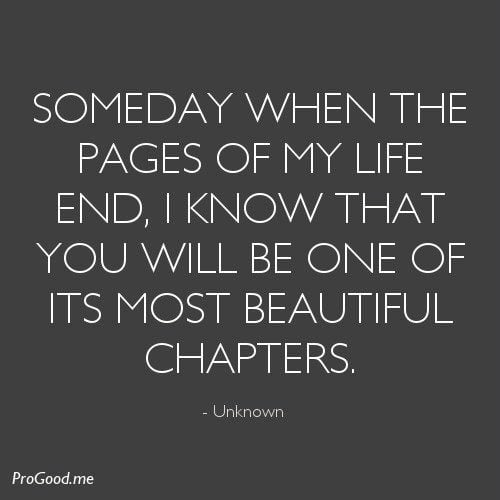 Oh, the beauty of having a daughter.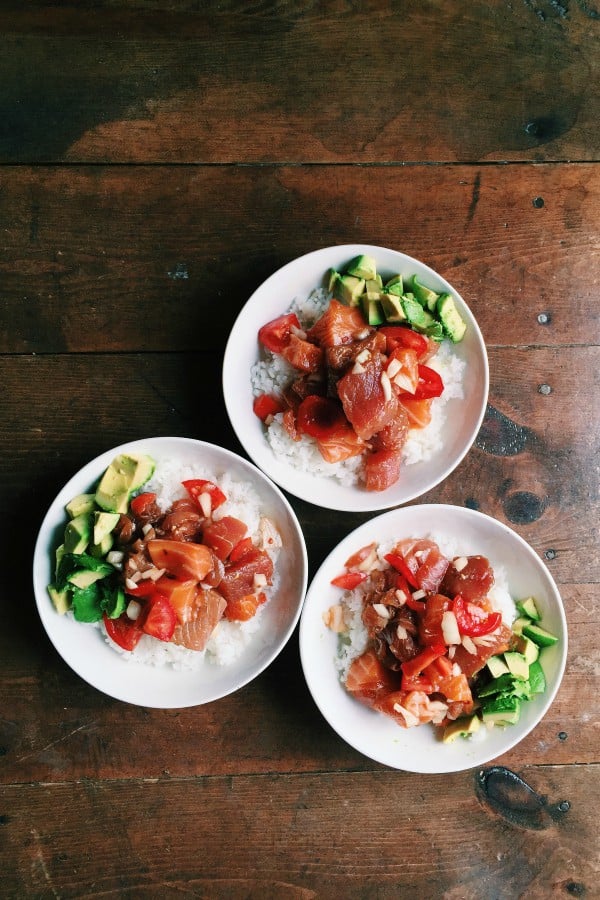 Jasmine Rice Poke Bowls
And oh, the beauty of having Abby home cooking for us this summer (in between working at the local coffee shop). Today's recipe– Jasmine Rice Poke Bowls.
They're super easy to make, and company-friendly. If you love sushi, like our family does, you'll enjoy this summer dish.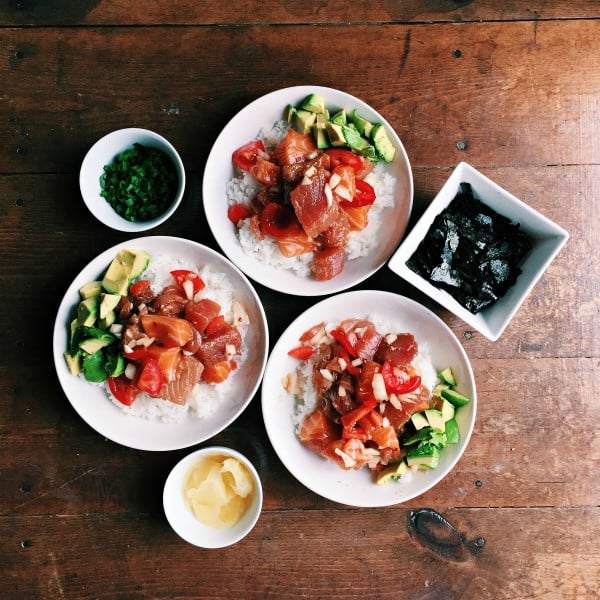 Chop the ingredients ahead of time. Cook the rice.
Don't forget the pickled ginger. For my palate, it's a must with any kind of sushi or fish served raw.
And serve!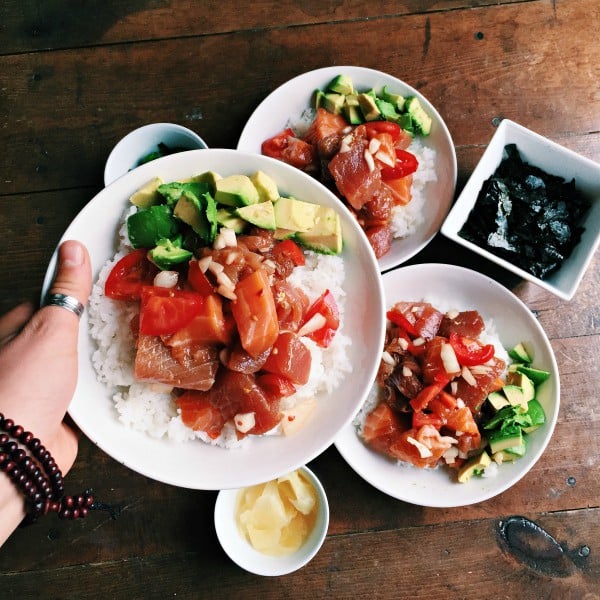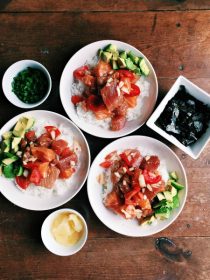 Get the Recipe: Jasmine Rice Poke Bowls
Serve on top of Jasmine rice, or a quicker meal with salad greens!
Ingredients
1/2 lb. tuna
1/2 lb. salmon
1/2 sweet onion, thinly chopped
1 tsp. sesame oil
1/2 tsp. crushed red pepper flakes
2 tbsp. soy sauce
2 avocado, sliced or cut in chunks
Jar pickled ginger
1/2 c. seaweed flake
Green onion, chopped
Jasmine rice or mixed green lettuce
Instructions
Slice tuna and salmon into 1/4'' cubes (or 1/2'' if desired). Place fish in large bowl. Add soy sauce, red pepper flakes, onion, and oil into the fish and and gently stir.

Cook the rice, or prepare the greens.

Serve the poke over jasmine rice or a bed of greens.

To garnish, add avocado, pickled ginger, green onion, and seaweed.
Hello and welcome to my home and table!
I'm Sandy—lover of food, family, cooking, THE BIG BOARD, travel, and bringing people together. Through great recipes and connection around the table, we become better, stronger, and more courageous people. Feasting on Life is real, and every time we do it, we grow a little more. Read more...