Kahlua Flourless Chocolate Cake
For any party, holiday, or celebration, serve a delicious Kahlua Flourless Chocolate Cake, dusted with powdered sugar, or topped with fresh whipped cream and raspberries. Delightful!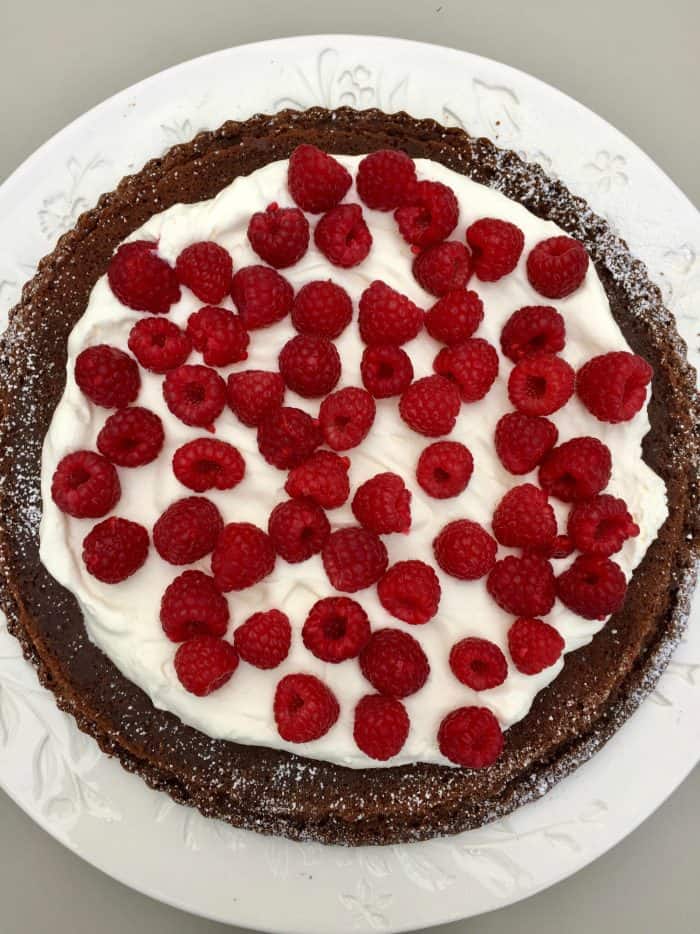 My beautiful daughter and I recently planned a small Mother's Day party together. Minted made it very fun, with their assortment of Mother's Day gifts, which I'm sharing with you today!
It's easy to host a small get-together to celebrate an occasion. We don't always have to host a big dinner party, but dessert with tea or coffee is always sweet, especially for the ladies! And who doesn't love a delicious Kahlua Flourless Chocolate Cake? Stay tuned for the recipe below!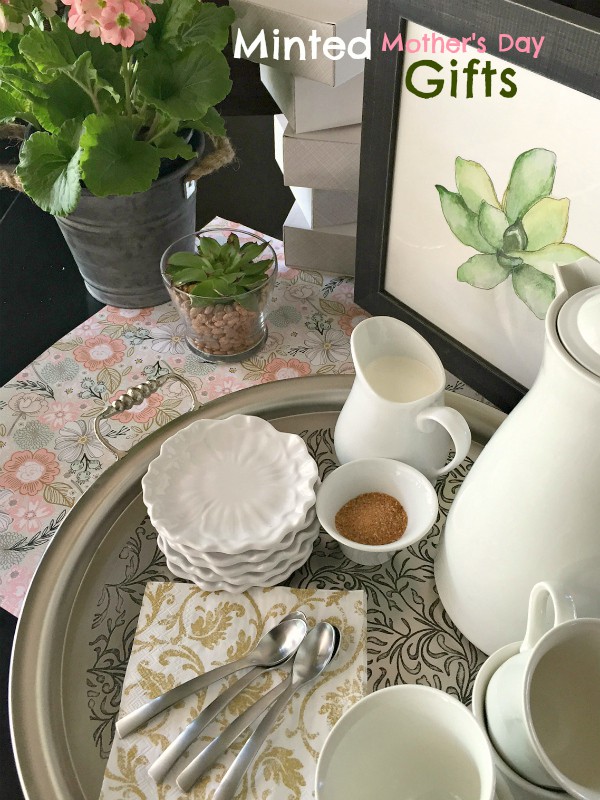 Shopping at Minted.
Combining this sweet time of gifts and love, I'm going to show you a few things that we found at Minted. Minted uses only use fine paper stock, rich inks, and crisp printing methods in their products.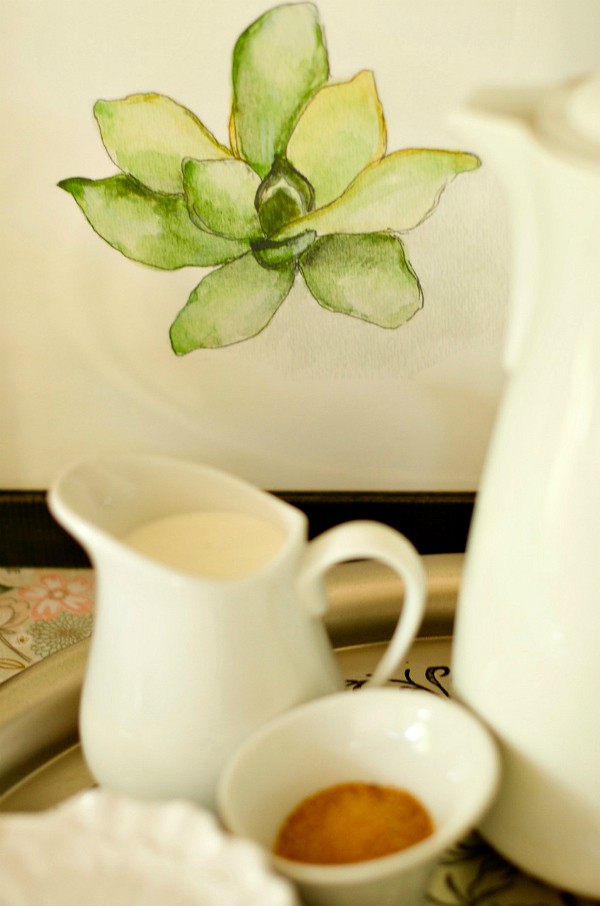 Special Artwork.
Abby gave me a beautiful watercolored painting of an aeonium succulent, by Erin Deegan of Petite Papier. I've always loved Erin's work with the shapes and colors found in nature, and this piece is going in my bedroom! Here's more thoughtful art pieces made for Mom!
I love being a mom.
There's many things I adore about my daughter. I tell her frequently that she is special—very special—and that no one else in this entire world is exactly like her, and that there are so many wonderful things about her.
I like to tell Abby that she is here to shine in her own wonderful way, to share her beautiful smile in the best way she can, remembering that her little "light" will make a difference in this world.
Do you know how much I love being a Mother? :) I feel very blessed to have my children. (Yes, I'll write about my sons in another post). :)
Wrapping paper for table runner.
Another thing I love about Minted is their gorgeous varieties of wrapping paper! Abby and I chose the Simple Snapshop wrapping paper for the gifts, but also for use as a table runner!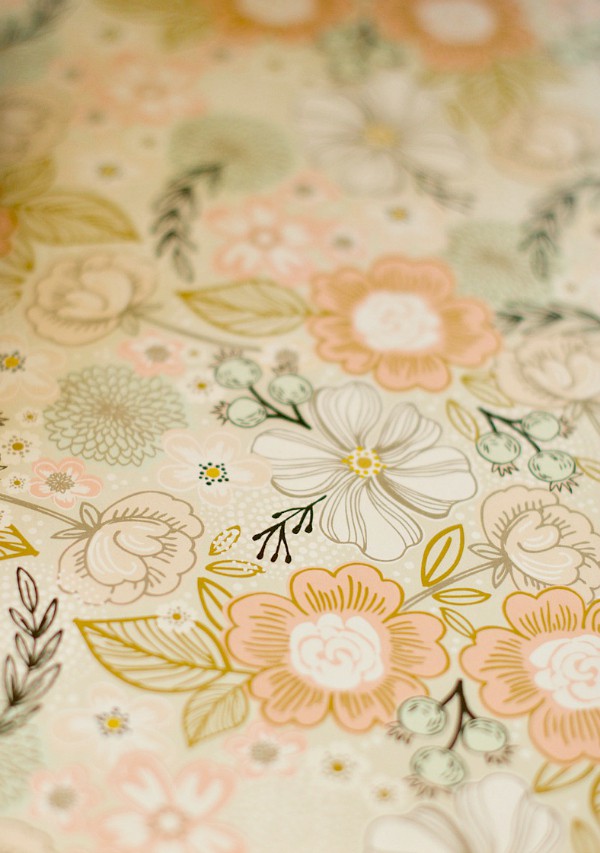 Personalized note cards.
And then what I think is the perfect Mother's Day gift: A personalized set of lovely note cards.
My aunt used to give my sisters and me these every year and it was so special. Anything personalized with me goes a long way. I mean, there was thought and love that went into the gift!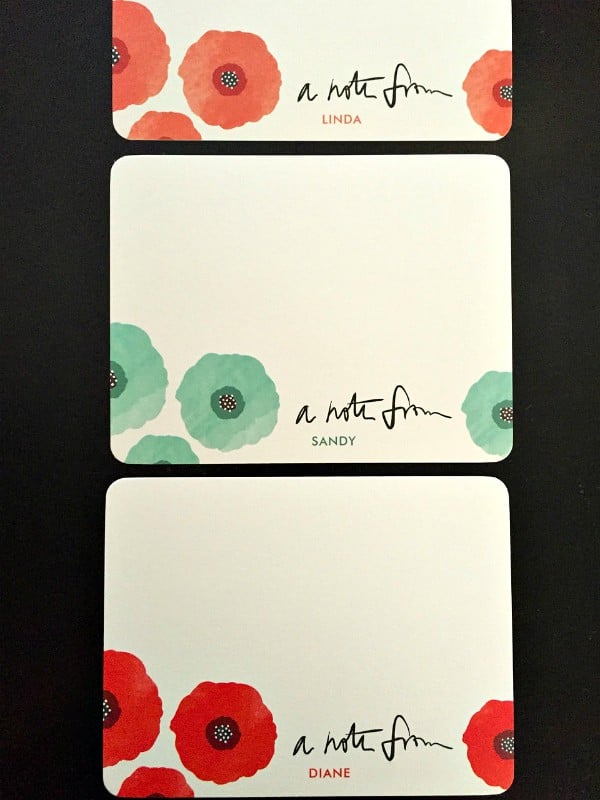 The Poppy Talk cards (in 3 colors) were perfect for my sisters (and me).
Special cards for 2 special ladies in my life, Jeannie and Ginny (my Dad's wife).
Personalized planners.
Check out the many designs, plus their personalized day planners. I'm a notebook girl, and I love how you can personalize each notebook for a gift with a note inside, and choose the cover photo! Abby used our family Christmas photo for a journal, with a little love note inside!
Coffee and dessert.
Set out a tray of coffee, cups, sugar and cream.
A beautiful geranium that tied in with wrapping paper.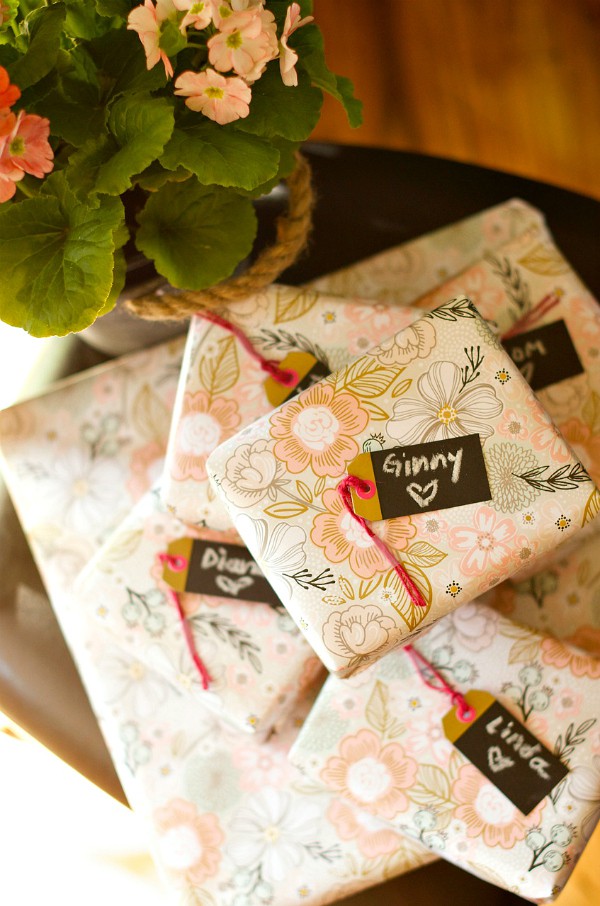 Wrap the gifts and set aside.
Kahlua Flourless Chocolate Cake
And bake a cake! My cousin, Peggy, recently shared this amazing recipe with me.
When you make this elegant dessert, a Kahlua Flourless Chocolate Cake with Berries and Cream with Berries and Cream, follow Peggy's tip on how to keep the whipping cream "firm" when you bring a dessert to a party!
Enjoy!
Will you be Mother's Day shopping this year, and what kind of gifts do you enjoy buying?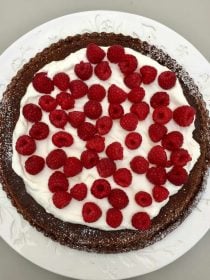 Get the Recipe: Kahlua Flourless Chocolate Cake with Berries and Cream
To insure the whipped cream holds shape for hours, dissolve 1-2 tsp. unflavored gelatin in 1-2 Tbsp. boiling water and stir. Add to the cream while whipping. Recipe adapted Food Network.
Ingredients
1 lb. semisweet chocolate, coarsely chopped
1/2 lb. unsalted butter cut into 1/2 cubes
1/4 cup kahlua, I used French Vanilla Kahlua
6-7 large eggs, 6 large, 7 small
1/4 cup sugar, I used coconut sugar
1 tsp. vanilla
1/2 tsp. salt
Instructions
Preheat the oven to 325 degrees.

Prepare a greased 9″ springform pan lined with parchment paper, or a 9-10" pan that you can easily invert the cake from by first dusting with cocoa. This keeps the cake "dark brown" and also gluten-free.

Set a pan of hot water underneath the cake pan while it bakes.

Melt the butter and chocolate in double boiler; add the kahlua. Stir and add the egg yolks, vanilla, and salt.

Beat the egg whites until stiff; add in the egg mixture and gently stir.

Fold in the chocolate and butter. Mix well.

Bake for 20-25 minutes.

Cool on wire rack for 20 minutes; invert the cake onto a serving platter. Refrigerate until serving.

Prepare (wash and stem) the berries and set aside.

Whip the cream with sugar. Add in 1-2 Tbsp. of any liquor you desire.

To insure the whipped cream holds shape for hours, dissolve 1-2 tsp. unflavored gelatin in 1-2 Tbsp. boiling water and stir. Add to the cream while whipping.

When time to serve, spread the cream on top of the cake; top with berries. Slice and serve!
More flourless cake recipes: Flourless Monster Cookie Bars [The Baker Mama], Flourless Whole Meyer Lemon Cake [The Views from Great Island], Flourless Nutella Cake [Dinner, Dishes, and Desserts], and Flourless Date Chocolate Cake – so good! [RE]
This post is sponsored by Minted, but as always, all opinions are my own.

Hello and welcome to my home and table!
I'm Sandy—lover of food, family, cooking, THE BIG BOARD, travel, and bringing people together. Through great recipes and connection around the table, we become better, stronger, and more courageous people. Feasting on Life is real, and every time we do it, we grow a little more. Read more...