Southwest Kale Quinoa Salad
Southwest Kale Quinoa Salad recipe is made with corn, diced kale, and veggies; mingled together in a cilantro and lime dressing.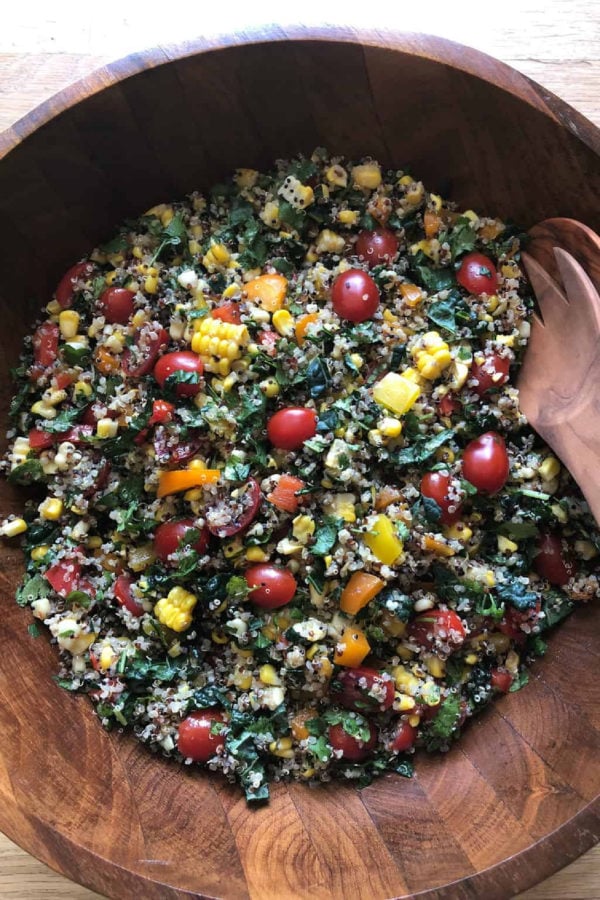 At a recent 50th birthday party, we served a giant Southwest Kale Quinoa Salad and brought in a taco truck for the gang! [Another great recipe? My Southwest Avocado Chicken Salad – yum! This is a repost from May 2018]
Southwest Kale Quinoa Salad
Southwest Kale Quinoa Salad can be made ahead, letting the ingredients mingle together with the cilantro and lime dressing. Perfect for any party, it's fresh and scrumptious!
Quinoa Salad Recipe
Every year it seems one of our dear friends is having a "big" birthday. This time was our friend, Steph, who is embracing "50" with everything she has! Along with her loving family and friends, we had a great celebration.
A classic salad everybody loves? There are so many options with quinoa, and I love how you can chop ahead and cook the quinoa and corn ahead of time, too.
Ingredients for southwest quinoa salad
Cooked quinoa
Kale, cherry tomatoes, corn
Scallions, red & yellow peppers
Red onion, garlic
Olive oil
Lime juice
Honey or Agave syrup
Cayenne pepper, cumin
Salt and freshly ground pepper
A LOT of fresh chopped cilantro
But first things first. This taco truck idea was born out of the practicality of not wanting to do it all (hello, tasty Tamale Boy taco truck), to be able to invite a lot of people, and not worry about the food.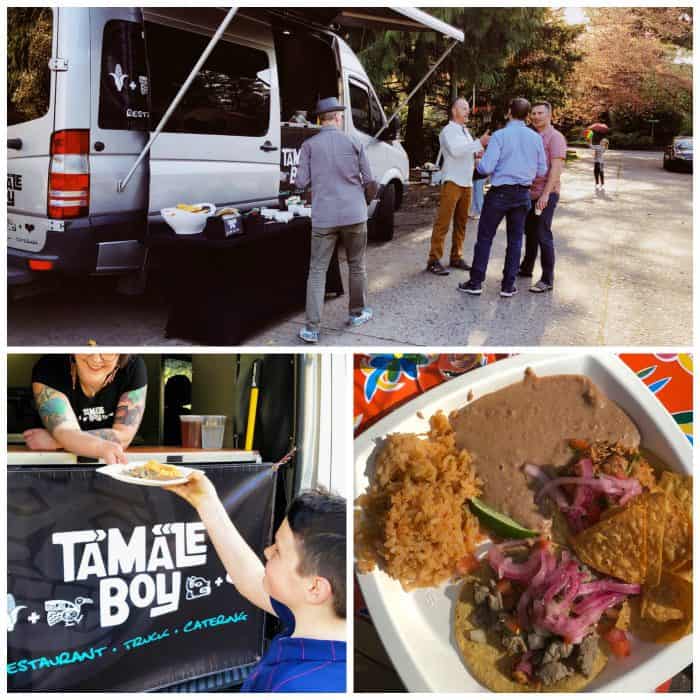 In an effort to make sure that everyone was well-fed, we set up drinks in the back yard, a giant table with fruit and chips and salsas and salads inside, and then of course, the taco truck in the front driveway.
We didn't quite know how many families to expect, and folks dropped in throughout the evening, so we just went with the flow.
How to make quinoa salad
My favorite salad? Steph's Southwest Kale Quinoa Salad. [Another great popular quinoa salad on my blog, Strawberry Quinoa Salad with Fresh Basil – oh, boy!].
My secret to a delicious kale salad is to chop it finely, so it adds the flavor, but not a huge bite, of kale. If you know what I mean.
Cook the corn and quinoa ahead and allow to cool.
Then it all comes together.
Dice and chop and mix everything together.
So fresh, with a ton of cilantro and the lime dressing!
Sí, por favor!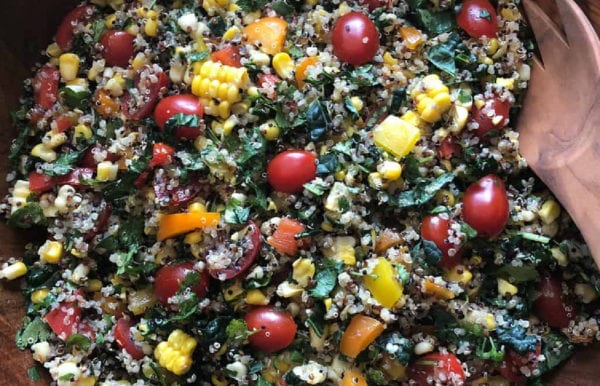 Tips for Hosting a Taco Truck Party
Variety of foods. Make several giant salads. Set out berries or fruit, chips, and varieties of salsa and guacamole. Remember when you have a taco truck come, they provide most of the food!
Self-Serve Drinks. Since the party is come and go, set out pre-made margaritas in pitchers, and let guests pour their own. Have beer and ice water.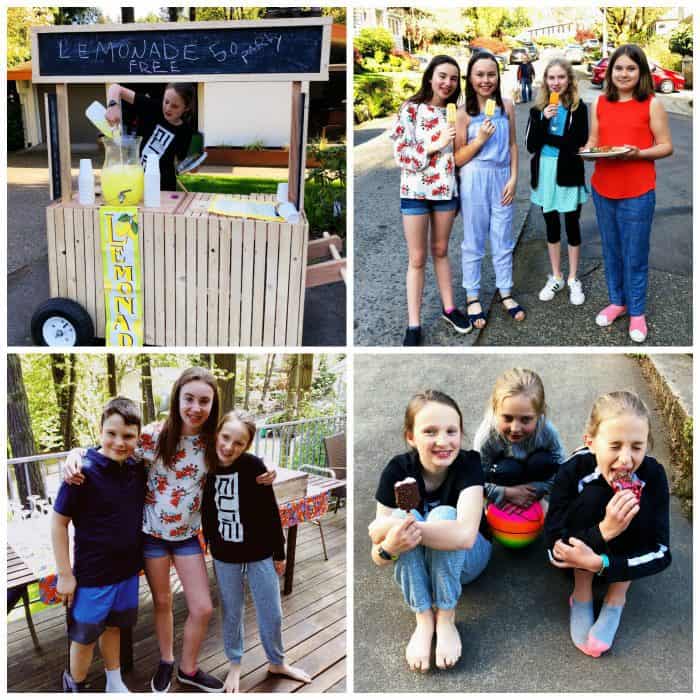 Lemonade Stands. Let the kids run the lemonade stand in the front yard!
Buy a Specialized Dessert. Steph had a friend's Mexican mom make Alfajores (Mexican cookies). We treated these like gold, and said "adults only," because they were $1 per cookie. For the kids, we had ice cream bars in the freezer!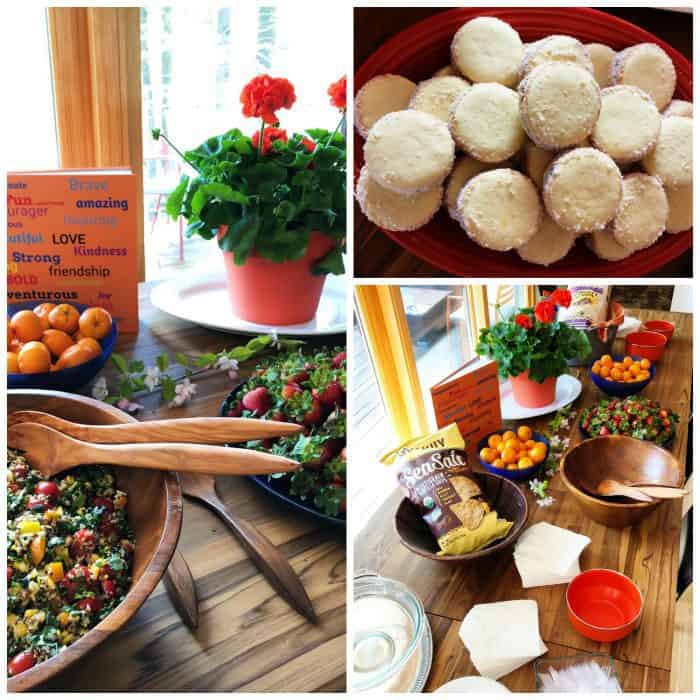 Make It a Potluck. Depending on the size of your gathering, why not make it a potluck? Ask your neighbors to bring a favorite salad. For our party, we had enough help with out-of-town guests, so we didn't feel the need to include this on the invite.
Head to the Front and Back Yards. On a warm spring night in Portland, Oregon, we were able to mingle outside for hours, enjoying each other's company.
Paul and I love meeting new people, so this birthday celebration was a blast for us!
Oh, and the set-up and clean-up crew? You've got them, right here! We had a blast making everything come together with her family, John, Katie, and Steph's mom. :)
Feliz cumpleaños Stephanie!
More southwest recipes:
Southwest Chicken Tortilla Pinwheels [Valerie's Kitchen]
Southwest Farro Salad with Corn and Tomatoes [Well Plated]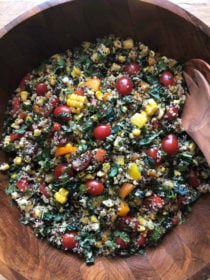 Get the Recipe: Southwest Kale Quinoa Salad
Southwest Kale Quinoa Salad--make ahead, letting the ingredients mingle together with a cilantro and lime dressing.
Ingredients
4 cups cooked quinoa
4 cups kale chopped
2 cup cherry tomatoes halved
2 cups corn
4 scallions, chopped
2 red peppers, diced
2 yellow peppers, diced
1 red onion, diced
2 garlic clove minced
½ cup olive oil
½ cup lime juice
8 Tbsp honey, or 4 Tbsp Agave syrup
½ tsp. Cayenne pepper
4 tsp. cumin
Salt and freshly ground pepper to taste
A LOT of fresh chopped cilantro
Instructions
Cook ahead the corn and the quinoa and allow to cool.

Gently toss all ingredients together in a bowl.

Drizzle with the dressing (garlic, olive oil, lime juice, honey, cayenne pepper, cumin, and salt and pepper).

Keep adding chopped fresh cilantro until you get the flavor you love!
Notes
Reposted from May 2018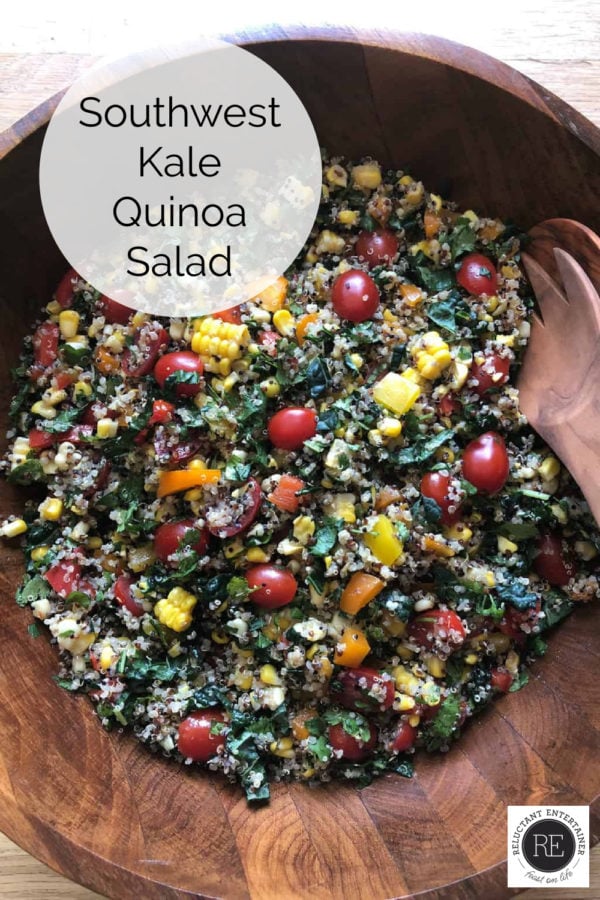 Hello and welcome to my home and table!
I'm Sandy—lover of food, family, cooking, THE BIG BOARD, travel, and bringing people together. Through great recipes and connection around the table, we become better, stronger, and more courageous people. Feasting on Life is real, and every time we do it, we grow a little more. Read more...