5 Reasons Not to Connect and Esther's Kale Salad
This Kale Salad has delicious flavors of garlic, shallots, pinenuts, sweet red peppers, and curly kale, with a lemon juice and Parmesan cheese dressing!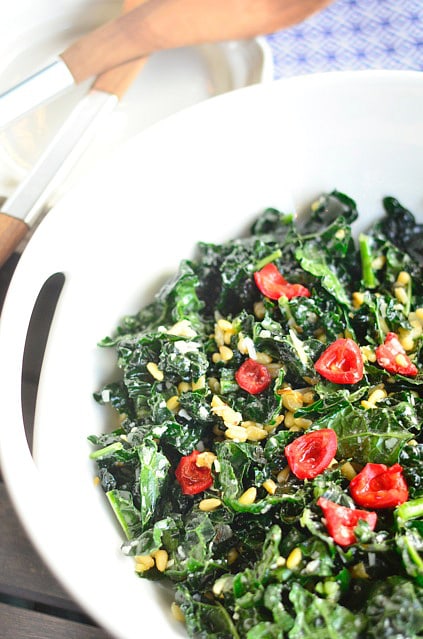 The problem with human attraction is not knowing if it will be returned.
― Becca Fitzpatrick, Hush, Hush
Last week, two newer friends came to my house for lunch. I served my friend Esther's Kale Salad with Spicy Sweet Red Peppers. In my mind, all week long, I thought about my commitments, list of chores, spring yard work, laundry, blogging … you name it, the "list" in my mind became overwhelming and I tried to talk myself out of the invitation I had already made.
I think we all naturally get into routines and rhythms with our families and schedules, and busyness sets in. Even though we naturally long to spend time with family and friends, and we all need encouragement, we often lose sight of what's important. It's natural to want to talk ourselves out of commitments, but is it okay?
5 reasons why we choose not to connect with friends:
Busyness. A demanding schedule is the biggest hindrance to getting together with those we love.
Disinterest. Sometimes, sadly, we're just not interested in others.
Disappointment. We stop connecting when we're hurt or others don't reciprocate.
Neglect. We forget that relationships are eternal, the most important thing in our lives, and get distracted by the temporal.
Homes. And then there are our homes.
My house. Do I really want to clean and get ready for these two new lady friends that have "moved" into my life? Will they be checking things out?
Probably not. Mostly likely – no.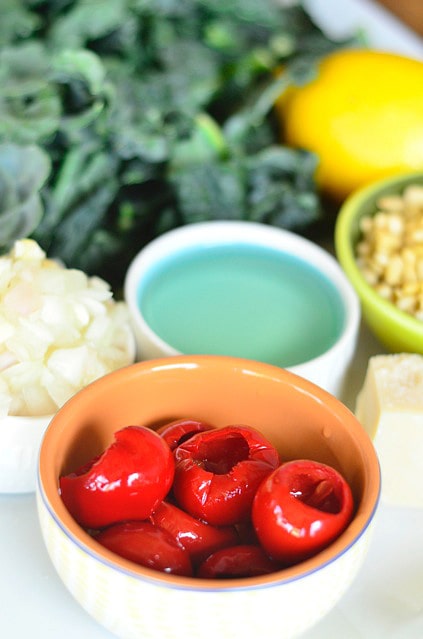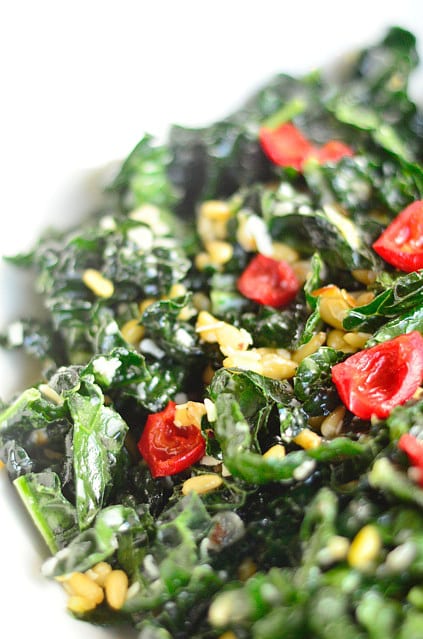 Oh, the risk that's involved in opening our homes.
But this time I said yes.
I'm never disappointed when we invite people into our home. The best gifts in life are the relationships around us, the blessings of eating and drinking together, listening and feeling.
But we have to take a chance.
Kale Salad
For the recipe, it's super easy. Make the dressing first and massage it into the curly kale leaves.
Allow to soak into the leaves for at least 30 mintues before serving!
Which of the 5 reasons cause you not to connect with friends?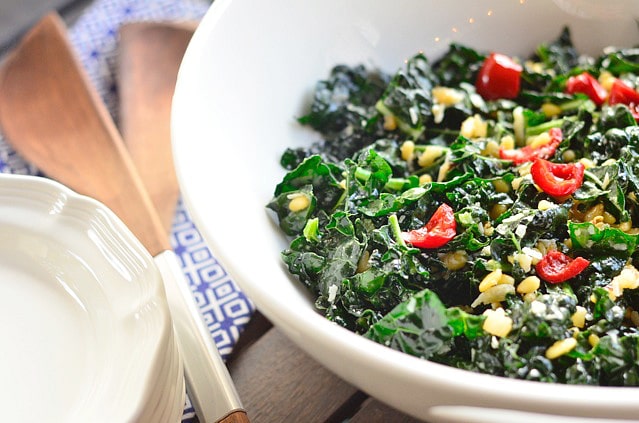 Print Recipe
Esther's Kale Salad with Spicy Sweet Red Peppers
Adapted from Serious Pie. Optional to just use garlic (no onions or shallots).
Ingredients
1

bunch kale

curly is best

1/2

cup

olive oil

4

oz.

onion

shallot, garlic mix (I buy at Trader Joe's)

1/8

cup

lemon juice

1/2

cup

chopped Pepperazzi Spicy Sweet Red Peppers

I use Delallo brand

1/2

cup

shaved parmesan cheese

1/2

cup

pinenuts
Instructions
Simmer onion, shallots, garlic mixture in oil for 30 minutes over very low heat. Do not brown. Cool. Add chopped peppers to the oil.

Add oil (with onion mixture) and lemon juice to kale, mix with hands until coated. Let sit for 30 minutes.

Add pine nuts and shaved Parmesan; serve.
More delicious salad recipes:
Easy Pad Thai Salad {RE}
Pimiento-Stuffed Three Bean Salad {RE}
Cucumber Salad Recipe with Pineapple and Cilantro {RE}
Cheeseburger Salad {Skinnytaste}
Summer Vegetable Pasta Salad {RecipeGirl}